Welcome to Designers Decoded. In this series, we'll be speaking with some of our favorite interior designers to learn more about them, their style, and get some of their best decorating tips and tricks. First up, we chatted with renowned decorator Carleton Varney. 
For Carleton Varney it started with an old radio show called The Shadow. On Monday nights from 1937 through 1954, Americans tuned in to listen to the adventures of the caped vigilante and his partner, Margo Lane, as they jetted off to glamorous locations in the hopes of saving the world just one more time. 
"I used to listen and memorize" the scripts, Varney says from his home in Palm Beach. As proof, he breaks into a monologue from the show. "I had to envision what the people who were talking looked like. It also created a fantasy in my head about rooms and theaters." 
He never quite stopped dreaming about rooms and theaters, it seems.
You might be familiar with Carleton Varney through the work of his firm, Dorothy Draper & Co. Varney came to Draper 54 years ago, when he was in his late 20s and Dorothy Draper was a doyenne of American design. Dorothy Draper, who started her business in the 1920s, worked not only on residential projects; she had her hands in commercial and hospitality design long before it was trendy. She designed car interiors with Packard and Chrysler. She wrote a column, "Ask Dorothy Draper," that appeared in Hearst-owned newspapers across the country.
Varney's legacy is inextricably linked with hers. "I've carried on a lot of that, and the future people who run Dorothy Draper will probably carry it on as well," says the octogenarian designer.
He has no plans on slowing down anytime soon, though. Several weeks ago he had held his annual School of Decorating conference, which takes place at the Greenbrier each spring. Just this morning, Varney published his most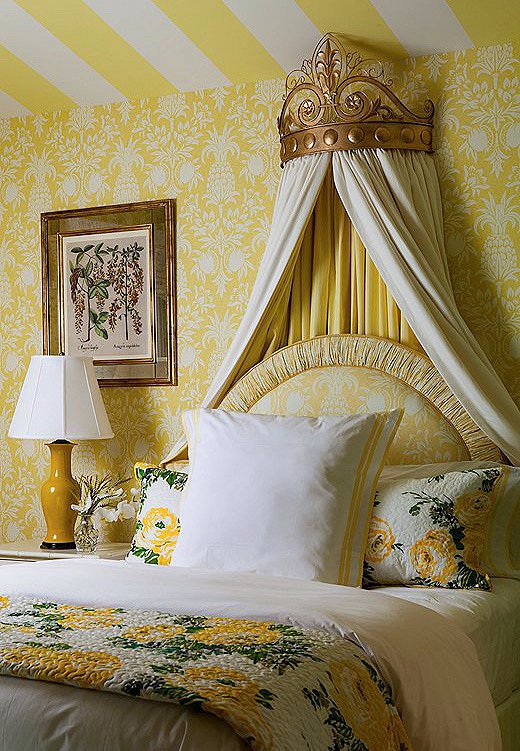 recent column in the Palm Beach Daily News (aka the Shiny Sheet) about his love of color and orchids and how they bring a bit of joy in stressful times. And he's fast at work on his next design book—number 37—called Romance & Rhododendrons. (He's written two fiction books as well.) 
Varney was friends with the late Mario Buatta, heralded as the inspiration behind all things grandmillennial. "He loved things of a period that were a granny look, but they were all good granny, rich granny," he says. 
If Mario Buatta was the Prince of Chintz, then Varney is Mr. Color. Bright flourishes have always been hallmarks of a Varney project. He describes his style as happy, which is also the name of his West Highland terrier. Varney tries to imbue this attitude into the projects he takes on. Beyond his interior work, Varney has parlayed the Draper style, and his own, into an iconic set of fabrics, furniture, wall coverings, accessories, gift wrap, and jewelry. His favorite fabric might surprise you, though. The Snowy Egret isn't brightly colored. It's more mature, a bit more subdued. 
Then again, hardly anything is truly subdued in the Varney/Draper pantheon. It's not incorrect to say that Varney dislikes subtlety, especially in colors. His hatred of beige and greige is well documented. Varney is a proud maximalist, and he worries about the future of American design if beige continues to dominate the interiors world. Throughout our conversation, he laments the loss of crown molding in hotels and apartments and directs his ire toward young people who want fast design.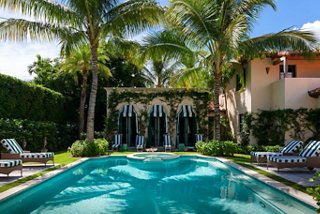 He does have some hope for the future generations of interior design. The Buatta-loving, ruffle-wearing grandmillennials are ready to take the helm and steer us into a brightly colored future, he says, though he warns that they're up against a "very forceful opposite." Luckily, "there will always be a group that's classic, and thank God they still want us to decorate for them." 
Varney notes that "life is not long; it gets shorter by the day." Nonetheless, he adds that, even in these unsettled times, happiness is always there—"just try meditating on it."