From iconic designers (including the late Albert Hadley) to President Obama, everyone wants to add one (or a few) of Christopher Spitzmiller's beautiful hand-thrown ceramic lamps to his or her space. A former artist-in-residence at Southampton's Mecox Gardens, Christopher has produced his cult-status lamps since 1996, first in Washington, DC, and now in a 3,000-square-foot studio in NYC with a staff of 12. He still loves being at the wheel to make "the best table lamps on the market."
We asked Christopher if we could peek inside his studio to see where and how these classic designs and bold, rich glazes come together to create the lamp every design-lover lusts after.
You're known for your gourd lamps in bright colors. What drew you to designing them?
"Richard Keith Langham, a decorator for Jackie Onassis and Pat Buckley, first commissioned a pair of lamps in the summer of 1996. Then, I supplied just the ceramic vases, and Keith had them wired. My motto in business has always been 'Make it easy for the client,' so I set out to learn how to hand-turn the wood bases, water-gilt the bases, and find the best electrical fittings. A niche was filled, and my business was born!"
Where do you find inspiration for the gorgeous shapes of your lamps?
"Asian and other historical shapes that have been around for centuries mainly inspire my lamps. What I strive for most in my designs and products is timelessness. [Designer] Miles Redd says, 'Buy the best and only cry once.' We share that point of view!"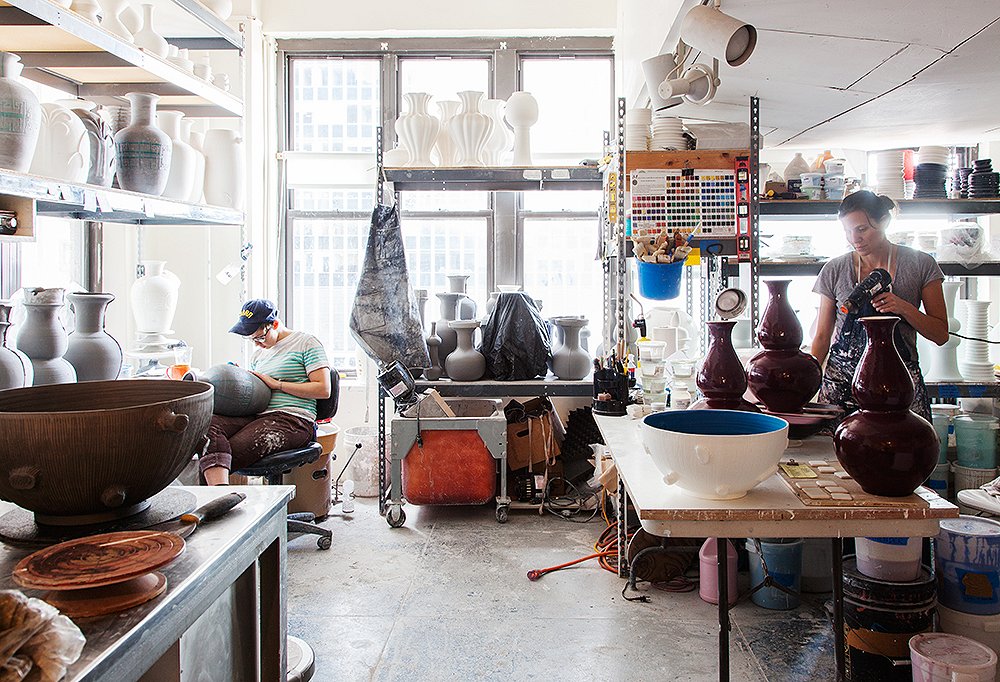 Take us through a typical day in your studio.
"I come in and talk to Nic, Zaheer, and Justin about what's going on in the office and then change into my studio clothes. I go and see what's happening on the production side of the studio. Then I get to work on my own or with one of my assistants."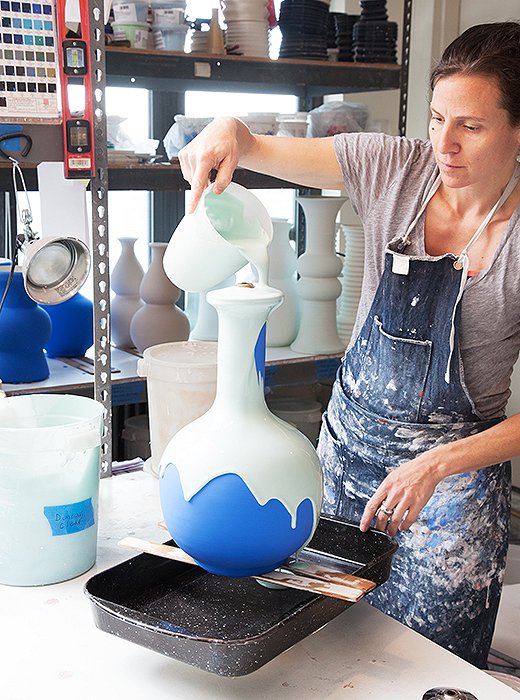 How long does one lamp take to create?
"I hand-throw the models we use to make our lamps—usually a set of six to eight. I pick the very best one, and then we make a plaster mold to standardize the process. It usually takes six to eight weeks to create a lamp, from boxes of clay and slip. Boards of wood are hand-turned into bases, and gold leaf becomes shiny water-gilt bases."
How has history played into your lamp designs? And what do you love most about ceramics?
"Yes, I comb museums, auction houses, and any other historical references for my lamp design ideas. Taking old time-tested shapes and making them mine in a new way is what I love doing and yields the best results. What I love about ceramics is the whole process, taking some compressed wet dust and minerals, literally mud, and making something wonderful and, above all, useful!"
When it comes to color, do you have a favorite combination or a favorite color? Any hues you're particularly loving right now?
"Our Prussian blue, which President Obama has in the Oval Office, is always a winner. Platinum and clear are my other two favorites. I'm trying to bring some bling to whatever room you put my lamps in. We do this with our gemlike glazes and our excellent craftsmanship."
What I strive for most in my designs and products is timelessness.