Every functional living room needs a coffee table, but that doesn't mean it has to be an actual coffee table. From tufted ottomans to sculptural pieces, you can turn nearly any low-slung, flat-surfaced piece of furniture into your very own version of a coffee table. Here, discover six unconventional options to suit every style, space, and purpose.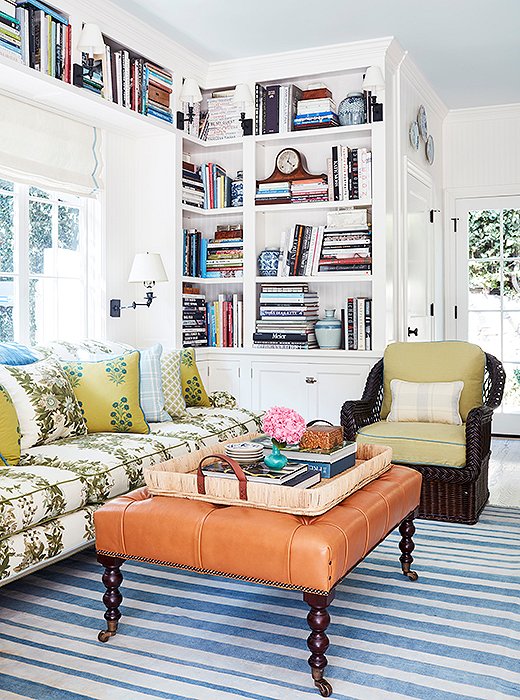 The Ottoman
Your favorite footrest can easily turn into a coffee table with a few simple styling tricks. Start by placing a tray on top, which will give you a sturdy surface on which to set drinks and flowers. Then add your favorite accessories (books, small storage boxes, decorative objets) to fill out the rest of the space—this is key to making it feel more like a coffee table and less like a sparsely styled ottoman.
Bonus tip: Make your ottoman serve double duty! Clear it off and move it to the side of the room for handy extra seating, or take advantage of a storage ottoman to quickly tuck away blankets or toys.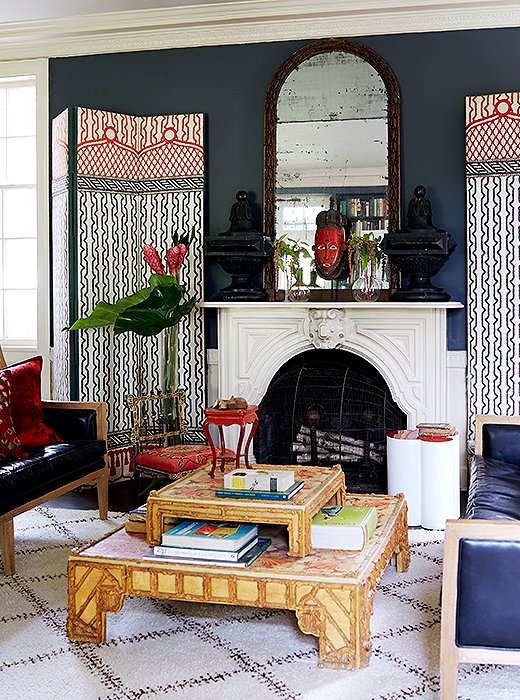 The Double-Decker
We're always talking about adding layers to a room, so of course we're swooning over this stacked coffee table look, which truly takes layering to new heights. Style lower-slung pieces (your collection of coffee table books is perfect here) on the bottom table to create a balanced and simple base, then place a taller piece on the top tier as a dramatic focal point.
Bonus tip: Use the concealed space underneath the upper table as a spot to stash away TV remotes and other not-so-pretty items.
The Nesting Tables
Nesting tables are expandable, super-versatile alternatives to the coffee table. You have a few options here when it comes to styling: Stretch them all the way out to create a full-size table, overlap them a bit if you're tight on space, or keep them nested together for a smaller piece that still gives you options to expand.
Bonus tip: Not into the layered look? Use each piece as an individual side table for a look that feels cohesive but not matchy-matchy.
The Pedestal and Tray
Give your small side table more surface area (and extra style points) by topping it with a tray—a perfect coffee table option for a petite space. Here, a French tole tray rests atop a raffia table, though you can use any type of tray or table (or even a garden stool!) to get a similar look.
Bonus tip: Use a sturdy basket in place of a side table for a secret storage spot.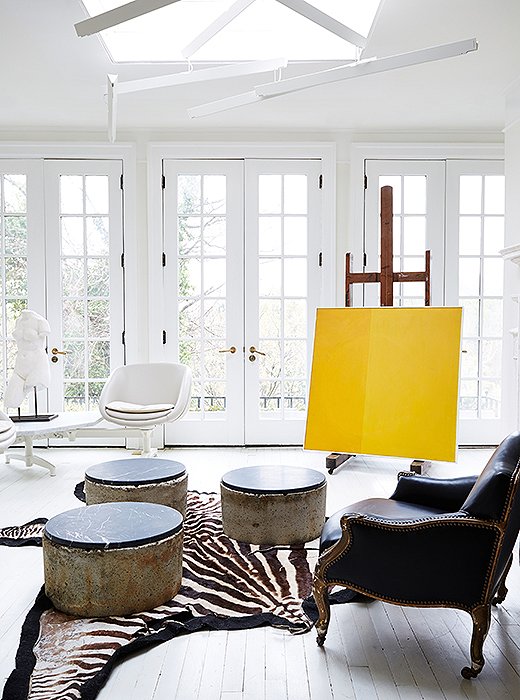 The Set of Three
Apply the Rule of Threes—a design guideline that says things arranged in odd numbers are more visually appealing—to your living room by grouping a set of three matching tables together. It's an unorthodox approach to be sure, and perhaps driven more by form than by function, but it's certain to create a space that feels both memorable and fresh.
Bonus tip: Experiment with placement (in a straight line, as a triangle, staggered) to create a look that works best with your seating arrangement.
The Functional Work of Art
Really want to go unconventional? Opt for a sculptural piece that serves as coffee table and work of art. We love the serene coloring and organic lines of this stone table—though any statement-making, off-kilter option is certain to be a conversation piece.
Bonus tip: Keep tabletop decor to a minimum to best show off your stunning piece.