Hot take: Coffee tables are the most important piece of furniture in the living room. Hear us out. They anchor the entire space and create a tableau where the design influences, color palette, and personal touches come together. All of which is why picking a coffee table and then styling it to perfection can be intimidating. So we put together this coffee table guide to answer all your coffee table questions and provide a step-by-step process on how to style it.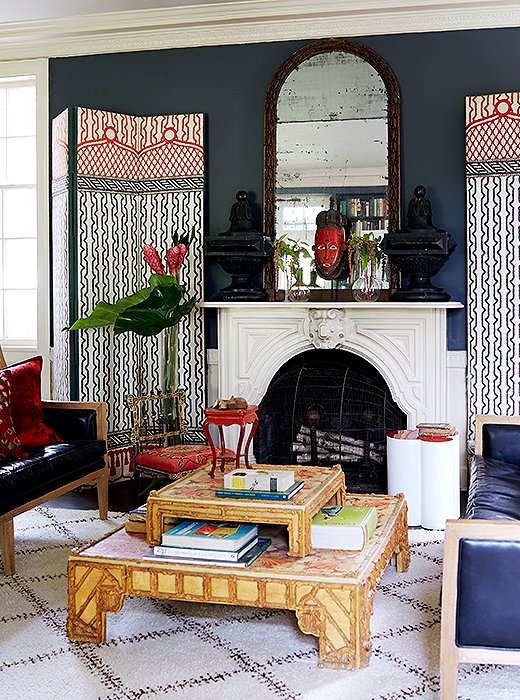 Table Talk
Before you can style, you have to find a table that fits your space. This may seem like the most overwhelming step in the process, but we're here to help. "Look to space as a whole to find your cues on what type of table to choose," suggests designer Becca Roderick. "You want the scale of the coffee table and the furniture paired with it to be similar." If you have a small space, go with a smaller coffee table. If you have a huge sectional, go with an oversize piece. Below are the most popular options with tips on how to figure out which one is best for you.
Nesting tables: Use nesting tables in apartments or small sitting rooms where you want to maximize space. Pull out all the tables for a wow moment or stack them together to make more room for guests. The smaller tables can also nestle between sofas and chairs without taking up a lot of space.
Sculptural: Sculptural pieces are statement makers. They work well in both small and large spaces but look best when surrounded by more-subdued furniture. Some of our favorite sculptural pieces include kidney-shape tables, exaggerated takes on live-edge tables, and dual-level tables. To heighten the drama, try finding art that mimics the lines of the coffee table.
Cocktail ottomans: Cocktail ottomans are a great double-duty furniture piece. If your family loves to put their feet up but you don't want them to ruin your coffee table, an upholstered cocktail ottoman is a great compromise. Many are large enough that you can style books, trays, and other objets on top. You can also swap a large ottoman for two smaller X-benches.
Round: Flow is hugely important when designing a room, especially a small space. Round coffee tables are a designer's go-to when it comes to opening up the flow of a room. There are no hard edges to worry about, and that frees up a lot of visual real estate. If your room feels a little crowded or overwhelmed by straight lines, go for a round coffee table.
Rectangular: A rectangular or square coffee table is as traditional as it gets. And traditions are traditions for a reason. These tables work well in almost any space. Finding the right size depends on how much room you have. A rule of thumb: There should be 14-18 inches between the sofa and the table.
Material matters: Always consider the other elements in the room when determining the material of your coffee table. Glass works well in small spaces where wood might feel a bit clunky. Brass tables can add some much-needed dimension to a room with lots of wood. Heavier materials such as marble should be balanced with lighter silhouettes.
Build a Base
Once you've decided on what kind of coffee table you want, it's time to start building the look. Any or all of these go-to items should serve as the foundation for the rest of your design: books, a decorative tray, or a decorative bowl. 
Books: You can choose the books based on your interests, or you can do what many designers do and judge the book by its cover. There is no wrong way to decide which books you want to showcase. Color-coding books has become popular over the past few years, and you can now easily find bundles that match your color scheme.
Trays: Trays are great for tables with interesting shapes and for cocktail ottomans because they provide a flat surface off which to build. If you want practical items such as a remote within arm's reach, consider a tray. The one downside to trays is that they can limit the space you have to work for kicking up your feet; for that reason, Becca suggests you use a tray that takes up no more than half of the table.
Bowls: Using a bowl is a great way to add dimension to the tableau. Look for bowls made of materials that are the antithesis of what your table is made of. If you have a brass table, try natural materials like vetiver or horn. If you have a wood table, go for metal or glass.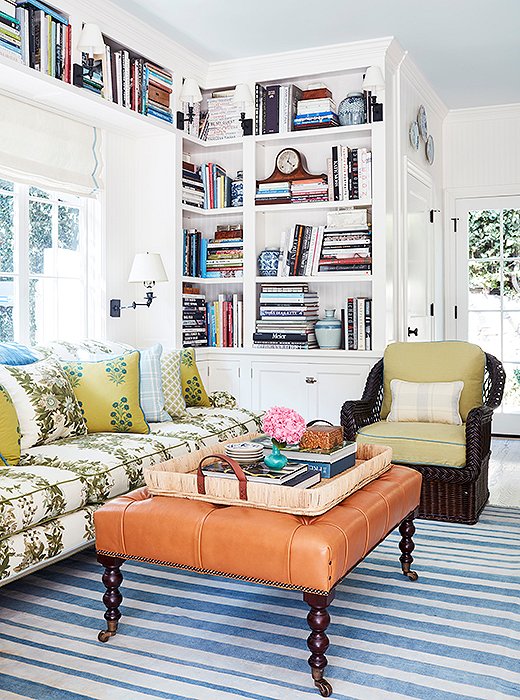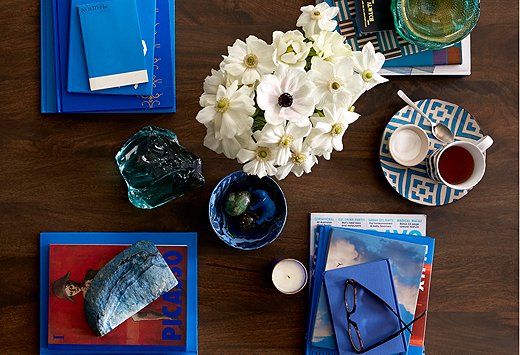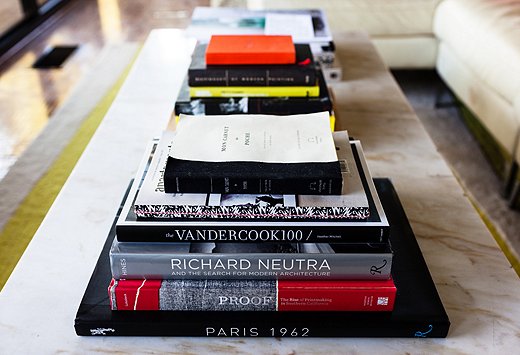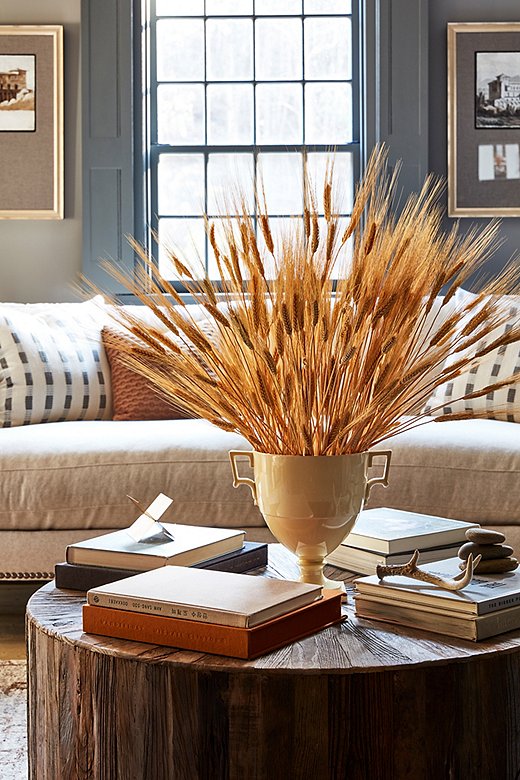 Sky's the Limit
You'll want to build height after establishing a base—but not too much height. As a rule, you don't want to obstruct the view across the room. "You want to make sure that nothing brings so much height that the visual reference across that center point is lost," says Becca.
Of course, all design rules are meant to be broken. Tall greenery or a high stack of books can create a showstopping moment. Just be certain it isn't in danger of toppling over.
Books may be the go-to for creating height, but they aren't the only option. Fresh or faux florals, vases, candlesticks, or other tall decorative items also work nicely.
Tips on Stacking Objets
Order of operations: It may seem intuitive, but it's worth mentioning that you should always stack largest to smallest.
Something's off: Try topping your stack with something a little different. For example, if you've got a vintage wooden box, place a pair of silver candlesticks on top of it.
Pattern play: If your stack of books can be seen from the side, try color-coding it from darkest to lightest. If you can't do that, try introducing a fun pattern into the stack by going light to dark and then back to light.
Personal Touch
After you have the basics down, add some of your personal items to make the coffee table come alive. It's the perfect place to show off your collection of matches from restaurants around the world. Or maybe you live by the beach and have an assortment of shells in a cute basket. There is no secret to artfully arranging objects on the table. Play around until it feels right to you. But if you want some general styling rules, we've added our favorites below.
Style Like a Pro
Odd one out: Psychology tells us that grouping things in odd numbers is more visually appealing. When you're styling a table, try adding items in threes or fives. Odd-number groupings create cohesion and (the right kind of) chaos all at once.
Consider color: Do you want to tell a color story? If so, this is the place to do it. Work within the same tones to create a unified statement. Or work in color-wheel opposites to create an attention-grabbing moment.
Mix materials: If you have a lot of wood on the table, add brass. If you have lots of metals, add wood. Mixing materials is the cheat code for finding balance within a design.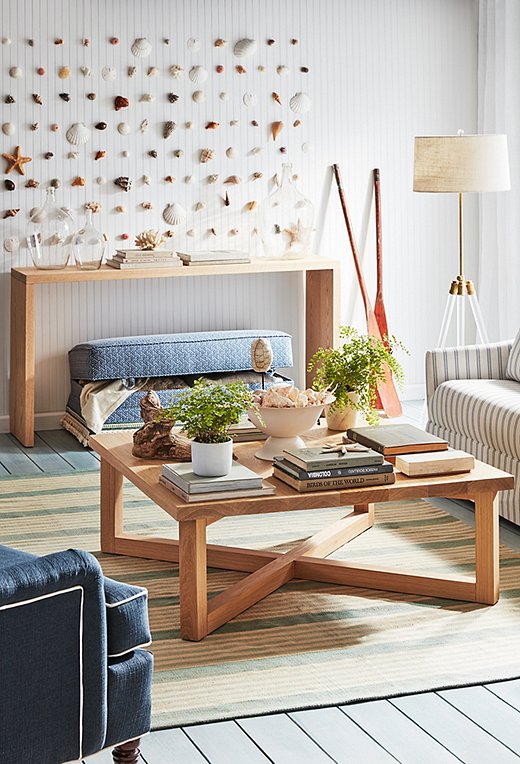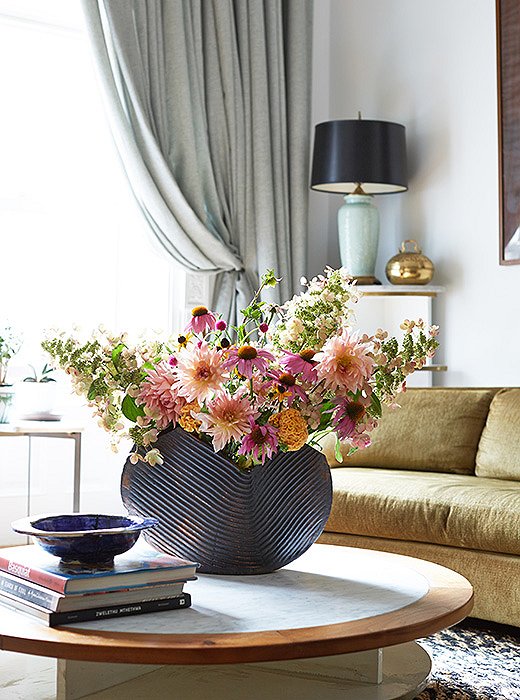 Go Green
The final step in styling your coffee table is topping it with some sort of greenery. You can go fresh or faux here. Fresh florals give you more leeway and are great for creative types. If you love the look of florals but don't want to spend time making arrangements every week, go for faux.
The flowers you pick depend on what's available that season. Becca loves peonies, hydrangeas, and roses. "Any flower that works in a small, round arrangement is great for coffee tables," she says.
Our Favorite Faux Florals 
Red Hydrangeas with Textured Vase: The autumnal colors in this arrangement make it a great choice for the upcoming season.
Peony Bouquet in Vase: Peonies are a classic flower. This white arrangement would work well in any room regardless of season.
White Orchid with Planter: Make a statement with this single flower in a vase. It's perfect for a minimalist aesthetic.