Every Sunday in our #DearOKL Q&A column, our expert editors answer your decorating questions.
What to do when it comes to mixing vintage and new? It can be a tricky feat to keep anything old feeling fresh, let alone your great-aunt Marjorie's mahogany four-poster with a canopy to boot. Here, we address just a few of the decorating issues being faced by thrifters, collectors, and hand-me-down receivers just like you. Read on for our take on how to incorporate art and furniture from all eras to create a curated look that'll never date.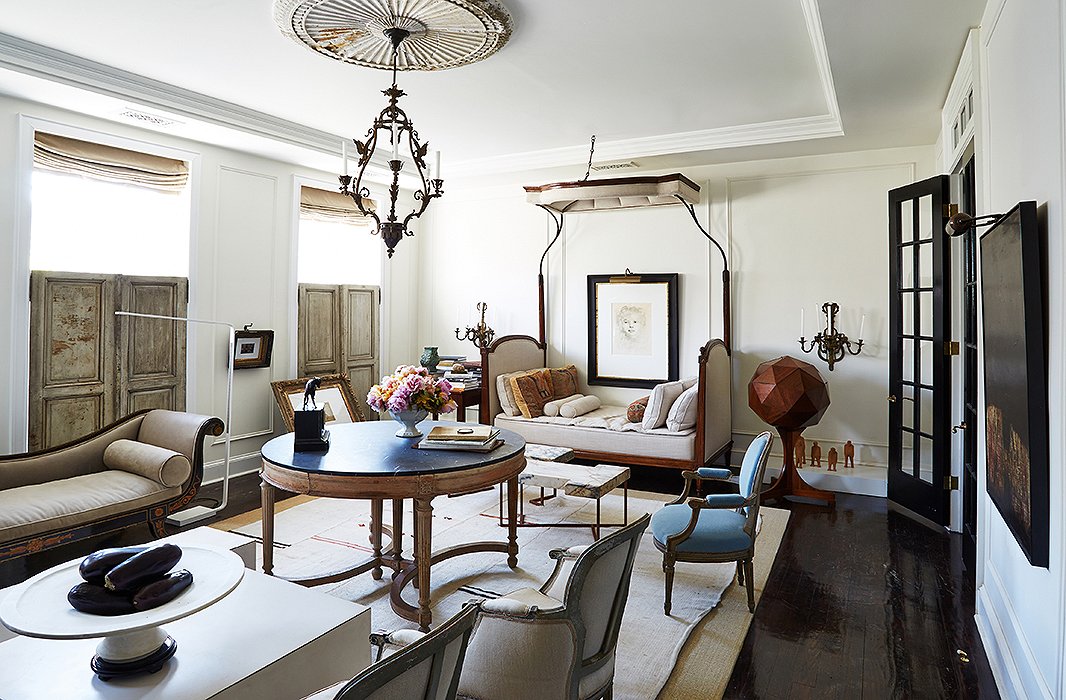 Q: I love seeing the craftsmanship in old wood pieces (most of my furniture is dark wood), but all the wood can make a room feel heavy and dated. How do you balance the design to keep it updated and light?–@sarahcculver
A: Consider creating a paired-back, neutral backdrop with a pale paint such as Benjamin Moore's White Dove. Without the distraction of a patterned wallpaper or loud color, the craftsmanship of your wood pieces will be all the more easy to appreciate. Keeping window treatments spare is also key. Ditch heavyweight curtains in favor of roman shades in a creamy linen for a transitional touch that can sway traditional or contemporary depending on how you style the space. The same goes for accessories—maintain a balance of old and new with objects fashioned in modern materials such as acrylic, lacquer, and stone. It's this eclectic mix of periods and textures that protects a space from feeling dated. Our home tours with Darryl Carter and Vicente Wolf are two fine examples of residences filled with more vintage than new, but both feel timeless rather than Old World.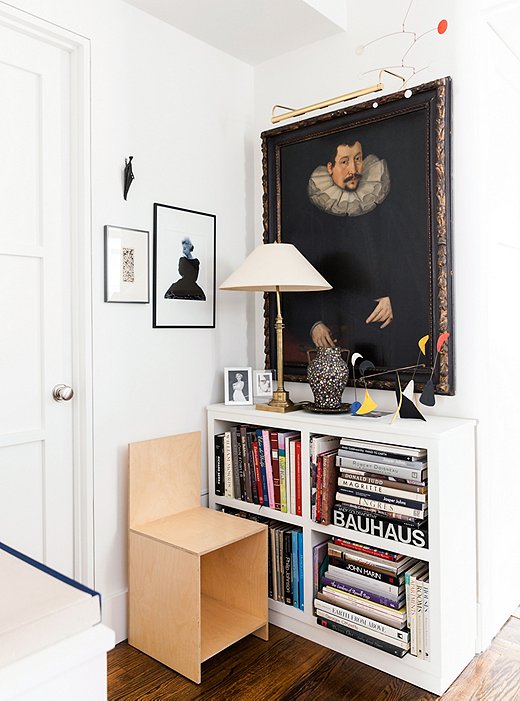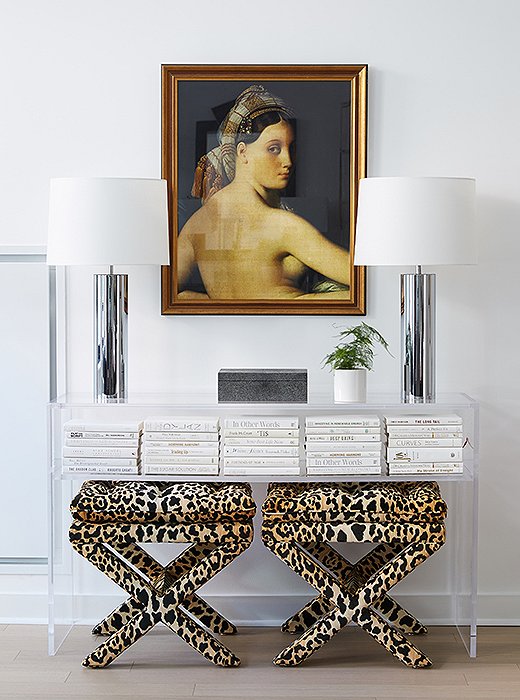 Q: I love adding vintage art to my decor, especially American oil paintings, Art Deco, and rococo fabric. How do I integrate them all while still keeping the space feeling clean and modern?–@nikkystarrett
A: We love that you're down to get in touch with your inner curator. For actionable inspiration, we suggest turning to the tactics of interior designer Mariette Himes Gomez—no one has mastered incorporating traditional art into contemporary interiors quite like she has. Up top, we see how she juxtaposed a Flemish painting with two Calder-style sculptures opposite a Bert Stern photograph taken in 1962. Three styles of art, all from different eras, unite to form a clean and compelling mix. Her trick is deceptively simple: "If you want to have collections and art, white [walls] makes sense," she says. All too often, rooms lose their modern luster when too many pieces of art hang on a wall saturated with color. White walls provide the oxygen that vintage works need to breathe. Also worth noting is Himes' use of stacked coffee table books to create a visual anchor with graphic appeal. The result? A corner that feels both current and collected.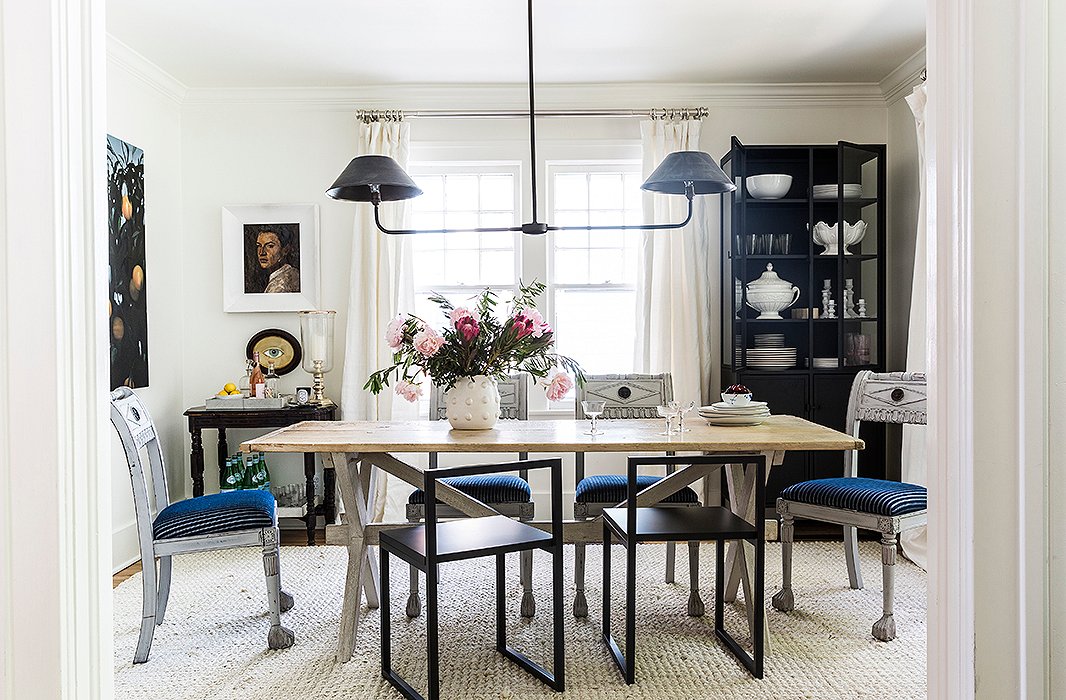 Q: I have a teak pedestal dining table, which is a family heirloom that has matching chairs. I feel like the chairs are too dated but I'm not sure what to replace them with. I'm tempted to mix and match. Any ideas?–@suesmartie
A:
Mismatch it up! Life's too short to resign yourself to matching dining suites. Team your family heirloom with a set of Louis-style seats (
see here
) along each side, then anchor it all with two swingingly sleek head chairs at each end (think chrome, acrylic, bentwood…). If that ventures too eclectic for your taste, consider a 50/50 ratio of upholstered seats to those constructed of bare metal or wood for the perfect balance of texture and materials. The most important thing is to choose what you love. Peruse our selection
here
 ,and don't hesitate to reach out to our
Studio team
for some one-on-one design help.
Have a question? Ask us!
---
And while you're at it, set up a complimentary one-on-one consultation with one of our talented designers at The Studio at One Kings Lane.