His meteoric rise, thanks in large part to his fearless way with color, has made Patrick Mele a designer to watch. "I'm not afraid of color. I like bold statements with color. I like rich hues," he proclaims. "I don't tend to work a lot with muted or tertiary colors. I like crisp white, crisp black; I like crisp vibrant color as an overall statement."
So how does he do it? We scored a peek at one of his design projects and asked him to decode his color choices, room by room, and the lessons started flowing in. Prepare to look at color in a whole new way.
Lesson No. 1
Think in Color Families
At first glance the home's entryway looks like a riot of color, but after talking to Mele you realize he was actually working with a tight palette. "I wanted a lot of white, first of all, and then a mix of blue and orange," he reveals. The secret? Working with various hues within each of these two complementary color families. His blues included "cobalt, turquoise, delft, navy. Within the orange family, corals, tangerines, grapefruits. Really rich hues, not muted."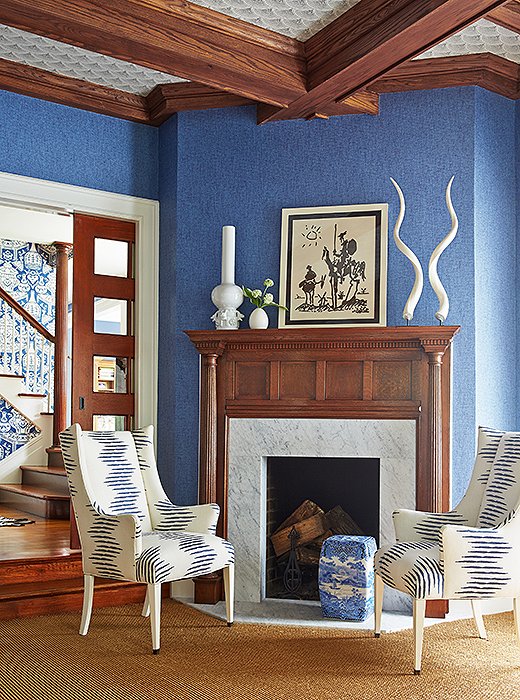 Lesson No. 2
Blue & White Always Works
For Mele, using a combo of blue and white is like "wearing a white shirt with blue jeans, or a navy-blue blazer and a white shirt. It never goes out of style." The classic color combination in interiors can be similarly dressed up or down. In the living room, Mele used a decidedly denimlike shade of blue grass cloth on the walls to add color and texture, which helps the silhouettes of the white accessories and the wingback chairs really pop. The overall effect is polished yet casual. "I think blue and white is the equivalent of black and white; it's just not as fierce," says the designer. "It's more welcoming to most people."
Lesson No. 3
Pick a Palette, and Repeat
Working within a streamlined color palette not only helps the rooms themselves feel cohesive, but it also helps with the transitions between rooms. "When you're in the middle of the foyer and you're able to see all the other rooms throughout, you have the same family of colors repeated but in different ways in each space," says Mele. Case in point: The walls of the breakfast room are coated with a similar blue to the family room, but this time with paint, and as in the entryway, a pop of orange upholstery has a striking yet grounding effect.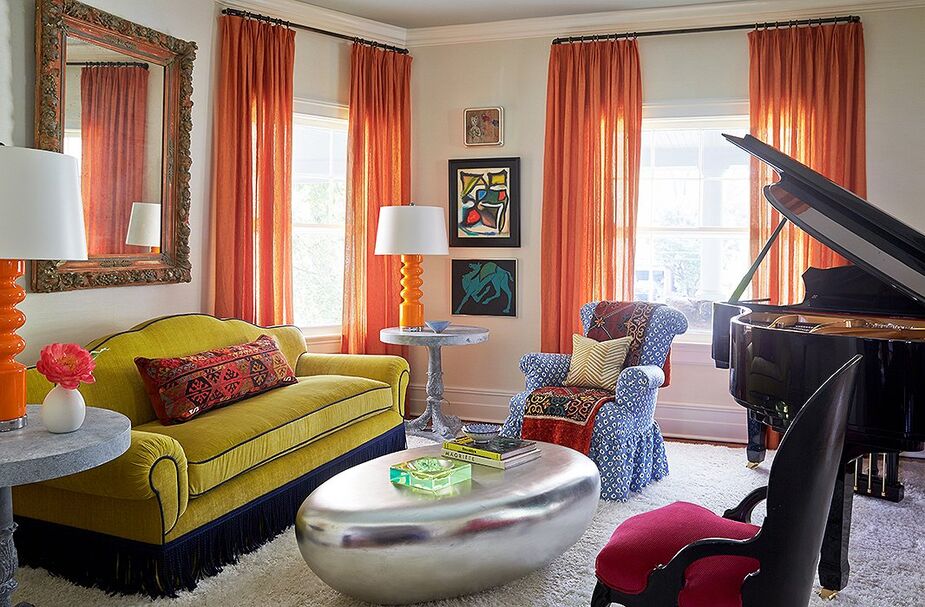 Lesson No. 4
Play with Percentages
A genius way to get even more mileage out of a small group of colors is to do a flip-flop of sorts, pushing what was previously used as an accent color to the foreground. This is precisely what Mele did in this music room by using statement orange curtains and tangerine lamps while letting the blue and white recede to a single armchair. "It ties in blue to fit in with the rest of the house," says Mele of his design.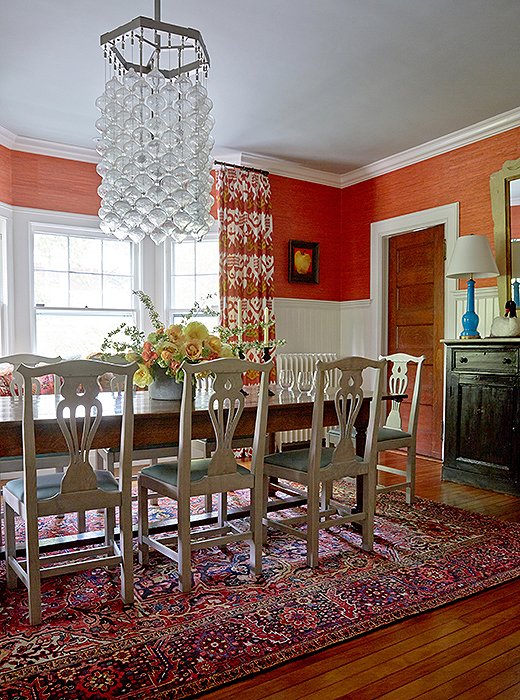 Lesson No. 5
Use White to Freshen Things Up
Mele is a huge proponent of painting things white, especially furniture. "I think white modernizes and freshens," he says. "People are afraid of their old grandmother's found furniture, but their forms are so fabulous and remain timeless. White just gives furniture a contemporary personality, I think. A fresh youthful spirit." To strike the right color balance in the home's formal dining room, Mele had the dining chairs bleached white from the original brown.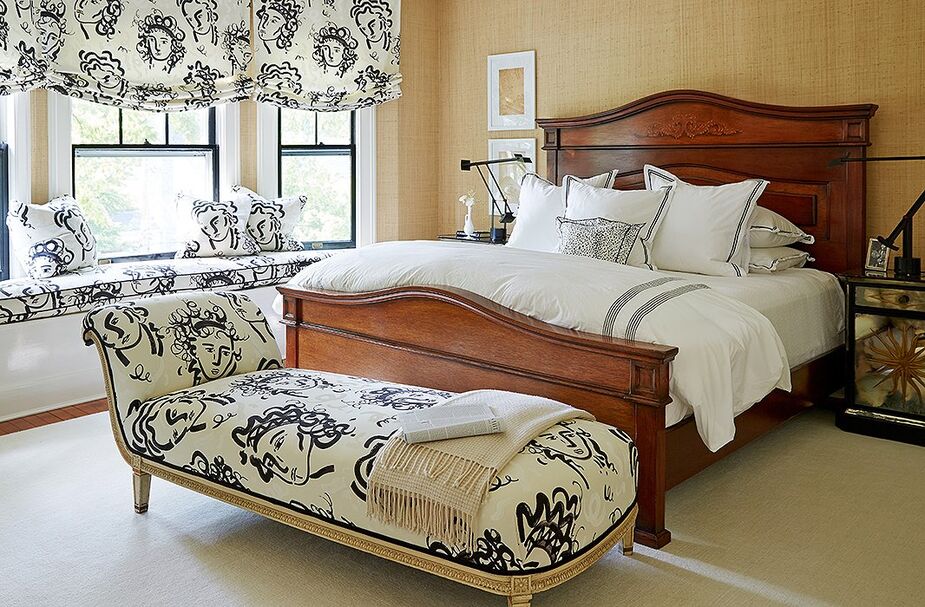 Lesson No. 6
Strike a Color-and-Pattern Compromise
When dialing up the pattern, it's sometimes best to dial down the color to achieve a calmer, less chaotic effect. When designing the home's master bedroom, Mele started with a bold, Matisse-esque pattern and made his color choices, or lack thereof, from there. "I just wanted to use that pattern everywhere and not break it up with different colors or patterns," he says. To that end he refrained from introducing any of the vibrant colors he used on the home's ground floor. "I wanted it to feel a little calmer, quieter, even though it's not a calm, quiet fabric."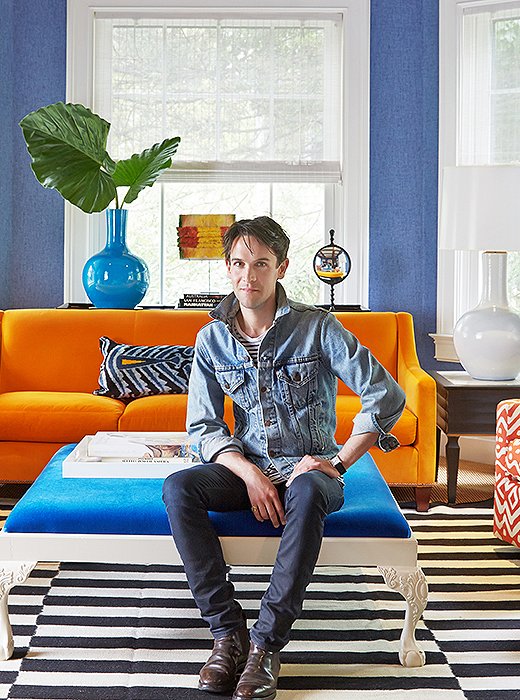 More Mele Color Tips!
What's a great way to bring in brighter hues without it feeling overwhelming?
"If you aren't comfortable using strong hues in a big way start small, with key accessories like textiles—pillows, throws, area rugs—that can be switched out as your mood changes."
What are a few of your favorite decorating tricks for adding instant color to a room?
"Fresh flowers, books, lampshades."
What are common color decorating mistakes you see?
"Dreary, gray, diluted versions of true color, I think, are overused. Too many institutional creams. Creams can at times be lovely, but more often than not they are sad and feel dirty and dated. Instead of cream, opt for true, crisp white. Instead of sand, try cocoa."
Any specific rooms that are great for experimenting with color?
"Dining rooms are a great place to try out your first move in the color department. We usually gather in these spaces at night, a time when a deep color, such as claret or aubergine, illuminated by candlelight, draws you and your guests to the table. Powder rooms are another, which should be treated as little jewels and departures from the rest."