Not-Too-Proper Pattern
Unlike her approach to her more subdued master bedroom, tastemaker and entertaining extraordinaire Lulu Powers saw the guest room as an opportunity to have some fun. A traditional toile wallpaper by Pierre Deux reads more playful then proper thanks to a group of eclectic accessories. For Powers, a well-appointed guest room includes "a bottle filled with water and a glass over it, a pad and pen, good lighting so your guests can read, a comfortable bed, and a good-smelling candle."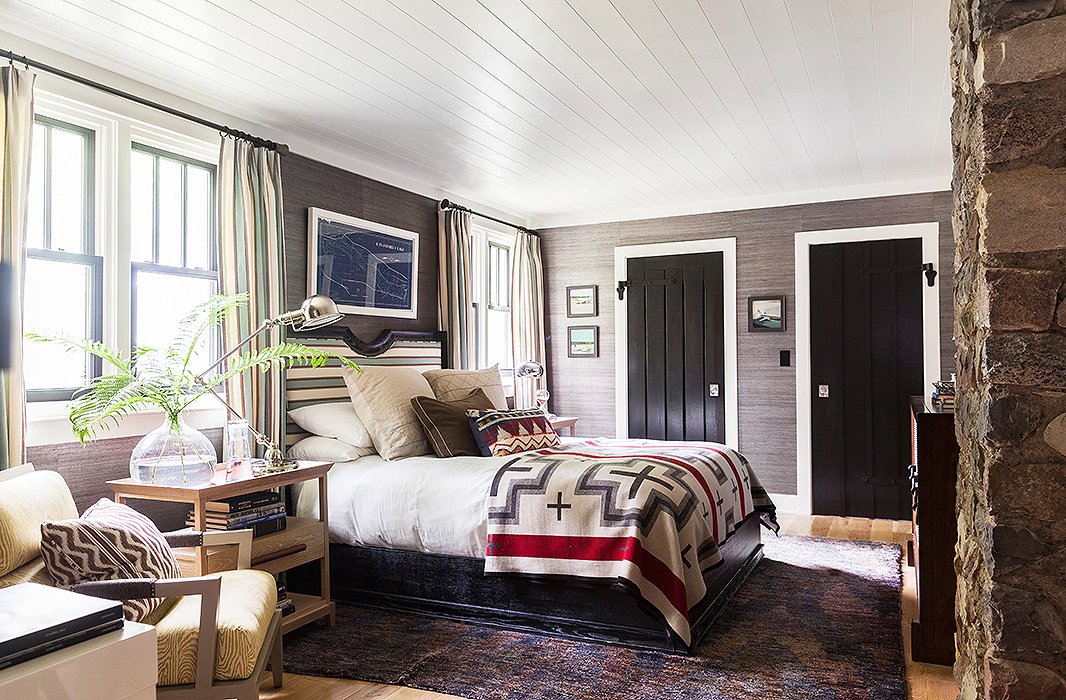 A Rustic and Elegant Escape
When you have a gorgeous lake house that's an easily managed drive from New York City, guests are a given, and that's just how designer Thom Filicia likes it. "My favorite thing about the house is that it feels very welcoming and it feels very inviting," he says. Fabric-covered walls have a cocooning effect in the guest room, where items such as a Pendleton blanket pay subtle homage to the lakeside location. Plenty of pillows, bedside carafes, and storage to unpack and put away clothes reinforce the welcoming atmosphere.
A Healthy Dose of Drama
For designer Chloe Warner, a couple of dramatic touches, particularly the use of a Clarence House cherry-blossom pattern for pillows, window treatments, and bed skirt, set the tone for guest quarters that feel dramatic but well balanced."Symmetry feels very calm to me," says Warner. "It feels formal in a way that I enjoy."
A Bit of Country Comfort
Staying true to the roots of his 17th-century Long Island farmhouse, design legend Jeffrey Bilhuber chose a sweetly sophisticated wallpaper and a selection of antiques to outfit his guest room. Plenty of reading material and easy-to-reach bedside lighting ensure a comfy stay. For Bilhuber, it's about truly letting guests have the run of the house. "So many times I've found guests playing cards at two or three in the morning—long after I've gone to bed!" he says. "I'm very happy to let our guests find their way in the house and have their own time to enjoy it."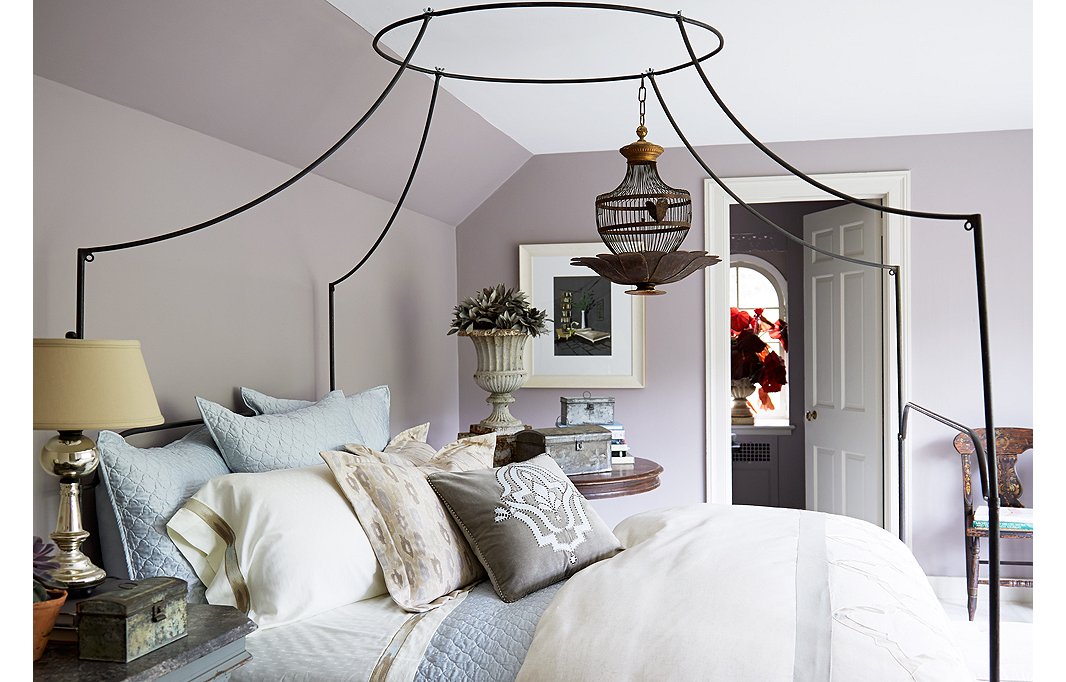 A Masculine-Meets-Feminine Mix
In the guest room of powerhouse design duo John Dransfield and Geoffrey Ross, masculine-leaning furnishings were combined with feminine, lavender walls painted in Elephant's Breath by Benjamin Moore to achieve a balanced look that's equally welcoming to all. As for guest room must-haves, "above everything else, I want my guests to be comfortable," says Ross. "This means inviting beds with a heavy duvet and a light coverlet so that they have options, big squishy goose-down pillows, and a reading lamp so they can prop up and read in bed."
Home Away from Home
Designer Michelle Smith's guest room is so cozy, she has trouble getting guests to leave. "I always have houseguests who stay forever," she says. Antique furnishings, like the brass bed and the marble bedside table, are combined with contemporary bedding that's arranged just so. "I think down comforters can look messy, so I do a tight coverlet and just fold the comforter on the bottom so that it's intentionally messy but you have some neatness to balance it."
The Joys of Southern Hospitality
For New Orleans resident—and the mastermind behind cult-linens company Leontine Linens—Jane Scott Hodges, "There's something really special about opening your home to people." When her daughter is away at school, her room is easily adapted for guests with the addition of a bedside carafe here, a few flowers there. An orange-and-lavender color scheme plus a few lively prints are youthful enough to suite the room's original occupant but sophisticated enough for grown-up guests.