When one of L.A.'s elite or a member of the Forbes 500 needs to find just the right gift, he turns to professional shopper Simone LeBlanc. Her boutique gifting studio, founded in 2011, provides hands-on guidance to help clients find that perfect something. Here she shares her step-by-step shopping strategy to help the rest of us nail it this gifting season.
1. Break It Down
Start by breaking up your list into groups labeled 1, 2, and 3. Group 1 is for acquaintances and your extended contacts. Group 2 is for your broad group of friends and business contacts. Group 3 is for close friends. Note: I recommend keeping your one-of-a-kind gifts for immediate family, spouses, and anyone else you really want to send a special message to.
For Group 1: I like to send a great holiday card with a handwritten note. For some extra sparkle, I'll add a beautiful hand-calligraphed envelope. I also love a great stamp. It's easy to create a custom one online or add unused vintage stamps (purchased from Etsy or eBay). These thoughtful details add a hand-touched feel that make any card stand out.
For Group 2: Start by setting a per-person budget and pick out a simple and celebratory theme. For example, everybody loves a well-packaged, tasty treat. Choose an indulgent cocoa from a faraway destination and include an artisanal-marshmallow tasting kit along with a favorite mug. 
For Group 3: Let an inspiring theme lead the way. If dinner parties are your thing, for example, give a selection of hard-to-find salt and spice blends with a spice grinder. If you love to concoct fabulous cocktails together, gift each friend a different bottle of spirits along with some handwritten recipes to be blended together at a future date. A gift like this will lead to many fun nights up ahead, guaranteed.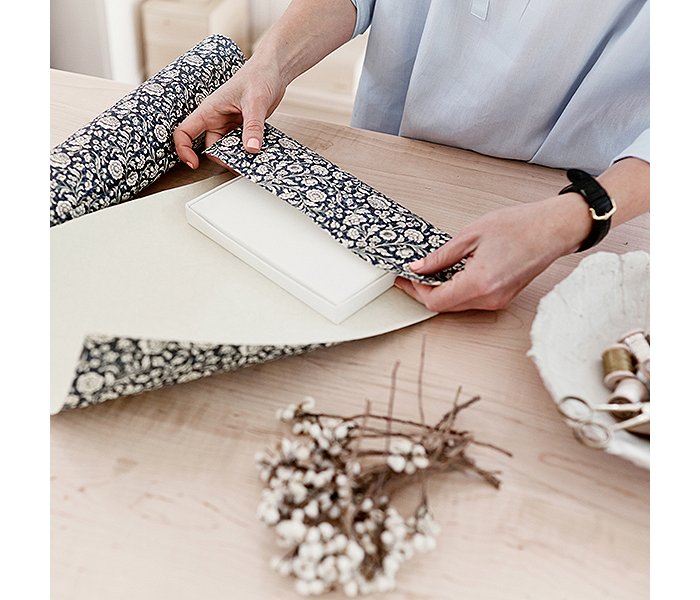 2. Perfect The Hostess Gift
'Tis the season for festivities, and there's nothing that stands out more than an unexpected hostess gift, especially one that sincerely says, "Thank you for all the trouble you've gone to." My go-to tip for nailing the perfect hostess gift? Make her day after hosting something for her to look forward to. Come armed with treats for the morning, such as mimosa fixings and an easy scone mix, or a delicious spread of fruits and cheeses to nibble on in the wee hours or when she finally wakes up the next day. Add a couple of magazines, and post-soiree, the hostess will be thanking you for making her day after hosting a lazy, no-fuss affair.
3. It's All About the Details
For those on your very special gift list, it's not about the budget necessarily, but the insight. Gifting an item with history or related to a personal story is a great opportunity to show how well you know someone and how much you listen or understand him. Recently, for a client who is intrigued by the history of the USPS, I tracked down a vintage leather mail-carrier bag that was used by the postman on the postal route in his childhood hometown. I had the piece restored so that he can use it as his day-to-day attaché, and he was touched beyond words. For your very special gift list, dig into the details and think about the backstory. It's worth it.
4. Seek and Ye Shall Find
A failsafe tip for personal, easy seasonal gifting is to keep an eye out for gifts for loved ones all year long. I often pick up pieces that feel just right for someone months away from the holidays and hold onto them until the time is right. This helps to avoid the stresses of the holiday season and also keeps your gifting authentic and time-crunch-free. There's nothing more gratifying than knowing you found the perfect something for that special someone, with simplicity.
5. Keep Your Eyes on the Prize (or the Present)
Remember that a gift given from the heart resonates. When you are excited about the gift and can't wait to give it, that's a sign that you're on the right track! Go with your gut and know that if it's heartfelt, that will shine through.