We've long been fans of Heather Taylor's easygoing and vibrant style, which she infuses in her gorgeous line of linens and housewares, Heather Taylor Home. And after seeing the chic soirees she's thrown with her equally stylish friends Jenni Kayne, Shiva Rose, and Clare Vivier on her blog LA in Bloom, we knew we had to score our own invite. Since this is L.A., where the outdoor entertaining season never ends, Heather took this colorful dinner party alfresco, creating a delightful meal with plenty of stylish touches. Read on for the tastemaker's easy tips for a picture-perfect get-together to fete the season—West Coast style.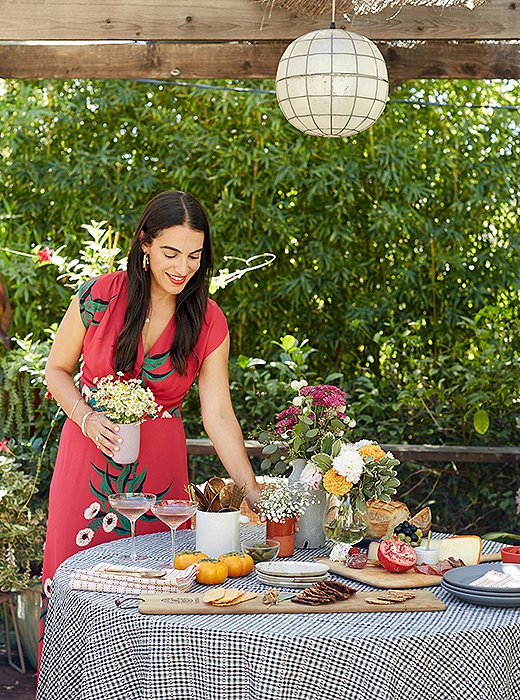 From Farm to Table
Heather finds plenty of inspiration—and ingredients—at the farmers' market. "I like to get really inspired by a recipe or by a seasonal ingredient—something that I find at the farmers' market," she says. "I let whatever we're serving be the guiding principle behind how everything else comes together." Here, she set out dishes of persimmons, grape tomatoes, and pomegranates to bring in a fall palette and accompany the savory cheeses and meats.
A Bounty of Seasonal Snacks
"I love to put together a killer cheese board, especially when we're having people over after work," Heather says. She set the table with multiple trays of cheeses, meats, and crackers, as well as dishes of olives, cornichons, and artichokes. The plentiful spread "really works for fall."
Layers of Linens
For Heather, whose line of colorful linens is handmade in Chiapas, Mexico, a plain white tablecloth and napkins just won't do—particularly this time of year. "In the fall I like to do a lot of layering and include some unexpected patterns." she explains. Her black-and-white gingham Soho tablecloth provides a neutral base for the colorful Scarlett napkins. "Those have nice festive shades of pink and red," she says. "I think it's an unexpected combination, but somehow it works in a really fresh and pretty way." Brass flatware and simple ceramics complement the palette and let the linens be the focal point.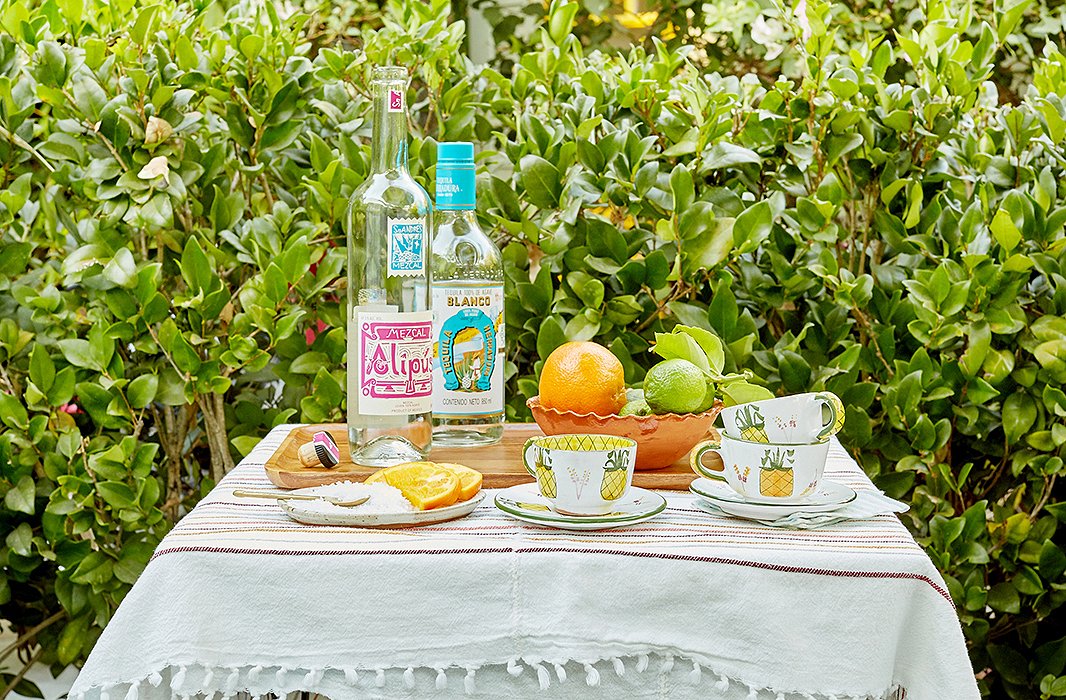 Cocktails and Conversation
Luckily for the tequila-loving tastemaker, it's always margarita season in L.A. "In the fall I'll do a margarita with cinnamon and apple cider or pomegranate," she says. Heather also loves to use different types of glasses and works with what she has in her collection, including these charming pineapple teacups. "They're really cute for sipping mezcal and people always love it," she explains. "They're a conversation starter, which is also fun."
The Power of Flowers
Heather gravitates toward simple bouquets of classic flowers from the farmers' market or cut from her backyard. "Peonies, dahlias, roses, marigolds—those are really what moves me," she says. "I love them in very casual, monochromatic arrangements in really cool vessels." She creates bouquets in pieces from her ceramics collection or in drinking glasses she picked up in Mexico.
Heart of the Home
Even when the party is outdoors, guests tend to feel the pull of Heather's bright and airy kitchen and breakfast nook. "I wanted to have a nice table where we could all hang out, which is exactly what happened," Heather says. "It's where everyone wants to be when we have a party."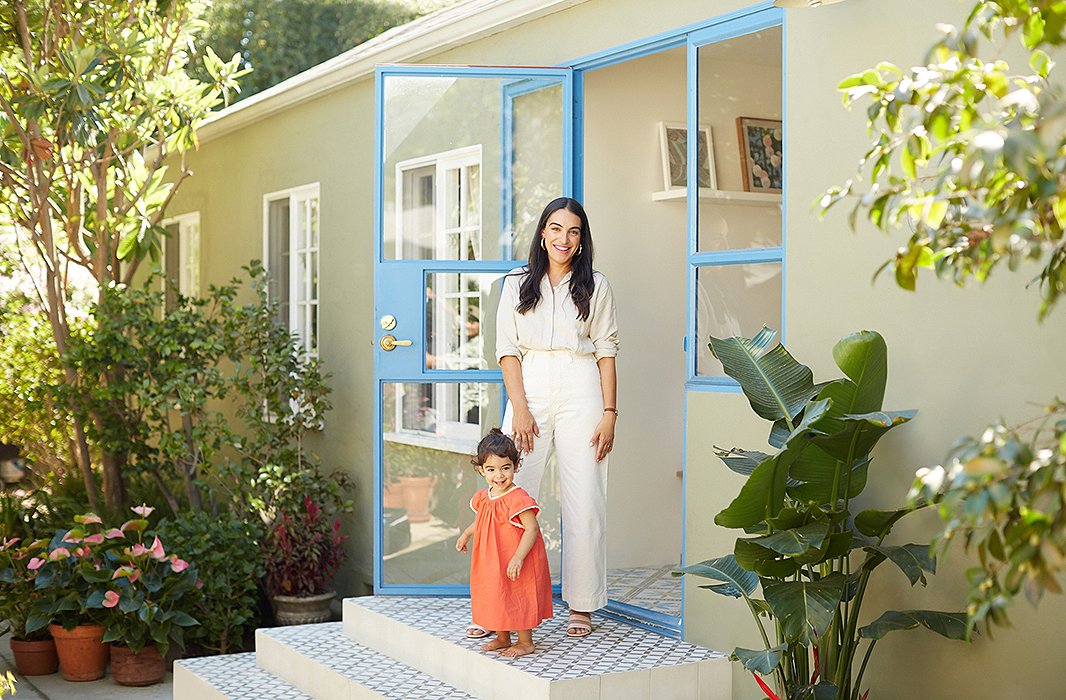 Heather's Tips For Easy Entertaining
Even with a toddler, a busy business, and a popular blog, Heather knows how to pull together a party in a flash. We asked her to share some of her foolproof tips for stress-free planning.
Turn off the oven: Heather suggests making at least one course "no cook." Her go-tos include a platter with cheese, cucumbers, and chorizo for an easy appetizer and ice cream, caramel sauce, and fruit for a quick dessert. "It's still delicious and special, but then you're not slaving over an appetizer and an entrée and a dessert," she says. "To me that's just too much, and that takes some of the fun away."
Set the mood: "I'm really into lighting and making sure that the lights aren't too bright," Heather says. She sets the table with plenty of unscented candles to give a lovely glow.
Mix it up: A drink, that is. Heather loves to whip up a house cocktail to greet guests with as they arrive. "It makes things feel a little fun and special."