There are many reasons one decides to host Thanksgiving for the first time. Mine was a sad one—this year I lost both my dad and my dearest older cousin, whose uptown Thanksgiving supper we've gone to for the past several years. At first, it was hard to imagine Thanksgiving in this new, emptier landscape, but then I thought about that rich, full feeling Thanksgiving has—the feeling that comes from gathering family in all its forms, bringing out a collection of inherited rituals and recipes and china, looking out on an overflowing table. I decided I would, somehow, conjure up that feeling in our Brooklyn home, despite the fact that my husband and I have no experience hosting a major holiday. We did, however, have one thing going for us: a long dining table, fashioned from beautiful old mahogany, that my dad built for us.
And then of course there were the pies. My cousin, who cooked the entire Thanksgiving meal singlehandedly into her 80s, always baked the classical trio of pies: pecan, pumpkin, and apple. The arrival of a full dessert plate summed up the whole beautiful meal, and it signaled the transition to cozy chats on the sofas and a stroll through gold-colored Central Park. Pie memories stretch through my childhood on Nantucket—my mom probably made hundreds of summers pies, from juicy blackberry tarts to latticed strawberry-rhubarb numbers, always with her own crust. My dad used to joke that he married her because of those pies. I wanted to give my son, Henry, who's about to turn two, his own pie-laced memories.
I decided that the best prep I could do before the holiday was to master pie-making. It might not have been the most advisable place to start—my knowledge of turkey-cooking is still zilch—but as my mom says, "Pies are the fun part." 
Step 1: Finding My Masterclass
For me, there was only one place to really learn pie-making: Four & Twenty Blackbirds, where I go whenever I have a nostalgic hankering for pie. For those outside of Brooklyn, it's a shop that takes the tradition of American pie to new heights. It brings forgotten classics—like lemon chess pie—back to light with new subtleties, and its crust is divine. Clearly the bakery is speaking to our collective nostalgia—people start lining up outside at 5 a.m. before Thanksgiving.
The sisters behind Four & Twenty Blackbirds, Emily and Melissa Elsen, grew up in South Dakota in "a little Midwestern farm town" where their mother ran the local family restaurant (there was only one). During a chat, Emily told me about their grandmother who made all the pies for the restaurant. She was "totally, totally seasonal. It wouldn't occur to her to make a pumpkin pie in the summer or a peach pie for Thanksgiving." Emily and Melissa learned at her elbow. Now in their own recipes, they honor those traditions with, as Emily says, "a few different ingredients in the mix." This was perfect for my project, since I had no desire to reinvent the wheel here with some avant-garde pie. As my cousin taught me, sticking to the classics can be wonderful—and after a year of upending change, that's all I wanted.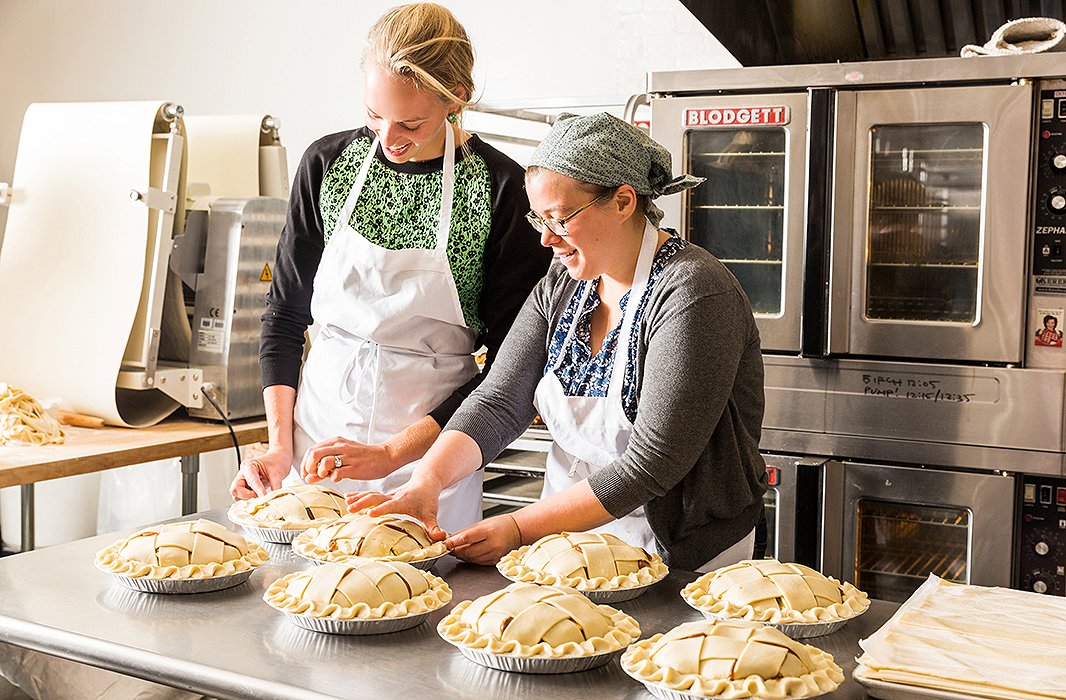 Step 2: Learning You Can't Rush Perfection
My plan was to learn the secrets behind Four & Twenty Blackbirds' famed Salted Caramel Apple Pie, a pie I regularly lust after. It captures apples at the height of their flavor, with underlayers of magical spices and fresh caramel—perfect for a starring role at the Thanksgiving table. 
Emily left me in the expert hands of Rica, a Four & Twenty Blackbirds baker who grew up making pies with her mother in Ohio.  I took my place alongside her, inhaling the turbo blast of buttery, sugary apple fragrance coming out of the ovens behind us. The whole scene was delicious: Instead of mixers whirling or any of that Top Chef restaurant intensity, calm pervaded the kitchen as the bakers gently turned pies in the oven and watched over vats of boiling caramel.
The reason for this atmosphere of patience might be that pies need time. The first thing that Rica taught me was that to make one pie start to finish, give yourself three to four hours. It's not all active time—which means you can work on multiple pies if you're preparing for Thanksgiving—but don't rush it. Good crust, especially, needs time. Also, pies don't keep forever, so make them a day or two before Thanksgiving (and you can always make and freeze the crust to give yourself a head start).
With those ground rules laid, we got to work.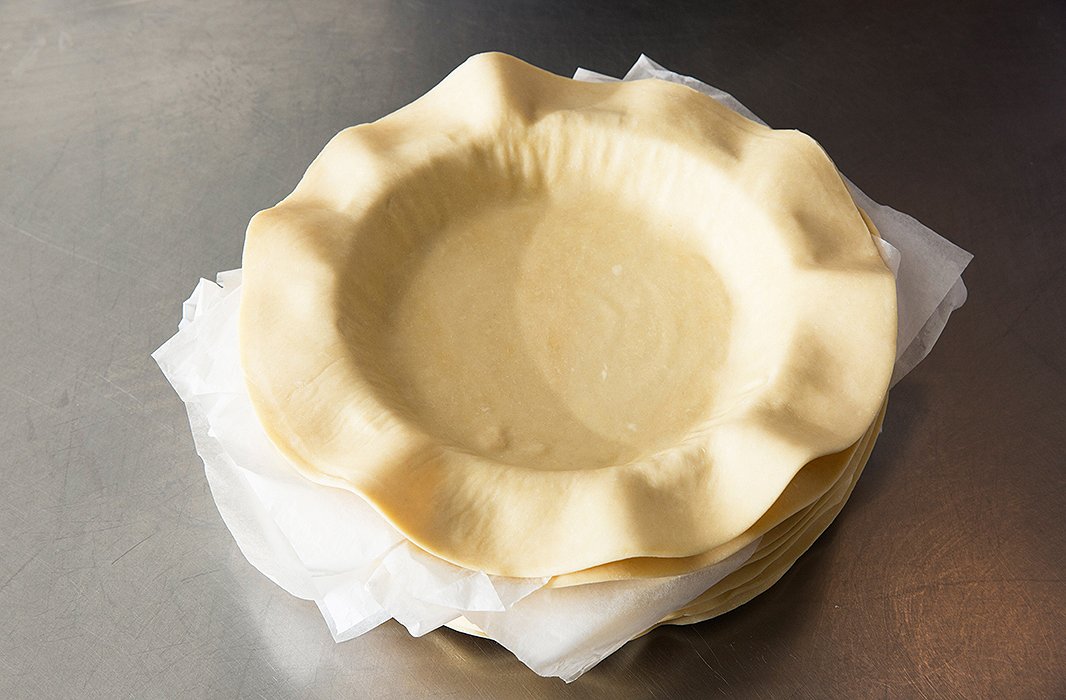 Step 3: Showing the Crust Who's Boss
It turns out that perfect pie is really about perfect crust, which takes a lot of (literal) chilling out. You chill the dough after you make it (you can get the recipe here), then chill it again after you roll it out. Also, as Rica told me, "you need to show the crust who's boss." That goes for rolling it out, which requires some elbow grease and a good dose of flour, and for crimping too. Rica urged me to "really roll your thumb out, pushing aggressively the whole time" as I crimped. And when I made a mistake, she told me to just go around again, more firmly this time. Maybe this explains the calm kitchen atmosphere—everyone's getting her aggression out on the dough.
As we assembled eight pies, my mind sometimes tripped over the many mini-steps. But watching Rica go, I realized how these steps can take on their own rhythm and become second nature. And realized how much I wanted them to become second nature for me. Click here to get the full recipe, plus more mouthwatering photos.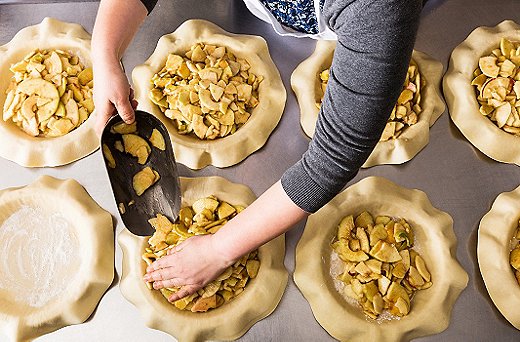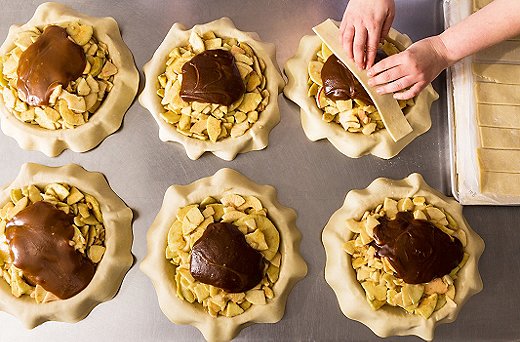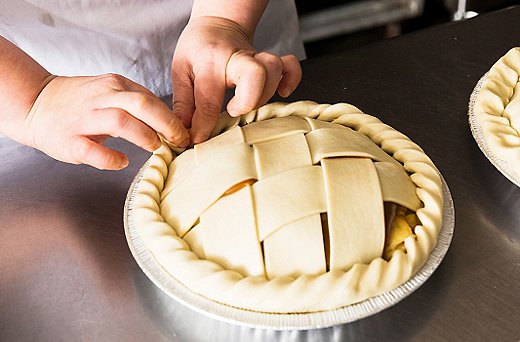 As we assembled eight pies, my mind sometimes tripped over the many mini-steps. But watching Rica go, I realized how these steps can take on their own rhythm and become second nature.
Step 4: Back Home to Practice
The next morning—armed with coffee and Four & Twenty Blackbirds' cookbook—I conducted a Salted Caramel Apple Pie practice run. I set the ingredients up before beginning, and I gave myself plenty of time, starting when my son went down for a long nap.
As Emily suggested, I used a good mix of tart and sweet apples (Granny Smith and Honeycrisp) to balance the sweetness of the caramel. And I tried making a skinnier lattice crust than the one I'd learned at Four & Twenty Blackbirds, to see if I could capture the look of my mom's lattice pies. During the pockets of downtime, I looked over other Thanksgiving recipes and organized drawers. Then, right as the pie was going into the oven, Henry woke up and joined me.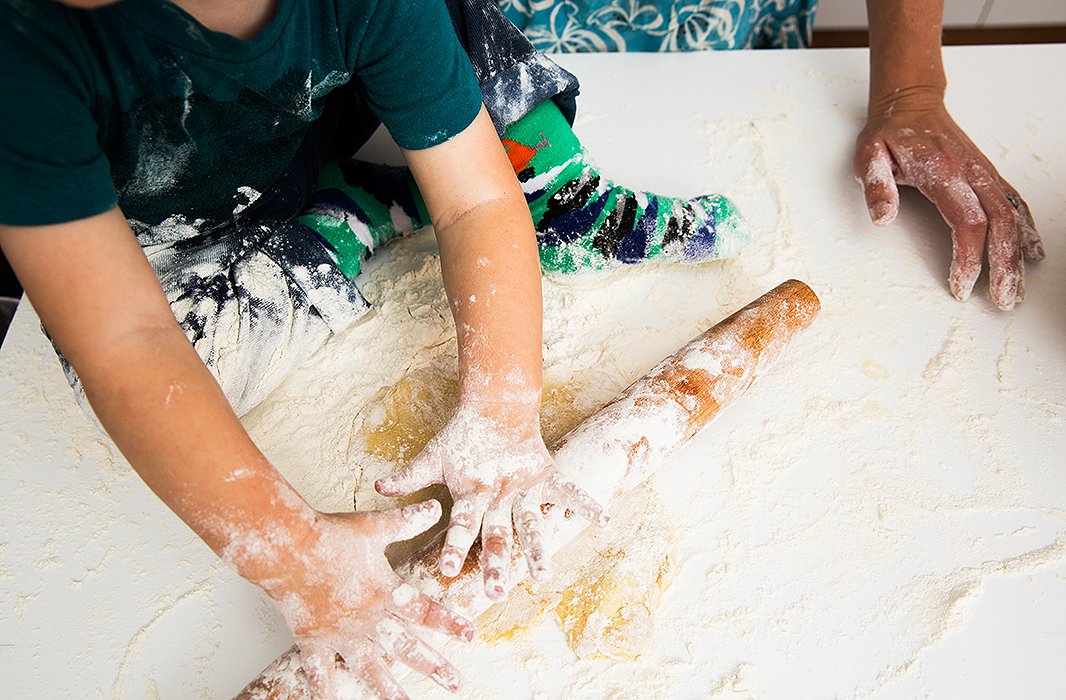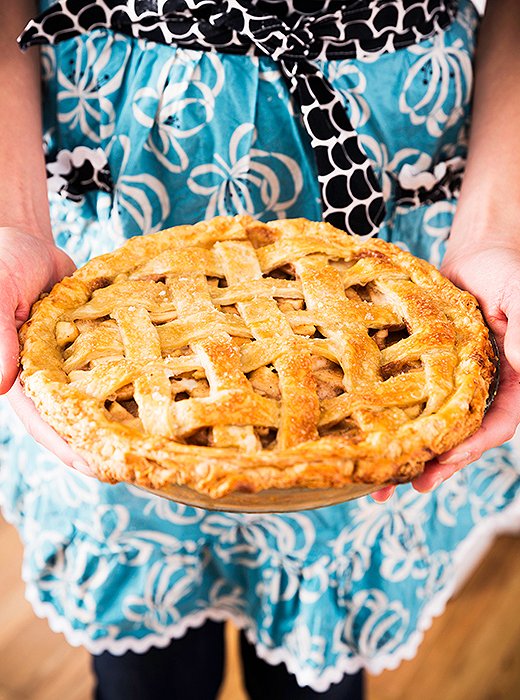 Step 5: Enjoying the Pie-Making High
Now I knew what M.F.K. Fisher meant when she wrote, "No yoga exercise, no meditation in a chapel filled with music will rid you of your blues better than the humble task of making your own bread." I'd say the same of making your own piecrust. And even though my crimping was pretty bad, it tasted divine.
Another bonus was all the scraps and leftovers, which were too delicious to go to waste. The extra apples and dough scraps became a galette that my husband and I devoured the night after I made the pie—if you're saving the pie for a day, a galette gives you instant gratification. Emily had given me a word of galette advice, which I loved: "By definition, galettes are free-form, so there are no rules, except don't overfill them, and really chill it before baking." I used the juices from the apples as oatmeal topping the next morning and made caramel candy with the leftover caramel. Even though this was all basically for the sake of my sweet tooth, it felt virtuous.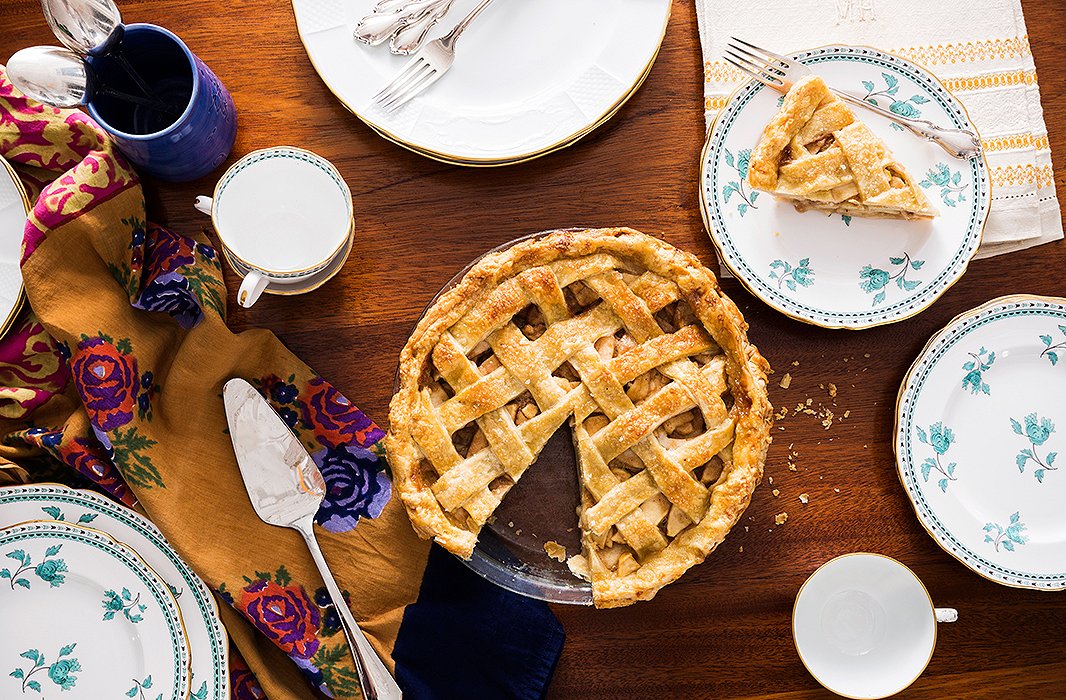 Step 6: Serving It Up in Style
Now that I had the pies well in hand, I had mental space to direct to the really fun part: the table. Part of my vision for Thanksgiving was to combine the different Thanksgiving tables I've sat at over the years. Some of the cozy New England feel of my mom's family's celebration, with colorful tablecloths and after-dinner games. A hint of my husband's family in Savannah, where crystal and antique china create a sense of polished elegance. And of course, a bit of my New York cousin's take, which mixed beautiful bowls she'd collected in Mexico, gold-rimmed china, and an antique lace tablecloth. We don't have enough silver or china settings for a huge meal, but even if we did, I'd still want to mix it all up, and I plan to skip the tablecloth in favor of the fine-grained mahogany of our table.
I still don't feel ready, still have really no idea how to host this meal (I welcome advice from any veterans), but now I can't wait. Especially for a kitchen that smells like baked apples. My dad loved to quote Yogi Berra, so I will too: "Cut my pie into four pieces; I don't think I could eat eight."