In the old days, the hearth was where people gathered out of the need for warmth, food, and light. Thanks to modern inventions, we don't really need to do that anymore, but the fireplace is still a gathering spot. So we've gathered tips and tricks on how to style your fireplace, no matter what season you're decorating for.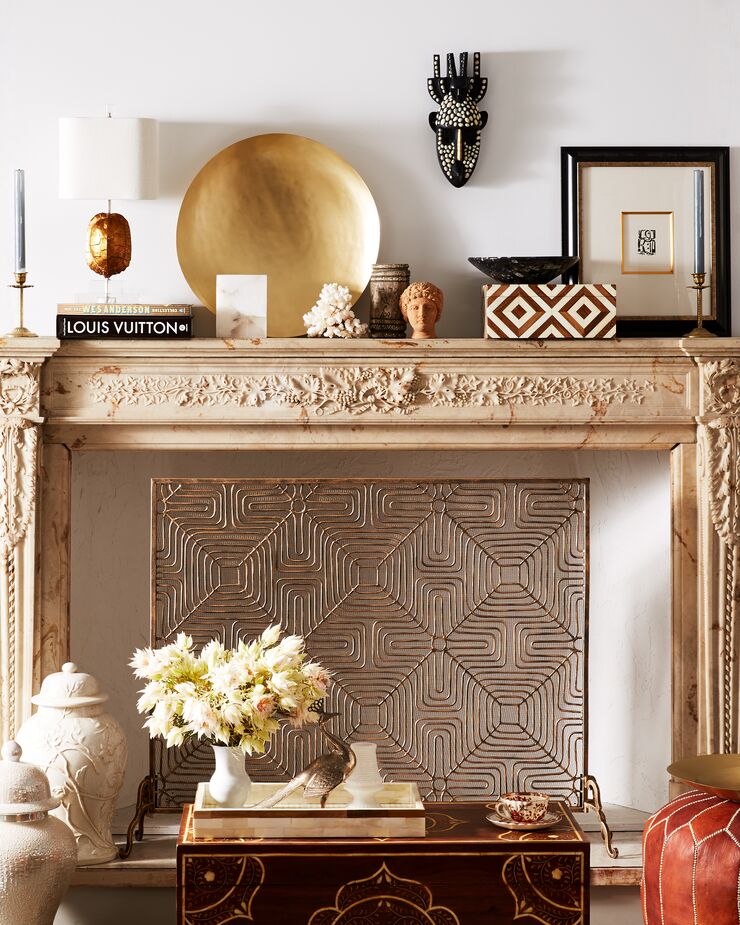 Style, All Year
The best place to start decorating your fireplace is the mantel. You can make subtle switches with the season—adding in fresh flowers or changing the art to feel appropriate. Below are a few elements that can help you create an artful tableau.
Candleholders: Candleholders are the best way to introduce height. You can go totally traditional with a vintage brass pair or opt for something sleekly modern. Add another layer of intrigue with taper candles in unexpected colors.
Art and objets: Bring your mantel to life with trinkets that speak to your personality. Love classic design? Add some ginger jars. Are you more of an artsy type? Lean some abstract art against the wall. If you favor a natural vibe, introduce an ostrich egg to the scene. Your mantel is what you make it, so let it be a reflection of your style. And if you don't know what your style is, check out our style guide here.
Natural touches: While flowers are one way to bring the outdoors in, consider more-unusual but still organic elements of nature, such as sustainably sourced kudu horns.  
Don't forget to vary the scale of your items. "You want your eye to flow up, down, and across," says Shannon Frappied, part of the One Kings Lane Interior Design team. "I start with a large-scale mirror or artwork centered above the mantel with a pair of candleholders to one side, a sculptural piece on the opposite side, and a small object placed in front of the sculpture."
Hearth Help
Your fireplace isn't just your mantel. The area below it is equally important. "Arranged around the base, it's always useful to have a woven basket for wood and a decorative screen to keep flickering embers at bay from surrounding soft goods," Shannon says. "A standing fire tool set placed alongside a leather firewood holder and a vintage pair of andirons are some of my must-haves to make sure there is always a roaring fire for those chilly, snowy nights."
For Chestnut Roasting
Bring out the boughs of holly and pick up a pack of chestnuts to roast over the fire because the holidays are fast approaching. Transforming your mantel into a winter wonderland requires a few small tweaks.
A bit of glitz and glam never goes amiss this time of year. Add in some mouth-blown glass evergreen trees or a simple bow tied around your favorite art. Vintage brass reindeer remind us of Santa's imminent arrival and are chic enough to leave up after New Year's.
You can also kick things up a notch with garlands and wreathes. "Fresh foliage is a lovely way to layer in color and texture over your mantel," says Shannon. "I love a vine of eucalyptus or magnolia. For more pops of bright colors, layer in a garland of faux or dried red berries."