It would be an understatement to say that antiquing is one of our favorite hobbies. The deals, the possibility of finding one-of-a-kind treasures… there's truly nothing like the thrill of the hunt, whether you're shopping a flea market or a high-end dealer.
But vintage shopping can be tricky: Where do you go to find the best pieces? How do you know if something is truly vintage? How can you tell if you're being ripped off? To find the answers to these questions—and everything else you might need to know—we tapped into the expert knowledge of our vintage buying team, whose job is to source all the beautiful antiques you see on One Kings Lane every day. Read on for their top tips and tricks for shopping the scene.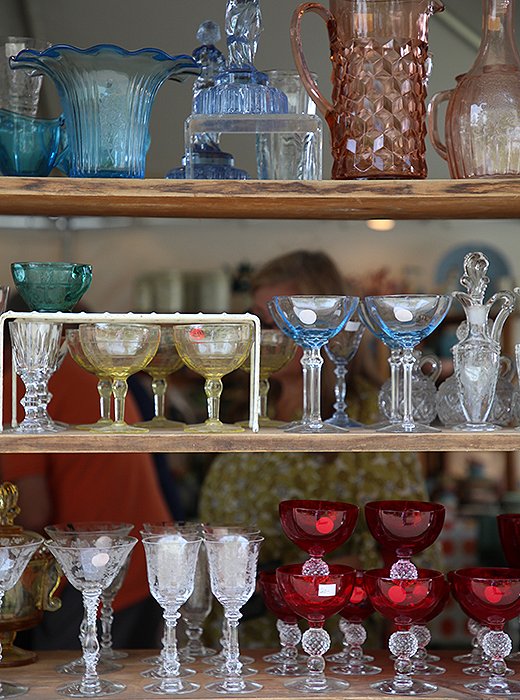 The Beforehand Basics
Be prepared. Whether you're visiting upscale shops or browsing an outdoor market, chances are you're in for a long day if you're serious about antiquing. Wearing comfortable shoes is of utmost importance, but consider bringing these items along as well: an umbrella in case of rain, water and a snack, an empty tote or wagon for carrying items around, cash to pay dealers, and a measuring tape. It's also a good idea to write down a list of relevant room dimensions if you're shopping for specific furnishings, rugs, or artworks.
Make a game plan. Though a day of antiquing can be full of surprises (rain, running out of room in your car…), try to formulate a plan to maximize efficiency. If you're going to a large outdoor market or mall, take a look at what time certain fields or areas open, and make a loose schedule of which places to visit when.
Take notes. When looking for a specific high-dollar piece, read up on the key details (such as paper labels, stamped numbers, and specific measurements), and keep reference notes on your phone or in a notebook so that you have them on hand while shopping. It might take a while to find exactly what you're looking for, but when you do stumble upon it, you'll be ready to carefully examine.
Start early. When it comes to antiquing, the early bird gets the worm. Try getting to a shop or market as soon as it opens, and if you're going to a show that runs only a limited number of days, get there at the very beginning.
Brave the rain. Shopping at an outdoor market in the rain is one of antiquing's best-kept secrets. It might get muddy (rain boots will help!), but it's where some of the best deals can be found. Because fewer people are out, dealers are more inclined to give you a better price so that they can close the sale (and justify sitting out in the rain).
Be open. While we recommend creating a list of items or styles you're looking for (such as majolica or midcentury designs) so that you can keep an eye out for them as you shop, it's best to keep an open mind. You never know what you'll find—and those unexpected discoveries can be the most fun of all.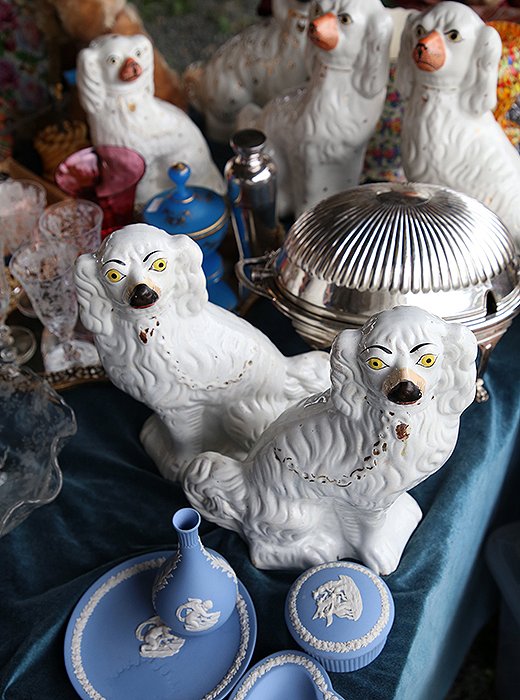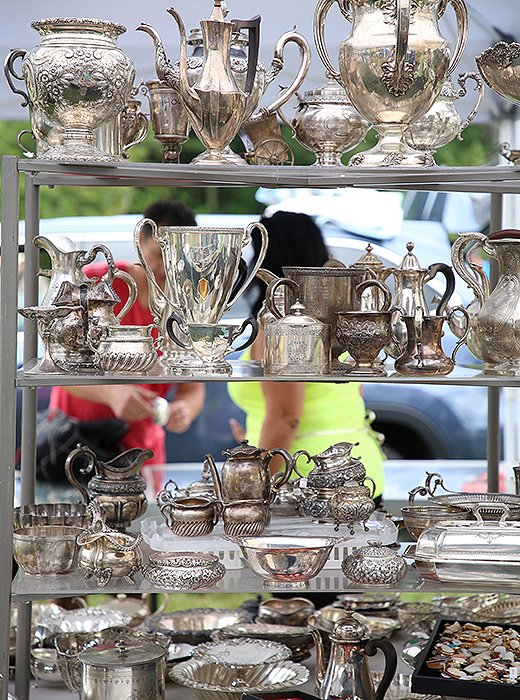 While You're There
Focus on the details. It might seem obvious, but be sure to take a close look at anything you want to buy. A small chip on a ceramic vase might add character, but you don't want to bring home a stained linen tablecloth just because you didn't carefully inspect it. Remember, most sales are final.
Find potential in the imperfections. On the other hand, don't discount an item just because it's flawed. With a few easy updates, even the most timeworn piece can be turned into something beautiful. A stained chair can be reupholstered. Tarnished silver can be shined. Dull wood can be polished. All it takes is a little vision, patience, and creativity.
Do some digging. Though carefully curated shops are easy and enjoyable to shop, it's the less-specialized or not-so-nice-looking spots that are likely to offer the best deals. It'll take some patience to sift through what might be disorganized junk, but finding that diamond in the rough will be all the more satisfying.
Keep going. Don't buy everything at the first store or booth you visit. Many vendors carry the same types of items, so you might find something similar—and at a better price—elsewhere. Conversely, if you spot a piece you're absolutely in love with at a reasonable price, buy it immediately. Someone else may love it too and scoop it up before you do!
Have another look. For antiques shows, make a note of your favorite dealers, then circle back at the end of the day or on the last day of the market. As with rainy days, this is when the best deals can be found. Because vendors don't want to load up all their merchandise and bring it back with them, you're more likely to get an amazing piece at a really great price.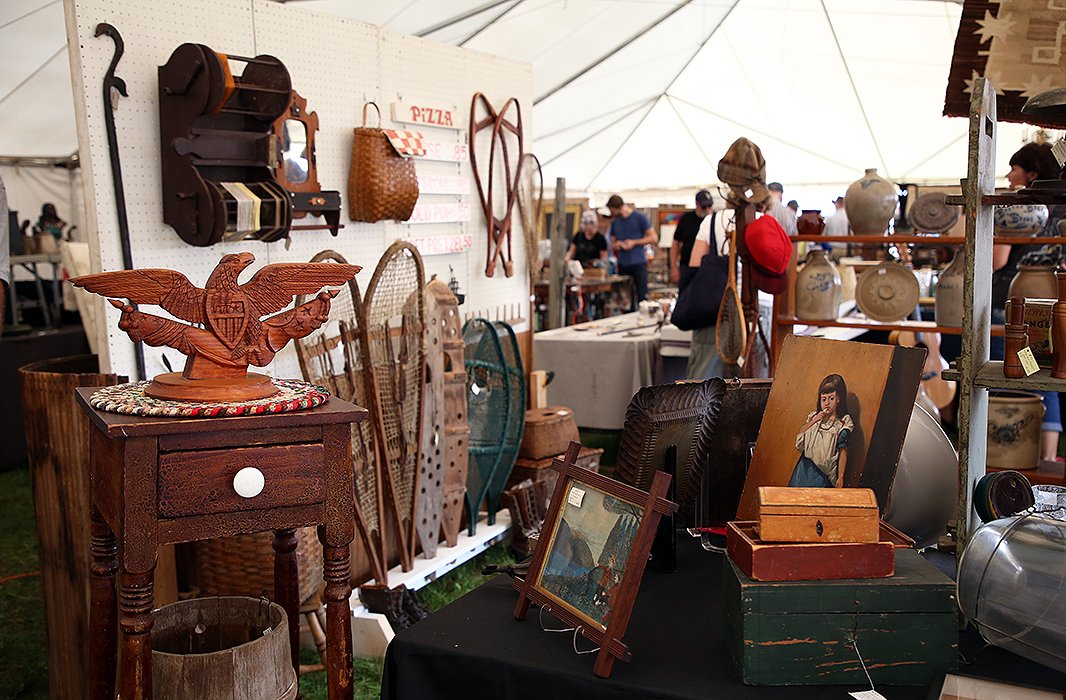 Dealing with Dealers
Ask questions. If you're interested in something, ask about it. Dealers are often very knowledgeable and passionate about what they sell, and they can provide important information or at least offer up an interesting story about the piece.
Foster relationships. The antiquing world is a small place, made up largely of family-run mom-and-pop operations. So it's key to be polite and to try to build a relationship with dealers—especially if they're favorites of yours and you plan to keep coming back.
Negotiate. Haggling with a seller can feel intimidating at first, but it's a must if you want to do antiquing right. Many places don't have items labeled, so if you're interested in a piece, start by asking for the dealer's best price. Negotiating is all about respectful, open communication, so be honest with the dealer about how much you're willing to pay. That said, if the asking price seems fair, don't throw out a lowball offer; you'll risk turning off the dealer altogether.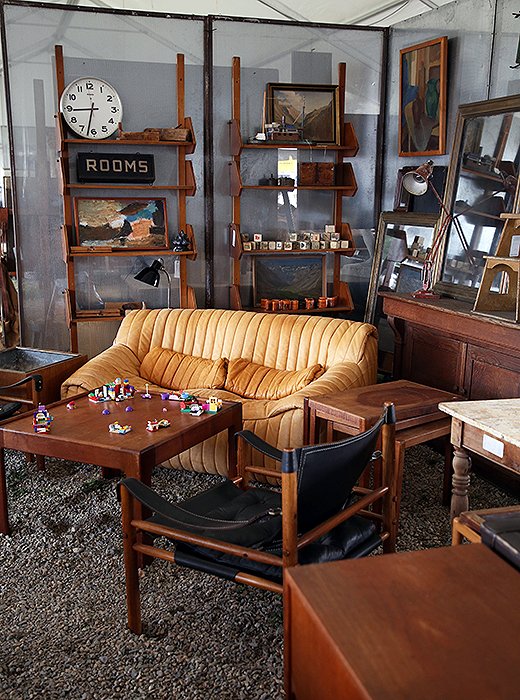 On Determining Worth
The pricing of antiques can be very fluid and often hinges on a number of factors, from the condition of the item to your relationship with the seller to where you're purchasing the piece. So it takes some practice to determine what you should be paying for something. Below, we break down how to be a smarter shopper.
Train your eye. There can be a steep learning curve when you're starting out in the world of antiques, so practice patience and perseverance. The more shopping and research you do, the better you'll be at determining what something is worth. Pick up items, ask dealers questions, and compare prices across shops. And when it comes to higher-end pieces, look up online auction-house records, which are required by law to be reported.
Ask what it's worth to you. Though there may be an asking price, a piece is only worth how much you're willing to pay for it. If you need a reference point, a quick search online will help you find what similar items are selling for elsewhere.
Ask for provenance. For particularly costly items, ask the dealer where the piece originated and if it comes with any documentation. Note that sellers at flea markets or outdoor shows will likely not have this information, but auction houses and well-known high-end vendors should have records of where a piece has been in the past.