Summer's here, and that means it's ice-pop season. We crafted several of our own takes on the frosty treats. While they'll still bring out the kid in you, they'll also appeal to your adult sensibilities.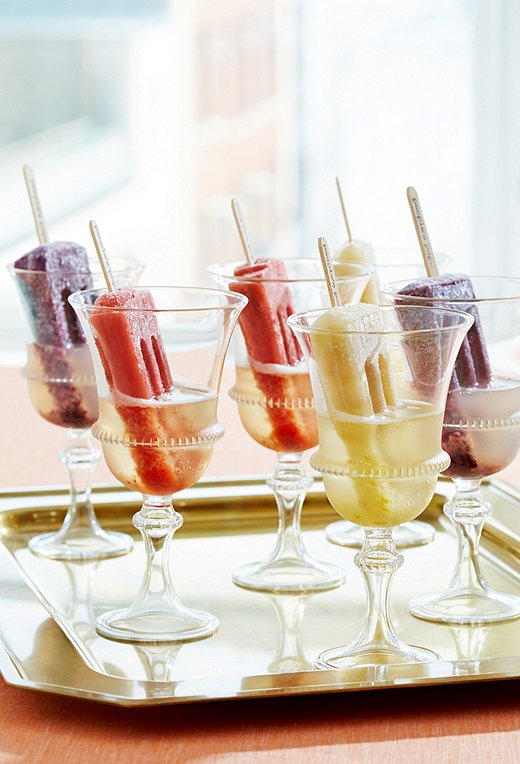 Bubbly Pops
What You'll Need:
Ice pops in assorted fruit flavors
1 bottle champagne, prosecco, or other sparkling white wine
To create a fabulously formal contrast to the kid-friendly nature of ice pops, we arranged wineglasses on a silver tray (make sure your ice pops fit inside your glasses!). Then we simply filled the glasses halfway with sparkling wine and dropped in the pops. We suggest serving immediately, as the fizz from the sparkling wine adds drama to the presentation.
Tip: For a crowd-pleasing alternative, omit the alcohol here for sparkling grape or apple juice.
Raspberry Coconut Cream Pops
Serves 8-12 (depending on the size of your ice pop molds)
Note: You will need to refrigerate the coconut milk overnight before beginning this recipe.
What You'll Need:
Two cans coconut milk
3/4 cup sugar
Two 6-ounce containers of raspberries
1 teaspoon lemon juice
1. Refrigerate the cans of coconut milk overnight so that the coconut cream rises to the top.
2. Scoop out the separated coconut cream, and mix with 1/2 cup sugar until smooth; reserve the remaining sugar for the raspberry puree. Refrigerate the coconut mixture.
3. Blend raspberries, the remaining 1/4 cup sugar, and the lemon juice in a food processor. Strain the mixture through a fine-mesh strainer.
4. To recreate our striped patterns, alternate pouring the raspberry and coconut mixtures into your ice pop molds, freezing each layer for 40 minutes before adding another layer. For a creamier texture and flavor, you can swirl the mixtures together, pour the swirled mixture into your molds, and freeze.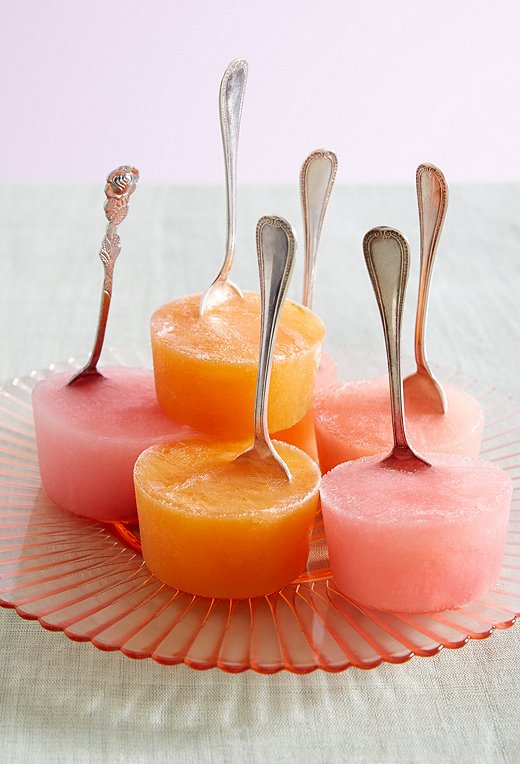 Fresh-Fruit Fancies
What You'll Need:
Assorted fruit juices or fresh fruit purees
Lime juice and zest
Silicone muffin tin
Vintage spoons or forks
Ordinary ice pops at the end of an elegant seated meal might seem a little out of place—but not these. For these frozen treats, we blended 1 small cantaloupe and 1 small watermelon (separately) with the juice and zest of 1 lime each. Then we froze the mixtures in a silicone muffin tin, which made them easy to unmold. Halfway through the freezing process, just as the mixture is beginning to thicken, add a vintage spoon or fork to each ice pop.
Tip: Make this feel more decadent and rich by freezing dark hot cocoa instead of fruit juice and lime. A garnish of shaved chocolate curls will upgrade the look.