When one of our chicest co-workers mentioned she had a friend who not only loved buying OKL items but worked them into her home in the most stylish ways, our ears perked up. But then when we heard that this friend lived in an incomparably cool house—centered around a huge solarium—we knew we had to meet her.
And that was how we made the acquaintance of Katie Tarses, a full-time mom and part-time actress who lives in a 1931 Spanish-style house in the Hollywood Hills with her hubby Matt, a TV writer and producer, and their three kids. Her eclectic style features touches of mid-century sleekness and freewheeling boho chic, all the while remaining resolutely family-friendly. "My home is colorful and casual—nothing's ever too formal or precious," says Tarses.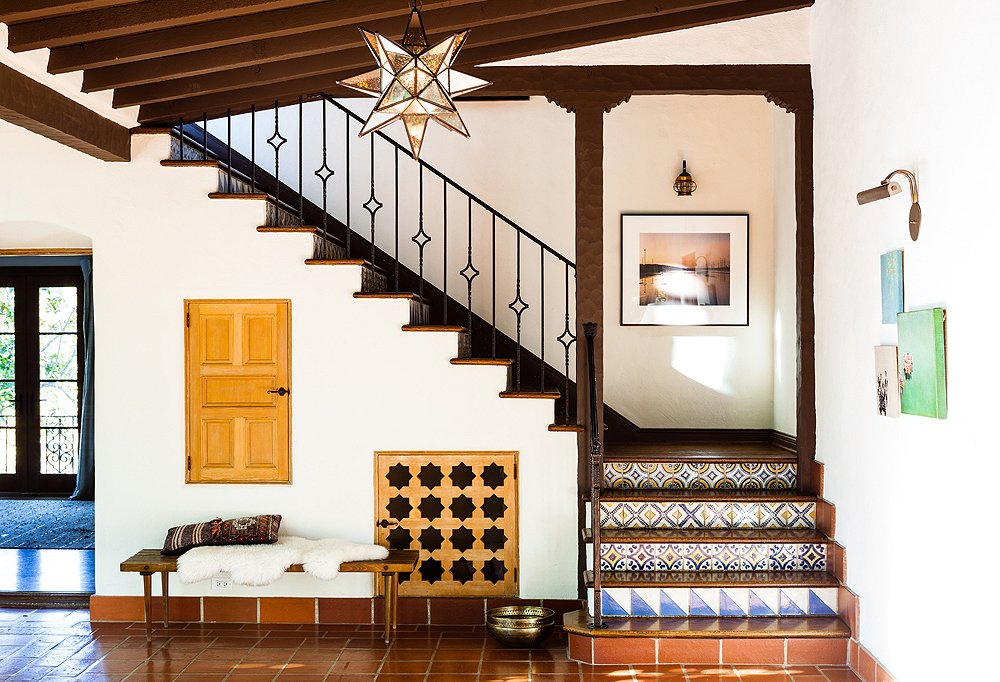 Flight of Fancy
One of the hallmarks of this hacienda-style house was a staircase covered in gorgeous Spanish tiles. "I believe," says Tarses, "that they were original to the house." After the family moved in, they cleared out left-behind firewood from a nook below the staircase, and littlest daughter Pippa adopted it as her Harry Potter-style "cupboard under the stairs" where she'll "play and play" says Tarses. A slatted bench Tarses scored on One Kings Lane is a comfy spot for slipping shoes on and off.
Wide-Open Spaces
When Tarses was house hunting and first glimpsed the glass-ceilinged solarium, she was a little stumped. "Quirkiness is what I like," she says, "but it's SUCH a huge space, almost like a loft." So she told pal Pam Shamshiri of in-demand Commune Design, "If I buy this house, you have to help me with this room." Shamshiri jumped at the challenge and together the two transformed it into a cozy, multi-use space.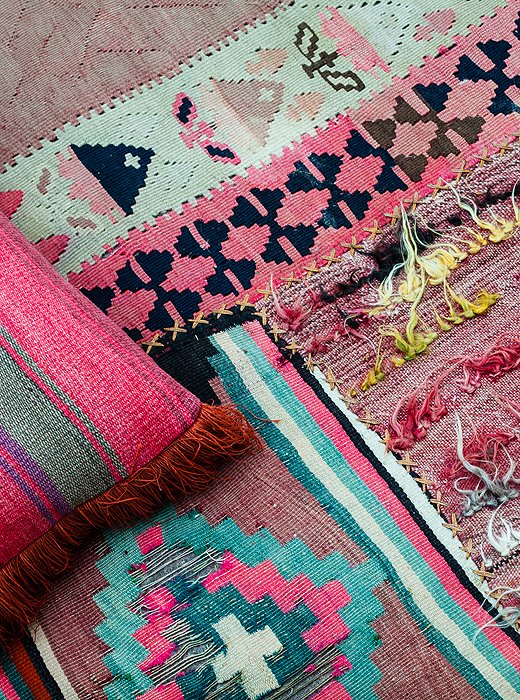 Floor Decor
"The first thing Pam said was, 'you need rugs to warm up this room,'" says Tarses. But rather than just lay one here, another there, Shamshiri dreamt up the idea of sewing them together to create a boho patchwork-style "carpet." Together the two tripped to Lawrence of La Brea to stock up. And after laying them out on the floor as a test run, Shamshiri had them stitched together with metallic thread. "It's a lovely, secret touch," says Tarses.
Dinner is Well-Served
Under a Robert Lewis-designed lead-pipe-and-lightbulb chandelier hung low to create a sense of intimacy, the reclaimed-wood table is now a spot that might host a kids' LEGO-building competition or a dinner party depending on the night. Much of Tarses' barware collection is stashed in the walnut-and-copper bar custom- made by John-Williams Interiors, the perfect place to set big platters of food.
Party Time
Whether it's a pool party, dinner with friends, or a benefit, this house sees its fair share of bashes. Tarses always sets out a big bucket of beer and wine and, come summertime, mixes a mean margarita. But her specialty is a bootleg: vodka, club soda, lime, and mint muddled together. "It was served at the country club my grandparents went to, so my mom always made it for her parties, and I'd drink virgin versions as a kid," says Tarses.
Easy Living
One corner of the solarium was dedicated to a lounge area where the family gathers to read or watch movies. "I tend to stick to neutrals for my larger pieces, so I can go crazy with my accents," says Tarses, who layered a natural-white couch with beyond-bold pillows sewn from rug remnants. If company comes over, Tarses flips the couch around to open up the space.
I don't think there are many rules for a room with plants growing in it.
Video Star
"I trimmed back the vine to hang the TV on the wall, and now it's growing around it like camouflage," says Tarses. She spied the circular rattan chair at Lawson-Fenning, and "had to have it," she says. "It feels organic and slightly vintage—the perfect accent for that couch. The kids are totally drawn to it and love climbing up in it."
In Living Color
Filled with items bought "a house or two ago," the living room doubles as a music room where the kids take guitar lessons. "You can close the doors if they—or you—need a little privacy," laughs Tarses. It also holds a couple of her all-time favorite items: a pair of pink and turquoise ottomans that look like a modern art from afar, but are really festooned with children's hand and feet prints (she got them at her kids' preschool), and a tree her hubby surprised her with on Valentine's Day several years back. "We hang things on it," she says. "Valentine's Day cards, wishes, ornaments."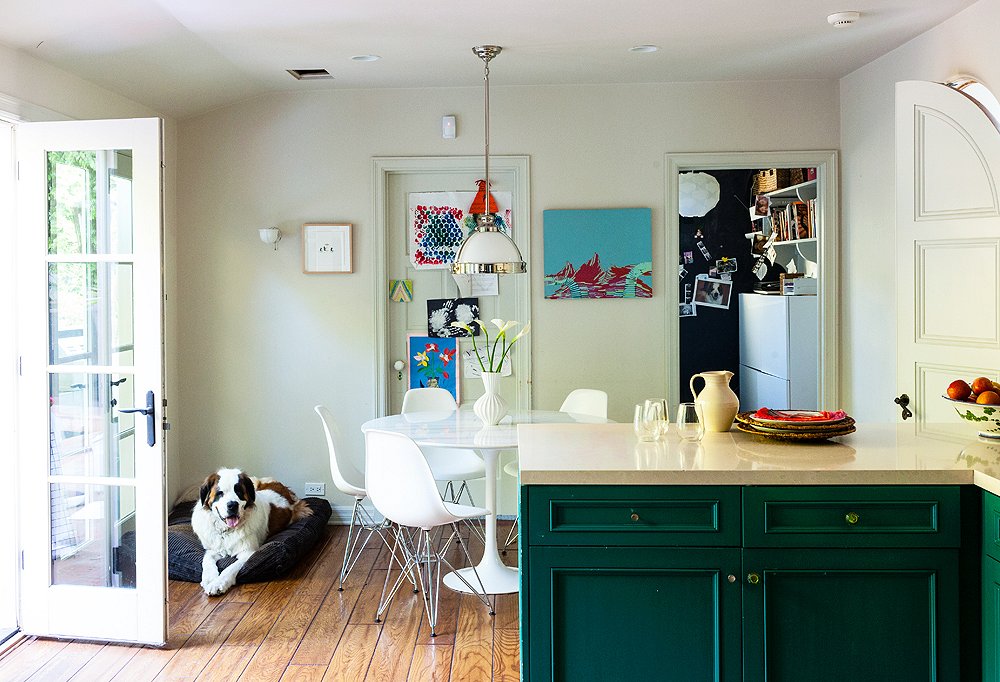 Kitchen Confidential
"When we first moved in, honestly, I wasn't a fan of this kitchen because it doesn't have a pantry or island," says Tarses. "But that's exactly why I love funky houses, because while they might make you think hard about a space, you're almost always able to come up with a creative solution." The kids eat breakfast at the counter, Tarses tacks their art up on the bathroom door, and Chief, a St. Bernard rescue, relaxes on his doggy bed in the corner.
Boy's Club
Since you can see straight into Harry's room from the solarium, Tarses wanted it to flow with the rest of the house. So she kept the palette tight (sticking to black and white with pops of red and blue) and the furniture sophisticated, while working in plenty of youngster-friendly touches: Benjamin Moore chalkboard paint, cool-kid pillows covered in Mood fabric, and a formerly silver bunk bed painted tomato red to match.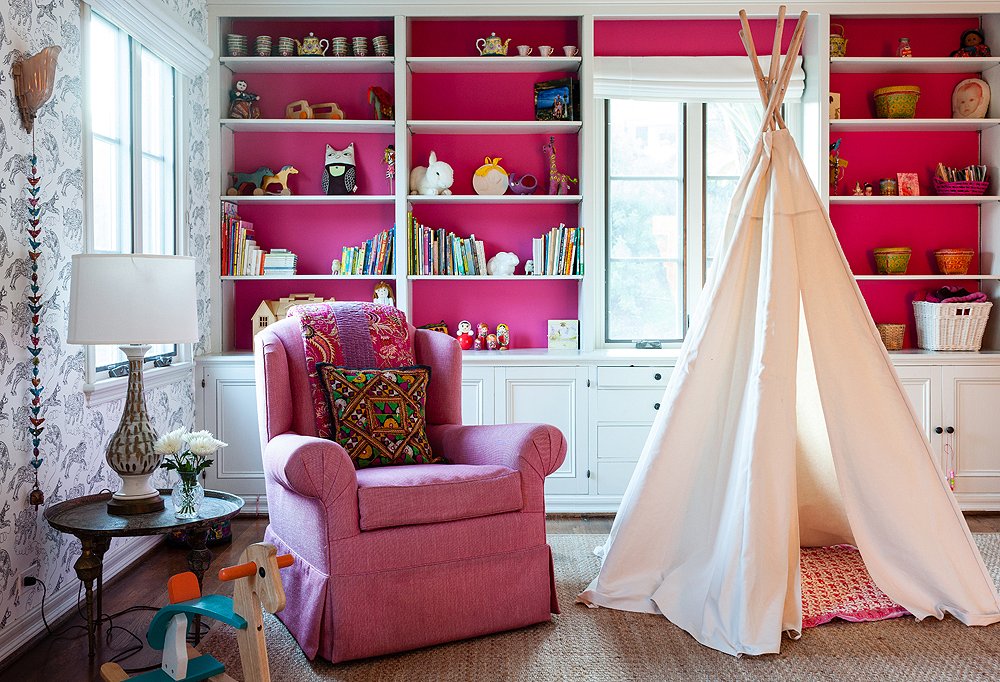 Pretty in Pink
At four years old, Pippa is the baby, but her bedroom is the biggest. "In our last house, a rental, we didn't have a bedroom for her and ended up turning our closet into a little nursery," says Tarses. "So we thought this was only fair." In reality, this room was also the quietest for the nap-taking tot, who was in the midst of "a pink phase" when they decorated it. A teepee Pippa received for Christmas shares space with a pink chair that Tarses has rocked each of her kids asleep in (and re-upholstered for each one) while a jute carpet warms up the large space.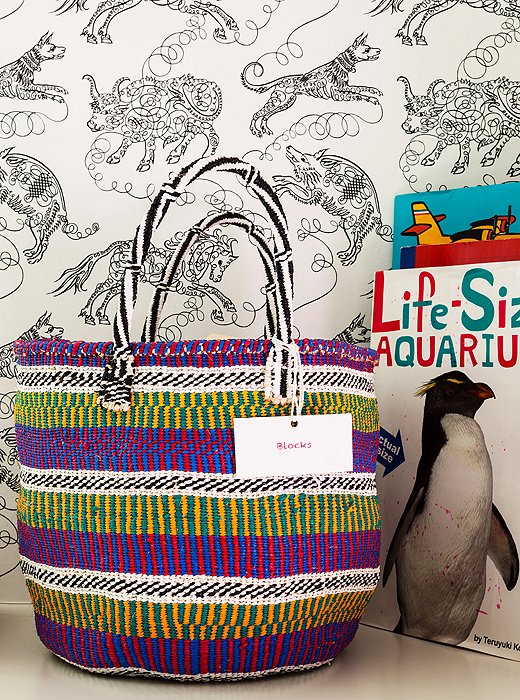 Close-Up Ready
Originally the plan was to paper only one of the walls in Pippa's room, but Tarses wound up loving the magical boars and horses of Studio Printworks' Spenserian Beasts design so much she did three. "On the plus side, the wallpaper is so busy her room doesn't need a ton of art," says Tarses.
I collect items I love—with bright colors and interesting stories—and rarely get rid of anything because there's nothing better than that eclectic, layered mix that develops over time.