Marilyn Monroe—yes, the Marilyn Monroe whose white dress was sent airborne by a gust from a subway grate in The Seven Year Itch—might have resided in the West Hollywood apartment of interior designer Wendy Haworth.
"She definitely lived in the building, and it's rumored to be my unit—there are only six—but no one seems to know for sure," says Haworth, a Detroit native who lived in New York City until experiencing her own seven-year itch and decamping to Los Angeles 12 years ago. Originally drawn to the 1920s rental for its 11.5-feet-high ceilings and historical details as much as for its past residents, Haworth has called it home for eight years, filling it, nomad-style, with pieces from all over. "I don't really 'decorate' so much as collect—or acquire—then arrange," she says. Whatever you call it, the result is an artful, globally inspired mix with more than a hint of golden-age glamour thrown in.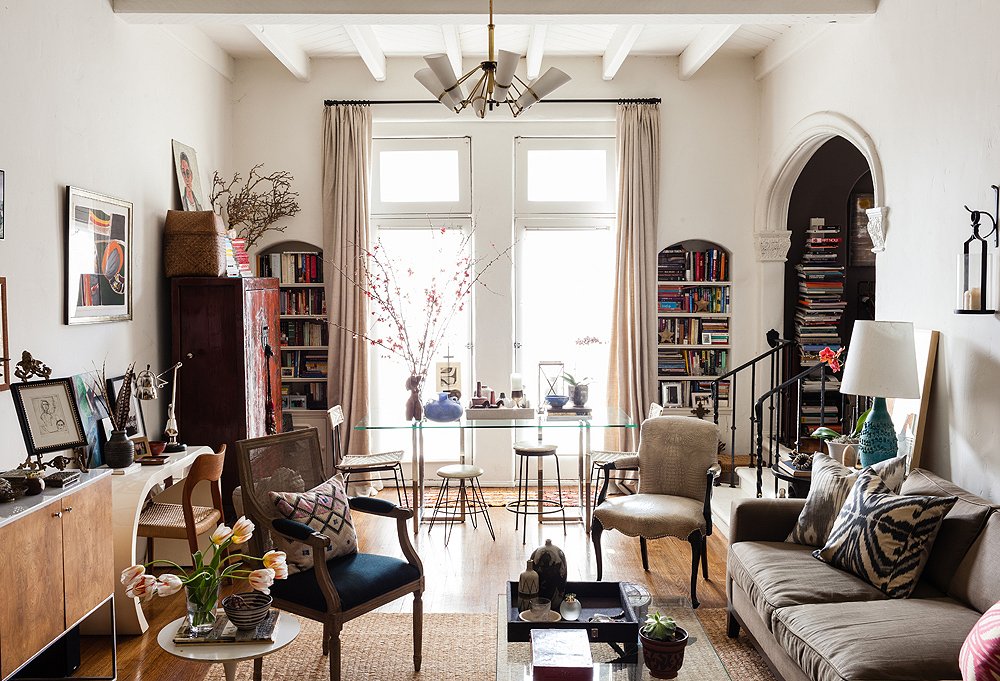 World Fair
Light-filled and expansive, Haworth's 300-square-foot living room—"I've had NYC apartments this size!" she says—is a wonderland of casually arranged objects sourced everywhere from Parisian flea markets to antique shops in Maine ("love The Marston House!"). "Next up I'm going to install a neon sign of the words 'The Future Is Bright' that I used at the Legends of La Cienega event," she says.
DESIGN TIP: "I tend to buy stuff I love, then play around with it until it works," says Haworth. "But if it's a large piece, measure it, then tape it out on the floor before you commit."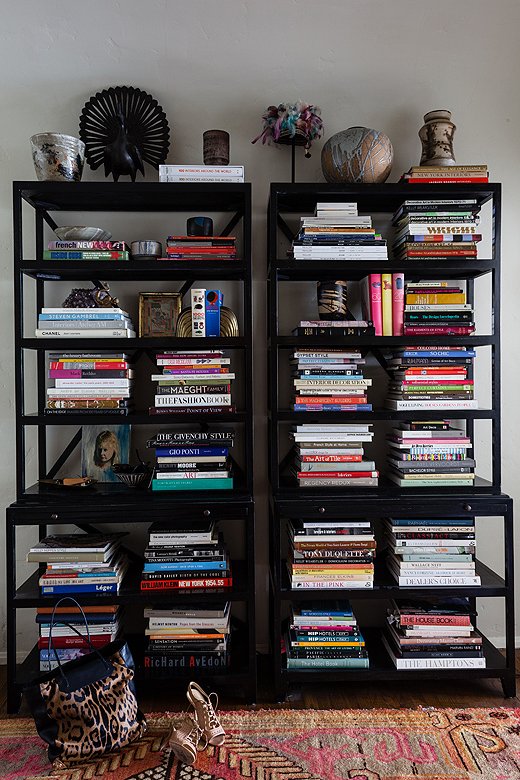 Book Smarts
In the entryway, edging a sherbet-color Samarkand rug, twin shelves house some of Haworth's book collection. "Inspiration-wise, I love the 1960s and 1970s from Anne Bony's 'Furniture and Interiors' series," she says. Of the art here, the piece closest to her heart is the portrait her grandfather painted of her as a child (middle left).
DESIGN TIP: Haworth organizes her tomes not by color as is de rigueur but by theme.
Table That Idea
"I love little niches and nooks," Haworth says of the book-stuffed built-ins flanking the doors leading out to her Juliet balcony. A sleek glass-and-chrome table displays her favorite pottery. A mix of chairs and stools is a harmonious combo thanks to their like-minded white seats and metal legs.
DESIGN TIP: Set items on stacked books if you want to elevate their look.
I tell clients: Everything in your house doesn't have to be precious. You don't have to agonize over every detail. You'll drive yourself crazy if you do.
Objects of Affection
In Haworth's living room, atop a burl-wood credenza sit curios including a record player ("I listen to stuff like '70s rock, Nina Simone, and jazz") and late-1800s opera glasses ("If I go to a concert, I'll bring them along. And I can use them to spy on my neighbors. Kidding!"). Artworks, including more paintings by her grandpa, help define the space.
DESIGN TIP: To pull off a salon-style art wall, Haworth arranges pieces on the floor to get the placement right before hanging them.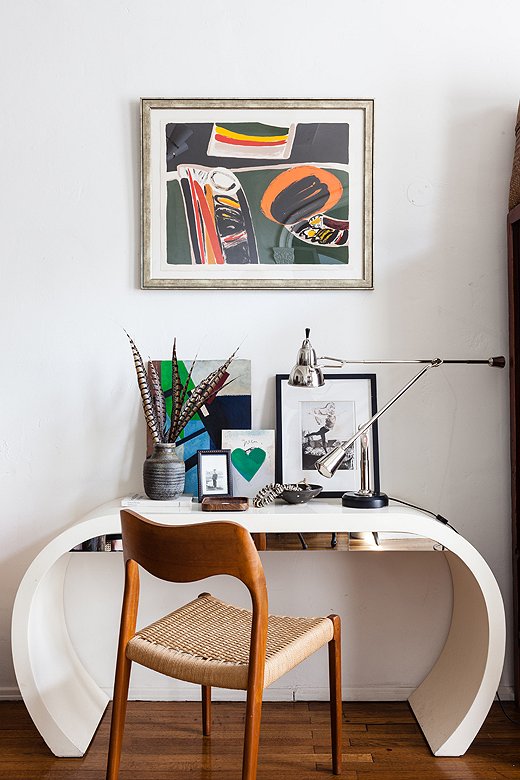 Ahead of the Curve
Also in Haworth's living room, a midcentury chair tucks into a Jetsonian lacquered-wood desk under a bold Russian abstract.
DESIGN TIP: "The desk and the chair work together because though they contrast in textures and materials—light and dark, rough and smooth—their shapes and sizes are quite proportional," she says.
Pretty Shiny Things
On a bedroom dresser, a Visual Comfort & Co. lamp shares space with a mirror plucked from a now-extinct Palm Springs antiques mall, while out-on-display baubles and perfume bottles lend a vibe that's girly but not overly so. "I have a ridiculous amount of jewelry," Haworth says. "Usually only my current favorites are out, and everything else is in a huge jewelry box."
DESIGN TIP: Corral items in decorative trays and boxes like Haworth's glass display case, which possesses a romantic Victorian-parlor feel.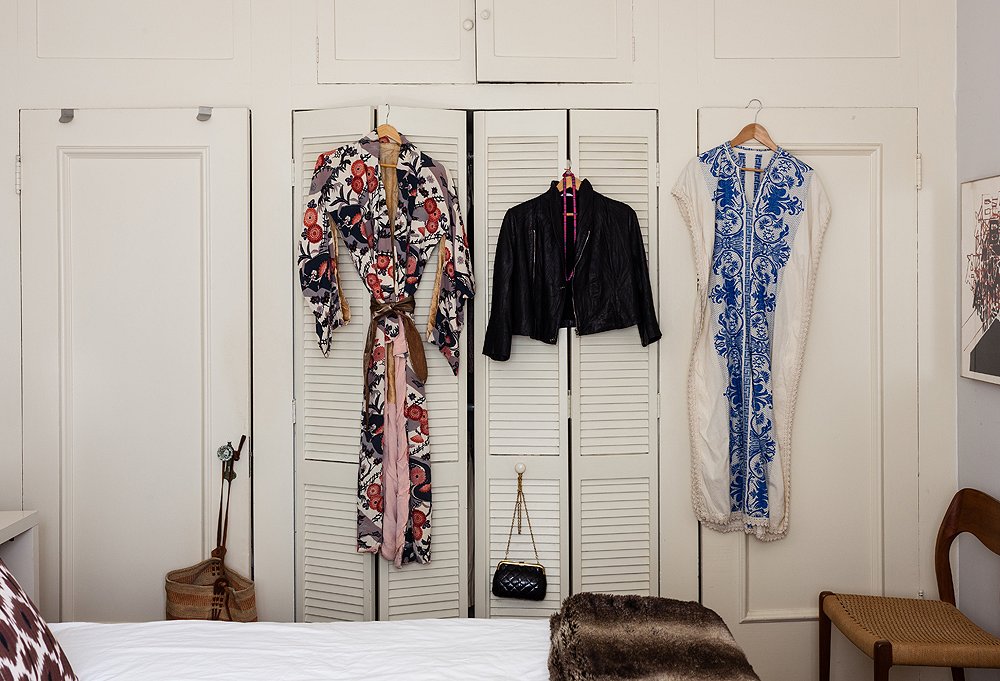 Fashion Forward
Haworth's eclectic, cool-girl style extends into her closet, as evidenced by this kimono robe, rocker-chic leather jacket, and vintage embroidered kaftan. "My room has a ton of storage, but I do try to edit," she says. "I have a fashion-editor friend who came over and was ruthless. But it's much easier to get dressed in the morning when you have less stuff."
DESIGN TIP: If your sliding closet doors let you view only half your wardrobe at a time, considering installing bifold doors so that you can take in all your options at once.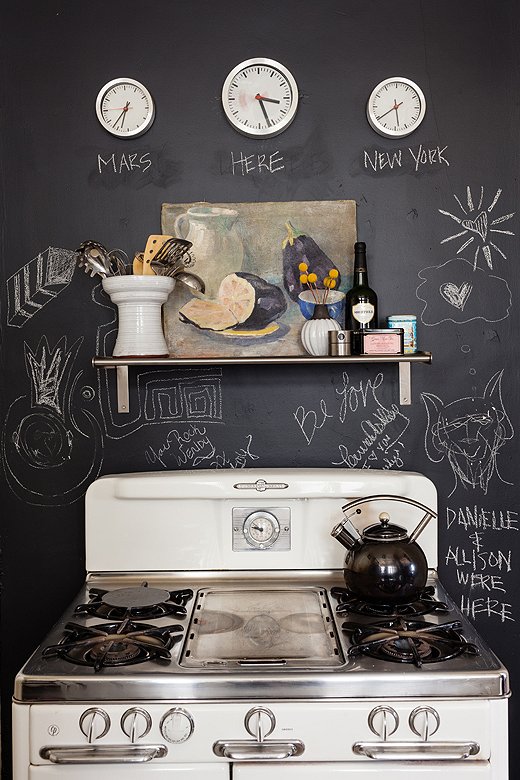 Now We're Cookin'
Right after she moved in, "when blackboard paint was just starting to be popular," Haworth covered a wall in her kitchen with it. A bowl of up-for-grabs chalk encourages visiting friends to have at it graffiti-style, "but I'm waiting for someone to come over and really do something good," she says.
DESIGN TIP: Your kitchen can be as style-conscious as any other room in your pad. Haworth propped above her stove an oil painting that could easily live in the living room, and she keeps her utensils in a flower vase, not a utilitarian canister.
Because I'm renting, I couldn't do major renovations, so I did little fixes: I changed out kitchen hardware, built shoe shelves, had window treatments made, and painted a few walls (that I'll have to paint white when I move out!).
Neutral Territory
Haworth defined her dining room with a few coats of Ralph Lauren Home's Mercer paint and a pair of Todd Williamson paintings. "I love Gerhard Richter, and these are really reminiscent of his work," she says. Centered within an arched wall niche, a bookshelf shows off even more of Haworth's epic pottery collection. "I'm always on the lookout for pieces from Mobach," she says.
DESIGN TIP: To pull off a grouping like Haworth's, seek out pieces in a slew of shapes and sizes that inhabit the same color family.