On three acres in the Long Island town of Locust Valley sits a country house. Not any old country house, but a magical one of three stories and more than 30 rooms that dates to 1668. The house was once in utter disrepair and for years deemed "uninhabitable" until it was lovingly and painstakingly restored. The man who took on the job? Design legend Jeffrey Bilhuber, who works with the kind of clients who show up on the covers of magazines (or run the magazines—Vogue's editor-in-chief, Anna Wintour, had him do her weekend place).
Nine years after buying the house, named Hay Fever for its previous owners, the Hay family, Jeffrey comes here from New York City nearly every weekend with his eight-year-old son, Christoph. For them weekends mean gatherings with friends, trips to the local farmers' market, romping around outdoors, or just staying home and soaking in all that Jeffrey has created: bold, patternful spaces brimming with American antiques, heirlooms, and blooming floral prints. As you can imagine, we couldn't wait to step inside.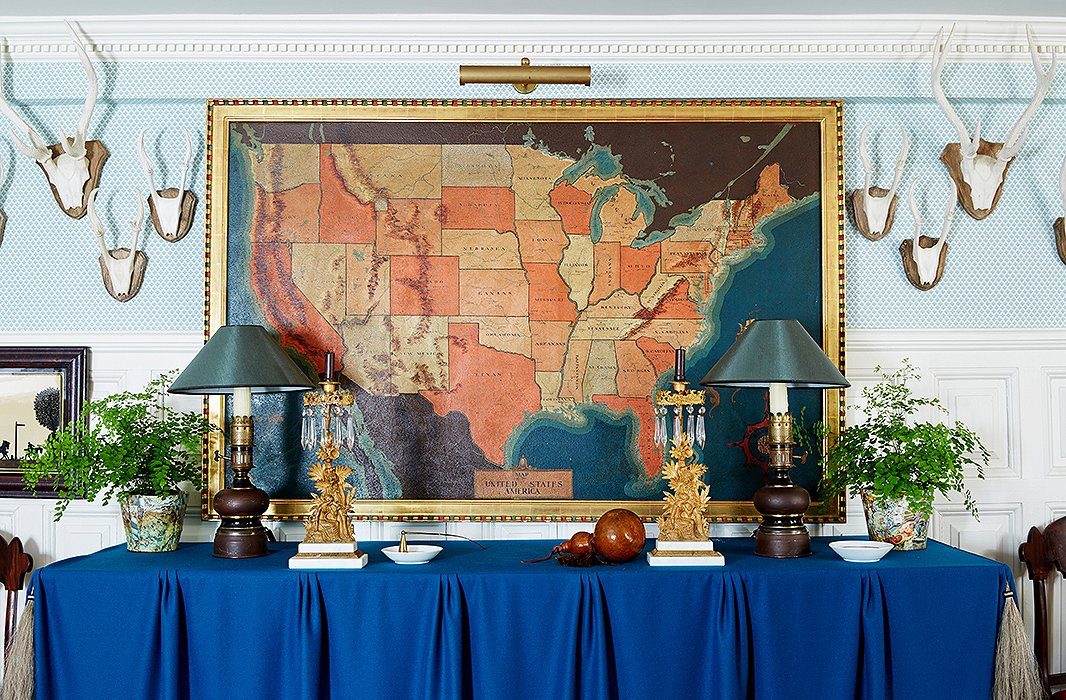 History Lesson
As Jeffrey tells it, the home's first cornerstone was laid only 40 years after the British bought the island of Manhattan from the native Americans. The builder was Captain John Underhill, and over the years the home has been reimagined as both a Quaker school and an inn and tavern before being converted back to a private home. Its many incarnations and long lifespan meant that when it came to the renovation, Jeffrey didn't have just one time period to reference but many. "The house didn't belong to any specific period of time; it belonged to everyone who ever occupied it or visited it," he says. "There was an evolution, so throughout you'll see samplings of everything from Dutch Colonialism to Colonial Revival."
I bring in flowers and greenery all the time. The house wants to be in bloom.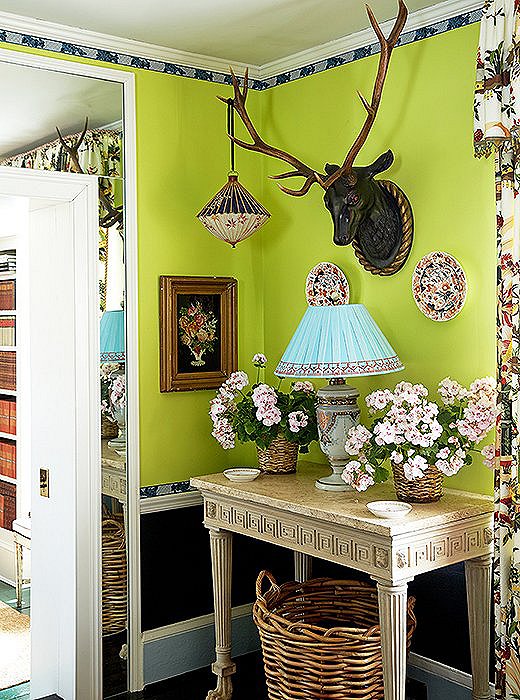 Playing Favorites
"I'm so happy in the living room," says Jeffrey. "It's miraculous in the 21st century that we say we gravitate to our living room because historically most people have seen these rooms as off-limits, and if they were used at all it was ceremonial." The room has three distinct seating areas from which he can choose and the largest fireplace, and it's constantly warmed and brightened by the sun thanks to both north- and south-facing windows. "But while the living room keeps me the happiest, the kitchen is probably where I'm at my most attractive because I tend to cook a lot," laughs Jeffrey.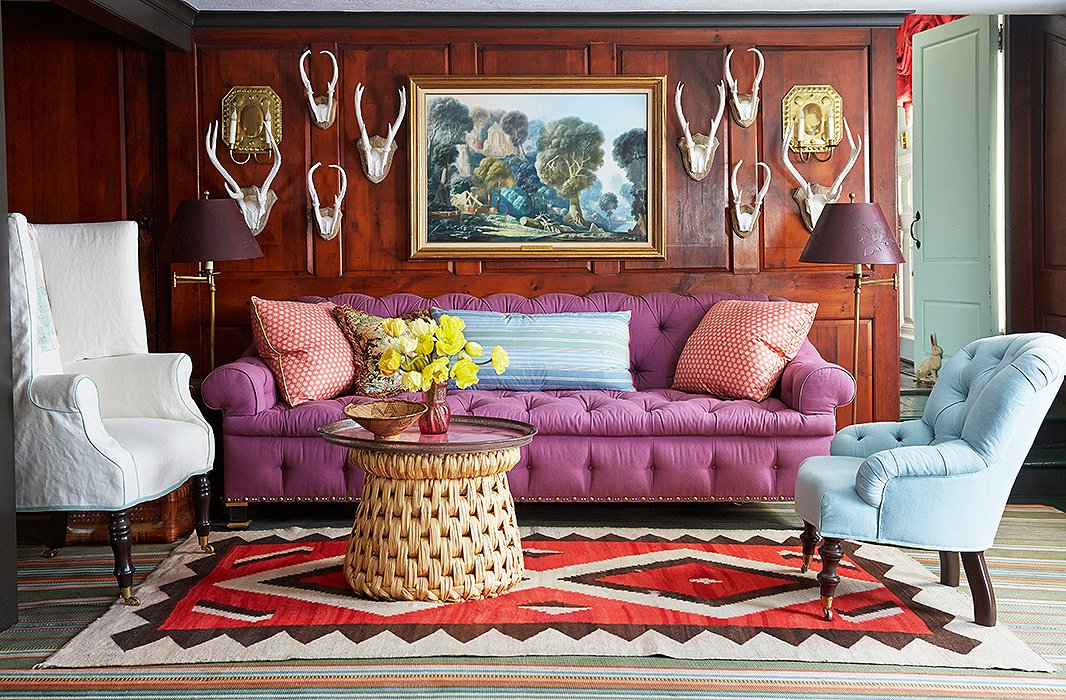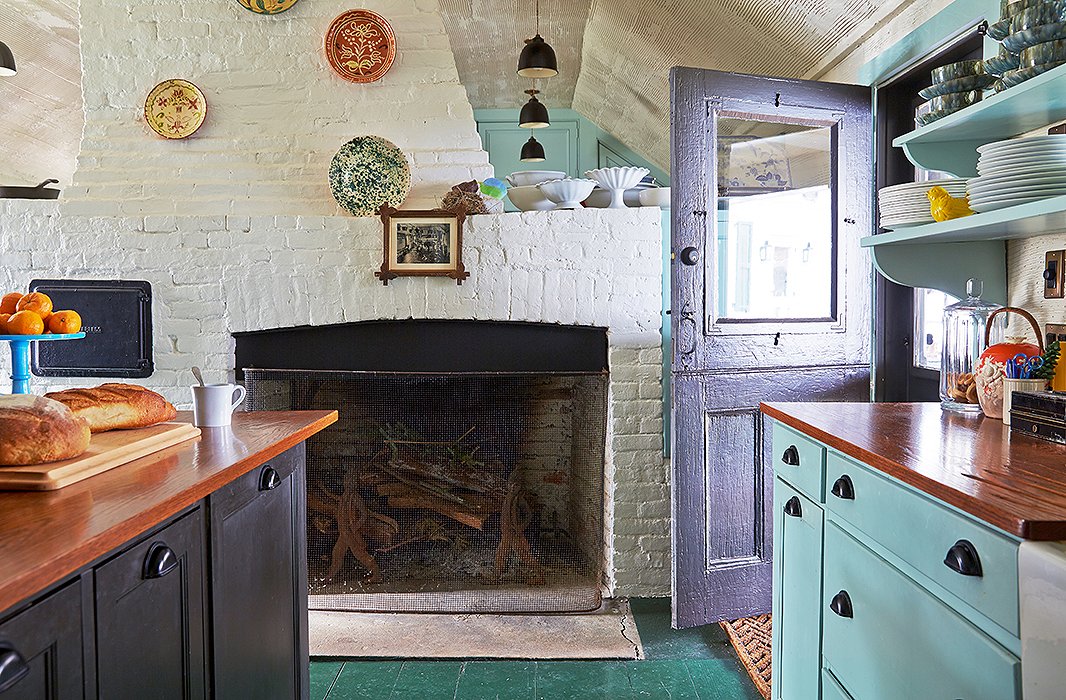 Local Bounty
Vegetables were grown around the property until Jeffrey realized he missed his weekly tête-à-tête with farmers and the discovery of new seasonal produce too much. "There's a community of resources here—from bakers to butchers—and I love to get them all involved," he says. When he's prepping for a meal, he'll take a spin around the local farm stands, and whatever's freshest wins. "I really have a go at everything," he says. "Anything I think is looking really tempting or alluring I'll give a crack at—from roasted chicken to meatloaf to simply steamed seasonal vegetables."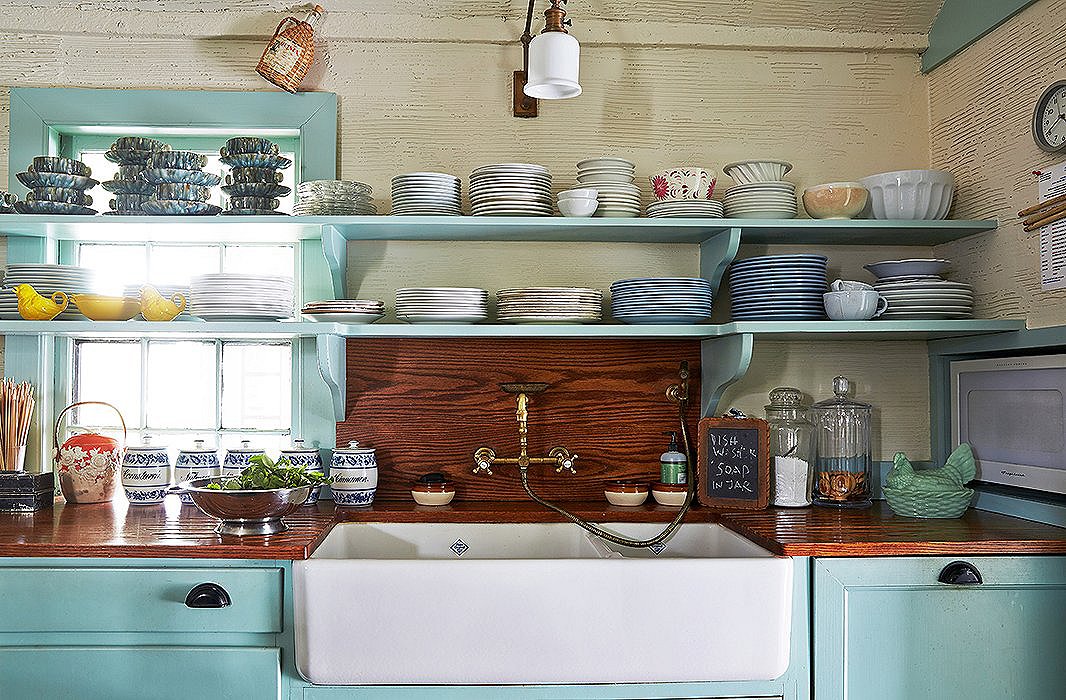 A Consummate Host
Some people claim they love to entertain, but Jeffrey truly means it. Nearly every weekend he pulls together dinner parties for 8-10 people, a lively mix of city friends and country neighbors. While the cadence of the dinners are very scripted—starting with a welcome drink on the deep porch, segueing to the dining room for dinner, and after to the living room for a nightcap or coffee—the endings are written anew each time. "So many times I've found guests playing cards at two or three in the morning—long after I've gone to bed!" says Jeffrey. "I'm very happy to let our guests find their way in the house and have their own time to enjoy it."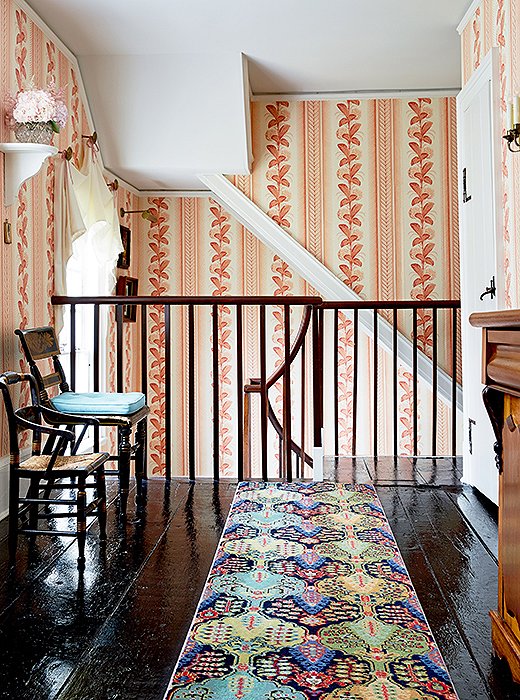 There's an easiness to the house which is very fluid. It's very convivial. It's a great house for conversation, for catching up in. It wants and invites as many people as it can.
Hue Happy
Throughout Jeffrey's house, you can't help but be hit by the gorgeously oversaturated colors—the lime green in the living room, the red in the master bedroom. And while it feels like the mixings of a modern-day master, the bold hues are actually historically accurate; they were indicators of wealth during Colonial times. "Pigment was expensive," says Jeffrey. "Dried powders were hard to find and harder to get, so if you were at all successful, you'd share your success with your colleagues or your friends in color palettes."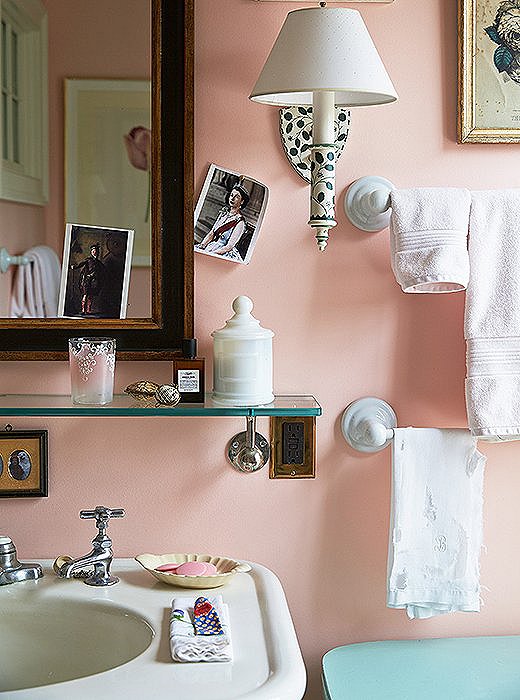 I always felt that this house was enormously optimistic. It's not nostalgic—it doesn't yearn to be of any other time or place. Although it's steeped in history it wants to be of its time and to reflect responsibly the time it's in.
Child's Play
Whenever they're in Locust Valley, Jeffrey and Christoph dive headfirst into outdoorsy activities, whether it's hiking, sailing, or getting dirty in the garden. "There are a lot of families with young children his age around—which means plenty of tennis, golf, and soccer tournaments," laughs Jeffrey. "But certainly there are a lot of distractions inside the house—namely the top-floor playroom."
I think children establish their own sense of place, and I feel it's my responsibility to give Christoph a backdrop that's a little more adult that he can grow into.