This house was not Jessie McLaughlin's first choice. An interior designer with an eye for vintage, she just felt something was off. The founder of Jessie Lane Interiors grew up in a more classical, Southern home. This house was nothing like that. "It was built in the 1970s in that very weird, '70s kind of split-level mishmash, architecturally confused style," she says. Her husband, Rhett, one-half of the famous "internetainer" duo Rhett & Link, loved it. It checked all the boxes on location and size.
"There were some elements that won me over," Jessie concedes. She loved the Spanish-style roof and the tall ceilings; the white brick and the spacious main bedroom also helped. In the face of architectural confusion, Jessie saw good bones. And in the competitive Los Angeles real estate market, that was enough.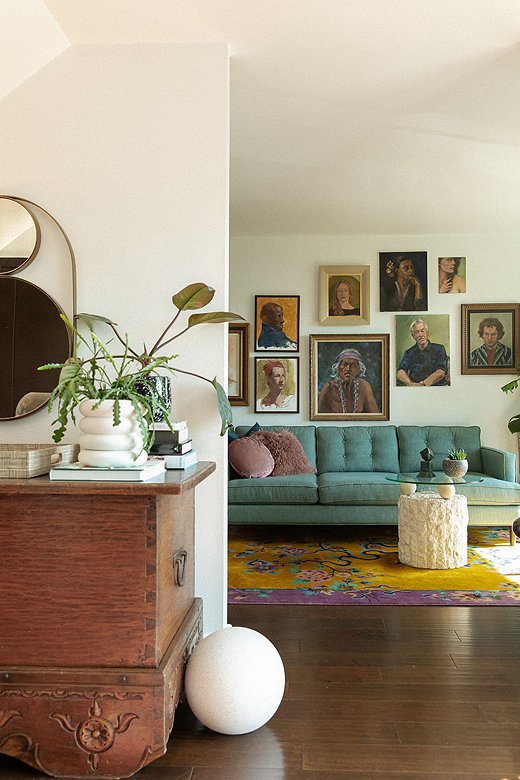 Jessie made a game plan. "I didn't want to make this house something that it's not, and at the same time, it's not really anything," she says. First on the docket were architectural changes. "It is important to honor the architecture and original intent in spaces," she says. "Sometimes there is a lot of room to play because it's a box, so you have to create that soul, create that warmth, create that sense of history."
Bringing that sense of history to the home is exactly what Jessie did. She installed wood beams on the vaulted ceiling in the living room and changed rectangular door frames to arched ones. She added an impressive built-in bookcase in the formal sitting area. "I feel like anytime you can get some architectural interest like that in, it's huge."
From there, Jessie moved on to the style of the space. Her style is best described as a boho-meets-Regency-meets-vintage. "I think it's a personality thing that I do not want to be cornered into a certain style," she says. As such, the overall aesthetic is dynamic—hard to nail down and ever-changing. At its very core, it is totally Jessie. There is trend, but it's not too trendy. There is classical design, but nothing feels stuffy. There are California Mid-Century and Spanish influences, but neither rules the roost.
Jessie's use of jewel tones creates a baseline for the tone she is setting, while soul is at the heart of everything she does. Vintage layers in soul. Colors bring soul. Architecture gives soul to a space. The concept is even in the tagline of Jessie's firm: "Soulful spaces for your story."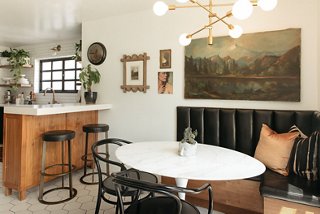 I think it's a personality thing that I do not want to be cornered into a certain style.
Nowhere is Jessie's emphasis on soul more apparent than in her art collection, the stars of which are portraits. "I've always loved these portrait walls," says Jessie. As a child, her mother hung a grand portrait of a stranger in their living room. She would make up stories about him when people asked who he was. It was that connection to storytelling and people with which Jessie fell in love. "There is something about this people-centric style that feels very soul and homey," she says. She soon began her own collection. "I just went on this quest." Her collection has steadily grown over the years. Each portrait has a special story, but they all pass the same test. "A lot of times, I would think 'Would I want to be this person's friend?'" she says. As with the rest of her design decisions, the choice to include them was a gut check. "Something in them has to connect with me."