Marea Clark was faced with a challenge: Design a beach home that wasn't beachy. The property overlooks a secluded beach in Southern California. Expansive views of the Pacific Ocean and the wily sand that would find its way into the house pushed her design in one direction, but a desire to create a home with traditional design sensibilities pushed her in another. Luckily her clients had a strong aesthetic compass—as they should, since their daughter works with Marea at her Bay Area design firm, Marea Clark Interiors. "It was a really fun twist to do this internal project," she says.
This project wasn't your typical vacation home project. "They wanted the home to be a place where they could experience all seasons," says Marea. They needed it done quickly too, as their San Francisco home was undergoing major renovations. "They came from a large home, but being empty nesters, they were now in this more condensed beach bungalow," Marea explains. "I wanted it to feel comfortable and approachable for them. Figuring out the furniture plan and layout was the biggest puzzle piece."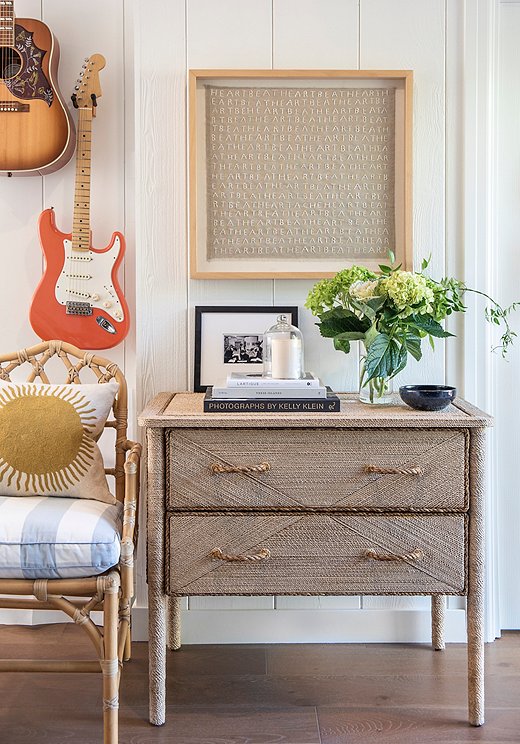 The living room is long and narrow, so to ensure enough seating, Marea complemented a sumptuous sofa with smaller pieces, and antiques took center stage. "Everything in the clients' collection is beautiful," she says. The wife  "likes a very layered look, a mix of comfortable pieces that don't feel too precious and antiques."
Nowhere is this mix better exemplified than the owner's collection of silver-plated seashells. Stacked atop an antique étagère, they represent the design ethos of the entire project. The refined elegance of silver meets each shell's organic simplicity to create a beautiful curio and a subtle reminder of the home's proximity to the ocean.
This balance of classic elegance and beachy casual varies somewhat room by room. The living room is more traditional with floral accents and classic silhouettes. "Those little details make it feel polished and tailored," says Marea. The main bedroom leans more toward seaside living. White shiplap illuminates the entire room. Underfoot, Marea placed a custom handwoven rug that mimics the weave of a fisherman's sweater. Nubby pale-blue linen covers the bed, which is topped with crisp white bedding and a simple throw. Minimalist art and white flowers add to the tranquil atmosphere.
We really leaned into texture and material because things shouldn't be too fussy.
Throughout the rest of the home, Marea focused on natural elements such as bamboo, straw, and sisal to add an air of quiet sophistication. "We really leaned into texture and material because things at the beach shouldn't be too fussy." The guest room that also serves as the daughter's room when she comes to stay got a feature wall with the clients' collection of straw hats. The other guest room features a bamboo chair and a rope-covered dresser. Together, these touches brought home the beach without letting it overtake the design. "Nothing was too precious," Marea says.