Olivia Song is intimately familiar with museums. She has worked with both the Brooklyn Museum and the Guggenheim to bring their design visions to life. The designer's town house in Brooklyn could be considered her third museum project. The 1840 brownstone is a testament to restoration and innovation, as well as the place where Olivia showcases some of her most beloved pieces of art and design. Each room is filled with a who's who of collectible works from KAWS in her children's bedroom to door handles from Do Ho Suh's Specimen series. And while modern art might be the most noticeable features of the home, the traditional sensibility of the 1840 build is quietly pulsing underneath. 
When Olivia, One Kings Lane To the Trade member, and her husband purchased this Victorian-era town house, she wanted to restore as much as possible. "When you're doing restoration there is a very difficult line," she says. "It's a little bit like cosmetic surgery, like how far do you go?" Turns out, Olivia was willing to go far. She worked closely with her team of builders and designers at Leroy Street Studio to find materials that would have been available to the original owners. She also tried to make the restoration process as environmentally friendly as possible. "Construction is one of the most wasteful and not-green industries out there, and it is definitely the luxury of people of means to be able to do a renovation like this," says Olivia. At the same time, she felt it was her responsibility to do so. "Historic restoration is really a commitment," she says.
No detail was too small to consider in the restoration. Olivia saved a door original to the home by switching out all the hinges for modern life. She found someone to restore an antique claw-foot tub. The front door and the staircase, both hallmarks of the Brooklyn brownstone aesthetic, also got the restoration treatment. They ripped out floors, which would've been subflooring during the Victorian era, and restored them. "It's so funny to me because the [original 1840s homeowners] must be laughing at us for preserving the s–t wood," she says.
The rest of the house doesn't feel so traditional. The double-height ceilings in the living area give the space a loftlike feel, something Olivia wanted because her original dream of living in a loft ended once her two sons entered the picture. She went with a built-in bookcase that spans an entire wall of the house in the more formal living area upstairs. She can even reach some of her cookbooks on the shelf just through the windows in the kitchen.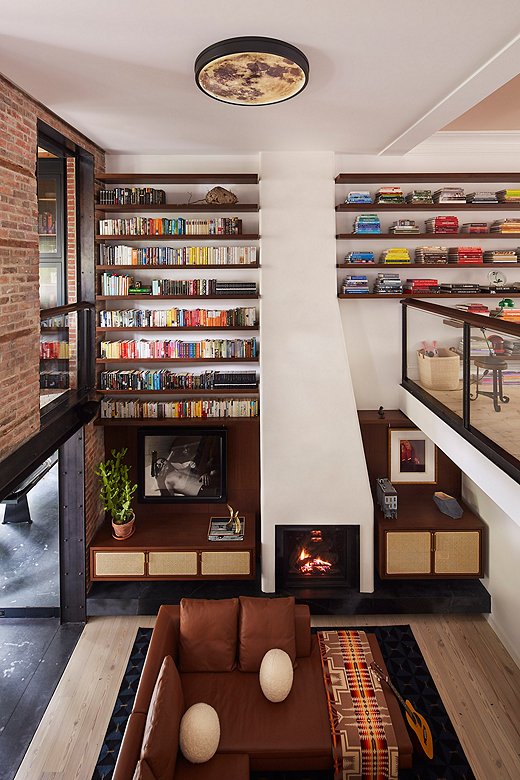 The kitchen itself required some extra love and attention. Olivia is not a chef—"the kitchen is really my husband's domain." Ideas on how to renovate the space flew around for months. Since Olivia wanted a dark kitchen, she was going to need light from somewhere. Enter her garden. The back of their Brooklyn townhouse features a lush garden designed by Olivia and her friends at Brook Landscape. The star of the garden is a pair of London plane trees that Olivia reckons to be more than 100 years old. She didn't want to disturb them, and as many New Yorkers know, thick gardens like these tend to attract loads of bugs in the summer. Taking all of that into consideration, Olivia settled on a cantilevered kitchen with expansive windows that would let in tons of natural light, not bother the trees, and allow her to enjoy the view of her garden even when she didn't feel like going outside.
Museums are time capsules of the cultural psyche. Each piece of art is a window into the heart and soul of the artist who made it. Olivia's museum shows us the soul of a collector, someone who cares deeply about her environment and how to make it beautiful.