When Emily Garrett and her husband purchased a new home in Greenwich, CT, the couple had more than a few items on their decorating to-do list. But with three children under the age of four, there wasn't much time to spend sourcing furniture or picking out accessories. Since Emily has always loved the idea of working with a designer, she turned to One Kings Lane Interior Design to mastermind the project.

The first space to get a revamp was the living room. From the furniture to the rugs to the books on the shelves, Emily was happy for her designer to take care of everything—though she did have a few requests. First: She wanted to incorporate a grand piano (she and her daughter are taking lessons). Second: The space should be awash in whites and other neutral tones but filled with plenty of character. Third and most important: It had to be kidproof.
Read on to see how the design process unfolded, then shop the room's light and bright look here.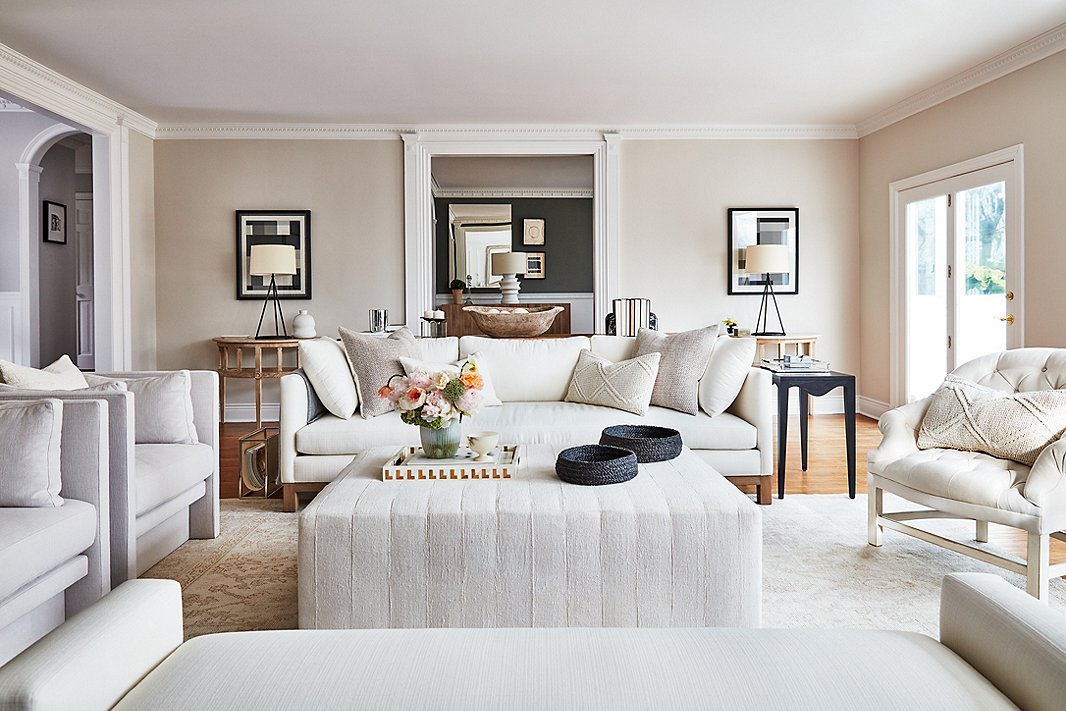 Putting a Plan Into Play
Once the vision for the space was solidified, Emily's designer set to work pulling together furniture, accents, and vintage finds to create a comprehensive 3-D rendering of the room. The thoroughness of the plan made it easy for Emily and her husband to envision the final result. "She presented such a holistic view of the room," Emily says. "Every piece was considered. That was really sealing the deal." The couple agreed to go all-in.

Still, Emily had a few reservations, particularly when it came to the more daring pieces her designer chose. The vintage wood console table behind the sofa was a last-minute discovery, and Emily needed a bit of convincing to pull the trigger. "My designer said to me, 'This is going to be the showstopper, and you won't regret this,'" Emily says. "And it blew me away in person. It's so rich and adds a lot of character, and it makes the room look less cookie-cutter and more unique. I learned very quickly you have to trust what your designer is doing. Every time I've taken that leap, it's been the coolest piece."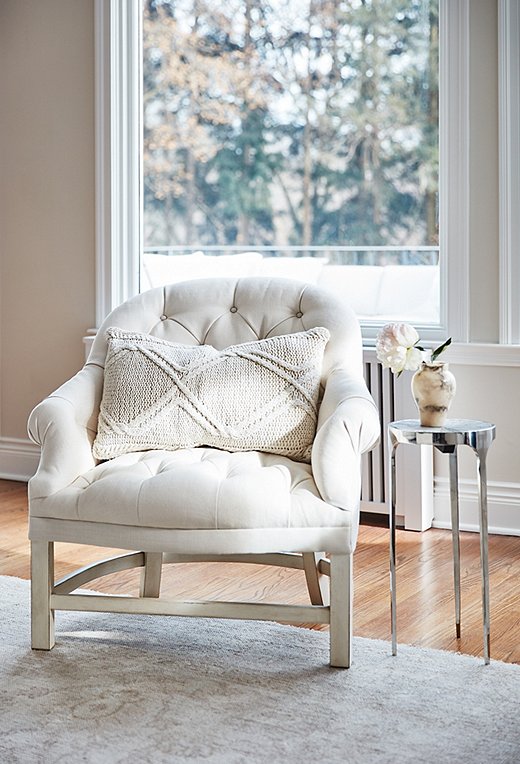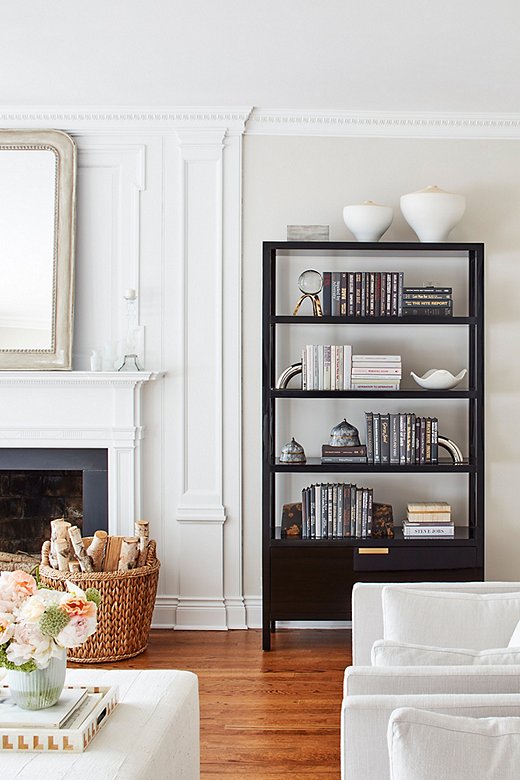 I learned very quickly you have to trust what your designer is doing. Every time I've taken that leap, it's been the coolest piece.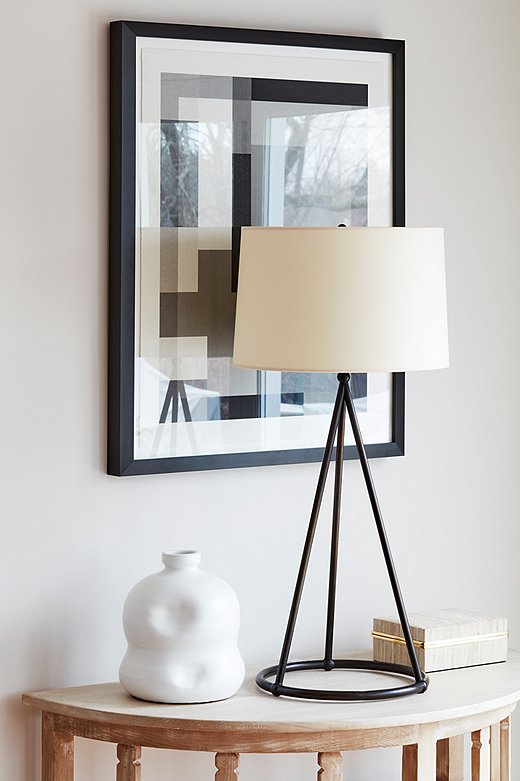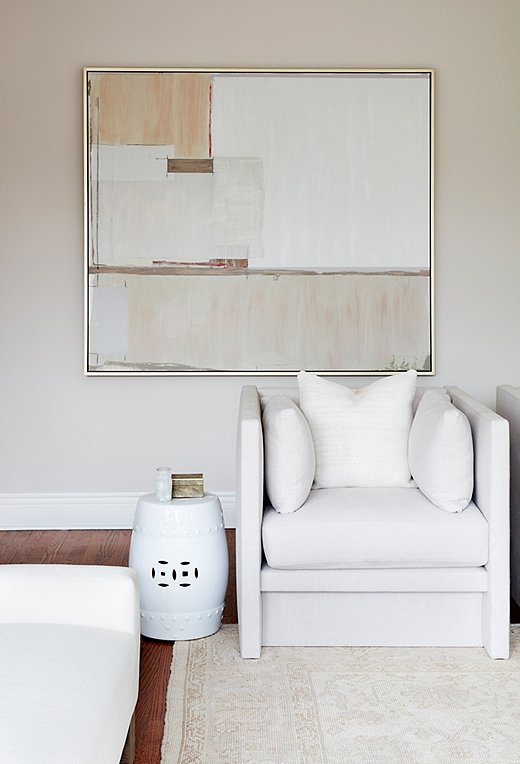 Marrying Pretty and Practical
Since this space is a formal living room with no TV, it doesn't see as much day-to-day action as the home's main hangout. Still, pulling off an all-white look with young children would be tricky, yet Emily didn't want the room to be off-limits.

For the majority of the upholstery in the space, she and her designer landed on stain-resistant Crypton fabrics, which can withstand messes of all manners while still looking (and feeling) luxurious. "I've gotten chocolate and ballpoint pen out of that sofa so far," Emily says. "You don't look at the furniture and think that it's kid-friendly. It's incredibly comfortable and doesn't feel grubby."
The other key in creating a childproof room was avoiding sharp edges. An upholstered ottoman eliminates hard corners without sacrificing beauty or practicality (and has been such a hit among Emily's social circle that two of her friends have bought similar pieces for their own homes).
"I'm in love with the room," Emily says of the finished space. "Every time I pass by, it imparts this little moment of zen. Even my husband has been outspoken about how happy he is with it. It's beautiful, it fits our family, and it's functional. Next we're doing the master bedroom—I can't wait. Talk about a room that needs to be zen!"