There's something to be said for the magic of anticipation. Courtland Stevens had been eyeing this unusual-looking house in her native Savannah, GA, for years before buying it. "We had tried to buy it three separate times, that's how in love with it I was," she says. Finally she purchased it for her young family, and "the day we moved in I knew exactly what I wanted to do."
Her plan was pretty simple: Each room could no longer feel like a sterile box. "Each room has its own color; each room has its own purpose," she says. 
In addition to being an interior designer, Courtland owns the wildly successful embroidery and home business Courtland & Co. Her style embraces a mix of color and pattern but is "definitely edited," she says. "I hate clutter. Hate it. I love pattern play and I love texture, but I cannot stand lots of little stuff."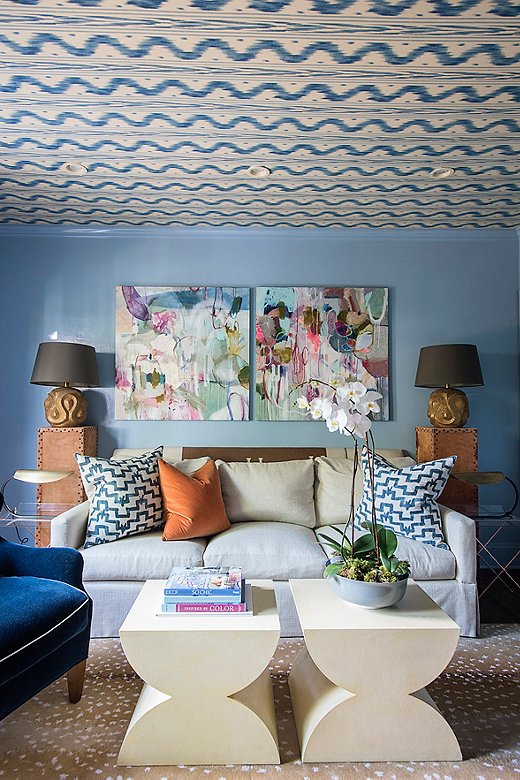 Her statement-making rooms are cohesive in their mix. "Usually when I buy something, I know down the road I'm going to get, say, these chairs in this fabric, and I'll be able to put the fabric on the sofa and the lampshade and everywhere," Courtland explains. "I normally engage with a plan."
She put this house together with favorite things she'd collected or bought on the advice of her mother, along with some more au courant choices. "A lot of the things I already had I had to force myself to like because my mom said to me, 'Oh, that's really nice,' and so I told myself I'd make it work," Courtland says.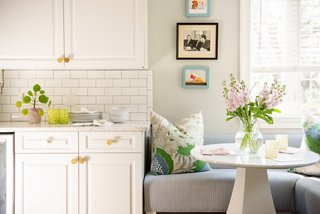 The house has a unique architectural style, which is what attracted Courtland in the first place. The best way to describe it is a traditional brick colonial with midcentury lines and an oddly flat roof that was a holdover from its days as a prayer space. "It was built by a Greek family, and the entire upstairs was one big prayer room," she says. "I'm surrounded by very classic, Georgian-looking houses, and this is just different. It's so special." 
She wanted to make sure the specialness could be felt through her design too, by giving each space in the oddly shaped home its own personality. The formal living room, for instance, feels classic; oversize lines and delightful velvet moments create an aura of comfortable elegance. 
Courtland's business runs off a love of entertaining, so her dining room holds a special place in her heart. She knew she had to include Scalamandré's iconic Raphael wallpaper somewhere in her house, and it seemed that covering the dining room in it would provide just the wow factor she was looking for. She paired it with floors painted in Benjamin Moore's Ice Blue and a beautiful inlay table. "Busy with busy is so great," she says. "You lay a white bone-china plate on that table and it looks horrible. I love that everything you do, you have to do nuts."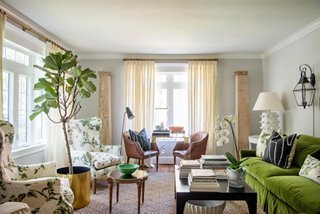 Another iconic wallpaper, Pierre Frey's Toile de Nantes, was also a must-have. "I've always loved that pattern, but I was beginning to think it was overused," Courtland admits. So she looked for different ways to use it. "I thought, Why not fit it in somewhere you won't be looking all the time, but where there's just a hint of it." And so it went up on the ceiling of the den, whose walls are lacquered in a complementary blues.
Courtland's plan for this house was to turn the oddly shaped but still beautiful space into a wild mix of patterns and fun. She certainly succeeded. "I love a room that can take on layers, because it's never going to be sparse."