When you walk into the apartment of designer Alex Papachristidis, it's easy to forget that you're in New York City—and that's just the idea, Alex says. The space, located in a Manhattan high-rise, wasn't in great shape when he first saw it; the previous tenant had left it largely untouched since it was built in the 1970s. But the location (close to family) and spectacular views won out, so Alex and partner Scott Nelson took the leap.
Fourteen months of renovations later, the space was transformed into an oasis in the city. "When people come over, they say, 'I feel as if I could be anywhere in the world.'" We stopped by for a tour and were completely swept up in the fantasy, not to mention Alex's gracious entertaining style and thoughtful attention to every last detail.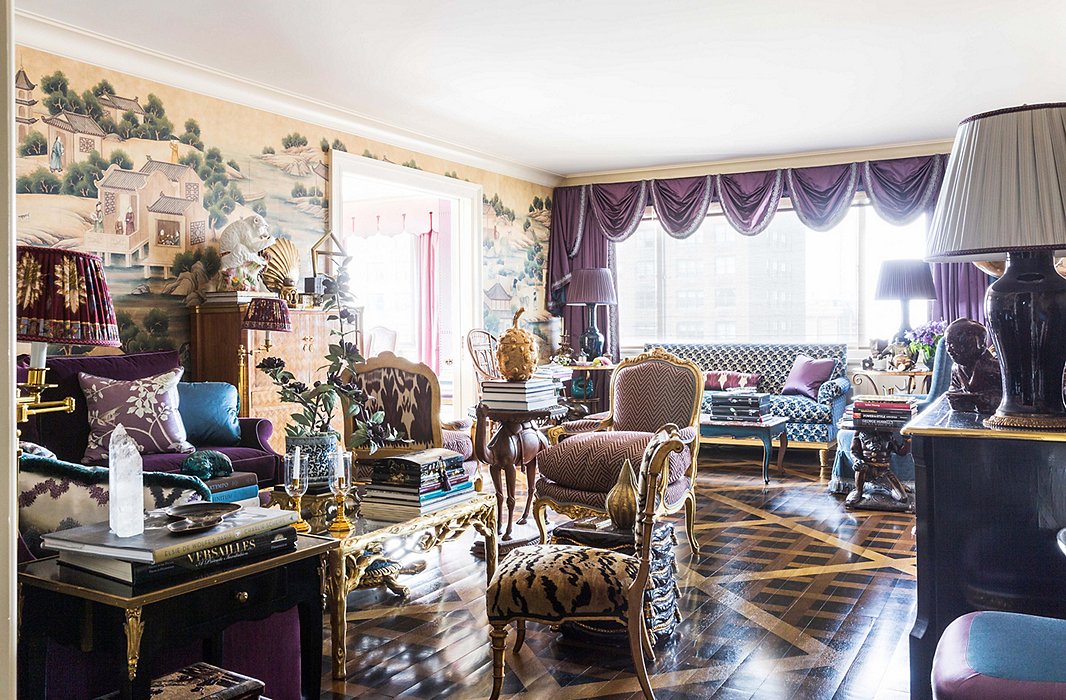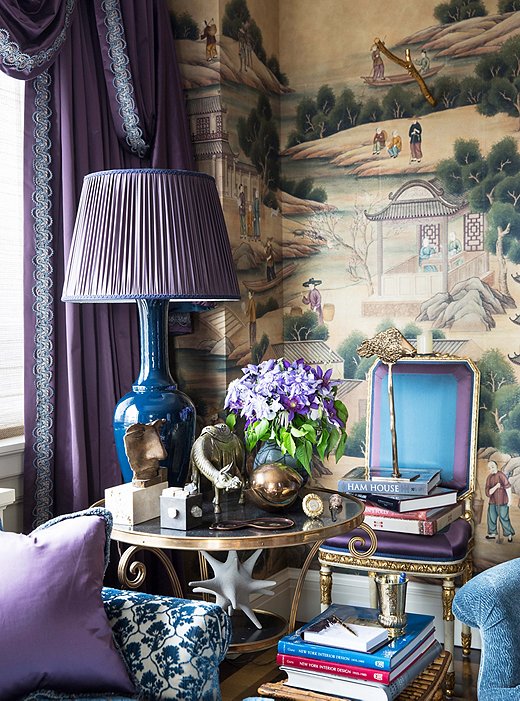 Restoring Proportion
A classicist at heart, Alex craved the traditional character of a prewar apartment. "The goal [of the renovations] was to refine the proportions of the space and give it an open feeling," one that would be inviting and warm for the pair and their frequent guests. "It was really about creating classic spaces that worked for us and how we would use them."
Achieving that lofty goal took some imagination—and the removal of a few walls. In collaboration with an architect, Alex opened up one of the three original bedrooms to transform it into a library. It now unfolds into the living room and dining room in a classical enfilade, a layout that maximizes light and sets off the spectacular views of Central Park. "I think that a view is much more special if it's framed, whether by doorways or curtains. It makes the view focused."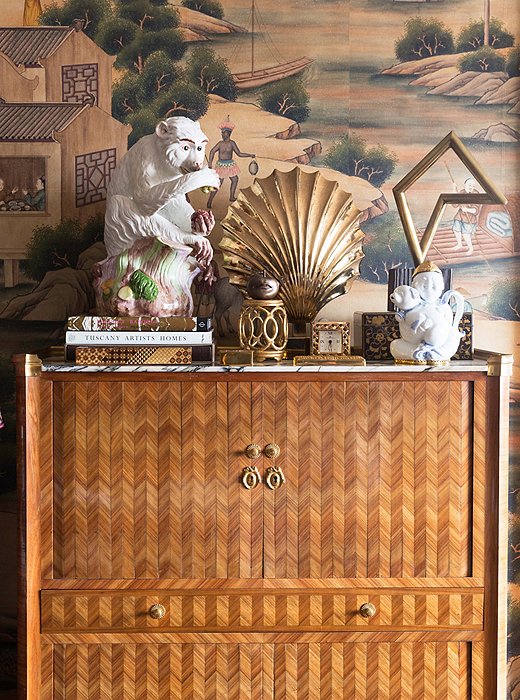 Mastering the Mix
"It's about a variety of textures," Alex says of the fabulous array of finishes that fill the rooms of his home. The floor of each room gets special treatment: Limestone tile in classical patterns covers the kitchen and the bathroom, while Alex's own colorful carpet designs warm up the library and the bedrooms. The living room features a parquet de Versailles, a historical pattern that dates to the 17th century. The twist? It's trompe l'oeil, created with a stencil. "I love the idea of taking beautiful classical elements and using them in a modern way."
Aside from the trim, the floors are just about the only painted surfaces you'll find here. Every wall is either mirrored, papered, or upholstered, a commitment that might scare off some. But Alex says it's well worth it: "There's nothing like fabric and wallpaper on the walls—I love that coziness."
The living room walls are a world unto themselves, covered in a murallike wallpaper based on an 18th-century design. After spotting the original chinoiserie image in a book, Alex had a custom version made to encompass all four walls.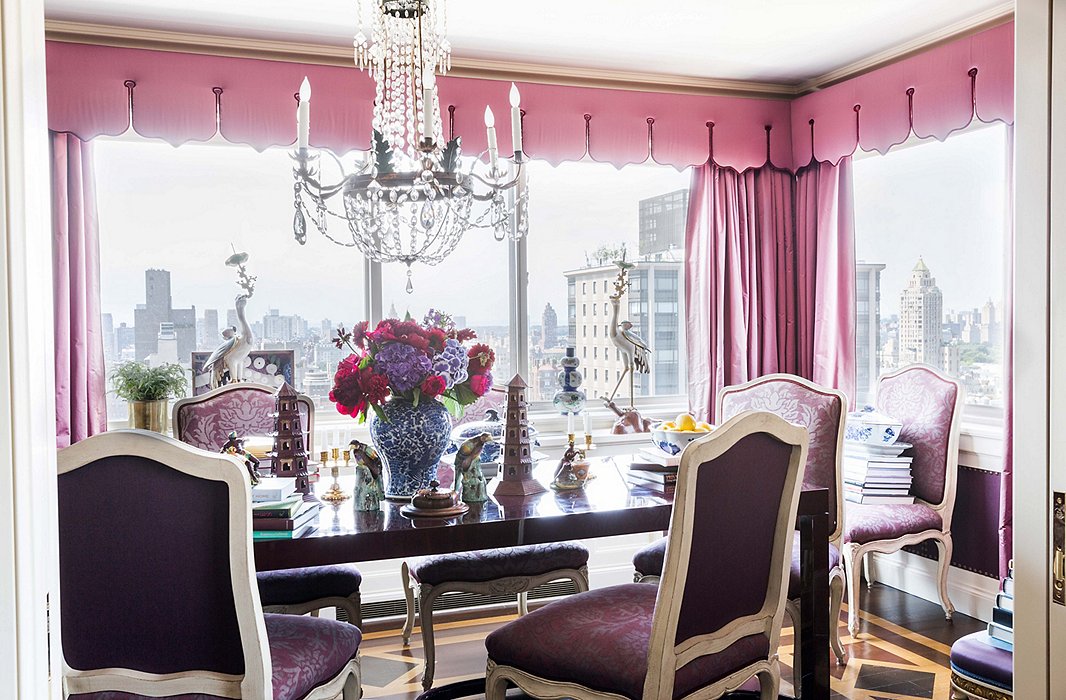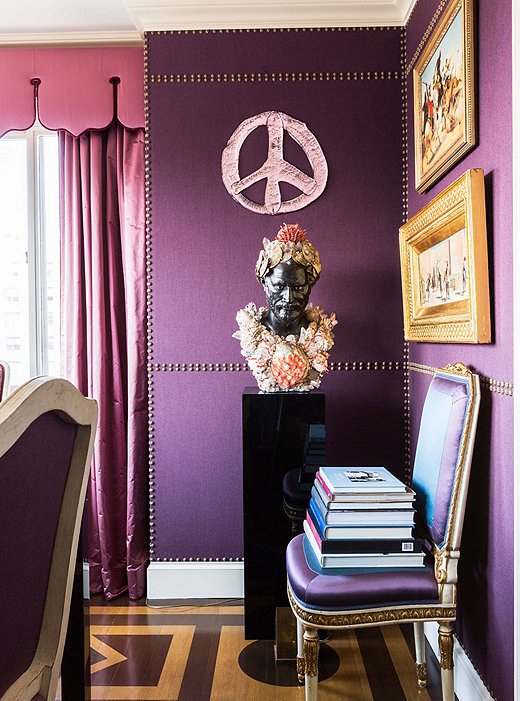 Making Entertaining Easy
While Alex hosts dinner parties when at his family's home in the Hamptons, he finds city living lends itself to more-informal affairs. For larger cocktail parties, Alex turns the dining table into a buffet, and friends spill over into the library and even the dressing room—"We bring chairs in there and pop up some TV tables!"
And the couple doesn't shy away from impromptu get-togethers. Should someone drop by for a drink, the napkins (custom by Leontine Linens) will be pressed and ready, hors d'oeuvres will be stocked, and a bottle of champagne will be chilling in the fridge. "Our apartment's always entertain-ready," Alex says. "I think that's the way you have to live. You have to be spontaneous once in a while, so it's important to always be prepared!"
Our apartment's always entertain-ready. You have to be spontaneous once in a while, so it's important to always be prepared!
Creating a Sense of Drama
While the apartment now boasts traditional bones, the decor is anything but staid. In fact, the drama begins the moment you step in the entry, where a tented ceiling evokes a French Empire fantasy. "It feels very Parisian," says Alex, who mitered the corners of the fabric rather than running stripes straight across to create a more classical shape. "It's one thing to use a stripe," he notes. "It's important to know how to use it successfully."
In another daring move, he placed an antique chinoiserie bookcase smack in the center of the room. "Why not?" he says. "As a decorator, it's good to have a combination of being fearless and being able to create something that's reflective of the people who live there. Our home is very reflective of us." Crowned with a fanciful tole lantern, it creates a sense of grandeur as well as playful ease.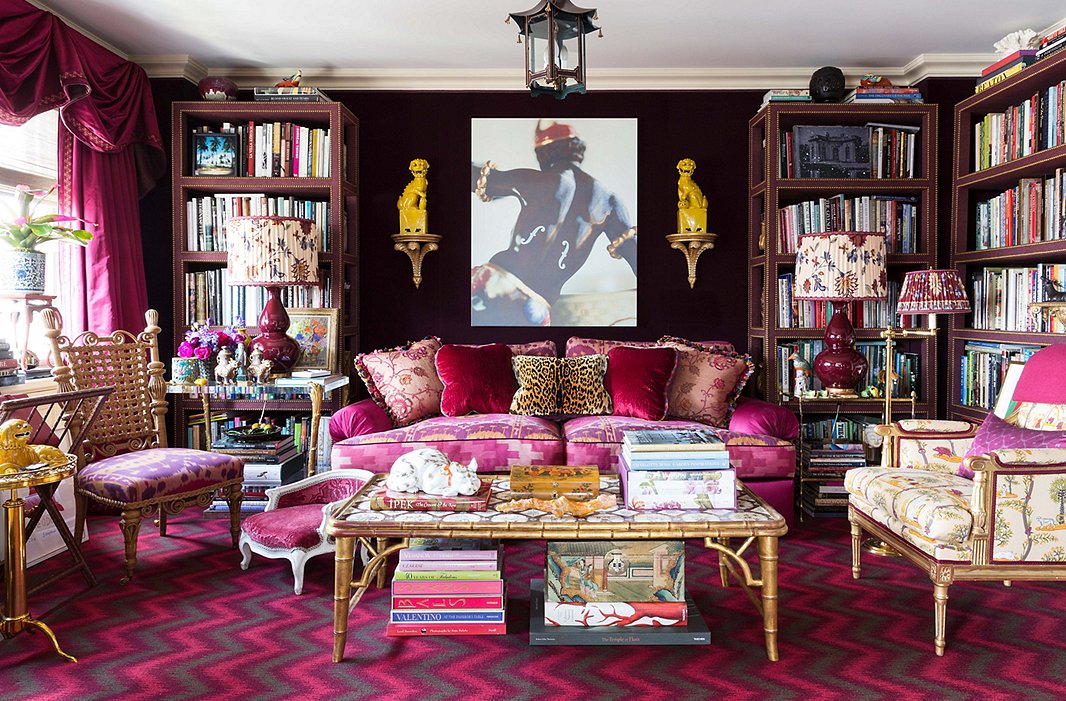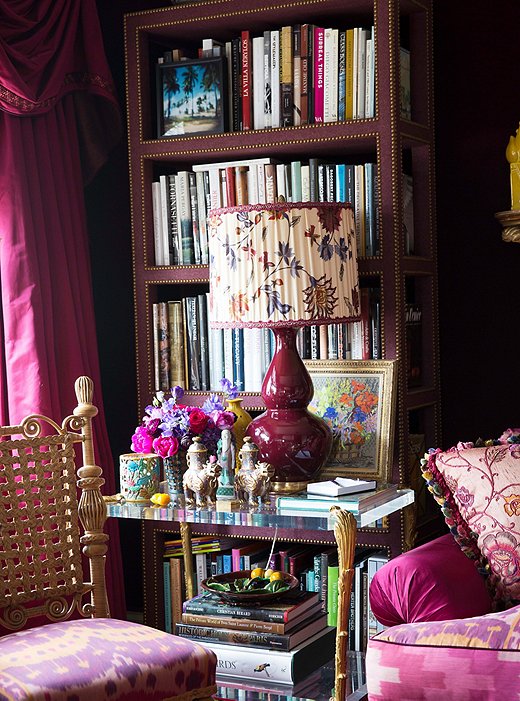 The Comforts of Home
Alex's schedule takes him all around the world, so his home is a true retreat—and the library in particular is a favorite hangout spot. A pair of Christopher Spitzmiller lamps offer plenty of light for curling up with a book, and Alex says the plush couch is ideal for Sunday afternoon movies. With the pocket doors closed, the space becomes the ultimate cozy screening room.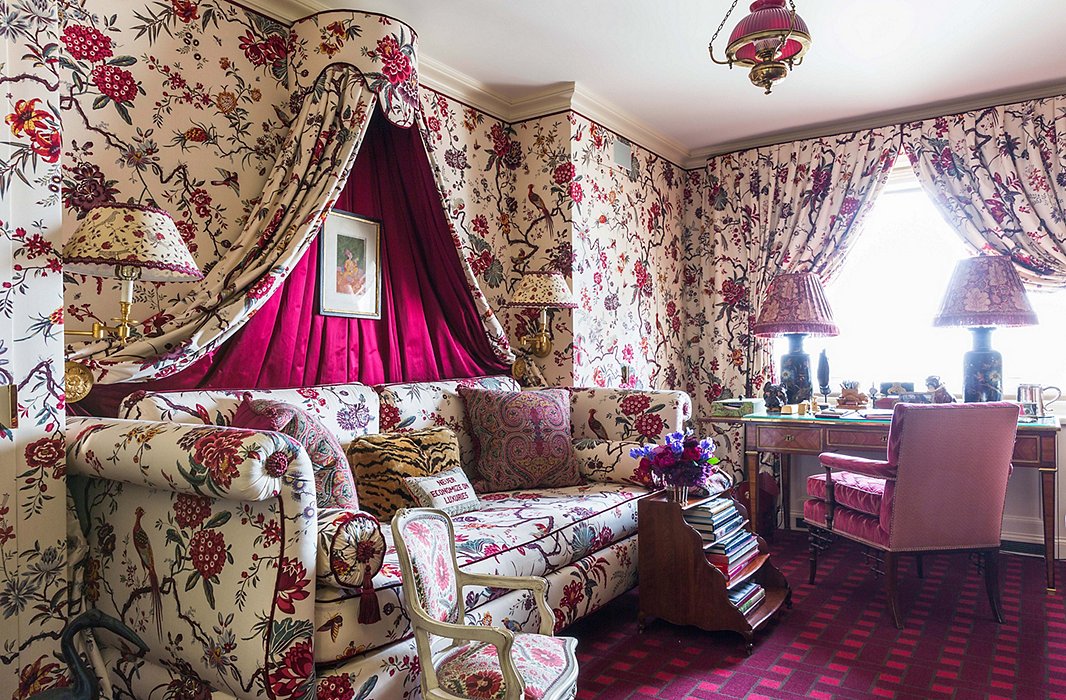 Piling on the Print
In Scott's dressing room, a lively floral toile takes center stage. While it might seem counterintuitive to do a small room in an allover print, Alex says, "Pattern on a cream background actually creates depth, so it opens up a room and gives it dimension." Plus, the upholstered walls "add a kind of romance and richness that just nothing else does."
The pattern carries onto the grand canopied daybed, with chairs and lampshades in complementary prints. The antique child-size chair is one of many throughout the home, placed near sofas and beds for the benefit of Teddy, the couple's beloved Yorkshire terrier ("He just hops up and down and comes and goes when he wants!"). Alex loves that the chairs reference historical forms, and his young nieces love to play on them when they visit.
I love the idea of taking beautiful classical elements and using them in a modern way.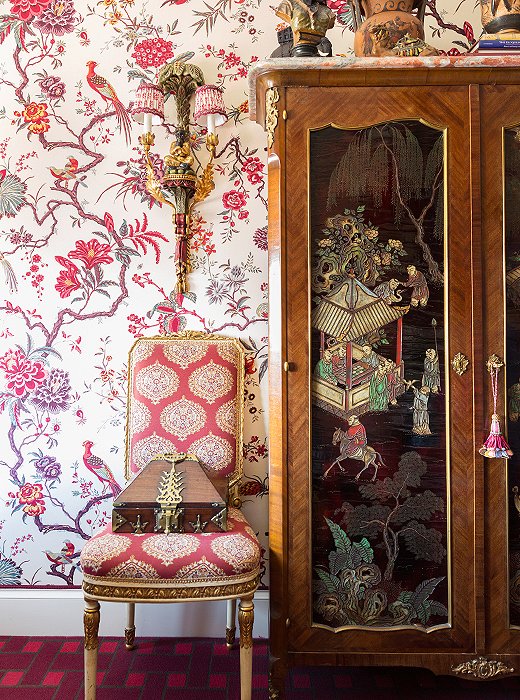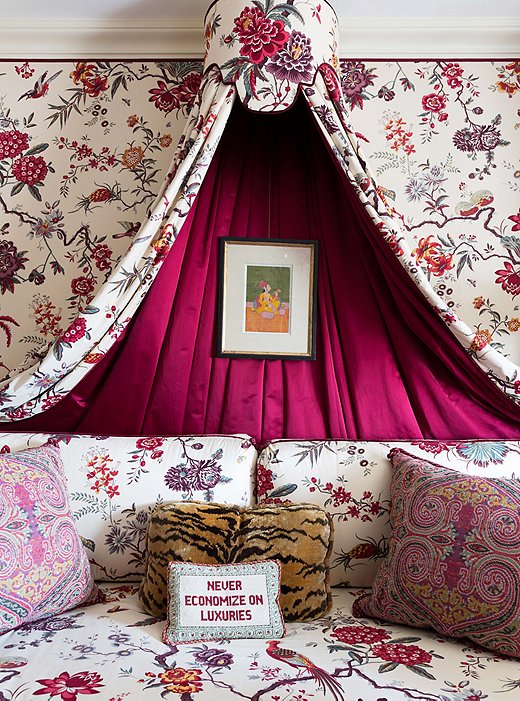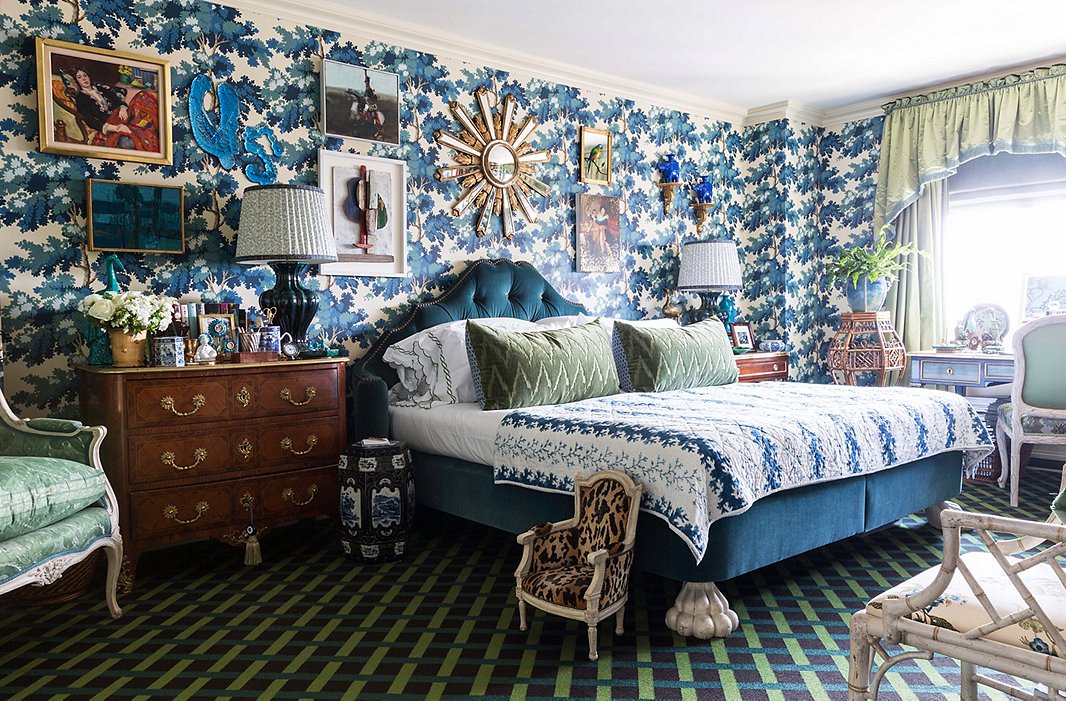 Going Full Spectrum
When it comes to color, more is certainly more for Alex. "I like to add things and not have to worry if it's going to match." In the bedroom, it seems that every hue of blue and green is represented, but it all works—the peacock-blue bed; the apple-green curtains; the teal, green, and purple basket-weave carpet—precisely because of the mix. "Clashing colors can be beautiful when they're used correctly. They highlight each other in an interesting way." The result is a dreamy atmospheric effect, almost like waking up in a garden.
As for that wallpaper? Alex describes it as a stroke of subconscious inspiration. While rereading a book after finishing the room, he was struck by an image in it of aFrench château's tapestry-covered hallway, done in the exact hues of his bedroom wallpaper. "I realized I must have seen that, fallen in love with it, and stored it in a little file in my head. And then when I saw that paper I was drawn to it—I didn't even realize where that had come from!"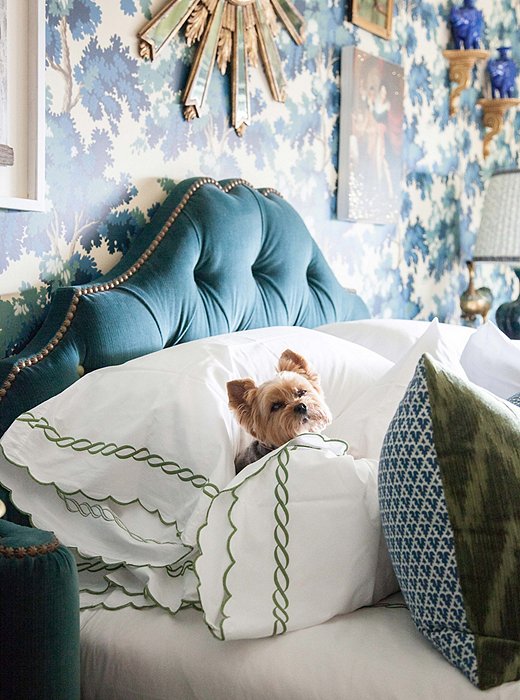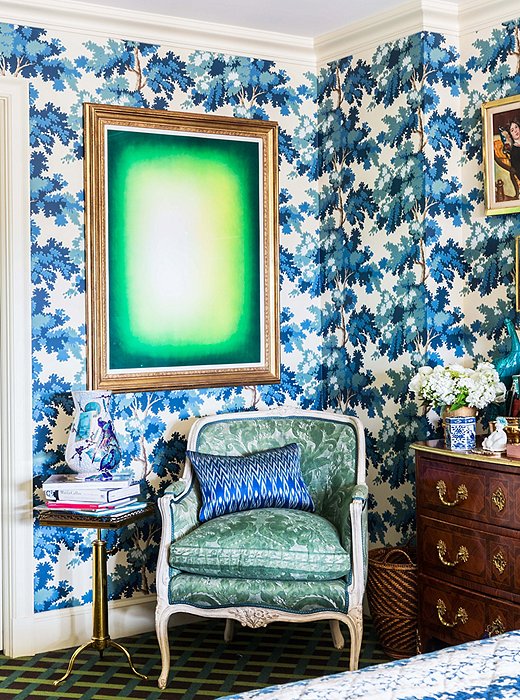 Adding Elements of Contrast
In a signature move, Alex juxtaposed a bold abstract print with a curvy bergère. The green hue (Scott's favorite) has an almost electric tone that wakes up everything around it. "I love that modern splash of color on those historic-looking walls," Alex says. "It creates an interesting dynamic, and it makes the paper feel rather modern and new, even though it's very classic."
This inspired mixing of materials and eras has become somewhat of a specialty. Even when a client asks for an all-white space, Alex creates atmosphere by varying the textures. "It's all about the layering of textures and details that all come together. Nothing is the focus, but everything is an element."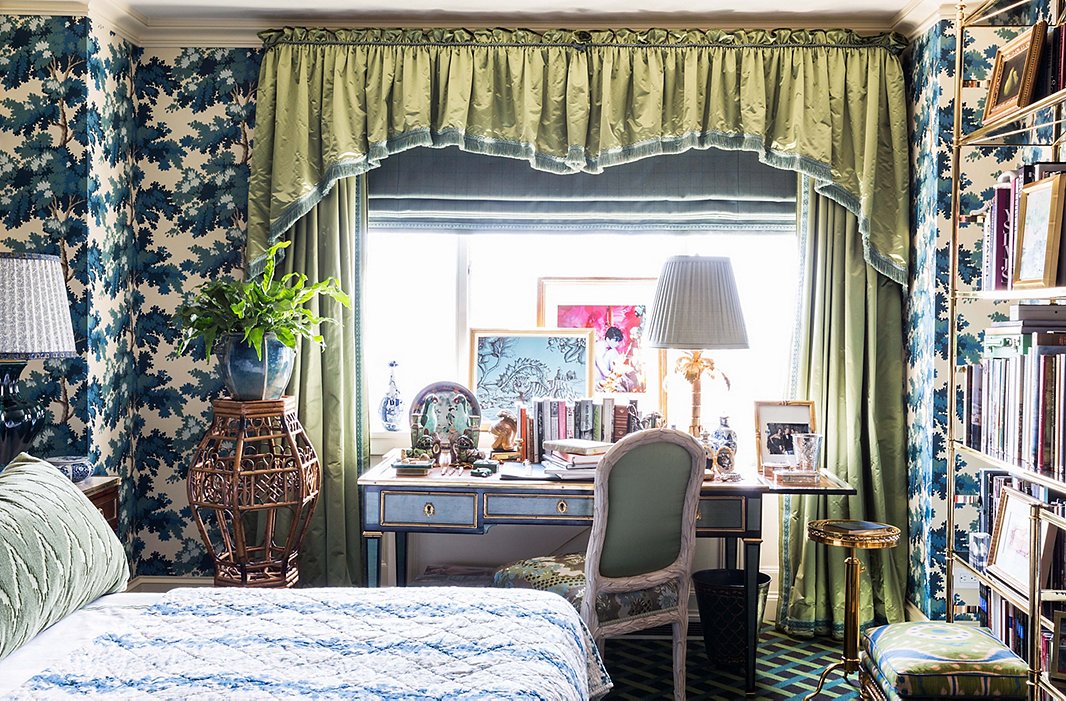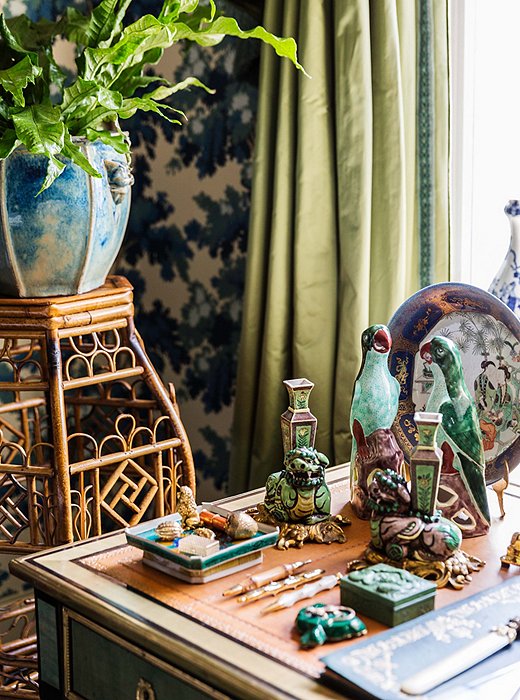 Bringing the Outdoors In

A love for the natural world comes through in every corner of the home. Animal figurines top dressers and side tables, brightly feathered birds wink out from framed paintings, and floral vines climb onto walls, chairs, and drapery. It could be overwhelming, but the overall effect is magical.
Alex is quick to say that he's no outdoorsman and jokingly describes the kind of nature he favors as "man-manipulated—I love planned flower beds, a beautiful greenhouse." While he cultivates his own garden at his family's Hamptons home, in the city he brings in natural notes through fabrics, objets, and artwork.
A bedroom can be beautifully decorated, but if the bed isn't paid attention to, the whole room falls flat. It's the biggest part of the room!
The Consummate Collector
Whether Alex is shopping a flea market in London or an antiques store in upstate New York, his well-honed eye can spot a piece with provenance right away. Scott now joins him on these shopping expeditions. "It's fun. It becomes sort of a hobby and a sport." What eventually makes the cut could be anything from a 19th-century French secretary to a bargain found at a sidewalk sale. These layers of objects, textiles, and artworks speak to a well-traveled life. "Everything in the house has a story and a memory of where it comes from."
And if it looks like the collection has been assembled over decades, that's because it has. "I have things that I've had since I started decorating," Alex says. "Our home is very reflective of us. Unfortunately it has no more room in it, so we're really finished. We're going to have to find another house to start decorating!"