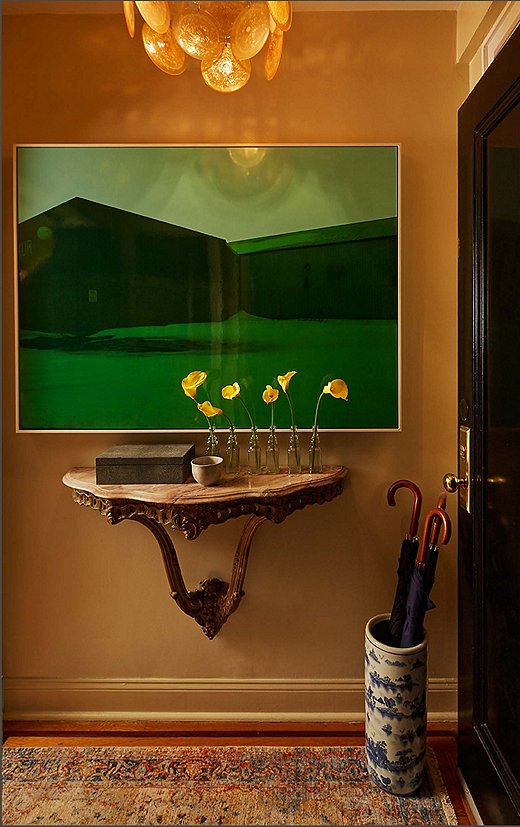 If the objects inside a home tell a story and lend character, then interior designer Philip Mitchell's Manhattan apartment is a character-filled storyteller with few equals. While most New Yorkers consider streamlining an essential part of living in the city, Philip and his husband, Mark, took the opposite approach, filling the one-bedroom home with their numerous collections of art, antique and inherited furnishings, and trinkets that span styles and eras.
The couple has a contemporary apartment in Toronto and a historic lieutenant's house on the coast of Nova Scotia, and they split their time evenly among the three homes. For their New York home they had specific requirements. It needed to have easy access to the D&D Building and LaGuardia Airport and to be close to a park for their two dogs. They landed on a charming prewar corner unit in the Upper East Side—the smallest of all the spaces they saw—with sweeping views of Central Park and Madison Avenue and plenty of architectural charm.
It was important to Philip that the apartment have a sense of history. His decorating ethos leans heavily on vintage designs and a classically eclectic aesthetic, so a space with well-appointed details was a must. "I like our rooms to feel collected and like you've always been there," Philip says. "I love walking into a house and seeing a beautiful piece of fabric or carpet that's worn. Maybe it's tired, but it still has some life in it. There's a story and layer of beauty attached to it."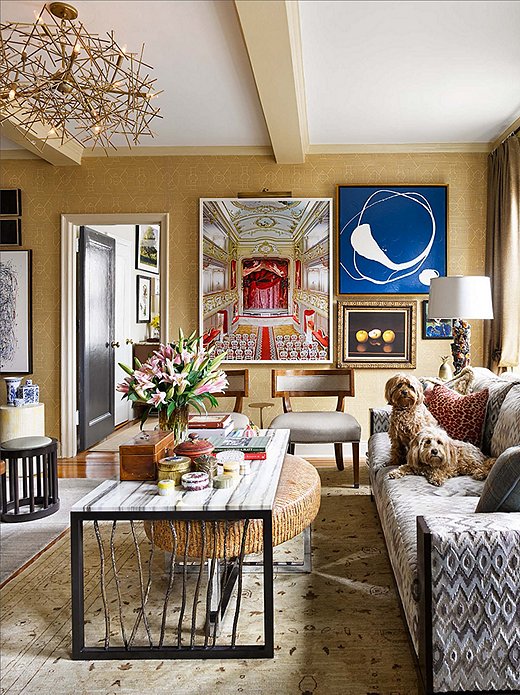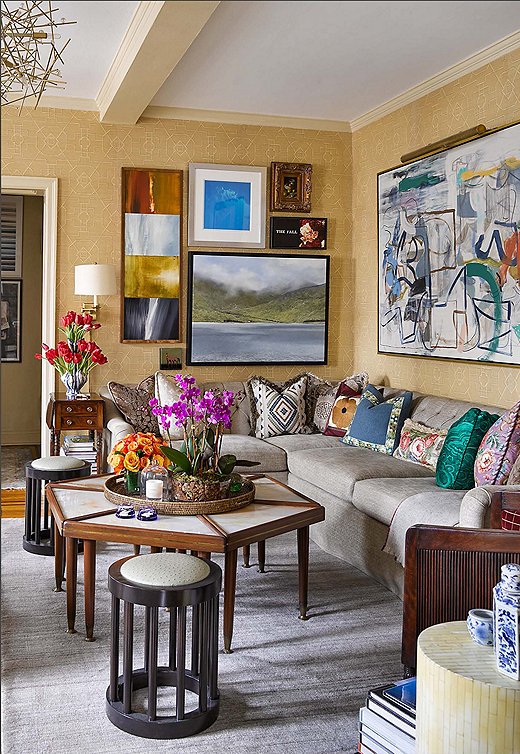 Because the apartment is so small, Philip needed to be careful in conceiving every detail and be conscious of how exactly he and Mark would use the space. "The way people think of a pied-à-terre, it's exactly that," Philip says. They typically eat most meals out when in New York, so they turned the dining alcove into an office space. The living area operates as a large sitting room complete with a custom sofa and sectional; the latter is especially comfortable for lounging around or hosting a crowd for cocktails. The apartment conspicuously lacks a television, since the duo prefers to watch shows only on their iPad in bed before going to sleep.
As for taking the maximal route in a petite New York City pad, Philip says, "We have a lot of stuff, and we like our stuff. We love being around things we've collected and are attracted to." But nailing the more-is-more look isn't about putting it all together and hoping it works. "I put a lot of time and effort into that," Philip says. "What sofa works with this chair? What fabrics are going to complement each other, or not fight with each other? I have a lot of things that I love, but not everything I love works together. You have to pay attention to scale, colors, textures, and patterns and how they play against each other."
To help the disparate elements play better together, Philip tends to stick with neutral backdrops in his work. Subtly patterned grass-cloth wallpaper acts as a clean base for a host of art. Sofas in shades of soft gray allow the vibrant mix of pillows to command attention. A tan headboard in the bedroom lets the eye land on the colorful linens, upholstery, and artwork. The tactic is what allows his layered spaces to feel utterly livable. "There's a fine line between making a room comfortable and like a place someone wants to spend time in versus making it too intense you can't enjoy," he says.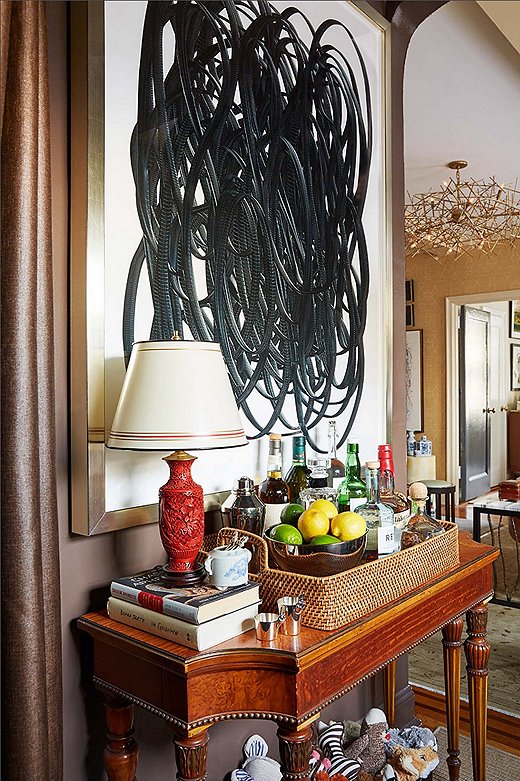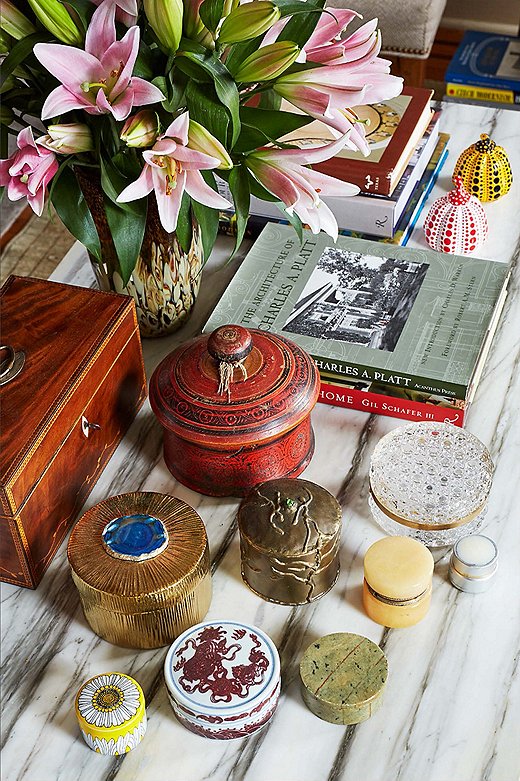 At the heart of the apartment is Philip and Mark's vast array of collections and antiques—some inherited and some accumulated over the years. The antique rug in the living room belonged to Philip's mother, and a set of Czech crystal bowls used for entertaining are from Mark's family. Other collections include Yayoi Kusama's painted pumpkins, Murano glass paperweights, trinket boxes, and brass candlesticks, the latter of which Philip inherited from a family member and has continued to add to. It's a madcap approach, but one the couple embraces. "There's really no rhyme or reason," Philip says. "We just collect things we like."
Philip's fondness for collections and pieces with history was established when he was a child. His mother was a decorator, and he grew up with an elaborate inlaid desk at home. "It was very Napoleonic looking, but it's part of why I have an appreciation for the things I do," he says. He's hard-pressed to name an era of design he's not fond of. French and English antiques are particular favorites, but he prefers to look for finds that feel touched by hand or will make a room sing. He references the onyx-top chest in the bedroom, which has cracks and other imperfections from age. "Rather than restoring it and making it shiny and new, I like that it has character," Philip says. "It's rare to find something that well made today, and I have respect for things like that. Even though it's not perfect, there's something beautiful about the patina."