Caitlin Flemming had a specific vision for her master bedroom: a serene sanctuary in a softly chic palette of gray. But between chasing around her toddler son, Jackson; running her hugely popular blog, Sacramento Street; and taking on clients through Caitlin Flemming Design, there wasn't a spare minute to translate that vision into reality.
Badly in need of a helping hand—she says that "the bedroom was so neglected, I'd cringe every time I walked in"—Caitlin tapped One Kings Lane Interior Design. We like to think of this team as black belts in knocking out those design projects that get eternally stuck on the to-do list. Working in close collaboration with Caitlin and using the ultraclean aesthetic we know and love from her blog as inspiration, the team styled the bedroom with an assortment of vintage and new pieces. The result is a space that "finally feels done" and that Caitlin and her husband are thrilled to peace out in every night.
Discover how we created a bedroom that is meditatively serene, deeply cozy, and packed with personal style.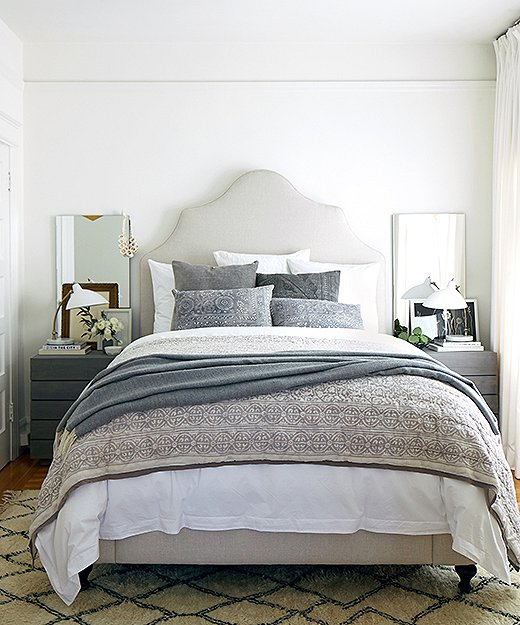 Creating a Cohesive Look
The one drawback of the bedroom is that it isn't big. It does get plenty of light, however, and has a window that looks straight into a cherry-blossom tree. Caitlin's aesthetic, which she describes as "very serene, light, and neutral," flows through all the apartment's living spaces, and she wanted the bedroom to feel like a cohesive part of the whole while being a "little sanctuary of peace."
Luckily the bedroom walls already felt connected to the overall look. When Caitlin and her husband, Eric, moved into the building in San Francisco's Presidio Heights, the apartment was coated in a somber charcoal-gray paint. That, she says, "was the easiest fix"—all it needed was Benjamin Moore's Mountain Peak White, which has become something of a signature for Caitlin. It's a white that's warm instead of blazing bright, and without undertones of yellow or blue, it's just the neutral ground that Caitlin loves. Other than the paint, the only major element retained for the makeover was their queen-size bed—its pale-gray linen headboard jibed perfectly with the palette Caitlin envisioned.
The bedroom was so neglected, I'd cringe every time I walked in.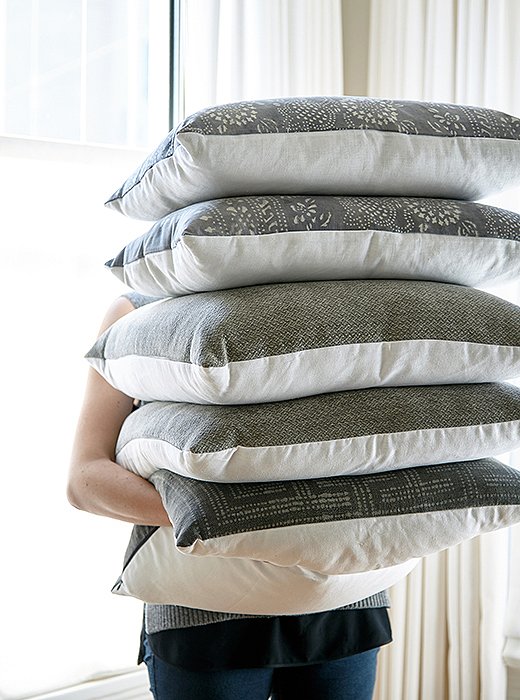 A Cool Palette and a Cozy Feel
For any bedroom—but especially a smaller one—we're believers in a luxurious-feeling bed. We doubled down on Caitlin's neutral palette to make the bed feel richly textured: airy Matteo linens, a Matteo duvet, and Caitlin's own patterned quilt, all topped off by a gray cashmere throw. Euros and decorative pillows in gray chenille and batik add another layer to the standard shams.
All this volume served a practical purpose as well: warmth. "It truly does get cold in San Francisco," Caitlin says, "and our windows are paper-thin." In spite of the cool palette, we wanted the space to be the very opposite of chilly.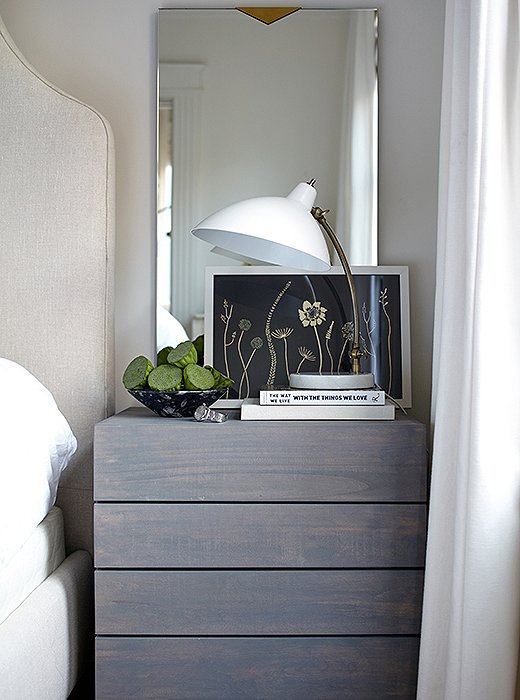 Using Symmetry to Nail Serenity
Since nothing radiates calm quite like symmetry, the team went unabashedly matchy-matchy with the items flanking the bed: matching nightstands, lamps, and mirrors. The wall above the bed remained bare, making the shapely headboard the centerpiece of the space. With this neat structure, the smaller personal details can vary—Caitlin's stack of books and bowls, her husband's minimalist surface—without the balance getting thrown. Caitlin, by the way, enjoyed letting someone else finesse these design details; it was a refreshing break for the veteran stylist and designer. "Usually I'm the one running around like a chicken with my head cut off," she says of a typical installation.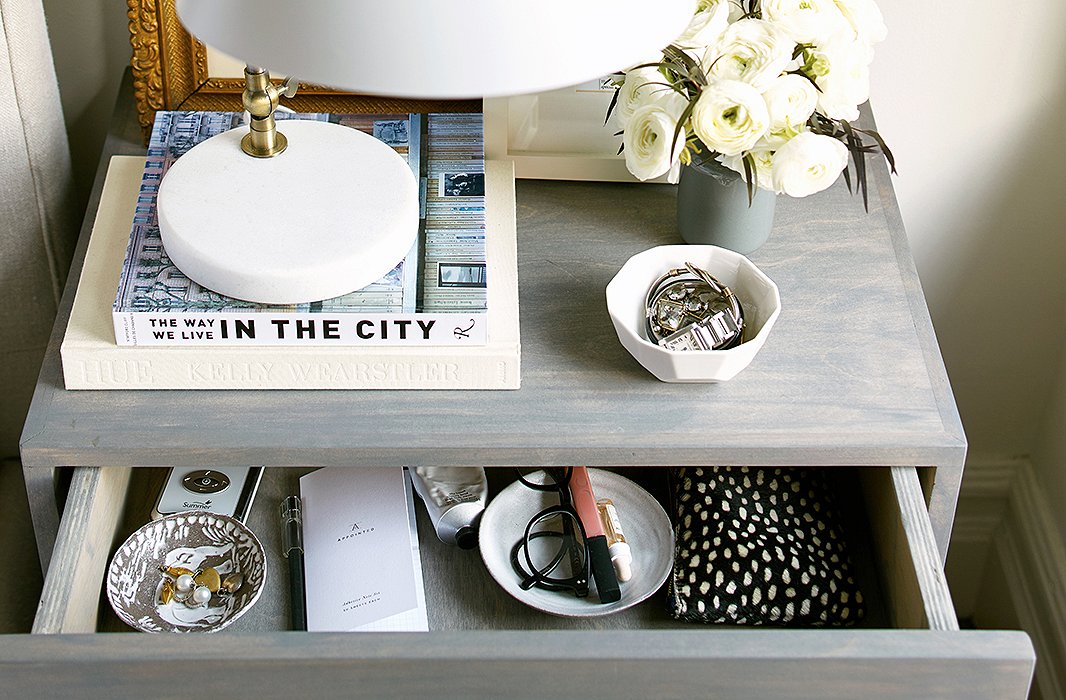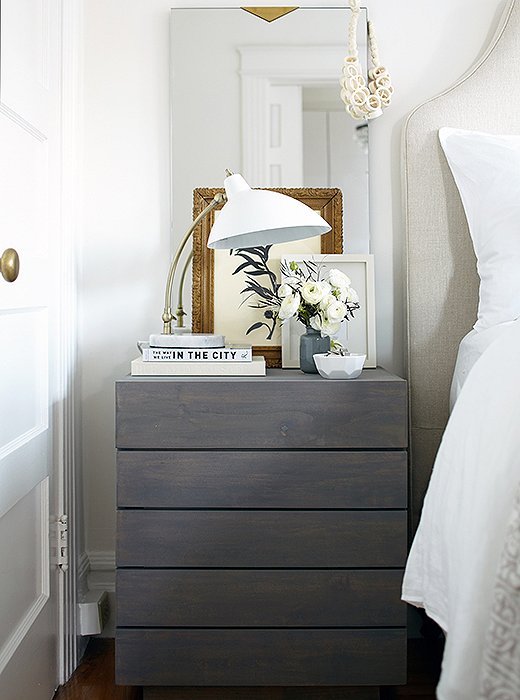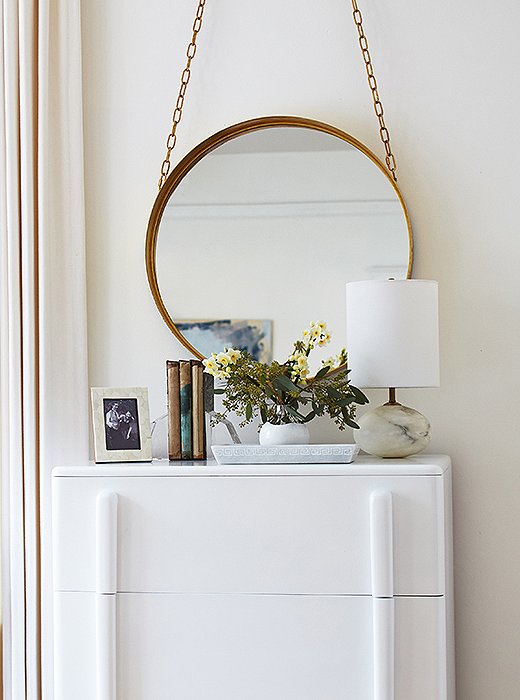 Banishing Tech and Tucking In
Caitlin's instinct to create an utterly calm bedroom, without a drop of loud color, wasn't purely about aesthetics. By prizing simplicity and serenity above all else, Caitlin might actually achieve that holy grail: a New Year's resolution that sticks. "I used to answer emails and watch TV until I fell asleep, and this year I resolved to read more," she explains. "Now I'm decompressing at night by reading and staying technology-free. It's been amazing."
I realized that having a serene and calm home was my favorite thing to come back to after a long day.