Over the course of a beautifully relaxed, delicious dinner party at Haven's Kitchen, we learned many things—one of which was to banish the sad side salad and give vegetables a starring role. The staff at the New York cooking school has been known to base entire menus around which vegetables look best at the market. The resulting meals taste truly seasonal (and have the prettiest palettes, given all the carrot-oranges and eggplant-aubergines and kale-emeralds).
One of Haven's Kitchen's all-time favorites is cauliflower. With its beautiful florets and creamy color, it's a winning vegetable if there ever was one. Haven's Kitchen founder Alison Cayne and a chef showed us how to cook up a sensational recipe that will have everyone wanting thirds.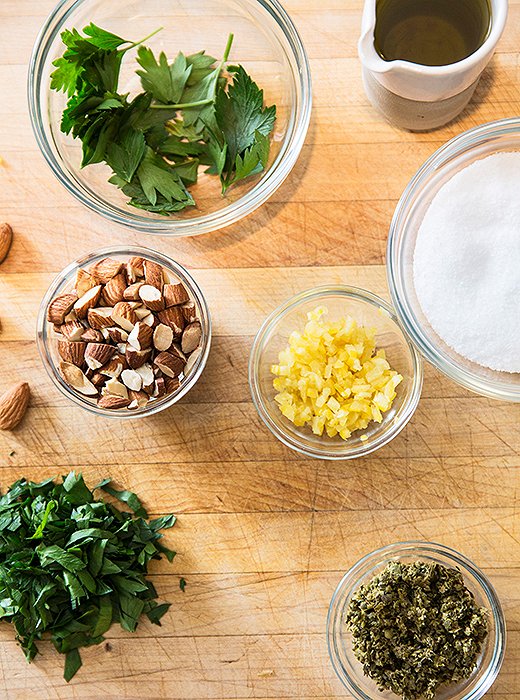 Roasted Cauliflower
Ingredients:
2 heads cauliflower
extra-virgin olive oil
salt
juice of 1/2 a lemon
zest from 1 lemon
1/3 cup almonds (skin on), sliced
2 tbsp capers, drained and chopped
1 tbsp preserved lemon, minced
1/4 cup parsley, roughly chopped
Directions:
Preheat the oven to 375 degrees Fahrenheit.
Cut cauliflower into bite-size florets, and place in a bowl along with 2 to 3 tablespoons of olive oil, and season with salt.
Preheat a large pan or Dutch oven and place the cauliflower in. Let it start to turn brown, turning occasionally, for approximately 3 to 4 minutes. Transfer in pan to oven and let cook for another 8 to 9 minutes.
Remove and let cool slightly, and season with fresh olive oil and lemon juice and zest. Toss with the toasted almonds, capers, and preserved lemon. Finish with the chopped parsley and serve warm, not hot.