When best friends Danielle DuBoise and Whitney Tingle found themselves pushed to the brink by the stresses of life in New York City, they decided to revisit what they describe as their "hippie and spiritual" roots growing up in Sedona, AZ. "People there really understand the mind-body-food connection," says Whitney. Turning to a plant-based diet and using "food as medicine," they were able to put their lives back in balance. Whitney saw her chronic acne disappear, and Danielle was able to maintain her ideal weight with little to no effort after years of yo-yo dieting. When something's that good, you've just got to share. Thus Sakara was born.
Founded in 2011, Sakara delivers organic, plant-based, gluten-free meals nationwide and counts Gwyneth Paltrow, a slew of Victoria's Secret models, and Lena Dunham among its fans. In case you're thinking this is just another exercise in self-deprivation, think again. "Our philosophy is really around the fact that food should make you feel good," says Whitney. "One of the big components of living the Sakara life is balance," Danielle adds. "I'm the first to grab french fries or a martini. Life is supposed to be pleasurable and fun. Our motto is not to starve yourself or worry about every single morsel of food that goes into your body but to focus on the majority of what you eat and to eat a largely plant-based diet."
Discover their top tips for making your food work for you instead of against you, why you should never count calories again, and two signature recipes to bookmark immediately.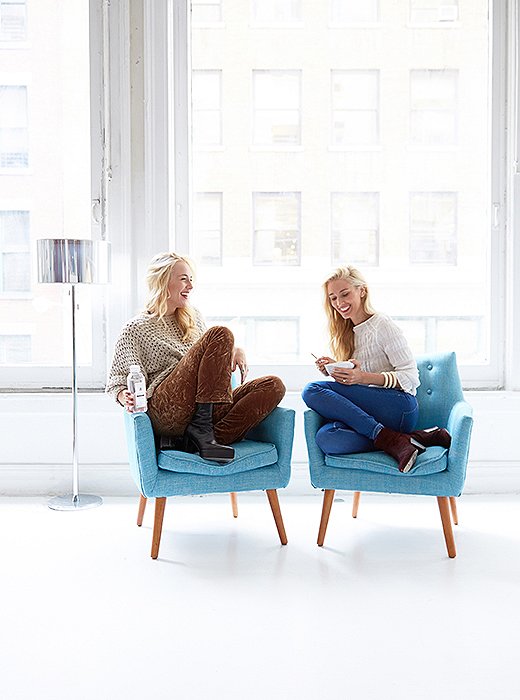 Sakara's 5 Top Tips
1. Eat your water
Make sure you're eating your water as well as drinking it. Focus on foods high in water content to provide you with an additional boost of hydration. Whitney and Danielle count greens, cucumbers, and melons among their favorite water-packed options.
2. Stop counting calories
Danielle and Whitney point out that the calorie is actually a unit used to measure energy, not a proxy for nutrition. "Be aware if you're getting enough vitamins and minerals, instead of worrying about eating too much or eating too many calories," says Danielle.
3. Focus on quality
For Danielle and Whitney, this means eating organic, high-quality, fresh whole food. This goes for treats as well. "There are different ways to have chocolate cake," says Whitney. "You can either have it from a box on a shelf that's been sitting there for a year and a half and is filled with chemicals and preservatives, or you have the same chocolate cake that's freshly made with real ingredients."
4. Eat the rainbow
An array of colors on the plate means you're fueling up on many different nutrients. "A big part of eating the rainbow is eating fresh greens with every single meal," says Danielle. "If you're going out to dinner with your husband or friend, make sure you share a salad first."
5. Remember that fat is your friend
Despite its bad rap, fat is an essential part of any diet. "You have to get enough of it," says Danielle. "It's a carrier for your vitamins, and without it you're not eating a well-rounded diet."
Ginger Miso Butternut-Squash Soup
Serves 4
Ingredients:
3 lbs of butternut squash, cut in half with seeds removed
Olive oil
3 tablespoons of hemp seeds
1 teaspoon Himalayan salt
1 teaspoon black pepper
4 tablespoons of chickpea miso
4 cups of filtered water
1 tablespoon of ghee (or substitute with olive oil if vegan)
1 yellow onion, sliced
1 teaspoon of ginger, minced
3 cloves of garlic, minced
2 tablespoons of apple cider vinegar
1/2 cup of prewashed quinoa
1 cup of microgreens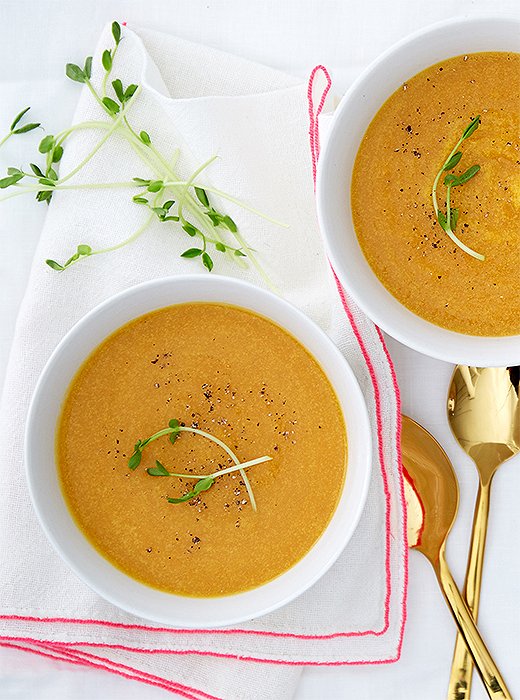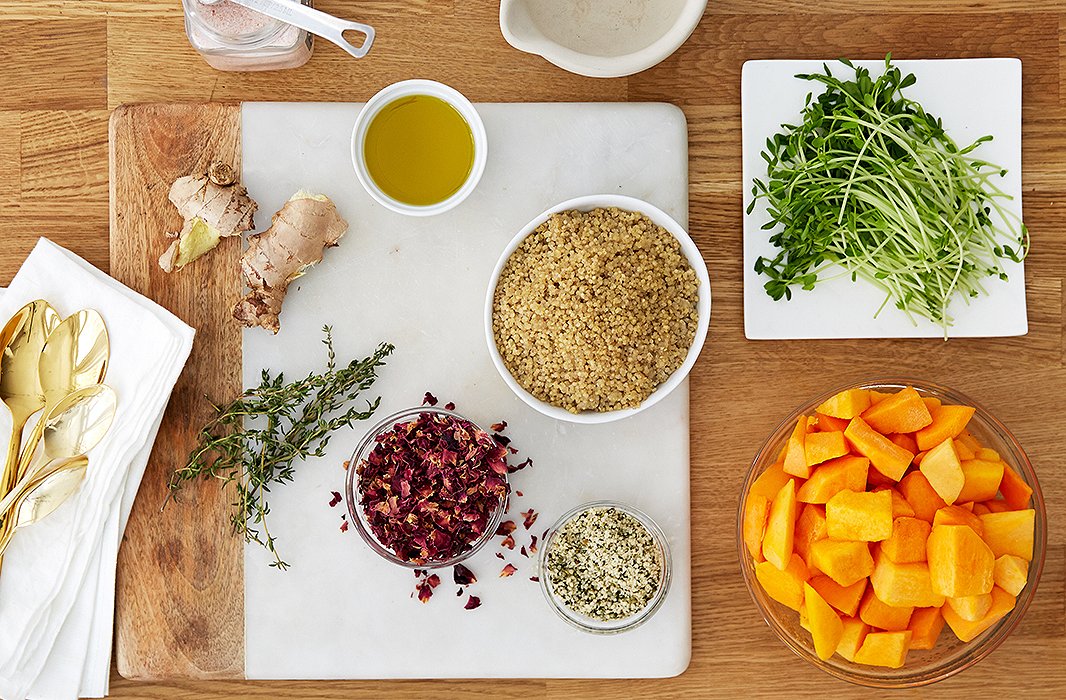 Directions:

Preheat the oven to 425ºF. Place the squash onto a baking sheet, drizzle with olive oil and season with 2 tablespoons of hemp seeds, salt, and pepper. Roast the squash for 25-30 minutes, until tender. Meanwhile, dissolve the miso into 2 cups of filtered water, and set aside.
Remove the squash and let cool until you're able to handle it; then, using a spoon, scoop the flesh from the skin. Discard the skin (or save to make vegetable broth).
Heat the ghee in a large, heavy-bottomed pot over medium heat. Add the onion, and cook for about 10 minutes until soft and just starting to brown. Add the ginger and garlic, and cook for 2 minutes. Add the apple cider vinegar, and cook for 1-2 minutes until it's dissolved. Add the squash flesh, and stir to coat it with the ginger-onion mixture. Then add the dissolved miso and water as well as the remaining two cups of filtered water. Give it a good stir, and allow the mixture to simmer over medium-low heat (do not bring to a boil), and cook for about 10-15 minutes to allow the flavors to develop. Remove from the heat.
Place a portion of the soup—less if you want it thick, more if you prefer it thinner—into a blender (be careful, it will be very hot!), and blend until smooth. Add it back to the remaining soup in the pot and stir.
For the quinoa, bring water to a bowl. Add washed quinoa and allow pot to simmer until cooked.
Assemble the soup by ladling into individual bowls, and adding the quinoa, the remaining hemp seeds, and the microgreens on top. Enjoy!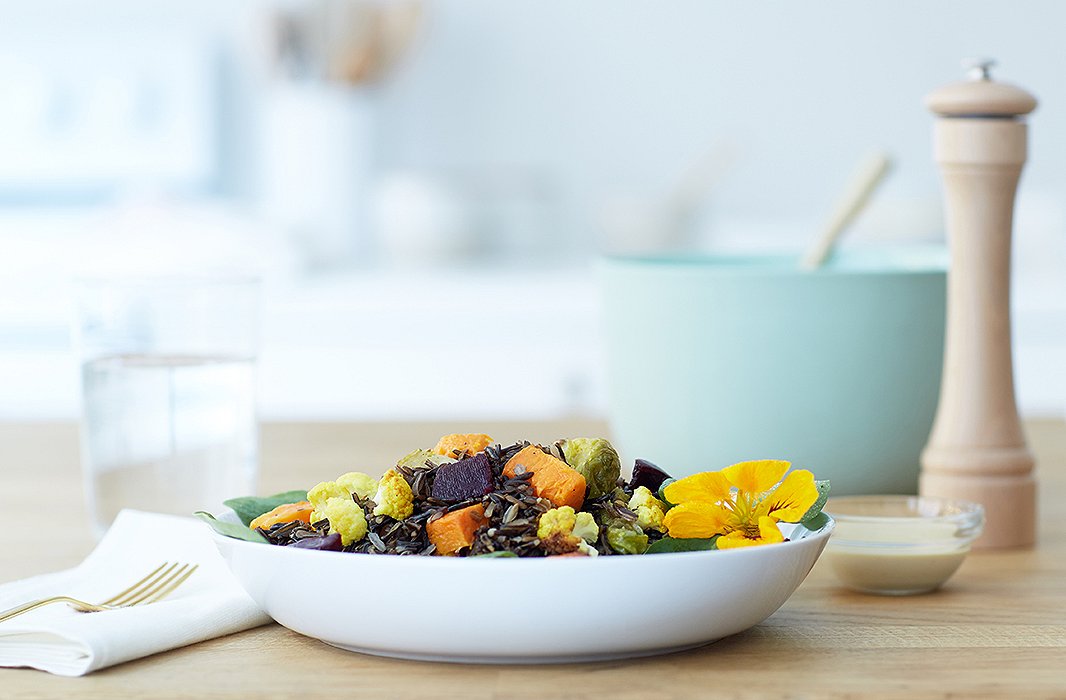 Forbidden Rice Salad with Roasted Rainbow Veggies
Serves 4
Ingredients:
1 cup of forbidden, or black, rice (uncooked)
2 sprigs of fresh thyme
1 butternut squash
3 beets
2 lbs of Brussels sprouts
2 tablespoons of olive oil
2 tablespoons of balsamic reduction
1 clove of fresh garlic
2 tablespoons chia seeds
1 pinch of Himalayan salt
2 shallots, chopped
1/4 cup of fresh-cut lavender
1 cup of microgreens or sprouts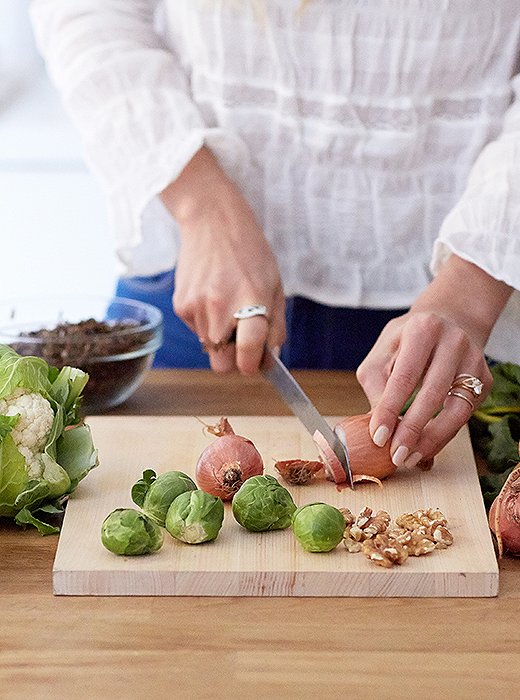 Directions:
Cook rice in water, with a sprinkle of olive oil and fresh thyme. Bring water to a boil, then let the rice simmer on low heat with the pot covered until the water evaporates (around 30 minutes).
Preheat oven to 425ºF. Cut the squash, beets, and brussels sprouts into small cubes, then mix in the olive oil and the balsamic reduction (use your hands to fully mix all ingredients; give them some love!). Mix in fresh garlic and chia seeds. Sprinkle Himalayan salt. Cook in oven for 45 minutes.
Place a layer of rice on the bottom of the bowl, and mix in the shallots and the roasted veggies. Garnish with lavender and microgreens or sprouts. Serve warm or cold, and enjoy!