An earth mama meets Renaissance woman, Shiva Rose has the enviable kind of barefoot, back-to-nature life that many of us covet but can't quite figure out how to pull off. The actress-turned-blogger, who has done turns as a playwright and has her own natural beauty-product line, lives simply and beautifully in Pacific Palisades.
Her home, a 1949 ranch house, is nestled up alongside the Santa Monica Mountains—walking distance to the beach—with a creek and chickens outside and plenty of light and laughter within. "I truly believe that quote about only having what's absolutely beautiful or absolutely useful in my home," she says.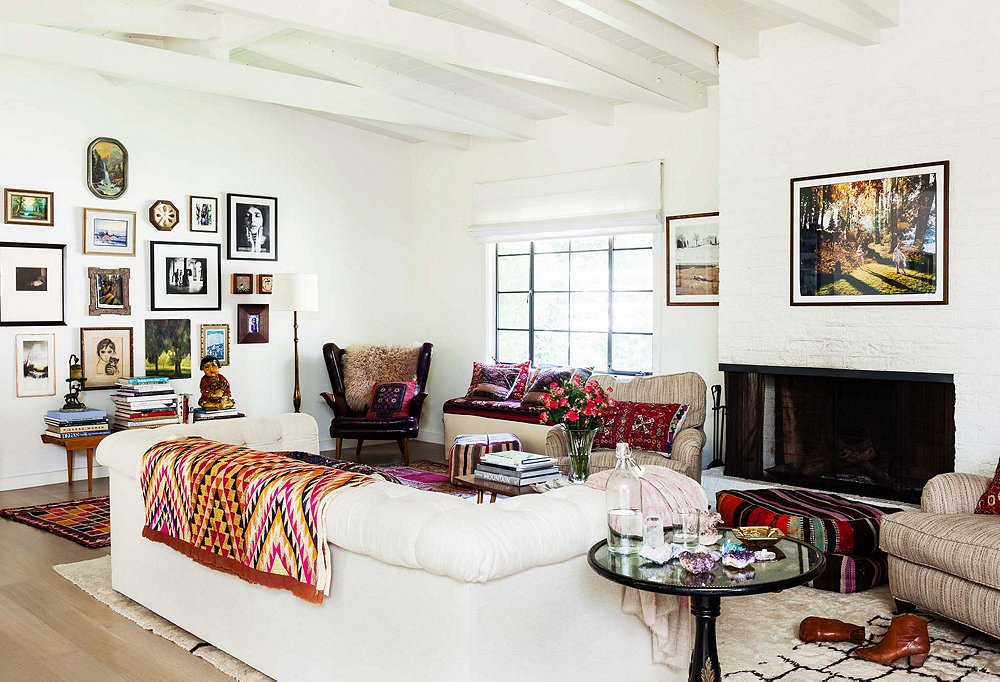 The Living Room
When Shiva bought her house 10 years ago, it was in need of a little TLC. Taking her cues from the building's existing architectural-chic details like the old iron windows, she decided to stick with a mostly white space—walls, floors, and furniture—accented with glints of metal. The neutrals make the perfect backdrop for her cool mash-up of eclectic art, beloved books, and pattern-rich textiles. "I love a mix," she says, "vintage finds alongside pieces made by friends layered over treasures from my travels." The fireplace, topped by a photo from friend Tierney Gearon, isn't used all that often thanks to L.A.'s fabulous weather, but when it is firing, she curls up on a pair of big comfy floor pillows, knitting and listening to music.
When it comes to art, I simply buy what I love and what speaks to me in that moment.
The Dining Room
Before moving in, Shiva pulled down walls to open up her living, dining, and kitchen areas. "It's the heart of the house," says Shiva of her table, which sits under a chandelier made of ribbons. "Rebecca Lee, this wood nymph from up north, made it for me. I picked out the walnut slab, and she turned it into a table." In lieu of chairs, custom benches lend a relaxed, elbows-on-the-table vibe and don't obstruct the sight line from one room to the next. "Plus you can squeeze more people onto them," laughs Shiva.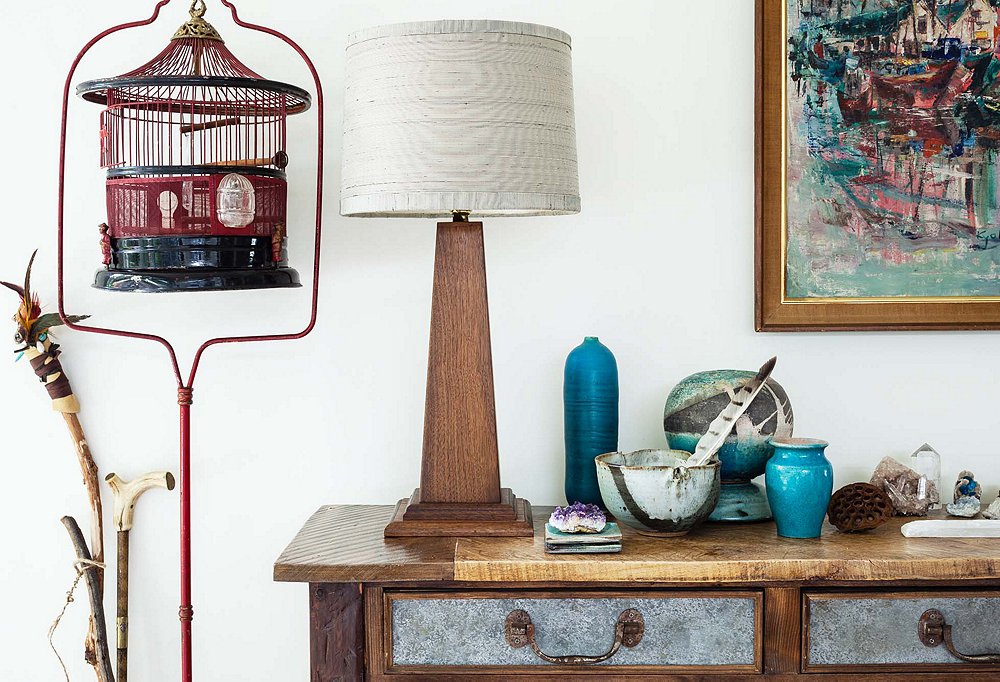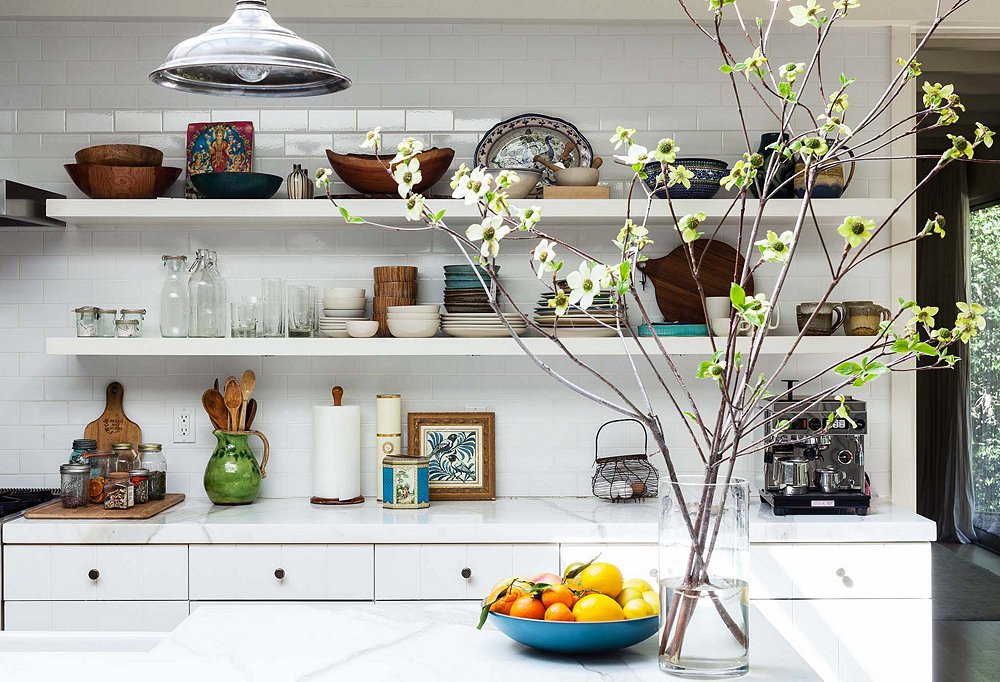 The Kitchen
Shiva opted for all-white open shelving and Calacatta-marble countertops ("its veining is more dramatic than Carrara's"), which on any given day might be topped with baskets of fresh eggs from her kitchen or beautiful bowls of oranges from her yard. This frequent hostess and killer cook's go-to dishes are veggie-heavy and nourishing but utterly delicious. A weeknight dish might be kale and chickpeas tossed with oil and herbs and roasted, while one of her entertaining hits is a Persian stew of walnuts and pomegranate seeds.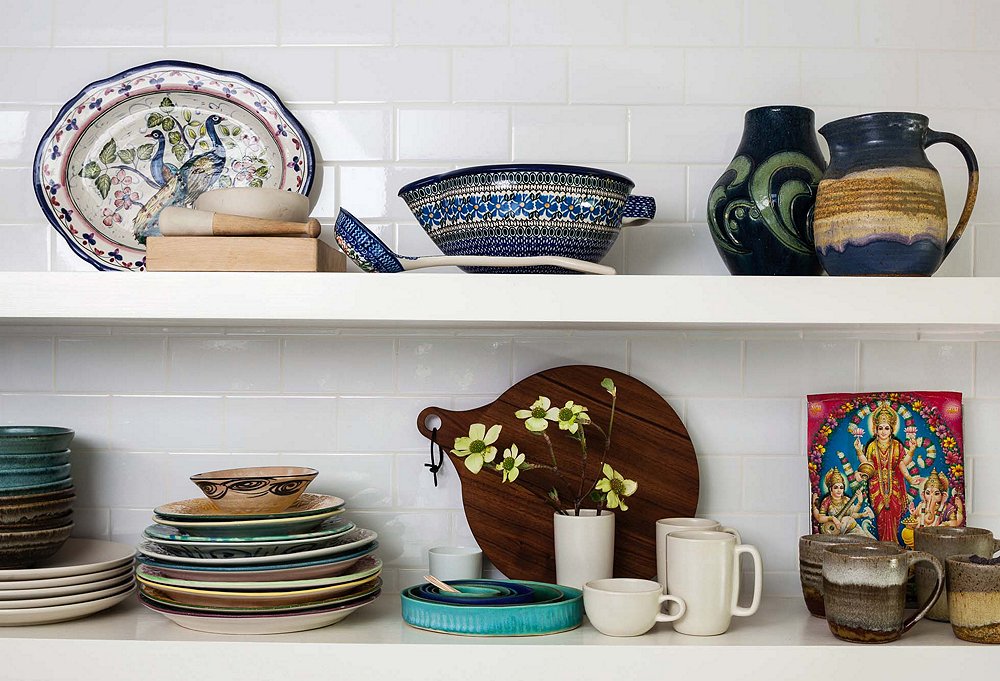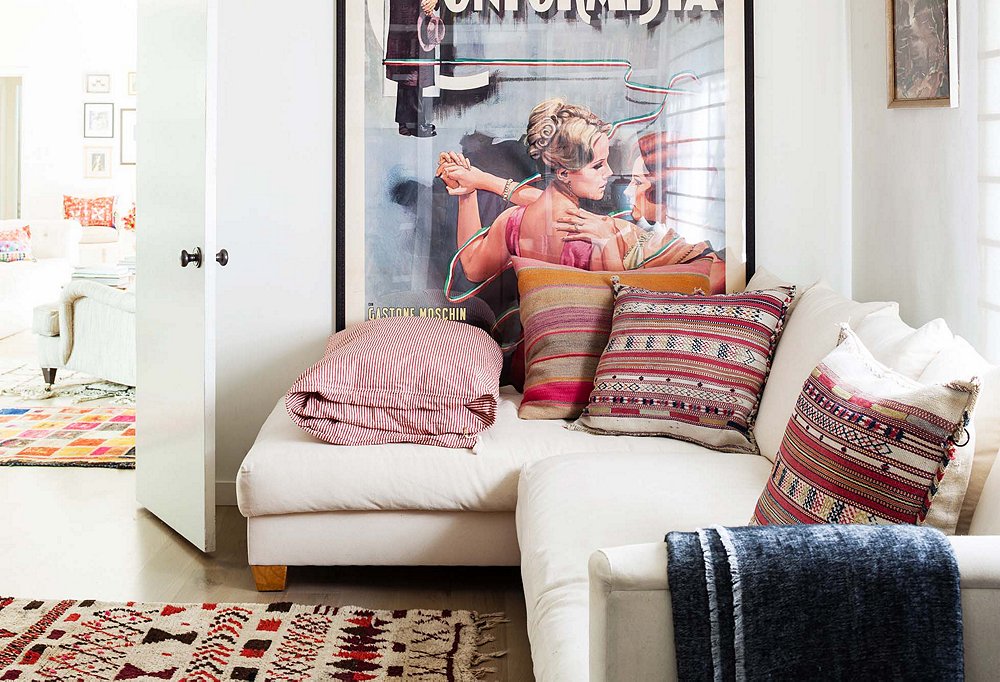 The Den 
A woman of few design tenets, Shiva does swear by neutral walls and furniture, such as this sofa in the den off her living room. "I introduce color and pattern via pillows and rugs, since they're easier to swap out," she says. The couch, a custom job made from soft down that can double as a guest bed in a pinch, wears color well, becoming almost invisible alongside her vintage Moroccan rug, patterned pillows, and movie poster from The Conformist, a classic by Bertolucci that's one of her favorite films.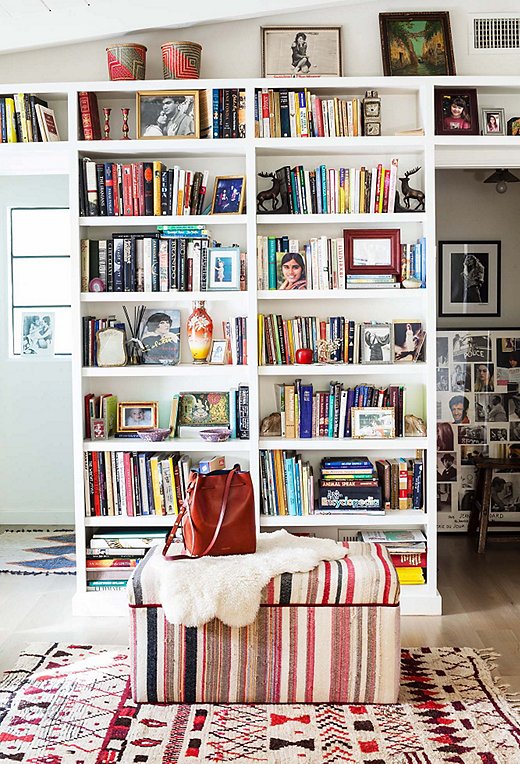 Decorating with vintage is one easy way to go green, since you're reusing something that already existed.
The Master Bedroom 
"My bedroom is my favorite room in the house," Shiva says. "It's my sanctuary. If I'm feeling stressed, I'll take a minute, come lie down, and look at the trees out my window, which always helps me relax." She keeps her bedroom at peak peacefulness with a serene palette of white, muted blue, and natural wood; a purifying salt lamp; and a strict no-electronics policy. That said, "my daughter with paint on her, the dog with dirty feet, the cat—they always find their way into my bed," she laughs.
The Patio
If you walk outside from Shiva's living room, you'll pass under a pair of beautiful old flowering camellia trees and wind up on her lovely terrace. "If I'm entertaining and the weather's good, those French doors are open," says Shiva, who wanted her patio to feel like a continuation of her house. Pale furniture and patterned pillows that could just as easily be inside as out complete the look.