Edit Your Shelves to What You Love
Small kitchens are an opportunity to home in on the entertaining pieces you truly love. Edit your dishware, porcelain, and silver down to the items you cherish most. Display only the prettiest ones—stemmed crystal, silver trays, porcelain teapots—to create a manor-worthy service station with your shelves and cabinets. Elegant serving pieces such as sterling-silver flatware are timelessly beautiful, so consider keeping them on clear display in glass jars.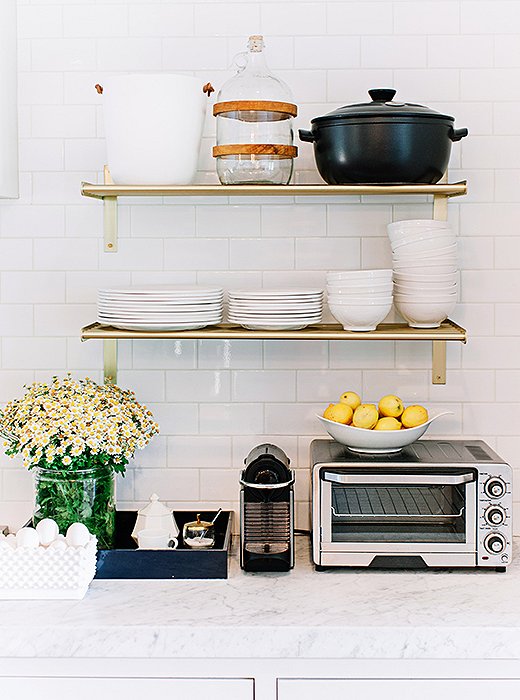 Scale Down
Whether it's a petite table or mini appliances, choosing smaller versions of anything will make a big difference in the overall kitchen space. And get creative by bringing in petite storage pieces and accessories with unexpected style. Look beyond the kitchen-supply department. Vintage wire bins, silver trophies, ceramic vases—they all work to hold wooden spoons, plates, cups, and the like, adding pizzazz without taking up much physical and visual space.
Keep It Simple and Open
If your kitchen is open to your main space, make an effort to style it to be pretty from every angle. Stacks of simple white dishware can be just the answer to a small kitchen with wood cabinets. They complement natural wood tones beautifully and minimize visual frenzy, adding up to a streamlined look. And if your countertops are less than ideal, we love the idea of masking them with cutting boards.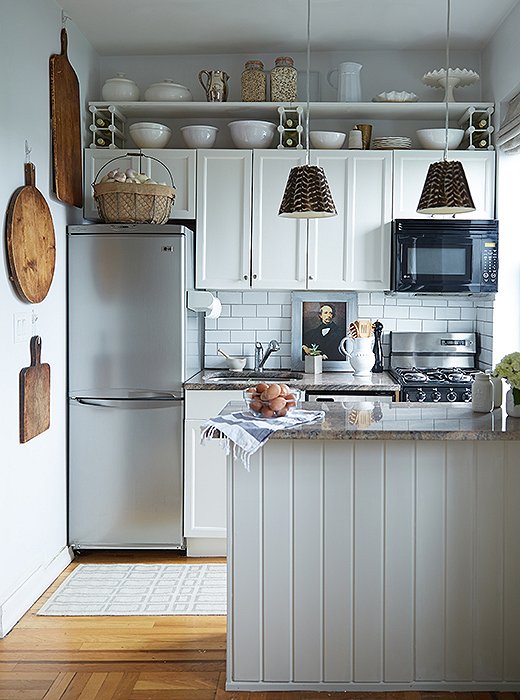 Maximize Every Inch for Storage
Storage at a premium? Display items in the open. Decanted in clear jars and on pedestals, they look like a lovely still life. Also, the top of cabinets can house items you don't use often. Stick to a tonal palette to keep it looking clean. If upper cabinets seem heavy and bulky, opt for open shelving instead. It holds just as much and opens up a cramped kitchen.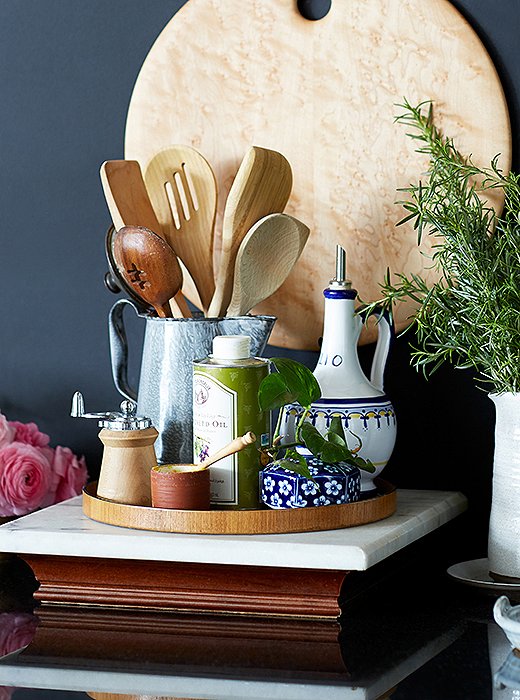 Showcase Utility with Style
No need to stow away all your kitchen accessories and cookware. Show them off in a big way. A rack for pots and pans adds modern chef-grade appeal, while vintage cheese boards arranged as a gallery wall play up their organic beauty. And don't underestimate trays as sleek and practical holding spots that can corral bottles, spices, and utensils… and transform these cooking staples into a fetching vignette.