While we love a grand, sprawling dining room as much as the next hostess with the mostest, we know it isn't always feasible to dedicate so much real estate to the purpose. That said, it's still entirely possible for those short on space to carve out the perfect spot to sit down and enjoy a meal. Whether you have a narrow side room or just a spare corner in the kitchen, read on for easy ways to squeeze in a dining nook anywhere.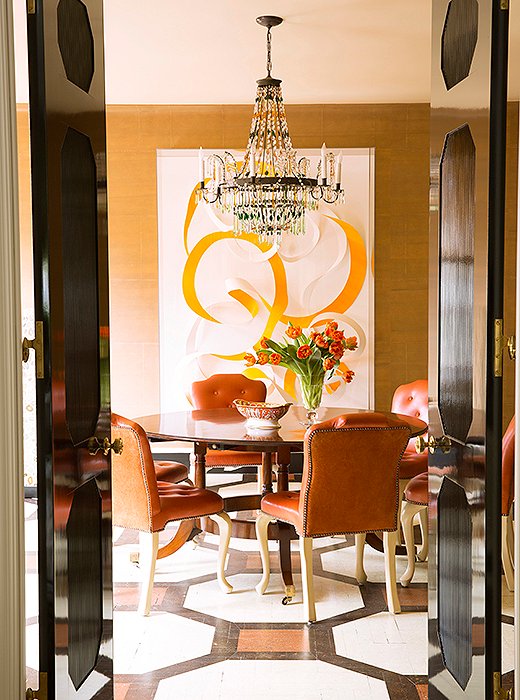 The Small but Mighty Dining Room
This space proves that smaller dining rooms can be just as grand as their roomier counterparts. Its most clever trick? Using a round table, which takes advantage of the room's square proportions while providing maximum seating. (Round tables make it much easier to pull up an extra chair or two, since you're not competing with corners.)
How to make it feel bigger: Experiment with scale. Oversize artwork and a large-scale pattern painted on the floor lend presence to the space and make it appear more spacious.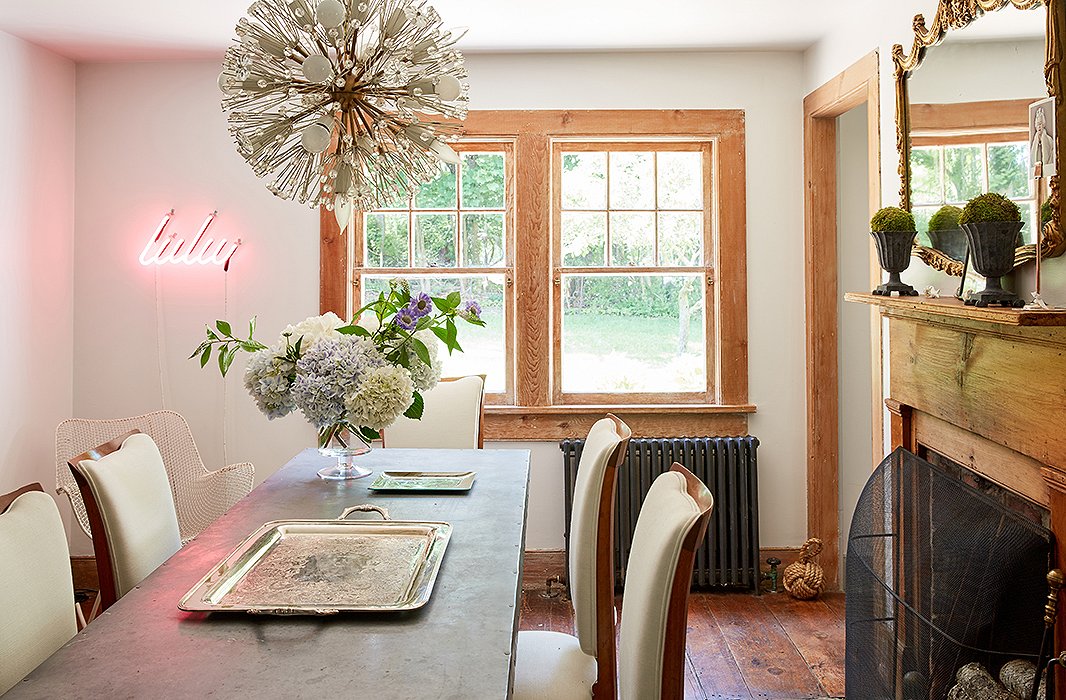 The Narrow-Space Solution
A galleylike space can absolutely serve as a dining room—you just need to use a longer, narrower-than-average table. When finding a table for the space, look for something that's slim enough to allow for at least 36 inches between the table and the wall. And be sure to keep centerpieces simple to prevent the set table from feeling crowded.
How to make it feel bigger: A large wall mirror placed opposite the table will help expand guests' view. If you can, place it perpendicular to a window to bring extra light into the space, which will help it feel both bigger and brighter.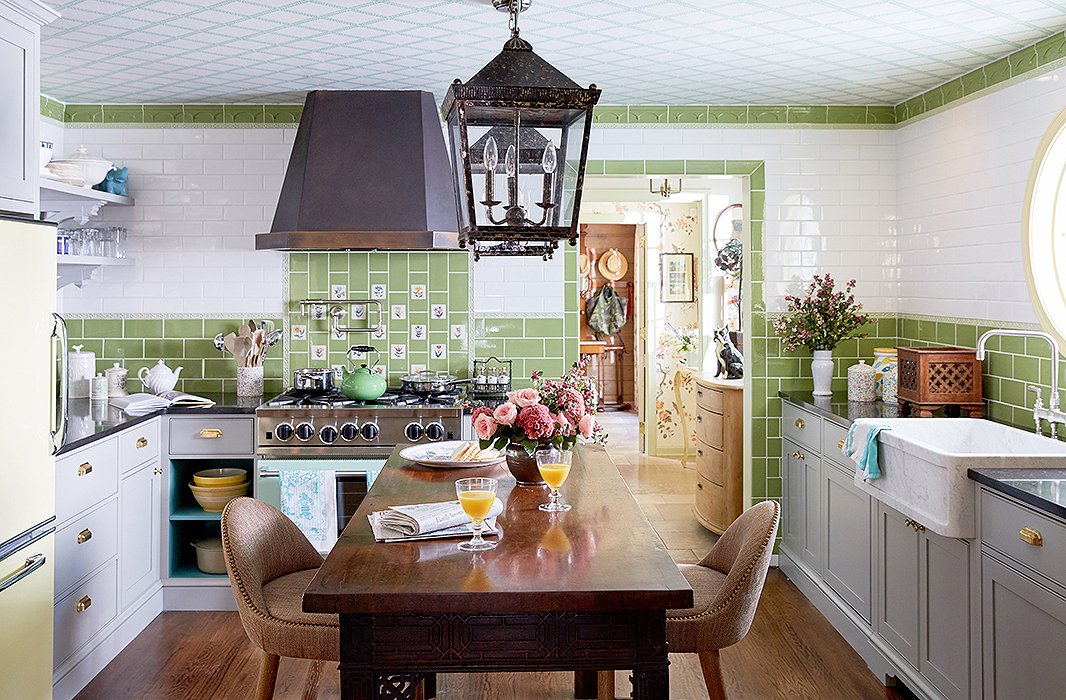 The Kitchen Island
Kitchen islands are the ultimate luxury for the everyday cook. They're a handy extra surface when you need more room for prep, the perfect spot to serve up a buffet-style spread, and an easy place to enjoy a casual meal. For even more versatility, go for a taller island, which allows for added storage underneath and lets stools slide underneath and out of the way when they're not in use.

How to make it feel bigger: Open shelving in place of upper cabinetry is a surefire way to bring an airier, more casual feel to the kitchen—and it lets you show off your favorite serving pieces.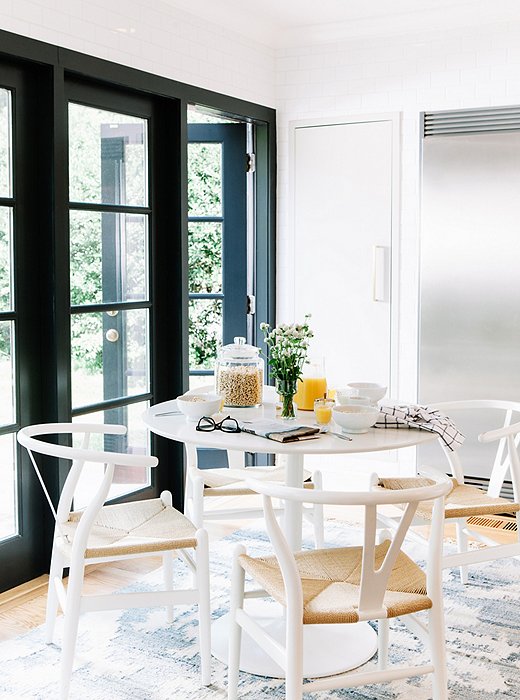 The Petite Breakfast Spot
Sure, you can't serve dinner for 12 here, but you don't need a grand dining table to enjoy an everyday meal. A petite bistro table is a chic solution to small-space dining woes—especially if that dedicated "breakfast nook" next to your kitchen feels less than roomy.
How to make it feel bigger: A lightened-up palette—from the walls to the rug to the furniture—does wonders to counteract the smallness of a space (and those French doors don't hurt either).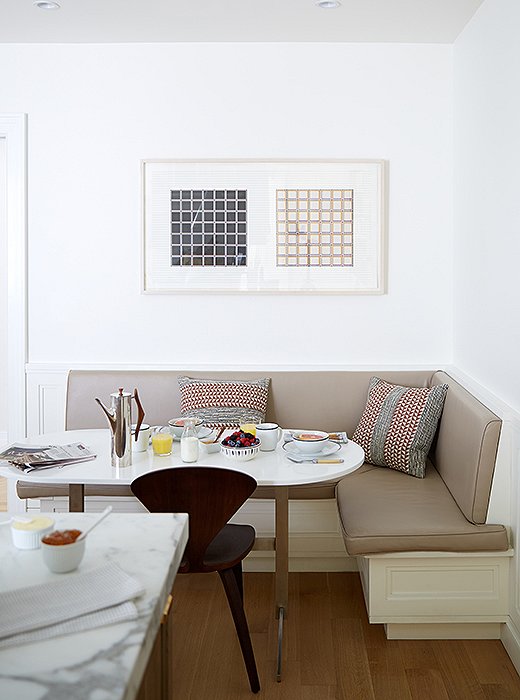 The Built-In Kitchen Nook
Built-ins can be pricey, and not every space is conducive to installing them. But their appeal and ease is undeniable, and they're just as well suited for enjoying a quick cup of coffee as they are for savoring a full dinner with the family. If you're not ready to take the plunge with a custom build, try a freestanding banquette, which creates an elegant (and movable) alternative.

How to make it feel bigger: It's all about the color palette. Embrace crisp neutrals and clean lines to create an uncluttered, open-and-airy feeling.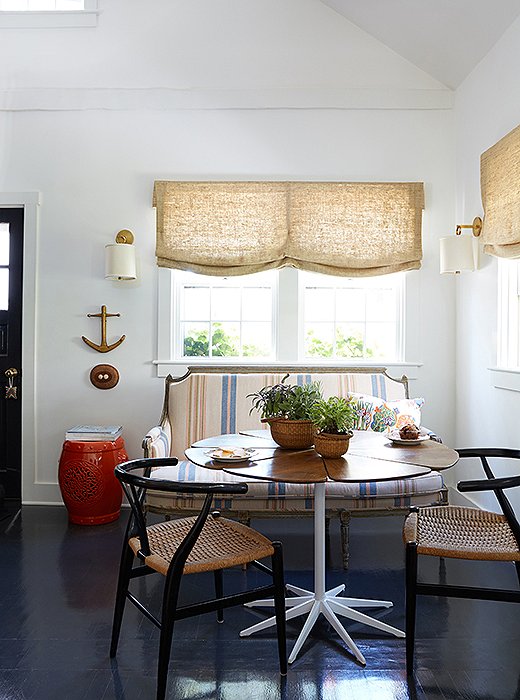 The Mix-and-Match Spare Corner
Don't have a dining room or an extra spot in the kitchen to park a table and chairs? This smart and oh-so stylish solution is for you. Turn any spare corner into a spot to eat—you don't even have to have a full table and a coordinating suite of chairs. We love the mix-and-match look that a settee brings to this space, evoking the relaxed vibes of a French café.
How to make it feel bigger: Let in the light! Sheer curtains will make the most of the sun streaming through the windows while you're sipping your morning coffee.