Whether your outdoor space is a sprawling yard complete with pool and outdoor kitchen or a balcony that gives new meaning to "petite," you can transform it into an oasis. Not sure how? These tips below can help.
Tips for Every Space
• Place planters of citronella, lavender, basil, peppermint, or catnip around your outdoor areas to help repel pesky mosquitos. Fun fact: Catnip is said to be 10 times more effective than DEET. In fact, a bevy of potted plants in general is the easiest way to make any alfresco space feel like a garden of delights.
• No patio or deck? Simply lay an outdoor rug on your lawn and group a seating area around it. Weather-resistant rugs can also help delineate, say, the dining area from the laze-and-lounge area.
• When you're not using it to keep warm or roast marshmallows, turn a fire pit into a table by placing wood or Plexiglas on top. Better yet, opt for a fire pit with a built-in table.
• A bar cart is your alfresco MVP. Use it to hold everything from condiments to cutlery, sunscreen to sandals, saving you lots of trips in and out of the house.
• If you have walls, a pergola, or trees to string lights from (or in the case of the last, to wrap lights around), go for it. If not, lanterns can provide light wherever you need it.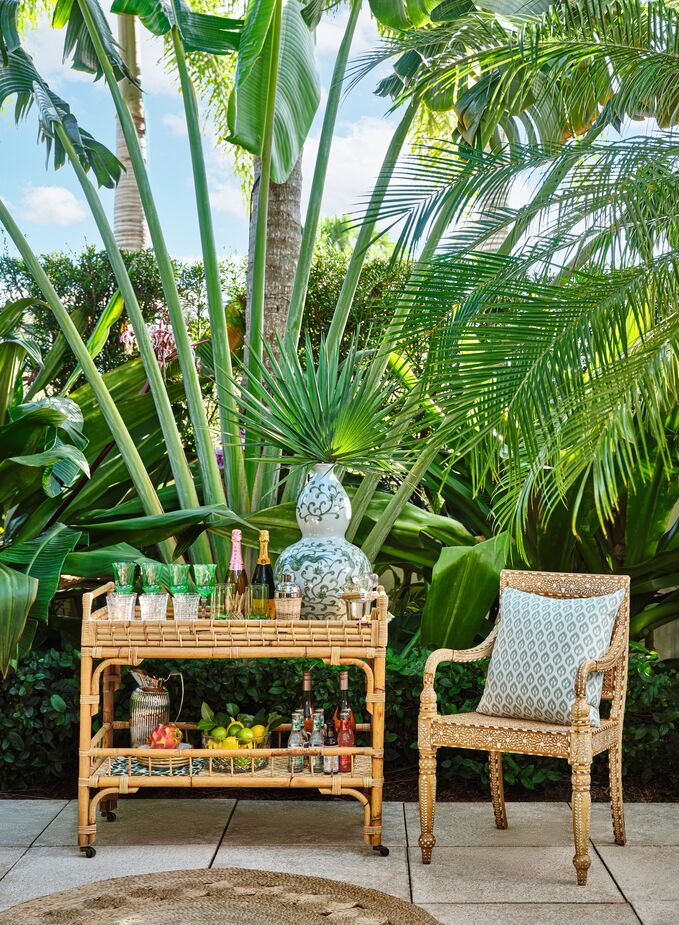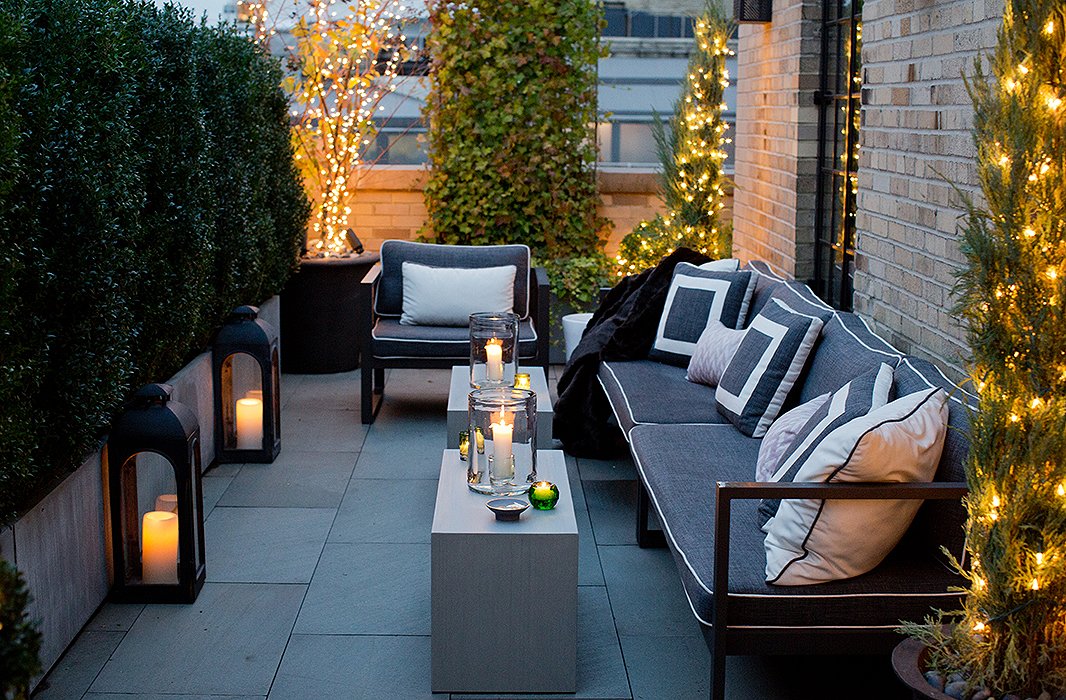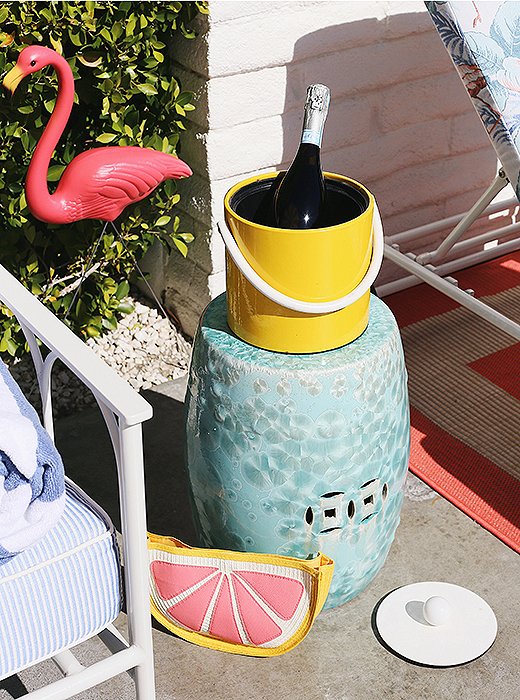 Extra Tips for Small Spaces
• Keep your layout flexible with smaller, easy-to-reposition pieces. For instance, opt for several side tables rather than one large coffee table. And ceramic garden stools can serve as both extra seating and occasional tables (plus they look equally chic indoors).
• Think curves: Round tables and curvy chairs take up less visual space (and often less floor space) than rectangular pieces.
• Make up for a lack of floor space by maximizing your wall space. For instance, attach hooks from which you can hang anything from towels to gardening tools to potted plants. Can't attach anything to exterior walls? Add a trellis or a tall, narrow metal shelving unit.
• Set out large cushions atop an outdoor rug or blanket and, voilà, extra seating.
Extra Tips for Dining Areas
• Place your dining furniture as close as possible to your kitchen door; this makes setup and cleanup so much easier.
• Shatterproof melamine and acrylic tableware is now more stylish than ever. In fact, if you have kids, you might want to use it indoors as well!
• Keep dips, cheeses, and other foods cool by placing the dish they're in within a larger bowl that's filled with ice.
• Not only are napkin rings chic, but they also help prevent napkins from blowing away in the wind. Along similar lines, weights clipped to the hem of your tablecloth can keep it from blowing off.
• Large empty planters can double as ice buckets.
Extra Tips for Poolsides
• For a solution that's both handy and chic, keep extra towels, sunscreen, and the like in oversize baskets or planters.
• Organize your pool area by zones: Set up chaises on one side, for instance, and a dining area on another.
• A poolside outdoor rug minimizes wet footprints throughout your house. When placed atop surfaces that get slick when wet, they help prevent slips and falls as well. (Be sure to put an outdoor rug pad under each rug, though, for maximum safety.)