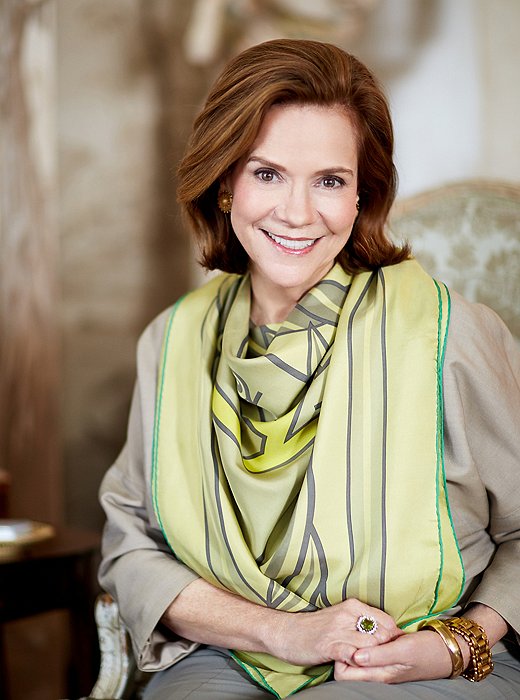 Having grown up in New Orleans, Suzanne Rheinstein remembers Christmas as a time for grand gestures. "I have a memory of my mother—I must have been eight or nine—making a della Robbia-style garland. It went all the way around our doorway, and it had fruits on it that she'd shellacked and nuts that she'd wired on. I think it practically killed her, but it was quite spectacular."
Another Christmas, many, many years later, Rheinstein's husband somehow convinced her that the easiest way to entertain for the holidays was to host a sit-down dinner for 22—two nights in a row! Ever her mother's daughter, she didn't skimp on the details. "I spray-painted baskets gold and filled them with Styrofoam balls that I painted gold and green, and I clipped the branches from overgrown trees in our garden to use in the arrangements. I think I went through two parties completely shellshocked!"
Since then, Rheinstein has managed to scale back—without compromising on style. And the master decorator, who is known for creating welcoming interiors that feel formal yet fresh (check out her latest book, Rooms for Living), takes the same approach to holiday entertaining. Here she invites us into her home and shares tips on how to pull off a classically elegant Christmas (without going overboard).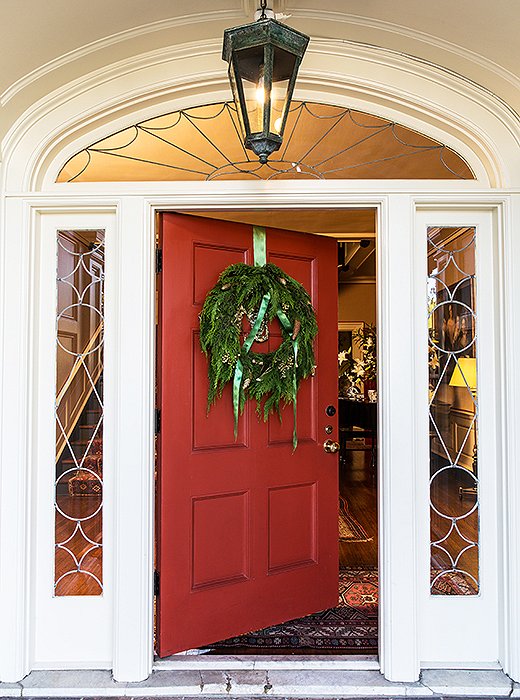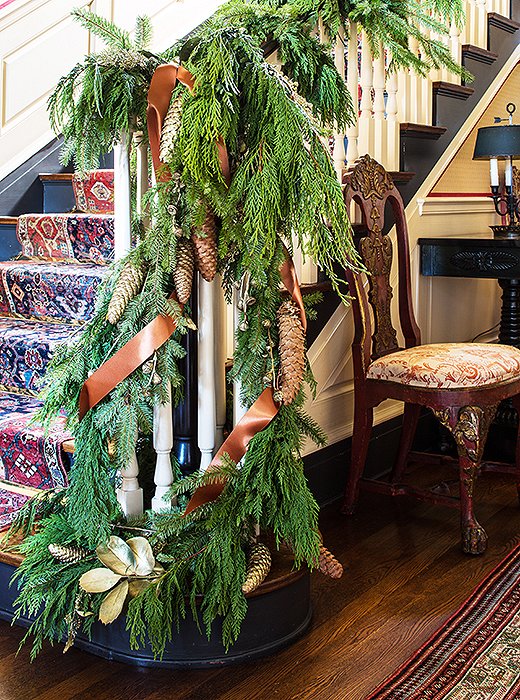 Decking the Halls in High Style
Today, as a resident of Southern California, Rheinstein has a cornucopia of natural elements available for holiday decorating. "Being from the South, citrus and greenery have always been a part of Christmas to me," says Rheinstein. "When we moved into this house nearly 36 years ago, when my daughter was only about a month old, I did gilded magnolia leaves, just like my mother did." This Christmas she's keeping it organic but switching it up a bit. "I adore eucalyptus pods," she says, "And I sprayed them gold." Given her decorator's eye, she was specific when it came to the shade. "I wanted a more bronzy gold this year—not a Versace gold."
If you live in a colder climate, don't fret. "I always use tons of paperwhite narcissus blooms in my California Christmases," says Rheinstein, noting that the perennials are viable for the East Coast too. "For a few years, I even planted them in front of my house and timed it so that they would bloom by Christmas, but I'm not quite that cuckoo crazy anymore," she laughs. Of course, Christmas does come but once a year, so make it count. "You know, splurge on some beautiful flowers; maybe it's a red amaryllis or French tulips, just something that will make your heart sing," she says.
As festive as the interior of her home is, with its garland-dressed staircase, drapes, mantels, and even statues ("a fun and lighthearted touch," she says), the welcoming spirit starts before guests even step inside. Rheinstein is a big believer in Christmas-izing the outside of a house. She often places garland trim around the entire facade and suggests wrapping entryway columns, if you're lucky enough to have them, in greenery.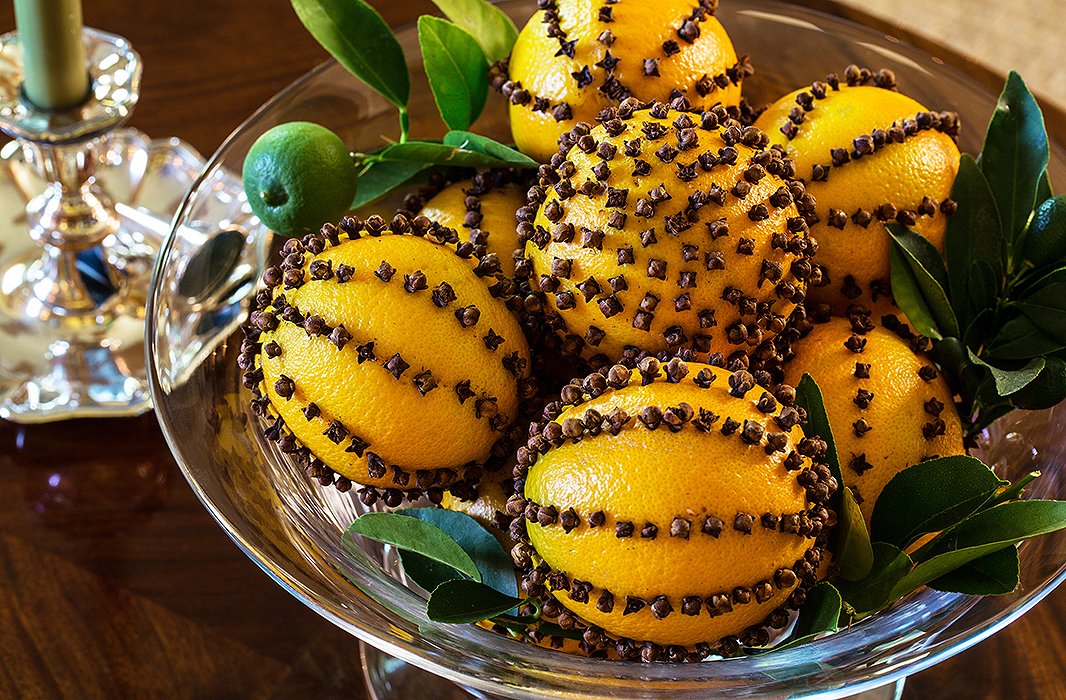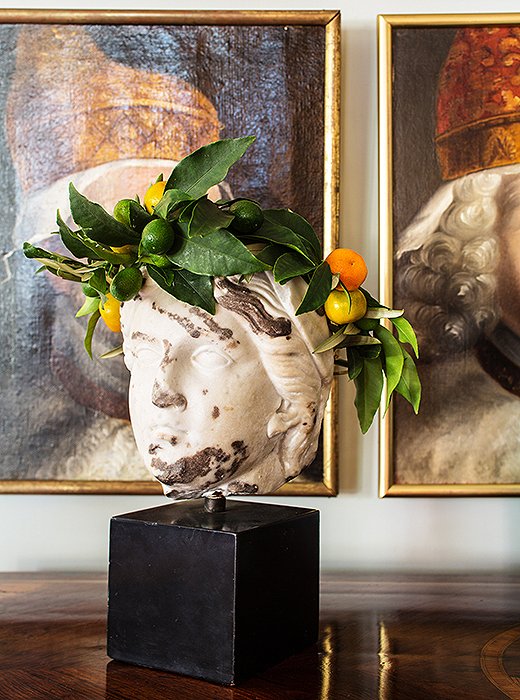 Being from the South, citrus and greenery have always been a part of Christmas to me.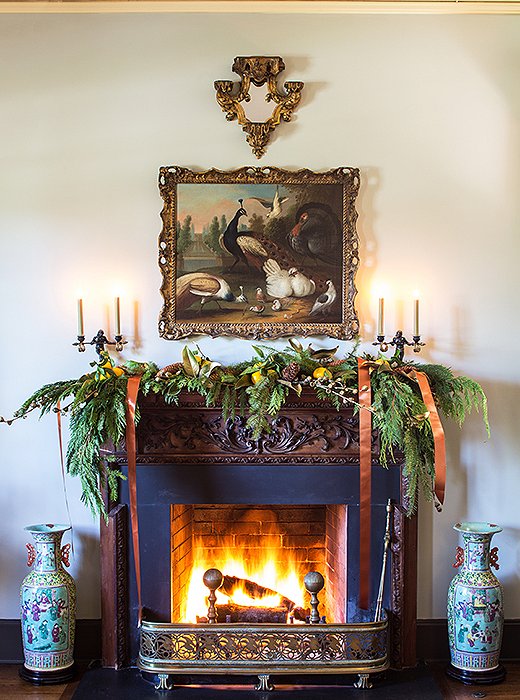 A Posh Christmas Palette
"For me, being in California, that Victorian look of  just red and green for Christmas never felt quite right," Rheinstein says. One year, the designer focused on rich browns, taking a cue from her pretty pinecone wreaths. "I used brown velvet ribbons with all the greenery, and it was really subdued but beautiful." When relying on darker colors or going monochromatic, Rheinstein suggests using an abundance of candlelight to add glimmer and brighten the mood.
How you choose to design your table is arguably your biggest style statement. "If you have beautiful pieces, use them," says Rheinstein. A blue-and-white table is equally timeless (and always holiday-appropriate) according to Rheinstein, who favors that combination over more commonly used colors. "It looks beautiful with citrus," she adds.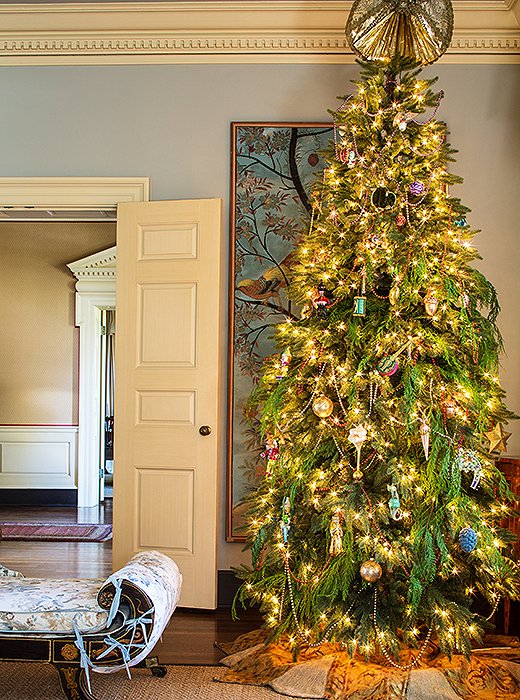 A Tree Made of Memories
"Our tree really doesn't change from year to year," says Rheinstein (though she did make a switch from colored lights to white ones a few years ago after her original set petered out). "All of the ornaments on it mean something to us." Some of her trimmings, in fact, date back to her daughter's childhood. Rheinstein isn't so rule-bound that she'd suggest everyone use the same palette, type of ornaments, or color of lights, but she points out that you really can't go wrong with a classical approach. "Honestly, it just depends on your house and what feels good to you," she says. "One of my best Christmases I did a chartreuse satin ribbon with citrus and pinecones, and it looked so pretty."
Whatever your tree-trimming style, the choice of topper is worth careful consideration. "Ours has been there since, oh my gosh, practically the beginning," she says. "It's German, and it's made of this beautiful gold paper, and the face and the hands are molded wax. She's held together with love at this point, but we couldn't have anything else up there."
If your life is not conducive to getting out special things and just living with them, then by all means get them out for the holidays.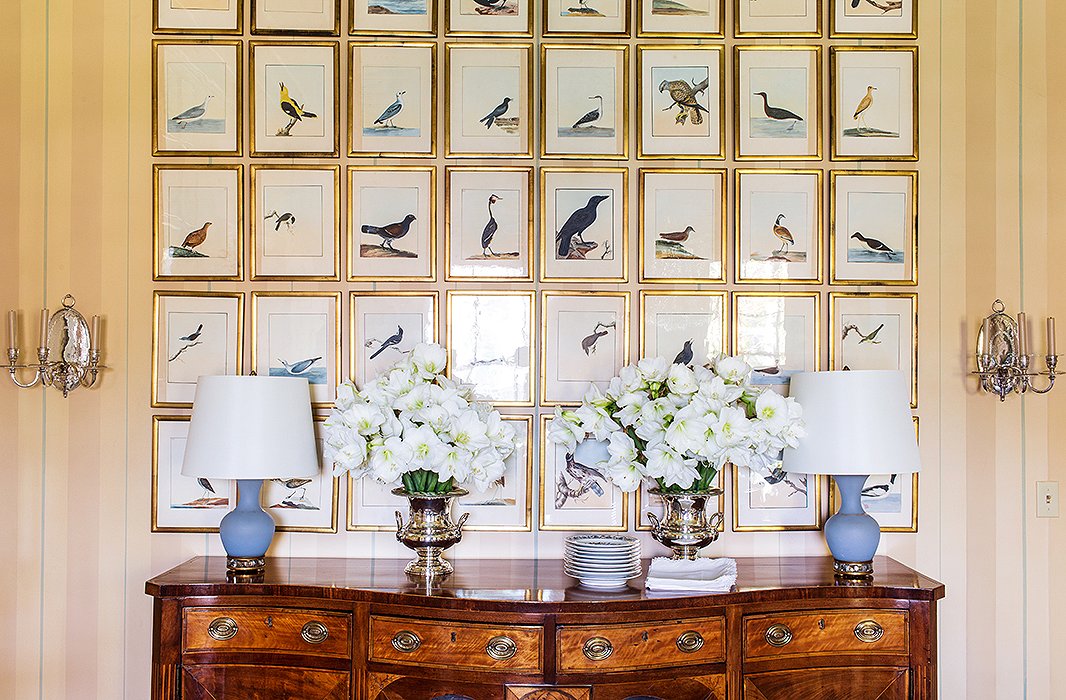 The Art of Casually Elegant Entertaining
Rheinstein's timeless interiors make for an already cozy setting. Even though her home is filled with antiques, fine European furnishings, and great art (like the framed duck painting by Marmaduke Cradock above the mantel), the atmosphere is always inviting. "Sometimes people will sit on our stairs, stadium-style," she says. "They'll take their plates up there and eat." She endorses buffet-style celebrations, especially for Christmas brunches, lest some find sit-down dinners too stuffy (or too stressful), and admits to serving anything from "a delicious hot dish like grits" to a green salad this way. Spicy pecans and cheese straws, a reminder of her Southern roots, are seasonal standbys.
Whatever your background, it's those simple but heartfelt personal touches that guests will really respond to, says Rheinstein: "Just doing something special like making your own mayonnaise and mustard or having a special drink" can make guests feel appreciated.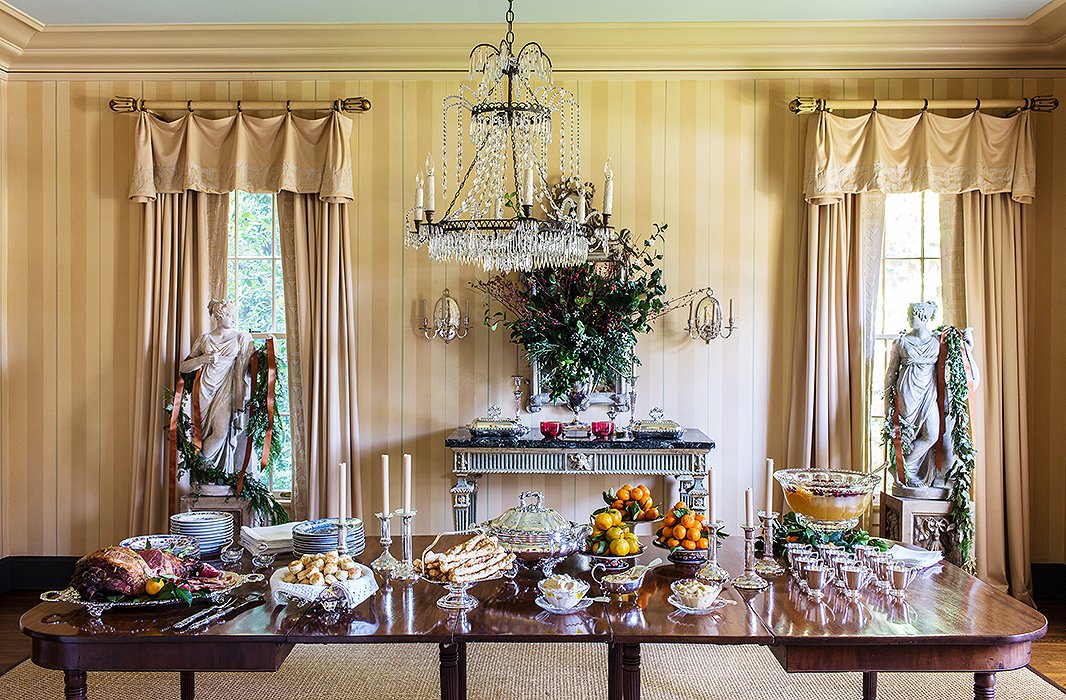 Let It Shine
Gold abounds in Rheinstein's decor, but when it comes to a graceful table setting, there's nothing quite like silver. It's especially lovely against dark wood finishes, as in Rheinstein's dining room, and it instantly makes any celebration feel fancy. "You have to work to get it clean, but then if you use it all the time the way I do, you can just take a cloth and wipe it once a week and it will basically stay that way," advises Rheinstein. If the full-on metallics are too much for you, Rheinstein points out that she is seeing more and more china with silver, gold, and pewter flourishes. "If your life is not conducive to getting out special things and just living with them, then by all means get them out for the holidays."
Rheinstein notes that silver can work just as well in more informal settings. "One of the chicest things I ever saw was at a friend's Sunday lunch. She used silver on a scrubbed pine table and then dressed it up with silver candlesticks and linen napkins. You can absolutely do a rustic table with silver."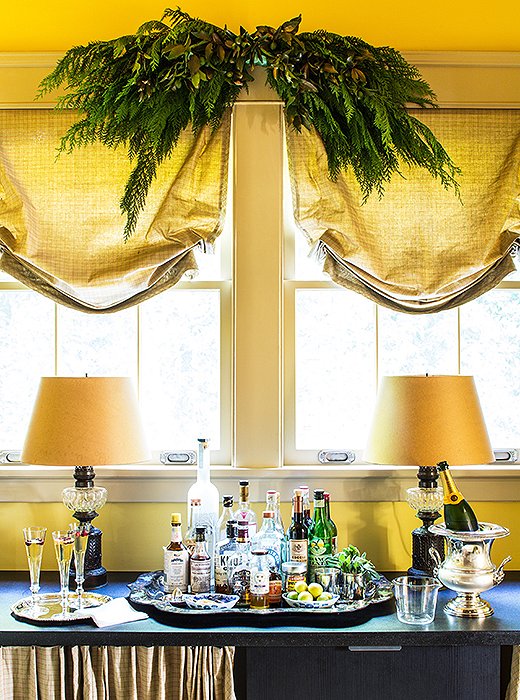 Cocktails and Conversation
Guests appreciate the opportunity to mix and mingle, so setting up a serve-yourself bar table or cart is always a good idea. Having an easy-t0-make champagne cocktail readily available is another way for a host to lighten her load. At Rheinstein's affairs, that signature drink is the Huvie, made with champagne and three big ice cubes, garnished with an orange slice, and served up in an old-fashioned glass. "It's named after this divine man who lived in our neighborhood.  He was was tall and dashing and had a zillion children and treated his wife like a queen." Best of all, the serving glasses don't have to be expensive to look elegant. "I've done them in glasses that are $1.99 a piece," she reveals.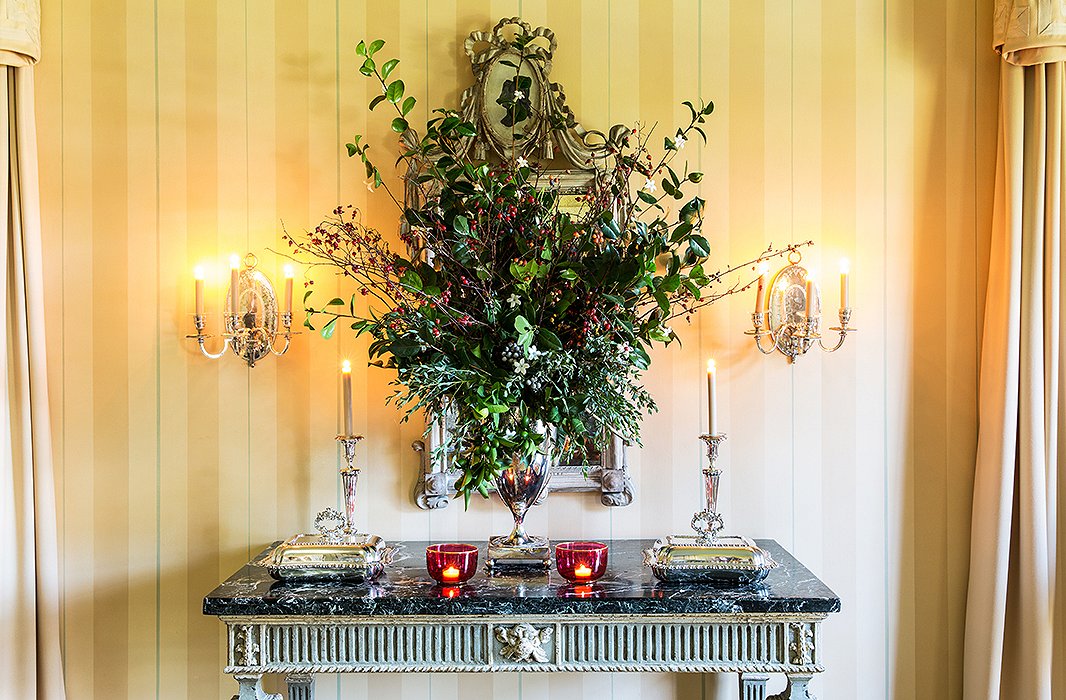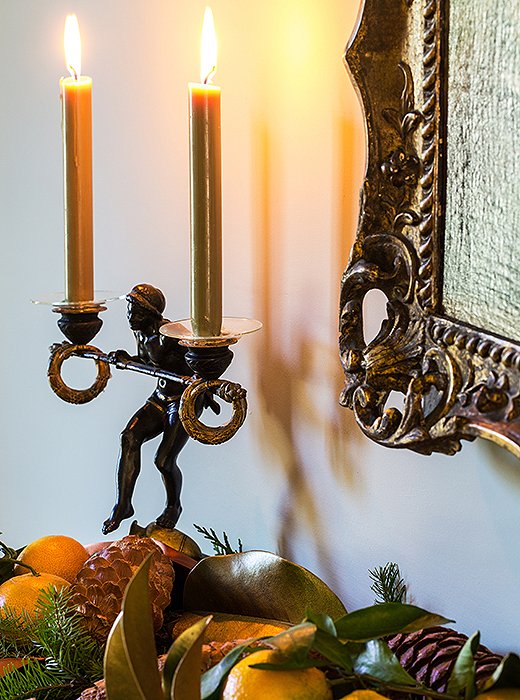 Candlelight Is Always in Style
Time marches on, but old-fashioned flourishes will always feel right around the holidays. "I use candles all year," says Rheinstein. "I adore them, and I think that when you have friends over—or even by yourself—nothing sets the mood more than candlelight." As you can see, they also have the added benefit of dressing up your decor. They're always on Rheinstein's table as well as adding glamour throughout the rest of her home.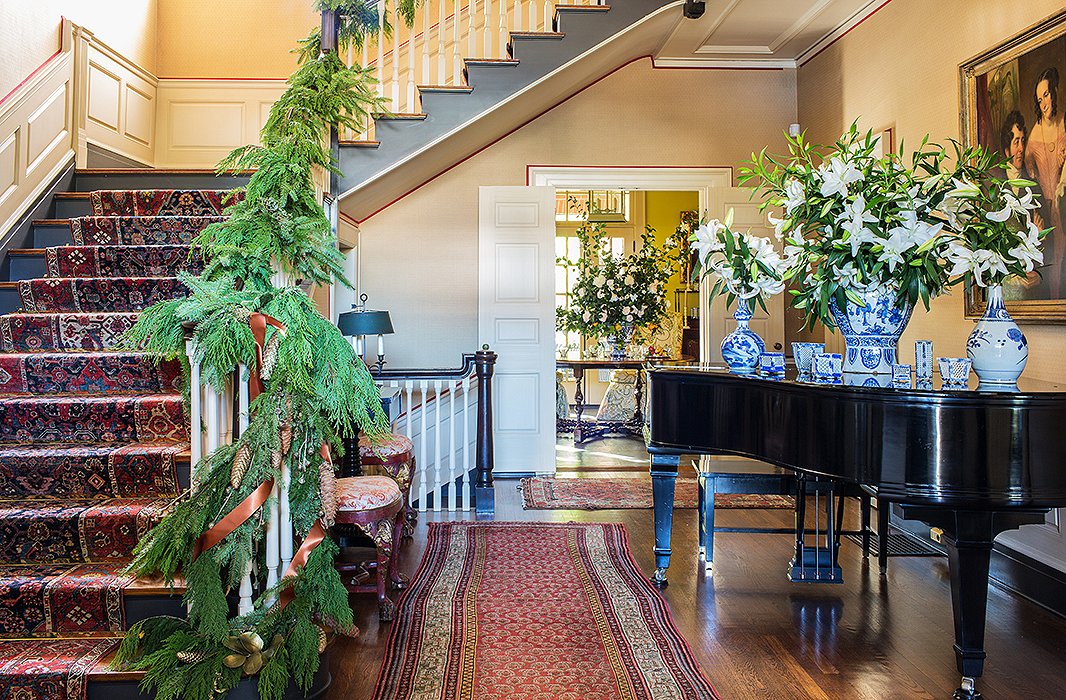 Setting the Mood with Music
With all the traditional touchstones taken care of, now is the time to embrace modern technology. Yes, there's a grand piano gracing Rheinstein's home, and she's happy to let musically inclined guests go to town on it, but most of the time, Rheinstein relies on Pandora, the online radio service for tunes. "They have everything, including the King's College Choir at Cambridge," she says. For extra-special celebrations, Rheinstein will draft a music student from the local area to play a mix of standards and American classics.
Make Every Day a Holiday
Even after all the Christmas presents are unwrapped, there's no reason the spirit—and style—of the season shouldn't stick with you, provided you've done it in a way that's true to yourself. "You know, I really believe how you live your life every day is so much more important than getting your house ready for a big occasion," says Rheinstein. "If your house really works for you and your family, then why would you ever mind having people over to see it? Because that's who you are."