Susan Feldman has long been drawn to beautiful things. Before launching One Kings Lane with Ali Pincus, she worked in fashion, and her career has given her the chance to mingle with interior designers, fashion icons, and other creative types the world over. So it's only fitting that we kick off our Tastemaker's Edit series with the woman who started it all. (An evolution of our popular Tastemaker Tag Sales, the Tastemaker's Edit features product curations handpicked by some of our favorite designers and muses.) We recently sat down with Susan and talked about her inspiration, her latest venture, and how she pulls off her iconic style.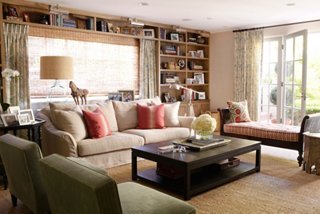 From the beginning, One Kings Lane has been imbued with Susan's approach to style. "I'm definitely classic with a twist," she says. "I love beautiful classic designs but mixing them with vintage and modern elements. There are all these different layers in each room of my house." It's in her style DNA to pair a simple linen sofa with a wildly patterned club chair.
Many of the "twists" in her rooms are highly personal pieces, from wedding gifts to items she picked up on her travels, such as when she went to Machu Picchu with Nate Berkus and Jeremiah Brent. And of course, many such pieces are vintage. Her love of vintage led One Kings Lane to distinguish itself from other decor brands by selling antiques and one-of-a-kind finds alongside new and designer furnishings. "I think adding in a vintage element here and there adds warmth to a room," Susan says. "Then, every time I walk into a room, those pieces are there as sort of an added value." 
These layers of new, vintage, and global items create a delicious textural mix that Susan loves—one that remains a One Kings Lane signature. To shop Susan's edit and see all the wonderful items she is loving right now, click here. For some of her tips and tricks, read on.
How to Perfect Classic with a Twist
Susan sums up her style as neutral, eclectic, and instinctive—or classic with a twist. Here are three things you can do to perfect your own take on the look:
Trust your gut.  "I see things, I like them, I make them work in my home," Susan says. In other words, you can't go wrong surrounding yourself with what you love. Even if you aren't completely sure what your style is, building the basics with items that appeal to you lays the groundwork for a room you'll love. 
Have foundational pieces. Susan is all about having a major piece with a classic silhouette—an English-arm sofa, a spindle-leg table—in each room. "They set the anchor for everything," she says, and they'll long outlast trends. 
Be playful. When you have a classic foundation, you can easily layer on more-whimsical or trendier pieces. For instance, "in the living room we have two club chairs, but they're not like your normal club chairs," Susan says. "They're a little bit different. The fabric is more interesting." Fun pillows, bright throws, or unexpected collectibles are other ways to incorporate a sense of play.
Her Love of Collecting
After she and Ali decided that the One Kings Lane logo would include an elephant (one we've named Elsie), Susan began collecting them. She also collects boxes in various shapes, sizes, and materials: "I love collecting." Building a collection doesn't have to be daunting. Picking up one or two items every time you travel quickly grows your collection and gives each piece a backstory. 
Where She Finds Inspiration
"I get a lot of inspiration from interior designers," Susan says. But like any true aesthete, she also follows a variety of accounts on Instagram. Her feed is filled with people from the fashion world, which is helpful in her hunt for inspiration for her latest business venture, In the Groove. Susan is using In the Groove to inspire women of all ages to embrace their unique style. She describes the site as a "lifestyle destination for age-defying women" and features stories on everything from layering jewelry to curating a menopause registry.