Welcome to The Edit, a monthly series of all the products—both for the home and for you—that we're coveting. We're kicking it off with our take on spring: embracing nature in all its textural and colorful glory. After months of cold days and long nights, we're leaning into the season's promise of brighter days ahead.
Our preferred palette speaks to the season's hues in a fresh way. Greens of all shades make an appearance, along with more-subdued natural tones. Texture plays a large part in our favorite items this spring as well. And because no spring edit is complete without florals, we're subtly highlighting them through linens and objets. Read on and shop our favorite picks.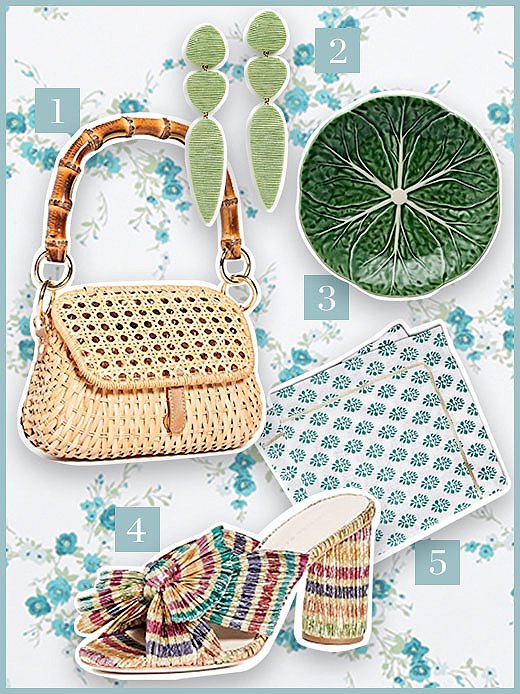 1. The Brooke Crossbody from Serpui Marie: Perfect for a spring getaway to the Hamptons or Harbour Island, this lightweight wicker bag is the must-have accessory. Shop here.
2. Jacaranda Earrings from Rebecca De Ravenel: These thread-wrapped earrings are an ideal combination of spring-fresh color and organic texture. Shop here.
3. Cabbage Plate: No grandmillennial's tabletop collection is complete without a set of iconic cabbage plates. Shop here.
4. Leaf-Print Napkins: A properly decorated table is all about curation. Classic dinnerware, like cabbage plates, requires a more-whimsical partner to create a sense of balance. Our vote goes to these block-printed napkins. Shop here.
5. Loeffler Randall Knot Mules: Fancy footwear should always be fun. Loeffler Randall's Knot Mules have taken the fashion world by storm and come in a variety of colors and styles. Shop here.
6. Glow Oil Lip + Cheek from Milk Makeup: As warmer weather creeps up, we're looking to lighten up our makeup routine. This lightweight (and cruelty-free) oil hydrates as well as adds a soft shimmer to lips and cheeks. Shop here.
7. Quinn Pillow: Exclusive to One Kings Lane, this embroidered pillow is sure to add texture and a dash of color to your home this spring. Shop here.
8. Snyder Side Table: It's no secret that we love elephants. We're in love with this rattan side table that's as cute as it is functional. Shop here.
9. John Derian Candle: If you can't have a never-ending array of fresh florals in your home, this candle designed by John Derian for LAFCO New York is a perfect olfactory substitute. With notes of wildflowers and neroli blossoms, it's a definite crowd-pleaser. Shop here.
10. Creme de Corps from Kiehl's: This quick-absorbing body butter is just what you need to repair your winter skin and prepare it for spring. Shop here.
One Kings Lane independently selected all these products but may receive an affiliate commission from these links.