Picking the right light fixture can be confusing and overwhelming to the average person. So we spoke with the experts at One Kings Lane Interior Design to demystify the various types of lighting, where they go, and how to pick the right piece for you. If after reading this guide you still have questions, be sure to watch our Instagram for the chance to submit them to our interior design team.
The Basics
Let's start at the beginning. Before we can get into the different types of fixtures, we must discuss the two general categories of lighting.
Ambient vs. Task Lighting
Knowing the difference between ambient lighting and task lighting will help you decide the types of light fixtures you want in a space. Task lighting, not surprisingly, is the lighting needed to accomplish specific tasks: table lamps for writing, sconces for reading in bed. Ambient lighting gives indirect, general light to space. This category includes all ceiling lights. Flush mounts and chandeliers may have different impacts on design, but they do the same thing: provide a general source of light in a room. 
Find Your Fixture
For the purposes of this guide, we will focus on the six main types of lighting in a designer's toolbox. Most rooms in your house will have a combination of ambient and task lighting made up from a combination of these six fixtures: table lamps, floor lamps, sconces (including bath and picture lights), pendant lights, flush mounts, and chandeliers.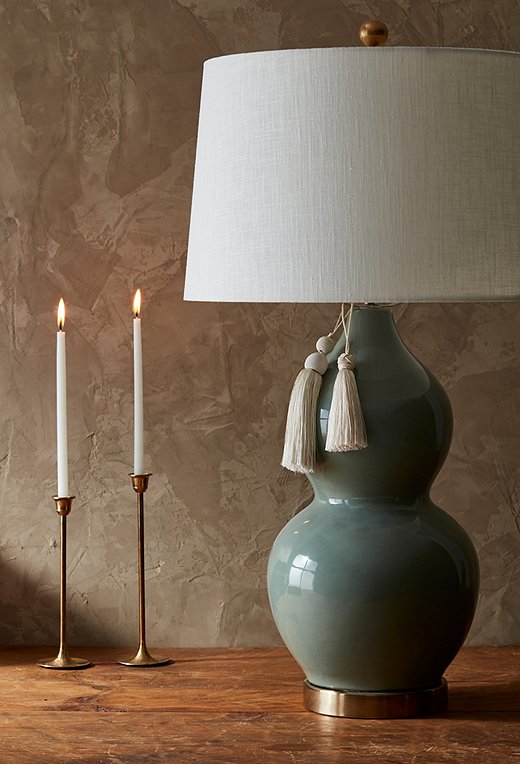 What Goes Where
Now that we've got the basic types down, we need to decide what type of lighting is best for the space you're designing. We turned to Becca Roderick, our director of interior design, for a little help.
Living room: "In most living rooms, I recommend having four to six light sources for the best overall effect," says Becca. "It's nice to have a mix of table lamps, floor lamps, sconces, and overhead pieces." She also recommends installing dimmer switches so you can control the lighting and set the mood. 
Bedroom: "The most important moment for lighting in a bedroom is the reading light," Becca says. "My favorite way to approach this is to install a wall-mounted sconce." Adjustable sconces are the best choice because you can point the light exactly where it needs to go while you're reading in bed; they also avoid taking up precious space on your nightstand.
Bathroom: "It's important to remember that the most flattering and functional light source is the light that is eye level and casts directly onto your face," says Becca. "Sconces that sit above the mirror are a big no-no" because raising light that high creates shadows underneath your eyes. "No one wants that!" 
Kitchen: "Kitchen lighting must be functional," says Becca. "It can also be beautiful, but it must be functional, which means a focus on making sure every corner of that space has a light source." She recommends a mix of pendants, sconces, under-cabinet lighting, and for the countertop, table lamps.
Entryway: "An entryway is the perfect location for a statement chandelier," Becca says. "It's the first impression for any visitor to your home and the last thing they see when they depart."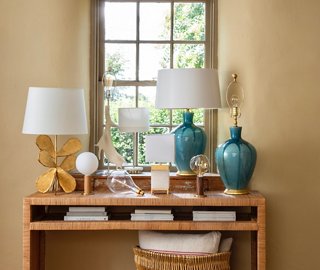 Lampshade Lowdown
"Ditch the shade that comes with your table lamps and go for something more unique," says Becca, who uses a basic rule to determine the optimal shade: "It should be twice as wide as the lamp base and one third the height of the overall lamp." Still not sure if the one you like is the right choice? "Pick out a few options that are the right size and look at them paired with the lamp in the space," Becca suggests. "Sometimes the final look is an unexpected choice."
Lampshades come in myriad silhouettes, colors, materials, and patterns. If you want a patterned shade, choosing one with a color that is somewhere else in the room will create a harmonious effect. You can read more about selecting lampshades here.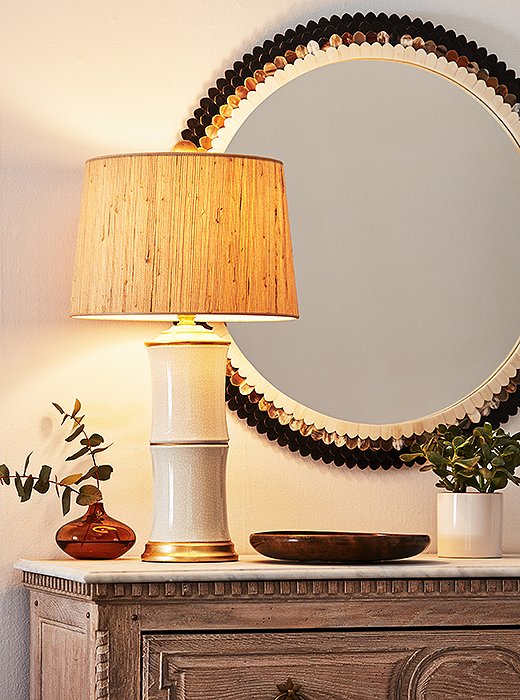 Finish the Job
Congrats, you're almost done with the lighting process. You've figured out what type of lighting you need and chosen your shades. Installation is next. If you are only switching up a table or floor lamp, you can do it yourself. If you're installing a sconce, pendant light, or chandelier, however, you should probably call in an electrician. Renters will definitely need an electrician to do their work; check with your landlord to see if they have a recommended electrician.
And don't be afraid to switch up your lighting in a rental! "Swapping out standard-issue fixtures for something with more personality is a great inexpensive way to make a space your own," says Becca. If you don't have an electrician on speed dial or your landlord hasn't provided you with a name, ask your friends for their recommendations. "That's the best way to find responsible tradespeople," Becca says. "Once you find a great electrician, provide all relevant information on the fixture you're planning to install—including the weight in case in-wall reinforcements are necessary." (You could also hire an interior designer to handle all of this for you!) After the piece is installed, you can sit back and bask in the glow of your latest home improvement.