For many of us, holiday decorating is something approaching a sport. For Bob Richter—New York-based interior designer, television host, and antiques collector—it's been a lifelong love affair. He quite literally wrote the book on the subject. A Very Vintage Christmas: Holiday Collecting, Decorating, and Celebrating "grew out of my own passion for collecting holiday decor," writes Bob, whose personal trove of vintage ornaments numbers 2,500 and counting.
Why vintage? "Vintage ornaments, lights, decorations, cards, and wrapping all conjure up happy memories of Christmases past and serve as tangible mementos of holidays shared with family and friends," Bob writes in his book. "Finding these objects, decorating with them, and sharing them with others brings an instant feeling of comfort and joy."
And while Bob's personal style mantra may be "more is more," vintage decorations can complement a wide range of aesthetics, from Old World ornate to modern minimalist to American classic. As for ways to use these pieces in your home, the possibilities are endless. There's the tree, of course (Bob offers a few tips on that below)—but for those without the time or space for such a display, Bob offers plenty of alternatives. Read on for a few holiday decorating ideas gleaned from A Very Vintage Christmas and get inspired to bring the spirit of the season into every room.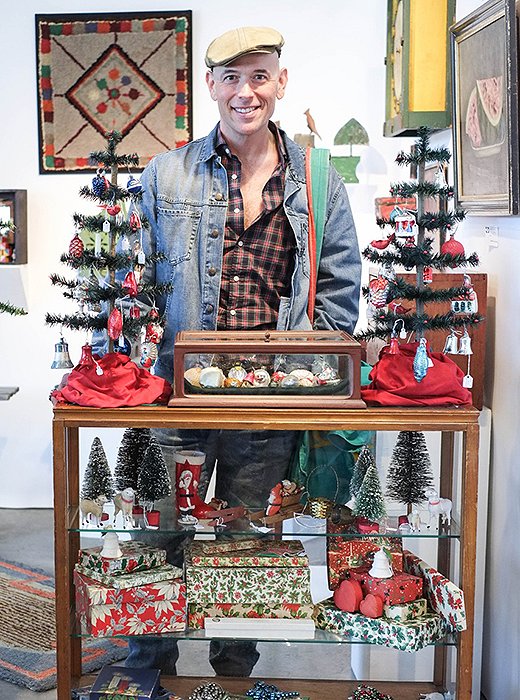 Keep It Contained
To create a supersimple holiday display that won't take up much room, simply group a collection of ornaments in a decorative bowl. As Bob writes, "Putting ornaments in bowls (glass, pottery, silver) can also be a different way to appreciate them, since they are not mixed with lights and evergreens. The ornaments alone are the focus and they can be appreciated for their patina, detail, and sentimental value."
Mirror, Mirror
Try decking out a wall mirror in holiday decor for an unexpectedly festive touch. "I often decorate them with strings of vintage beads onto which I hang vintage ornaments, which often have some special sentimental value or visual appeal," Bob writes. "On others, I drape boughs of greenery dressed with plaid bows and often other natural elements woven in, such as holly, berries, pinecones, etc."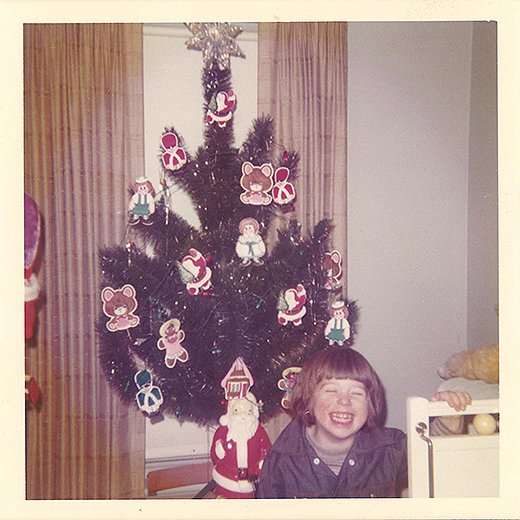 A Merry Mantel
"Already a focal point in the room, a mantel is one of the most frequently decorated things in just about every home at the holidays." After starting with a base of greenery, Bob writes, "I let my imagination take over." Parisian candelabrum, mercury-glass balls, vases filled with even more greenery… The vintage vignette changes from year to year, but it's always full and festive. "Of course the final touch is the stockings, which I hang closer to Christmas Eve."

Lovely Linens
"One easy vintage holiday touch to add to your home is to switch out the linens for something more in the spirit of the season," writes Bob, whether it's a holiday tablecloth, place mats, or napkins. "While you're at it, don't forget holiday patterned kitchen and hand towels. I have my grandmother's and they bring back so many good memories."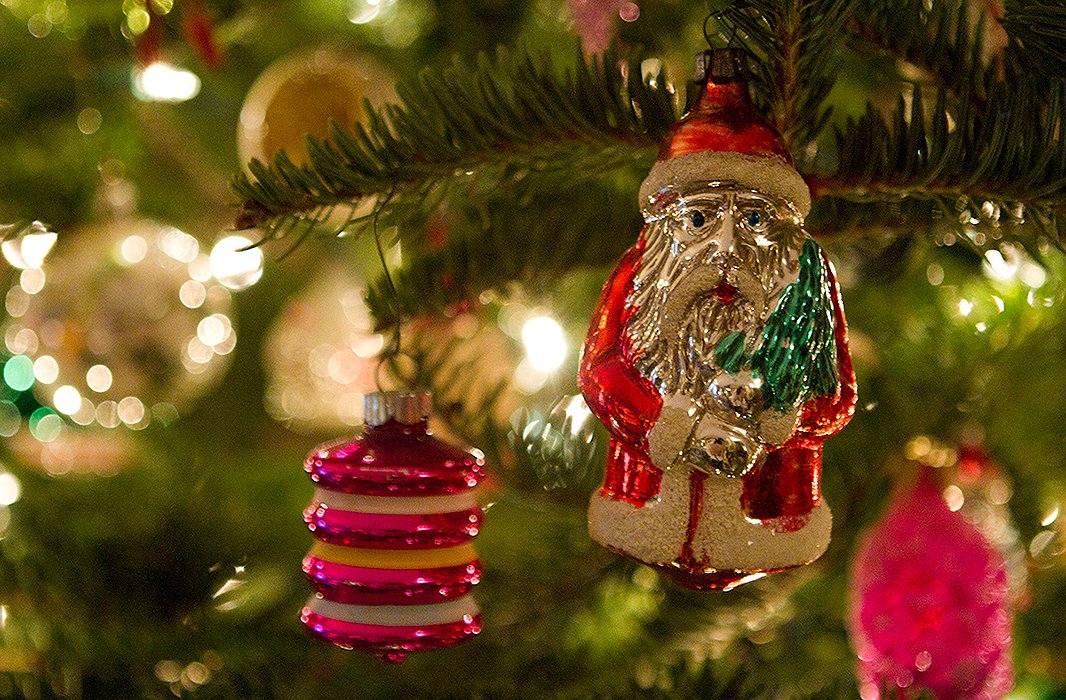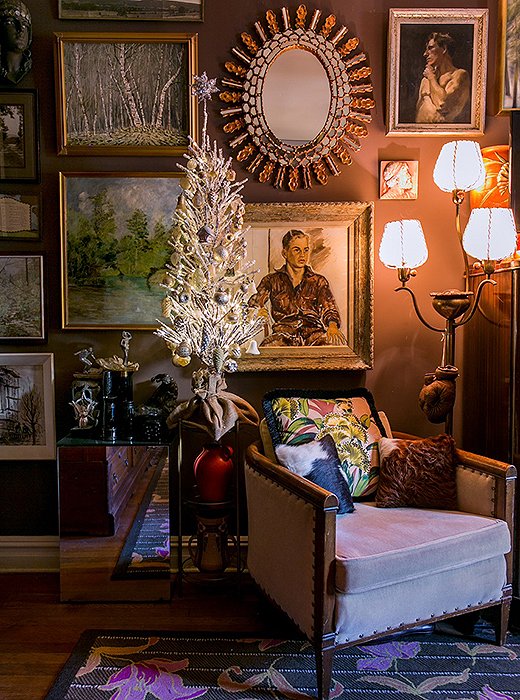 Light the Way
Even light fixtures get the Christmas treatment at Bob's house. "No surface is off limits when I'm decorating for the holidays," he writes. "Chandeliers adorned with boughs of greenery, bows, balls, or strings of mercury-glass beads are all easy to pull off and pack a lot of bang for the buck." He suggests taking cues from the style of your chandelier. "For example, a brass Early American model would look great with greens and bows, whereas a crystal chandelier would do well with silver or red balls and strings of beads."
What's Old Is New

Using old things in new ways is one of Bob's favorite decorating tricks—and a great way to incorporate nonholiday pieces into your seasonal decor scheme. He suggests grouping everyday vintage objects in a silvery palette—think candlesticks, mercury-glass vases, and framed mirrors. "I like to group them together and add some silver ornaments, candles, and greens to the mix for a very chic tablescape."
A Festive Glow
"Even the most minimal decor can include some candles, which always help to set the holiday mood," writes Bob, who uses glass hurricanes to create a vintage vibe. "A hurricane increases the glow factor and creates warm, ambient lighting. Add a few sprigs of greenery or holly around the outside of the hurricane, and you have a very vintage look."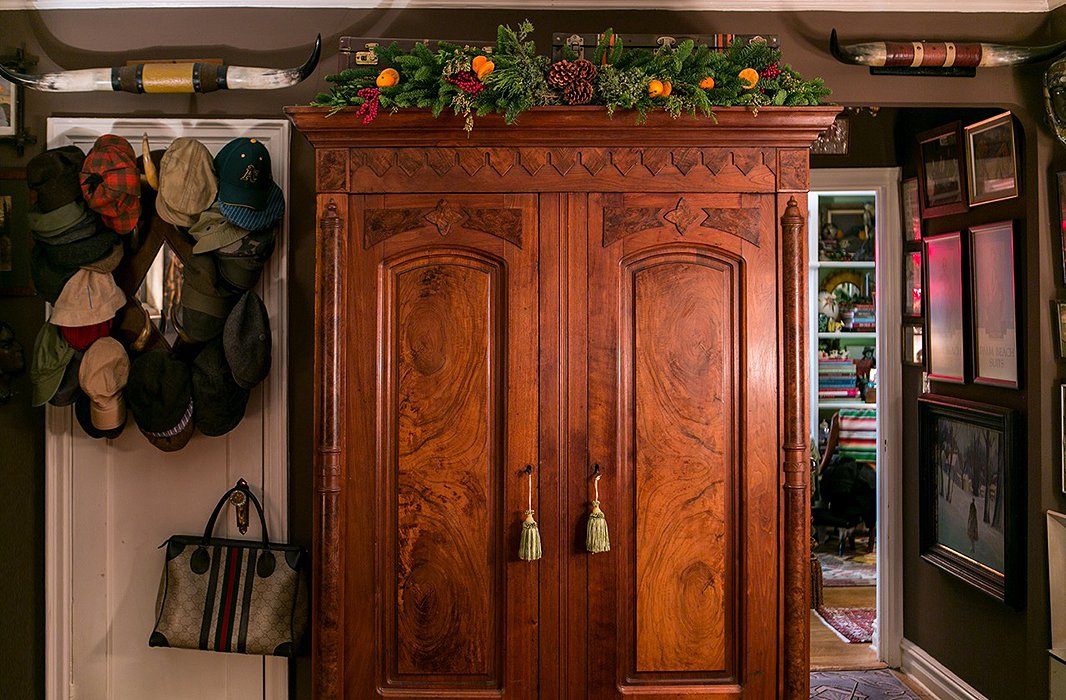 About That Tree…
Of course, the crowning jewel of many a holiday home is the tree—and decorating it is a time-honored tradition. As for actually getting the tree into place? A Very Vintage Christmas has a few tips for that too:
Plan ahead. Before bringing home your tree (or trees), Bob writes, "it's a good time to sweep, clean, and ready the areas." He'll also prep the spot with a large empty trash bag, nestled in the open position right where the tree stand will go. "This is all to ensure I don't damage my rug or floor if water from the tree leaks. It also creates a platform for me to set the tree [on] when I remove it from the base at the end of the season."
Know when to go faux. "For me, nothing beats the look, feel, and smell of a live tree in my home, but it is a lot more work than artificial, so I completely understand why people opt for them," Bob writes. "In fact I prefer them for tabletop trees and have several of them."
Consider type. "While there are a myriad of lovely options, I always go with a balsam fir. I find they have the strongest branches, are very hearty, and can hold the most ornaments."
Shop smart. At the tree farm or vendor, "I always ask for a fresh cut," writes Bob. "Right after they do that, I have them put the base on. (I always bring it along.) I find that having them do this while the tree is lying on its side gets it on straight and snug."