Change is an imperative that underlies A-list decorator Amanda Nisbet's jewel-box apartment on Manhattan's Upper East Side, which she shares with her family. Originally three separate apartments, the home has had many incarnations during the past 20 years, a result of repeat coats of paint and a constant shuffling of furniture arrangements on Amanda's part.
Yet as the home has evolved, one reigning philosophy has remained consistent. It always leads back to (and begins with) color. "I just don't think that any colors don't go together. There isn't a color I don't like," Amanda says. "I don't have any fast rules. It's always where I start, and it's the thing that excites me the most."
Fuchsia, sapphire blue, turquoise, and hot pink (her favorite color) are staples in her design palette, so it's no surprise that her home is vibrant as well. And the genius of her colorful touch is boldly haphazard: "I pull fabrics and throw them all on the floor and come up with my palette."
Among a brilliant backdrop of juicy orange and pretty pinks, gemlike treasures abound. Heirlooms from her grandmother and great-grandmother share space with an enviable collection of modern art, spanning Elizabeth Peyton to Natasha Law; gorgeous materials and textures, including leather and lush linens, mingle with plaster, gilding, and blackened steel. It all adds up to a home that's beautifully layered yet edited and surprisingly livable. "Function and elegance should not be mutually exclusive," Amanda says, "so it's very much my mandate that every piece is not only pretty but also comfortable, usable, and steady."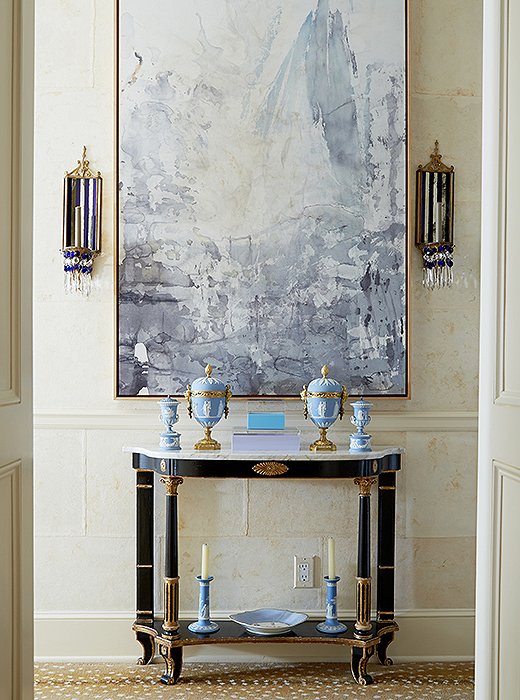 I'm not shy in my decorating... To me, it's always about contrasting seemingly opposite things, whether that be materials or styles. That's where you get the most interesting design.
There isn't a color I don't like. It's always where I start, and it's the thing that excites me the most.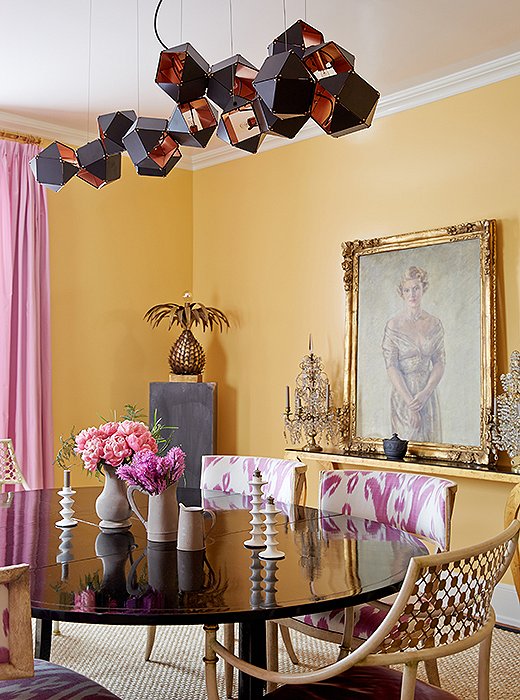 It gives a room more soul, more of a patina, and more of a homey look to bring in all the elements of old and new. 
Your home should evolve and not be static. You should move your art around, you should move your furniture around. There should always be fluidity in your design.