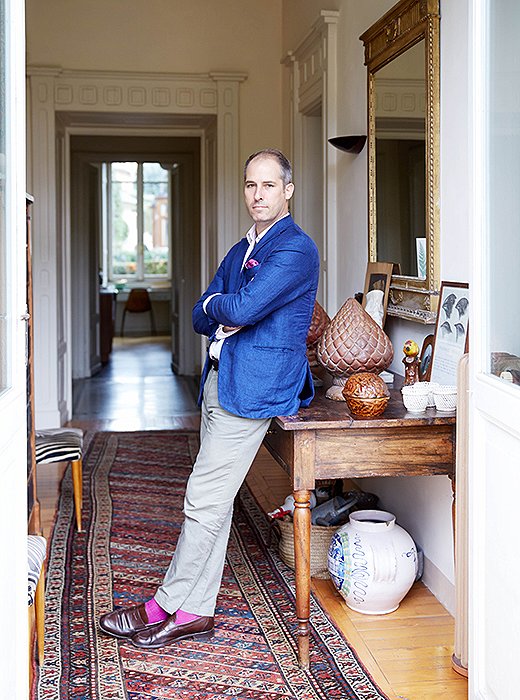 One of the perks of Peter Benson Miller's position at the American Academy in Rome is an apartment that spans the floor of a Neo-Renaissance villa. Since his position typically has a three-year tenure, when he and his partner arrived "the space felt like a short-term faculty apartment," albeit one furnished with Piedmont mirrors and antique sideboards. Peter, an art historian and curator, set about transforming it with heirlooms from his parents' Pennsylvania home, pieces he's collected during 20 years of living in Rome, and his own daring design sensibility. As he puts it, "I'm drawn to postwar Italian and French design, but I only really have the money to pick up things at flea markets and junk shops. So I guess this apartment has a sort of junk-shop aesthetic."
Discover how, in Peter's deft curatorial hands, his uniquely Roman home inside the storied academy sings with refinement, beauty, and just a touch of punk.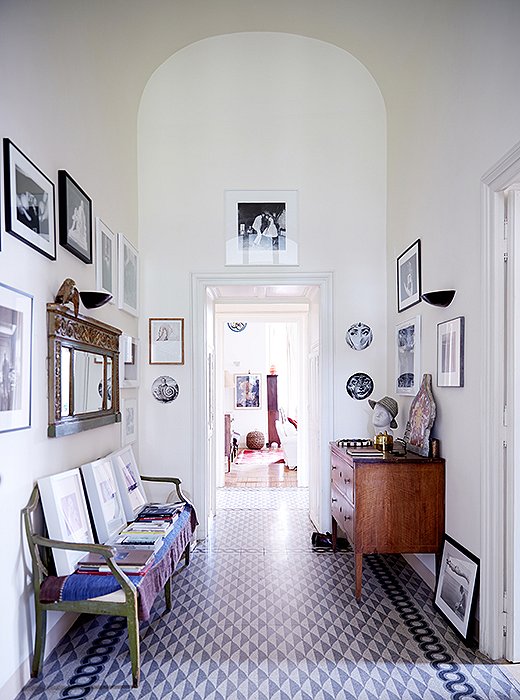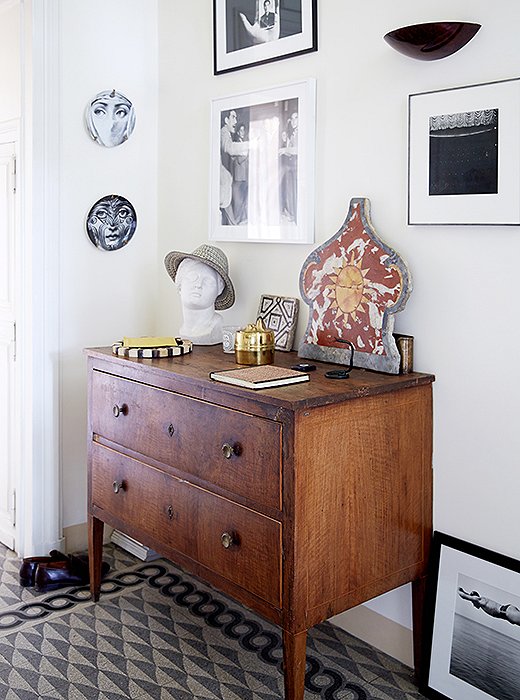 Finding a Happy Arrangement
Peter wanted this home to feel lived-in and layered, much like Rome itself, and for anyone—but especially for a curator—hanging art goes a long way to making a home one's own. The apartment "didn't have any art to speak of," Peter says, so he brought in his own collection. Hanging the pieces, to Peter, means allowing the art to dictate where it should go. "When you're first hanging a show, you lean things against a certain wall, and then come back to see if they work. I do that at home," he says. "When you put them on the wall and it becomes definitive, you stop looking at them. I like things to move around and let them yell at me."
Similarly, Peter doesn't settle for a straightforward arrangement of objects; he searches out the witty little juxtaposition or the piece that turns tradition upside-down. For instance, a stately Florentine Neo-Renaissance mirror, which was already hanging in the entrance hall when they moved in, became a resting spot for a little owl from an Umbrian junk shop.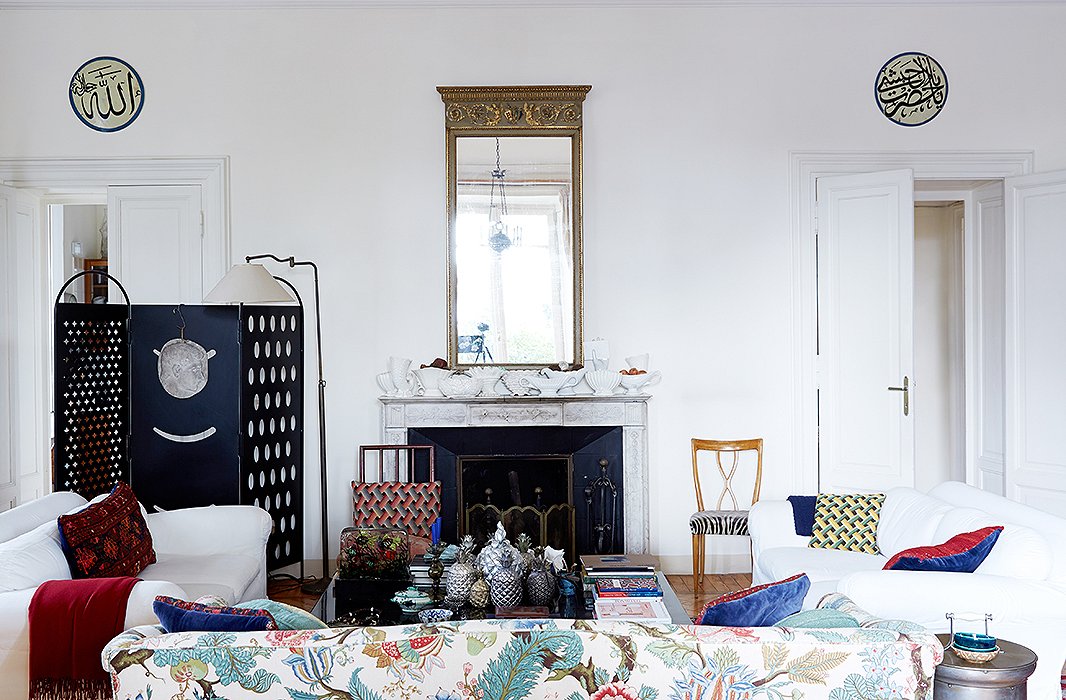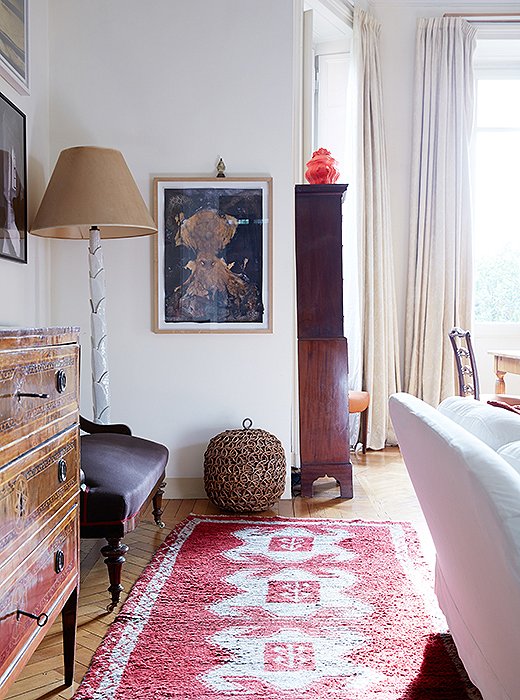 Getting Schooled in Design
Although a worldly curator in his own right, Peter credits his parents—along with the heavy influence of Rome—for the style he brings to his home and work. "They compellingly mix things like 18th-century furniture and contemporary art and think nothing of it," he says. To Peter, switching up the conventional context can serve to highlight favorite pieces, subtly freshening up the traditional look. Needlepoint cushions inherited from his grandmother sit front and center on his beloved living room sofa—"in the context of a living room full of contemporary art, they look a lot hipper." In the same living room, Peter put a fire-red ceramic piece—an old plaster cast of a soup tureen—on top of a traditional highboy. "It takes the highboy down a notch, makes it less serious. I like to find that intersection between punk and good taste."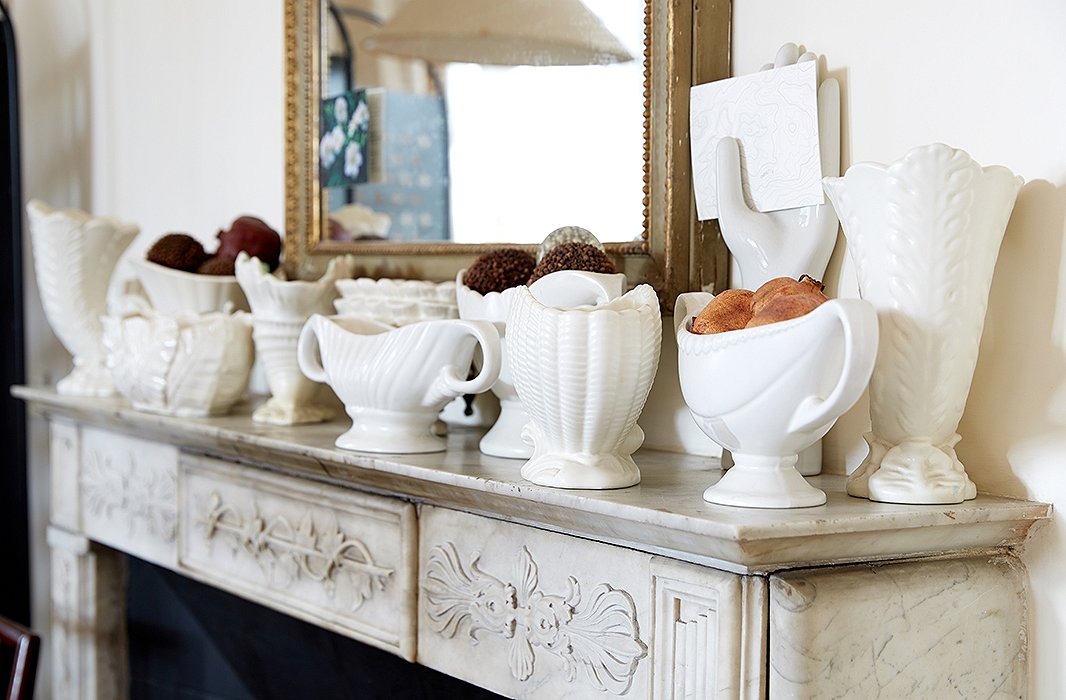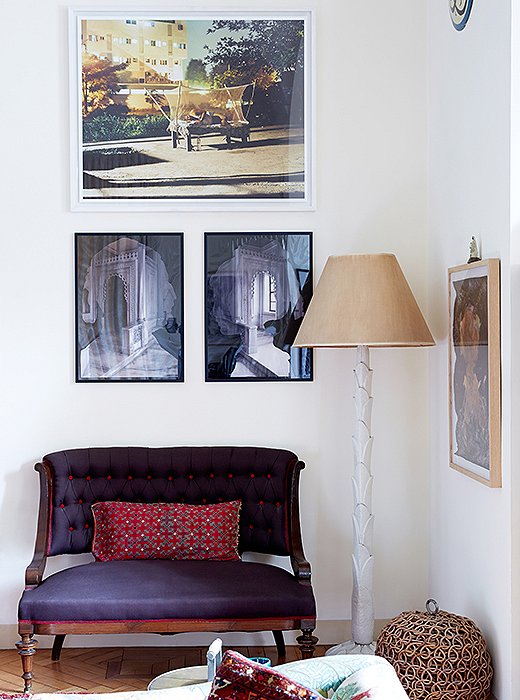 When you put art on the wall and it becomes definitive, you stop looking at it. I like things to move around and let them yell at me.
I like to find that intersection between punk and good taste.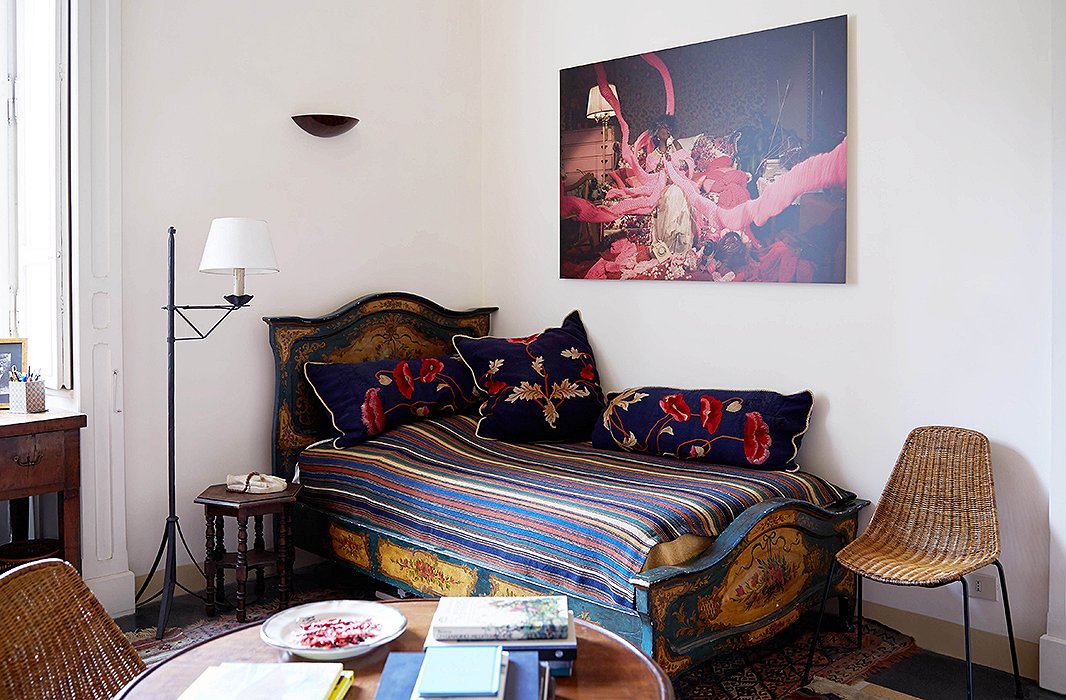 Life on the Hill
If you know of the American Academy in Rome, you've probably fantasized about taking up residence there. Each year it opens its doors to 30 new fellows—American artists, writers, scholars—who come for the promise of uninterrupted, peaceful focus. As the Andrew Heiskell arts director of the academy, Peter ensures that half of the fellows have all they need. "I support them—help them find resources, do studio visits—and give them a shoulder to cry on, though there's not much of that, since everyone's very happy to be here." On top of that, he helps plan the 30 events the academy hosts annually—a recent one was a reading by Sally Mann from her new book, Hold Still—along with exhibitions, such as this past fall's show of photographs by Cy Twombly, the American artist who had long lived in Italy.
Meals come from the Rome Sustainable Food Project, which Alice Waters dreamed up just for the academy (think picked-moments-ago produce and a divinely light take on Italian food). "The academy is unique in that the community eats together twice a day—it's not required but everyone goes because the food's so good!" Peter says. "It's a wonderful way to exchange ideas. Being here is about being interdisciplinary and collaborative and seeing one's discipline from different points of view."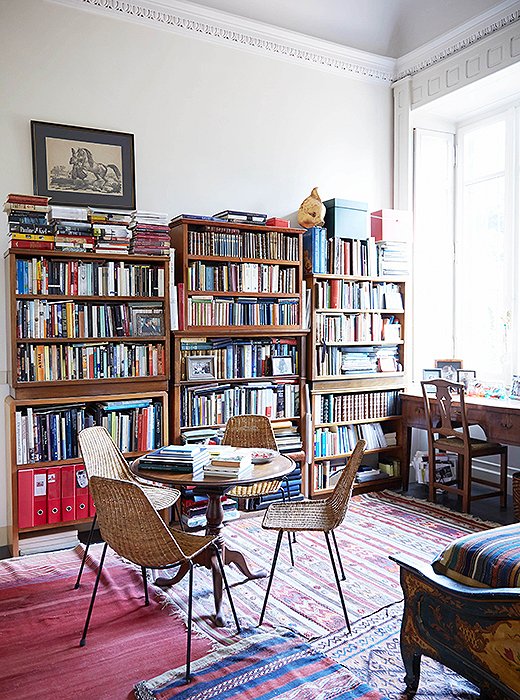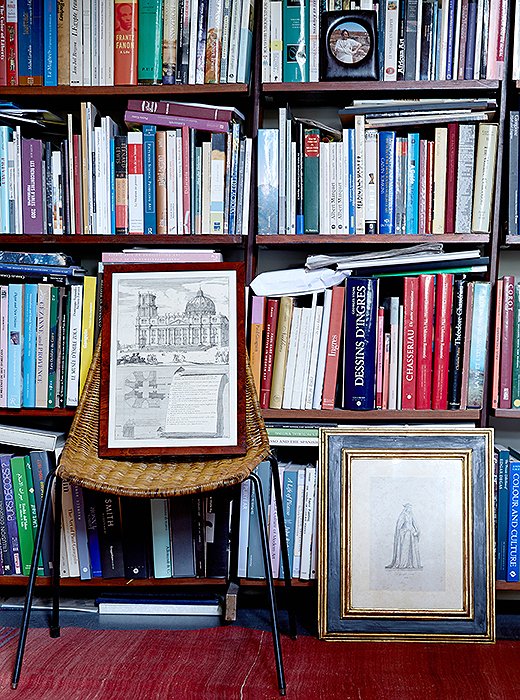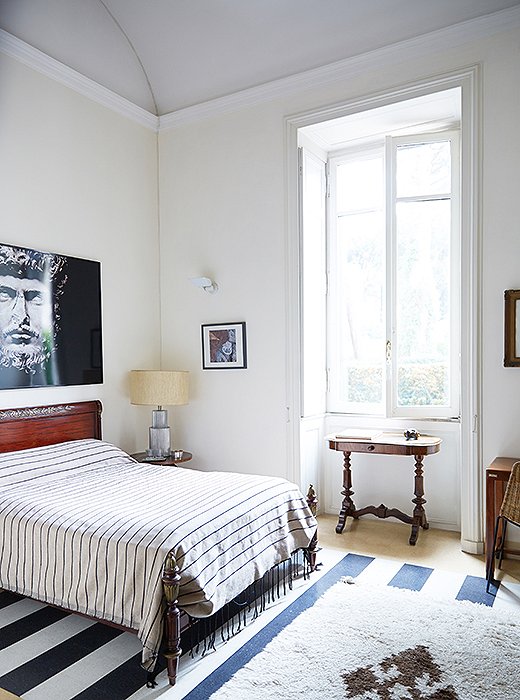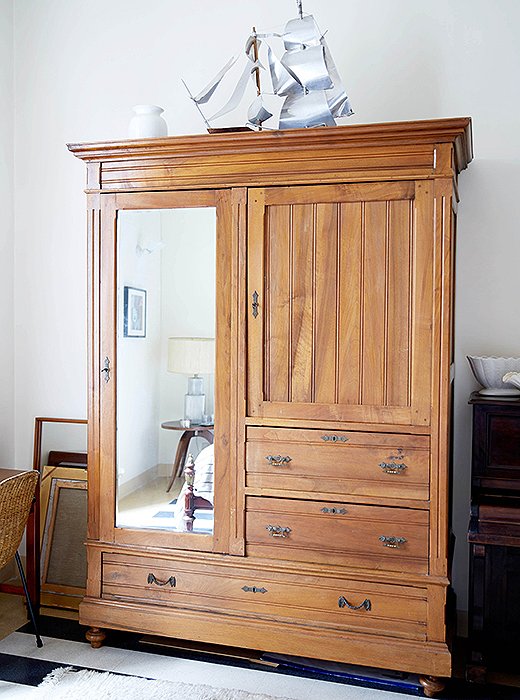 Savoring Downtime
With an intensely social job, Peter uses any pockets of time to keep up with friends outside the walls of the academy. "We try to lure our friends up the hill to dinner," he says. "There's no tradition of hard liquor in Italy, so cocktails are prosecco, or champagne if we're feeling flush." Peter adds that you never need to specify when to come for dinner. "If you're invited to dinner in Rome, you know not to come until 8:30 or 8:45 p.m. and that you'll sit down to dinner at 9:30 p.m."
Settling In
Peter seems remarkably settled in the Roman life he's built. But whenever they have a chance, he and his partner decamp to their country home in Puglia, which they've spent seven years putting together, to garden and decompress. "There are difficulties, of course," Peter says, "but all in all, for the things we look for in the place we live, Rome is the right place for me."