There's an art to creating a perfectly styled bookshelf. There are the books, of course, but what about the accessories? We're here to show you that achieving a beautifully layered yet balanced look is easier than you think—and our strategy works whether you've got a single floating shelf or a whole wall of built-ins.
Read on for our step-by-step guide and shop our favorite bookshelf-styling picks.
Step 1: Start with Something Tall
Before you add even a single tome, we suggest giving your shelf vignette a little height—this could be a tall, slender vase, a sculptural glass hurricane, or a beautiful ceramic ginger jar. Adding the tallest object first helps establish the scale of your finished vignettes; it also ensures that your bookshelves will feel nicely full.
Step 2: Add (Beautiful) Books
No bookshelf is complete without them, after all. But don't just go for any books—this isn't the place for worn paperbacks or your old college textbooks. Look for volumes with decorative spines or covers in lovely hues (we like a mix of new and vintage; beautifully bound photo albums work here too). You can even group books by color for an extra-polished look, or coordinate them with the objects you'll be adding to the shelves. Here, we built off the blue-and-white chinoiserie vase with books in a palette of blues and muted greens.
Step 3: Give Each Shelf Structure
Now we're getting to the really fun part—the accessories. But before you dive in and start placing pieces, start by choosing just one impactful object per shelf: This will serve as your anchor as you build out each shelf vignette. A large sculptural objet, a decorative box or tray, even a potted plant—almost anything goes, as long as it's visually weighty enough to serve as a focal point.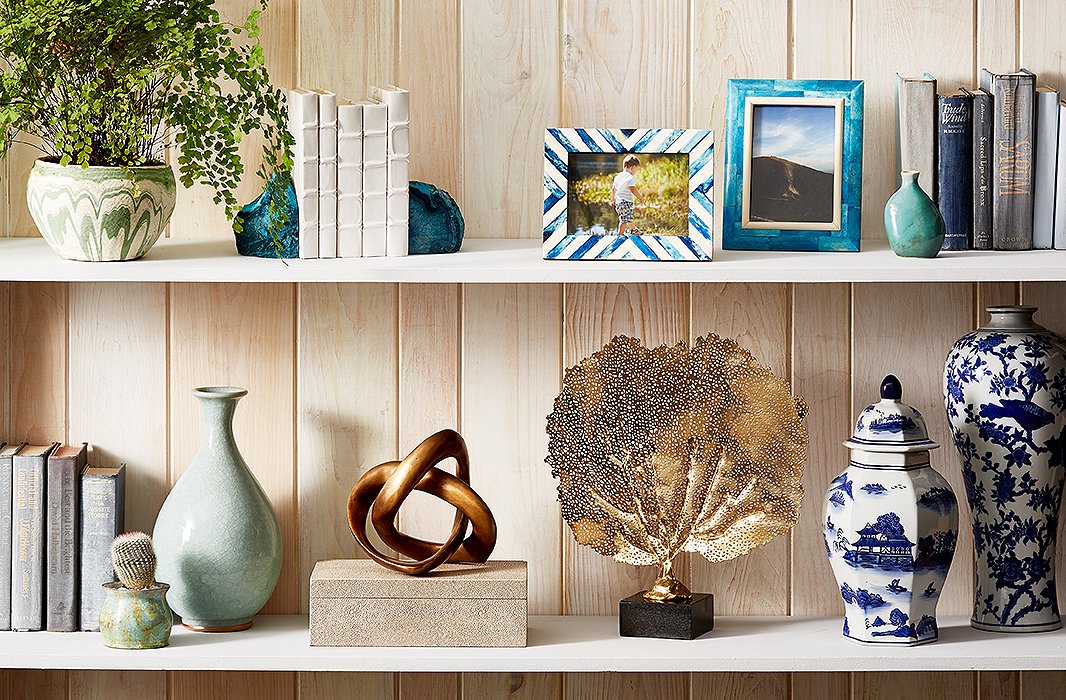 Step 4: Fill Out the Space
To complete your shelves, look to smaller objects and mementos that are easy to refresh with the seasons. In keeping with our cool palette, we added a sculptural metallic sea fan, a pair of blue agate bookends, bone-inlay frames that hold favorite summer memories, and smaller ceramics in shades of turquoise.
When creating your vignettes, keep balance in mind. As you add pieces, take a moment to consider the shelves as a whole. One spot might need more color, or maybe a rounder shape—there's no right or wrong arrangement, so go with what's pleasing to your eye. Another stylist trick: Be sure to overlap some objects and place some at a slight angle. The result will be a more natural-feeling, less-fussy look.
The last step? Stand back and admire your handiwork!