You don't need to slave over puff pastry or craft dozens of identical hors d'oeuvres to delight your guests. In fact, you don't even need to turn on the oven. Our go-to for entertaining is a classic cheese board that mixes creamy, stinky, and nutty favorites with crackers and other nibbles. With cocktail-party season upon us, we asked stylist and foodie Michelle Wong to create two cheese boards—one sweet, one savory—that look as good as they taste. Read on to learn how to assemble an easy and abundant spread that's sure to please.
Find Your Fromage
Pick three or four cheeses in a range of textures—soft, semisoft, hard—and a mix of mild and strong. "Don't forget about the stink factor," says Michelle, who included a blue in each board. Not sure what to pick? Ask your favorite local cheesemonger for recommendations.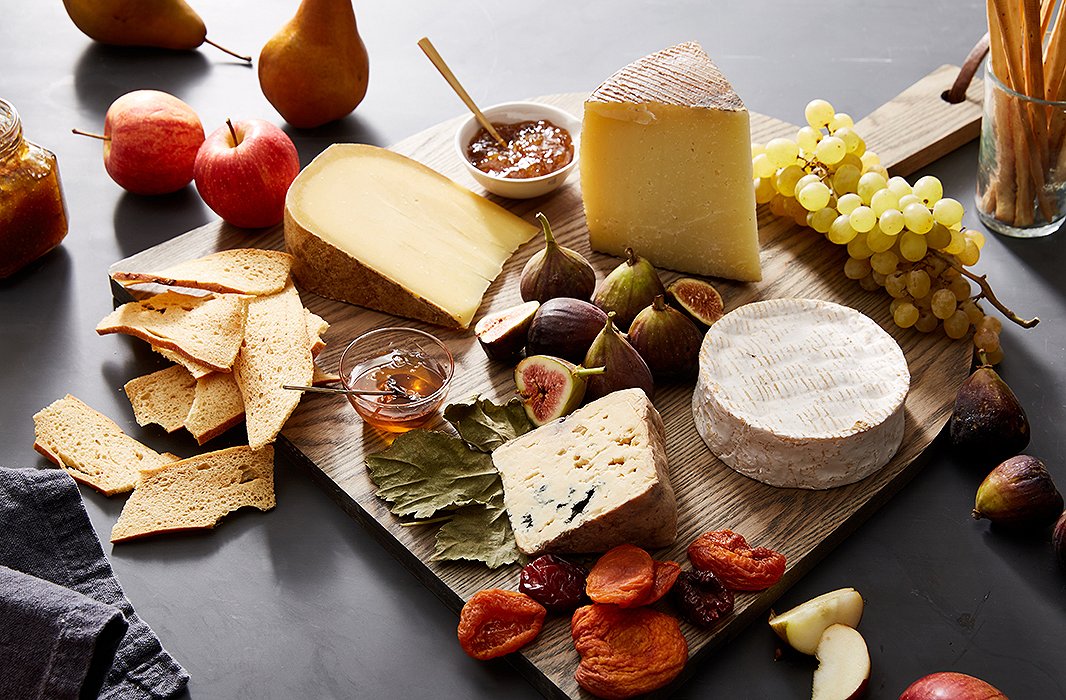 Make It Sweet
Choice cheeses: Michelle opted for a blue, a soft Camembert, a semisoft cow's milk, and a hard manchego.
The sweet accompaniments: An assortment of sliced apples, pears, grapes, figs, and dried peaches, apricots, and dates. "A loose assembly is inviting," says Michelle, who added crackers, grissini, and dishes of fig jam and flavored honey.
Best way to serve it up: Michelle used a wood board to showcase the vibrant seasonal fruits and give a rustic, easygoing feel to the spread. She recommends loading it up ("It's more festive and easier to grab things") and placing small dishes with mini spoons on top for the jam and the honey. "You want to try to keep all the cheeses and flavors distinct, so use different knives for each of the cheese," she adds. "Small spoons also work much better when you're topping your cheeses on thin, delicate crackers."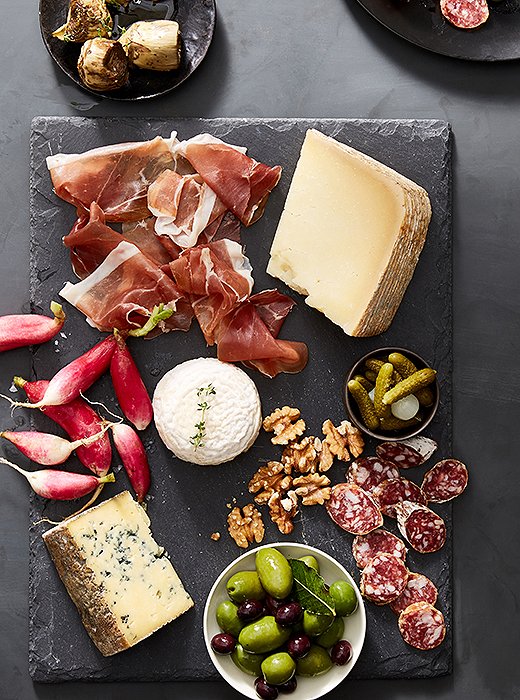 Go Savory
Choice cheeses: Michelle picked a blue, a soft aged goat, and a semihard pecorino to provide a range of flavors and textures.
The savory sides: Along with cured meats—saucisson d'Arles and prosciutto—she added French Breakfast radishes, walnuts, and dishes of olives, marinated artichoke hearts, and cornichons to complete the spread. "Keep jars of cured or pickled snacks on hand during the holidays for last-minute entertaining," she advises.
Best way to serve it up: Michelle used a slate board for this savory assortment, which provides a beautiful contrast to the colors of the meats and cheeses. She recommends preslicing hard cured meats like the saucisson d'Arles: "You want to make it easy for guests to fill their plates and get back to the party."
Know Your Knives
Chisel knife—good for hard and crumbly cheeses (Romano, Gorgonzola)
Pronged cheese knife—versatile enough for everything from soft (Brie) to hard (Asiago) cheeses
Spreader or wide knife—perfect for smearing soft, creamy cheeses (chèvre, Stracchino)
Mini cleaver—an essential for semihard and hard cheeses (Gruyère, manchego)
Cheese plane—a worthwhile tool for thinly slicing semisoft (fontina) and semihard (Gouda) cheeses