She entered the design world with a simple mission: build a better (i.e., more stylish) laptop case. Now Clare Vivier's line of exquisite bags and home goods is wildly popular, thanks to its playful and classic aesthetic. Step inside her Los Angeles studio with us to see where the magic happens.
How did you start designing bags?
"At that time I was producing television segments for French news magazines, so I was traveling often, and there were no cute laptop bags! I've always been interested in fashion, then when I found this hole in the market, I realized there could be something there. So I made my first samples, and that's how I started."
Can you describe your design process?
"When it comes to a new season, there are a couple of things happening: We will have already been pulling inspiration for a while, so once we've decided on the shapes we want to try, we'll look at the leathers and prints we've been developing as well. We'll merge all these pieces together, figuring out which leather works for which design and which print works for which shape. This process is me and my design team working together."
Are you a devotee of the inspo board?  
"I have a huge inspiration board in my office that is constantly evolving. There's a mix of entirely random elements on there, but it's always a source of reference."
What does a typical day in your life look like?
"The best part is that every day is different. I love days when I'm in the office the most because I love being able to connect with everyone in the studio and have time to really work without interruption. There are many days, though, when I have to leave for lunches, meetings, or events."
Are you more creative in the morning or at night?
"In the morning—after an espresso."
Why are you adamant that all your production is done in Los Angeles?
"At first it was out of convenience. I didn't come from a production background, so I didn't know the first thing about producing items overseas. I thought, 'Well, L.A. used to be a manufacturing town,' so I started asking around, and I found my first factory, which was a factory in Burbank that we still use today, although we now also use four other factories here. As we grew, we realized that these factories were hiring more employees to accommodate our asks, so we got to see firsthand how it affects the economy when you produce something locally. It turned out to be a lucky accident that I'm really, really proud of and hope to continue."
We love the minimalism of your bags. Why did you decide to take that approach?
"My bags have always been very simple. I like things that are chic, and I love letting the leather or the design speak for itself, as opposed to loading it up with too much hardware."
You've lived in Paris (and have a French husband). Would you say that this is a French influence on typical Southern California style?
"Definitely. I think that's exactly where they meet up. You wouldn't necessarily think this, but what I see in California is very simple and chic—there's something about the desert and the environment here, the clean lines and modern architecture. And in France they're known for their classic designs that never go out of style."
What are you thinking about when designing a bag?
"I'm thinking: Is someone going to want to wear this in five or ten years, is someone's daughter going to want to carry her mom's bag after 20 years?"
Your bags are known for their color-blocking. Talk to us about color!
"That style initially started when I was making my own bags. I didn't know how to sew complicated things, but I knew that I could make things interesting and chic in a very simple way by adding little dashes of color. I tried to approach color in a clever way, so if I was using brightly colored zippers, you wouldn't just have a blue bag with a blue zipper, but a blue bag with a red zipper, or a green bag with a navy zipper. These were colors that I liked together, and then we became known for that."
What trends will we be seeing in your upcoming lines?
"People have been really reacting to our patterns—we're printing more and more on our leather and canvas with our original prints that we design in-house. As far as shapes go, I think we'll continue to do our simple, classic, chic shapes."
What inspires you?
"I find inspiration in French art books, in people on the street, and in people I know. I also have a stockpile of my favorite magazines, especially international editions, around my desk. And every time I travel I pick up new things and come across new ideas. Traveling has become key to my design process."
Is there any advice you wish someone had told you when you were making your career switch?
"My advice to young people who want to get into the design world is to intern at a medium-size company before they go out on their own to get as much experience as possible and see the different sides of the business."
You've said that your blog was instrumental to your success. What was the original focus of your blog, and how did it help your business?
"It was about my life in Los Angeles and in France. I wrote about my family, new designs I'd created, the design community, and creative people in Los Angeles. I also posted about fashion and documented the things that I was wearing. It was as instrumental to building my business as it was because it was the perfect time for it. It was before the blogosphere was as saturated as it is today, and it was still novel to read about people's lives on a daily basis. At the time, that was the only way I had to build the brand, and it happened really organically."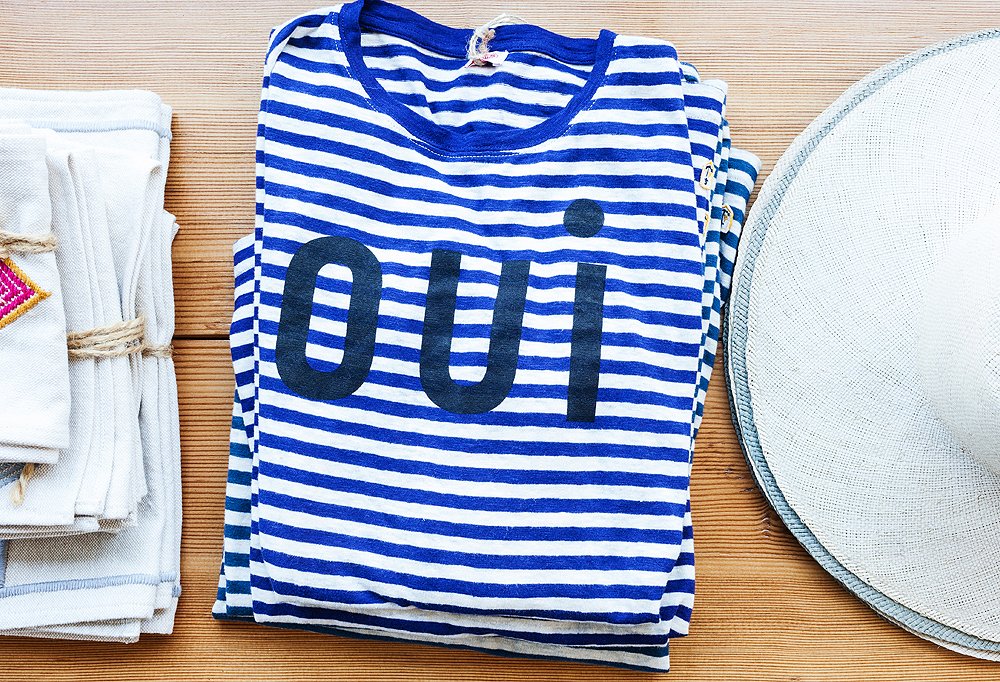 What kind of decor do you have in your home?
"The home itself is from 1905—really old by Los Angeles standards. And inside we have a mix of design elements. I didn't want my decor to be too true to the Victorian period, because it can get too dark, so we have very colorful modern art and midcentury pieces that make it a little more modern. It's very eclectic. We go to the flea market almost religiously."
Do you have a favorite era when it comes to furniture?
"I am attracted to midcentury. I like how it looks in our home because I like the contrast. Sometimes if it's too much of one period, it gets a little boring, so I like to mix things up."
What do you love about what you do?
"I love so much about what I do, I don't know that I can pinpoint one thing. It's the people I work with, the fact that we get to be creative, seeing the new samples come back to the studio, and seeing the product out in the world."