One Kings Lane co-founder Susan Feldman, who launched the lifestyle site In the Groove, sat down with three expert entertainers to chat dinner-party hosting. Read on to get inspired by their tips—and by a tablescape set around their favorite ideas. 
When it comes to entertaining, some serial hosts just can't get enough. "It becomes infectious," says Jane Larkworthy, editor at large at The Cut, who loves having friends over for casual dinners in her Berkshires home. "It's a great way to bring people together who don't know each other. And that can't help but warm your heart," says Jane. For Heather Taylor, founder of textiles line Heather Taylor Home, entertaining is when she's happiest: "It's such a precious moment, sitting around the table in a beautiful setting and eating delicious food. It's my dream." Eddie Ross, an author and stylist who runs a creative studio, turns to entertaining not only to bring people together but also to set a fabulous scene. "I think a table really tells a story of who the person is," he says.
Aging codes of etiquette still have a tight hold on entertaining, but our experts recommend throwing those out if they're not in line with how you host. "A lot of my customers are intimidated by the entertaining process," Heather says. "But you can do whatever you want. Just buy something you love, build a collection over many years, and pull it all together in a way that makes you feel happy." From the table to the drinks to the food, here are a few (completely optional!) guidelines these entertainers turn to for their own parties.
For the Table…
Start with the tablecloth, if you're using one. "When I set a table, it's always the tablecloth that's a canvas," Eddie says. "That sets the tone, and then work from there. That's where I pull colorways and palettes from."
Shop table linens →
Don't get caught up in matching. Whether it's the dinner and salad plates or the colors you use, not everything on the table needs to coordinate. Eddie recommends using the same color in multiple places, like the peachy poppies and place cards seen here, to add a moment of cohesion.
Set with intention. "Something that makes me crazy when I go to someone's house for dinner is when they set the table for just pretty," Eddie says, referring to when hosts include extra dishes in a setting only for show. "Everything on the table needs to have a purpose."
Consider place cards. For larger events (those with more than eight guests), Susan and Eddie recommend creating a seating chart with place cards. "When you have a lot of people, it's total havoc if you don't put them in a place," Susan says. To mix it up, she likes to have guests change seats after dinner for dessert. It's a great way to allow people who haven't met to mingle. "Or with family, you can keep certain people apart," Eddie adds cheekily.
Shop place card holders →
Know you don't always have to set a full table. "I'm more less-is-more," Heather says. "Maybe just one glass and just one fork. You don't always need two forks. It can be simple and what you have."
Shop your home. One of Susan's and Heather's top tips is pulling together things from around the house to fill out the table—or "foraging," as Heather calls it. If she doesn't have time for a floral centerpiece, she'll use a bowl of oranges or cut branches from her yard instead. Susan has been collecting elephants—the mascot of One Kings Lane—ever since she started the company, so she'll walk around her house to gather them up for table decor.

Get creative with napkin rings. Ribbon, string, a beaded wrap bracelet: These are all simple and inexpensive items Susan has turned into napkin rings. Eddie recently discovered that hollow plastic faucet knobs from Home Depot can easily double as napkin rings, while Heather likes to add an herb sprig or a simple flower to the top of each napkin as a finishing touch.
Shop napkin rings →
Invest in essentials. "It's so helpful to invest in a few great things," Heather says. "Whether it's glasses, linen, plates—it doesn't have to be every single thing, but have a few of those things around so you can easily grab them."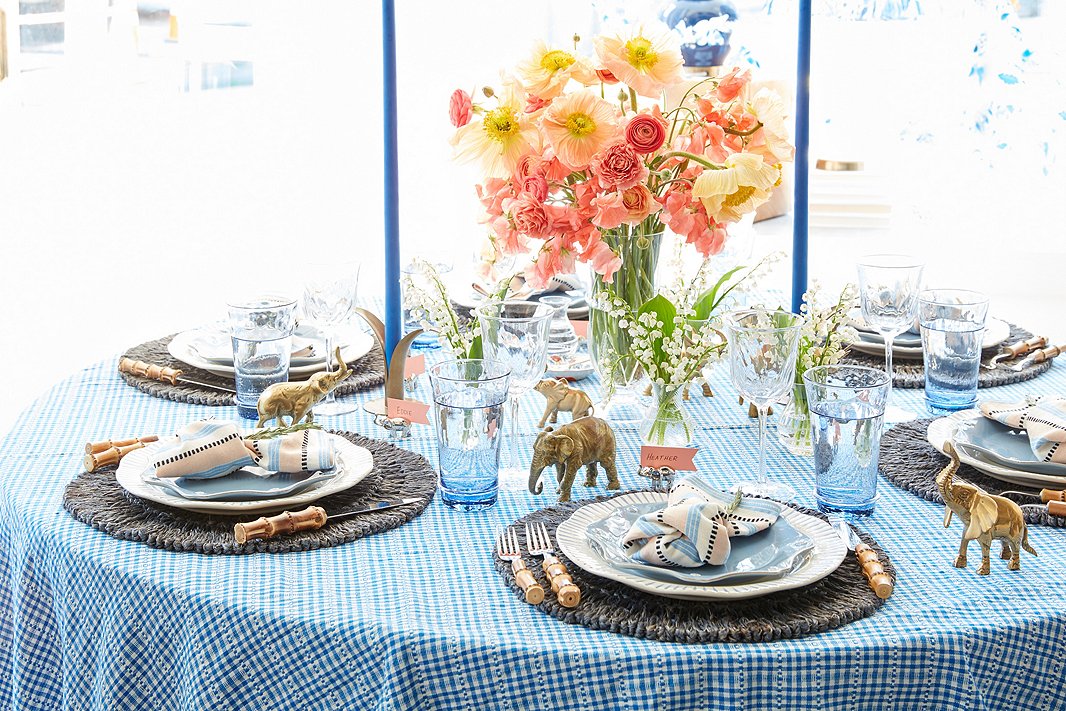 For the Food…
Prep beforehand. If you're not a good multitasker or want to spend more time talking to your guests, consider a make-ahead menu. "Ina Garten always talks about preparing everything ahead of time. Maybe at the most, you just pop something into the oven to heat it up," Susan says.
Don't test out a new recipe. "Whatever it is, you don't want to be doing something for the first time," says Susan. If you want to try out a new dish, give it a practice run a few days beforehand to make sure you get it right for your guests.
Cook with close friends. If you have friends coming over, consider having them help you in the kitchen if you know it's something they'll enjoy. "I'll have guests that I know want to help out, which is fun," Jane says. "But it's a different party," she adds, noting that it might be awkward in a larger setting or with people you aren't as intimate with.
Have others chip in. If you're hosting an extra-large crowd as Jane did one Fourth of July (56 guests!), try asking those who like cooking to bring a side dish or a dessert. Jane sent her helpful sous chefs three recipes to choose from, giving them options but letting her keep control of the menu.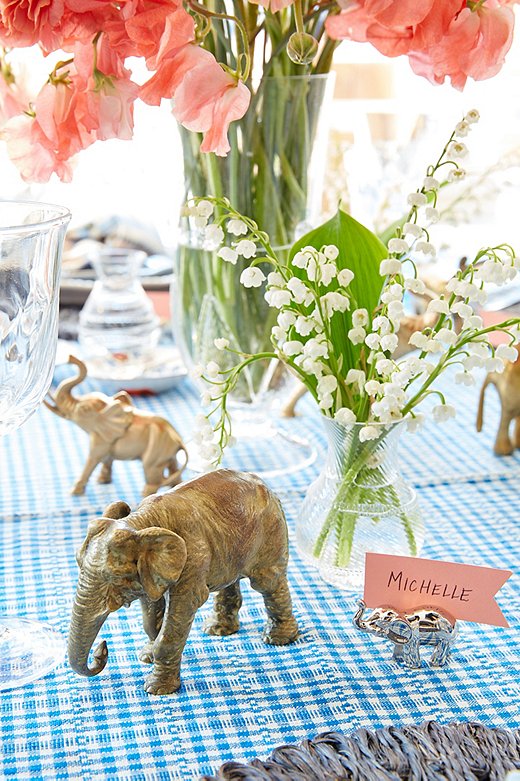 For the Drinks…
Start off with a cocktail. "Something I think makes a big difference is starting people out with a cocktail right away," Heather says. "Maybe there's some festive garnish. It's special but still extremely easy, sets the tone, and gets people ready to have a good night."
Shop bar tools and accessories →
Make refills easy. Another must for Heather: always having water at hand's reach. "I never want guests to have to ask where anything is," she says. A few beautiful pitchers on the table and around the area you'll be in will do the trick. She also likes to have a bar set up where people can easily refill their glasses with wine or a premade batched cocktail.
Shop drinkware →
Elevate ice cubes. "Details are really important," says Susan, whose go-to move for spicing up beverages is bespoke ice cubes—either made in special shapes or frozen with a colorful garnish, such as pomegranate seeds, inside. "It doesn't take a lot of effort to do. And once you have it in your repertoire, it's easy. It shows you did a little bit extra for your guests."
Shop ice buckets →
The Elevating Essentials
Every entertainer should have an arsenal of go-to pieces for a successful dinner party. Eddie, Jane, and Heather dish on their favorites below.
Colored Glassware
For Eddie, colorful glasses are a must—preferably mismatched and a mix of new and antique. "It's a beautiful, sparkling focal point, and it elevates china and anything else on the table," he says. Eddie has been amassing a collection for years and likes to pick up new finds at anywhere from thrift stores to One Kings Lane.
Shop colored glassware →
Linen Napkins
Due in part to her line of work, linens—and most notably linen napkins—are always at the ready for Heather. "It's nice to have a linen closet that's stocked so you can instantly pull something out that feels really beautiful really fast," she says.
Shop napkins →
Salt Cellars
"It's an aha moment," says Eddie of salt cellars, which both he and Jane use at each place setting as an easy way to elevate the table. If you don't have salt cellars, Eddie suggests using petite vintage teacup saucers instead.
Shop salt cellars →
Candles
Heather cites unscented candles as a must for entertaining. "You can set a mood so quickly just by lighting candles on the table. And you don't need that many," she says. Jane opts for extra-tall 30-inch tapered candles from Creative Candles—an idea she borrowed from a friend's dinner party. "They're so dramatic. And you can still see the person across from you."
Shop candleholders →
A Guest Book
Guest books are commonly used for weddings and showers, but one can be a thoughtful (and useful!) tool for dinner parties too. Heather uses hers to document her soirees by writing down the guests who attended, the menu, and what the table looked like. It's a helpful way to remember what you served to whom and which guests attended—not to mention a great way to reflect back on the happy memories.