True authenticity can be hard to come by these days, which is what makes each piece from Farmhouse Pottery so special. Founded in 2008 by husband-and-wife team James and Zoe Zilian, the Woodstock, VT-based company offers kitchenware and accent pieces perfectly suited to modern living—each handmade by artisans using Old World techniques and simple tools. Read on for a peek into the Farmhouse Pottery studio and to see what sets these beautifully crafted pieces apart.

From Passion to Profession
Though Farmhouse Pottery officially launched with a bowl James made in his home studio, its seeds had been planted quite some time earlier. James's love of pottery began with a sixth-grade art project (under the tutelage of a Mr. Burrows, as James fondly remembers), and he continued to hone his pottery skills through high school. After James met Zoe in college, the couple began working together and eventually settled down in Vermont, where James worked as a design director at a glass company and Zoe stayed home to raise daughters Ava and Mia.
The drive to make something with his own hands—and to involve his family in the process—led James to create the Windrow Bowl (still a favorite of his) for his daughters to hold while they picked berries from the garden. The bowl was a hit and sparked a fledgling pottery business, with James fashioning new designs in his evening hours and Zoe glazing and shipping pieces from the family's living room.
Today Farmhouse Pottery encompasses an airy studio where eight artists throw pottery every day plus a charming shop where the brand's devoted fans can browse its wares alongside curated local goods.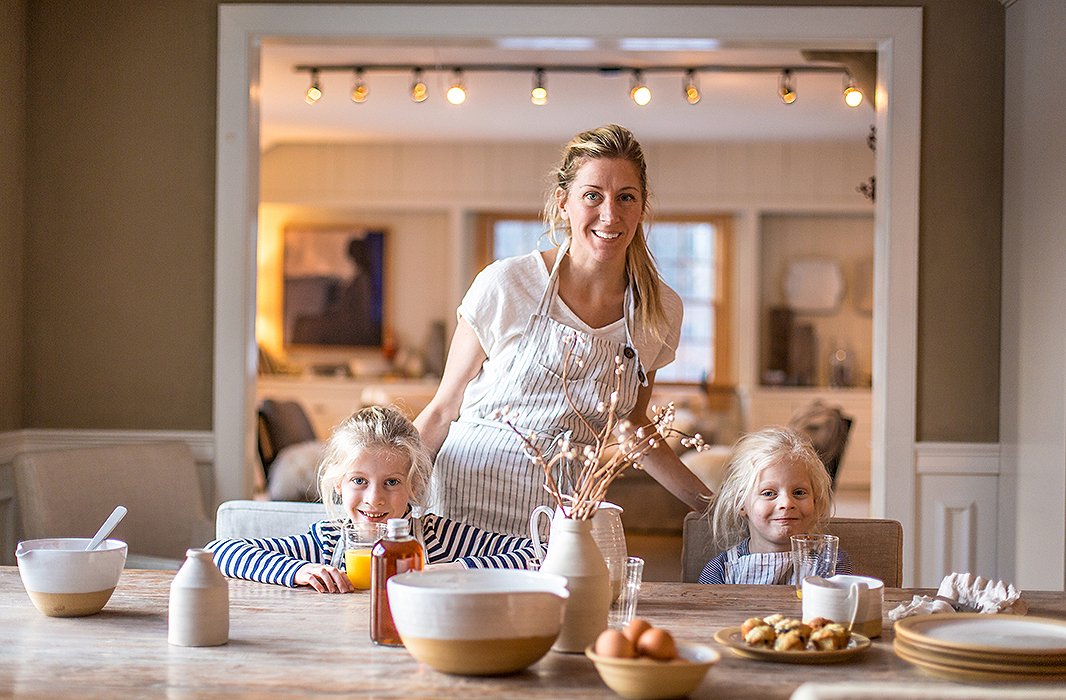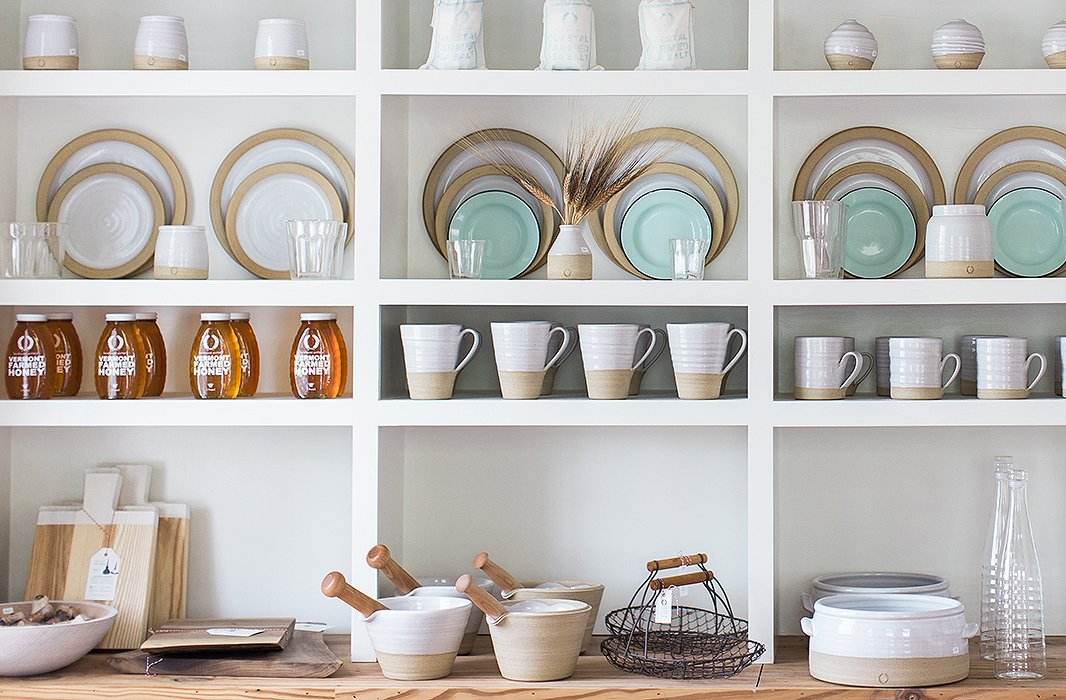 A Commitment to Craftsmanship
Practicality, quality, authenticity: These values are at the core of every piece Farmhouse Pottery creates. "We have no interest in making something that is just another 'thing' to have in your home that fills up space but adds no value," Zoe says. "We take our time with every step in the process of making our pottery. Our goal is to make something that our customers will be proud to live with and use every day."
It's this commitment that makes each piece feel truly special to use, and it shows in the designs themselves. Because each mug, bowl, and pitcher is made by hand, no two pieces are exactly alike—meaning nuance, personality, and even the light fingerprints of the artisans shine through.
Our goal is to make something that our customers will be proud to live with and use every day.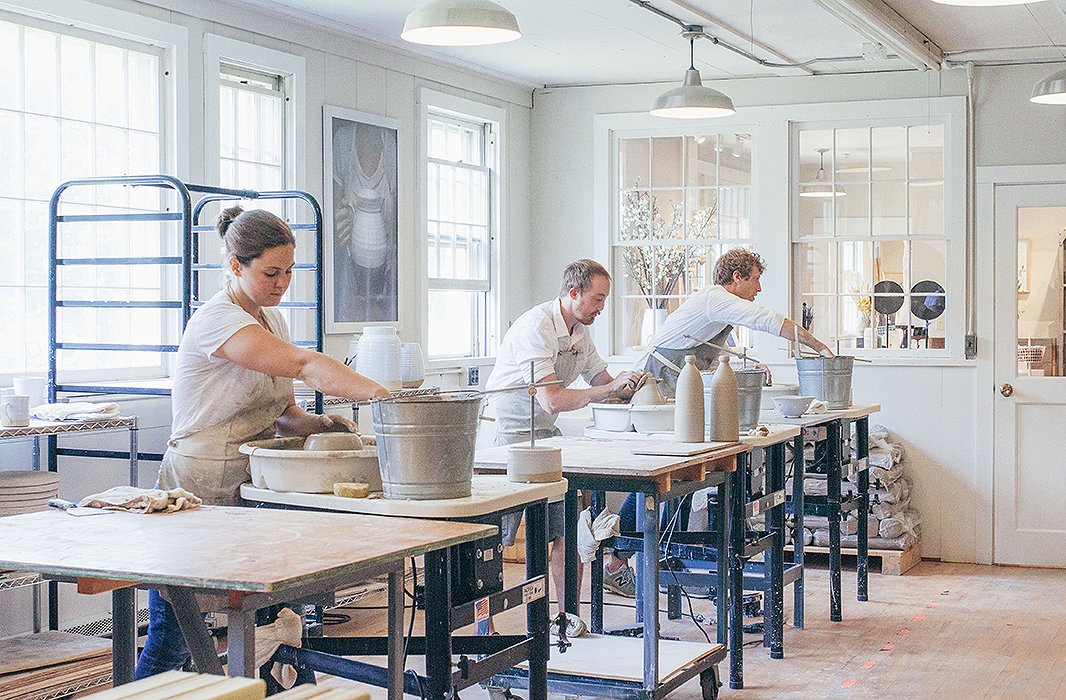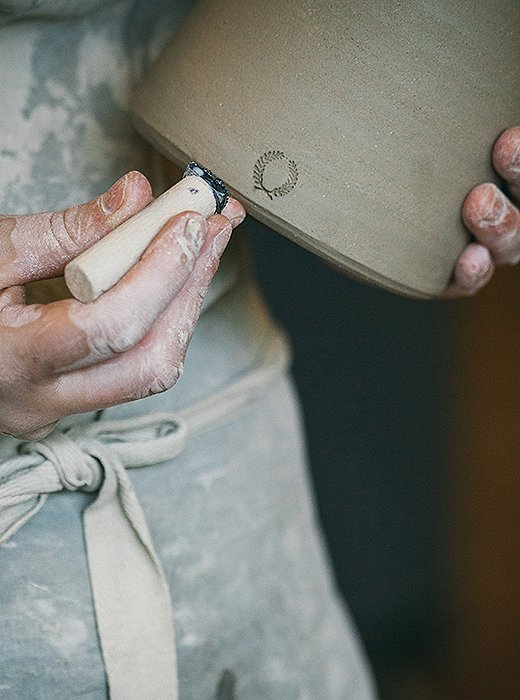 The Artisanal Technique
It starts with special clay. Farmhouse Pottery uses a custom blend of stoneware clay, developed specially by Zoe and James to be as durable as possible and to align with their simple aesthetic. It's mined and blended in the USA.

It has the potter's touch. Once the clay arrives in Woodstock (these days it comes by the ton!), the potters evaluate it to ensure it meets Farmhouse Pottery's high standards. Then each design is thrown by hand on American-made potter's wheels.
It goes through a rigorous finishing process. Once the pottery's form is made, it spends a night in a humidity-controlled room before being set to dry in the studio for several days. After that comes two rounds of firing in the kiln (also American-made), first to strengthen the piece, then to glaze and finish it. Once the designs have cooled, they're sanded and checked for quality. James estimates that any given piece passes through artisans' hands 25 times before it lands in your home.

Watch the video below to see the pottery-making in action: