"Texture is my color," says designer Beth Webb, and that's beautifully apparent in her debut lighting, furniture, and decor collection for Arteriors. Materials as diverse at rattan and linen, mango wood and iron provide the palette as well as the texture for her designs.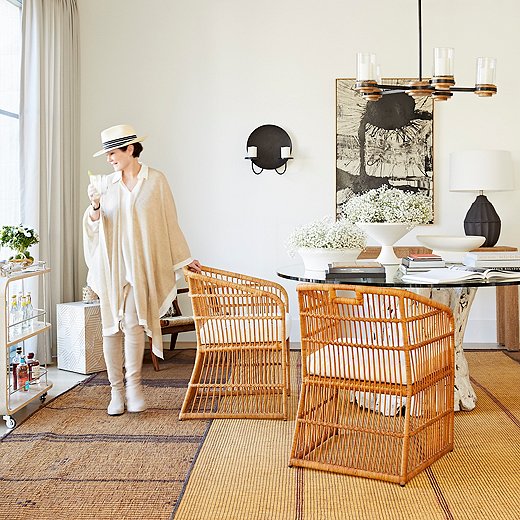 The founder of an eponymous Atlanta-based design firm, Beth has had interiors featured in just about every shelter magazine you can name. While neutral tones are a hallmark of her aesthetic, her rooms are anything but one-note. That's due not just to the wealth of complementary textures but also to the breadth of her influences. A third-century Roman glass she spotted in L.A.'s Getty Collection inspired the Positano table lamp in her Arteriors collection; sculptures by Alberto and Diego Giacometti influenced her Charles floor and table lamps. Ethiopian string jars, Japanese ceramics, and Wyoming wildlife are among other inspirations.
"Travel has always inspired me, more so than anything else," Beth says. "When I think of the places that inspired this collection for Arteriors, a few come to mind. We took a very special trip to Comporta, Portugal, several years back, and it's one of the few truly untouched beaches left in Europe. The South of France has always been a benchmark for me as well, along with Uruguay."
Some inspiration for the assortment, however, came from much closer to home—Beth's own home in South Carolina's Lowcountry. "It is a very contemporary house with glass on both walls. The palette is completely neutral in a wonderful way. The materials that were inherently used to make up the space were beautiful textural, tactile surfaces," she says. She designed her entire Arteriors collection from there.
"Texture is what makes a space dynamic," Beth notes. "It's what enlivens the room—that rough against smooth, hard against soft. One of the most important parts of what I do as a designer is create that tension in the room with surfaces."
Not that Beth's designs will make you feel tense—far from it. The curated palette ensures that the whole of the disparate textures is more serene than the sum of the parts. Beth says her collection is meant to invoke another of her favorite locales: "I love St. Barts, and that whole wonderful lifestyle is the way I want this to feel: approachable, authentic and warm, and fabulous every day."