We love a good gallery wall and believe there's no better way to show off your art than displaying it salon-style for all to see. But we know that each collection is different, calling for its own unique wall layout based on the size and number of works you want to hang, the design of the room it lives in, and the general look and feel you want it to impart. Here, we've gathered a guide to creating the perfect gallery wall for every style and space. Read on for inspiration to wake up your walls.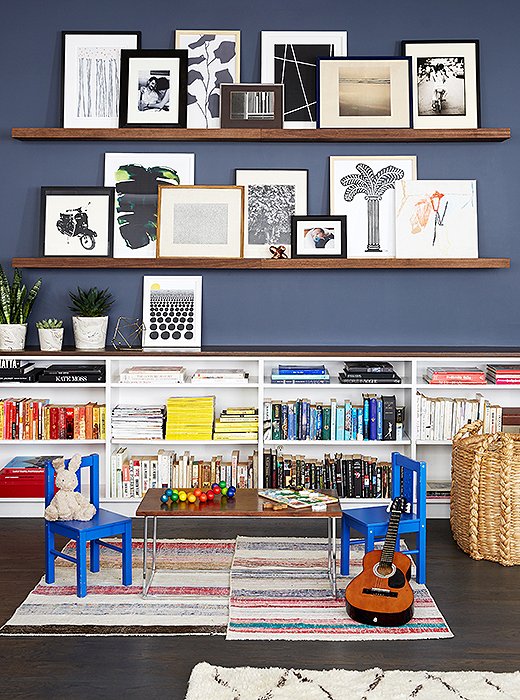 The Lean
Art doesn't always have to be hung on the wall. A long, shallow shelf—whether solo or in multiples, as seen here—makes for a more casual way to show off your collection thanks to the laid-back lean of the artwork against the wall. Choose works in a variety of sizes and orientations for a more layered look, and if space allows, try adding a small vase or objet in front of the art for extra visual appeal.
This look is especially great if you like to swap out your artwork often, as it offers a hardware-free way to change up your space for the season—or whenever the whim strikes.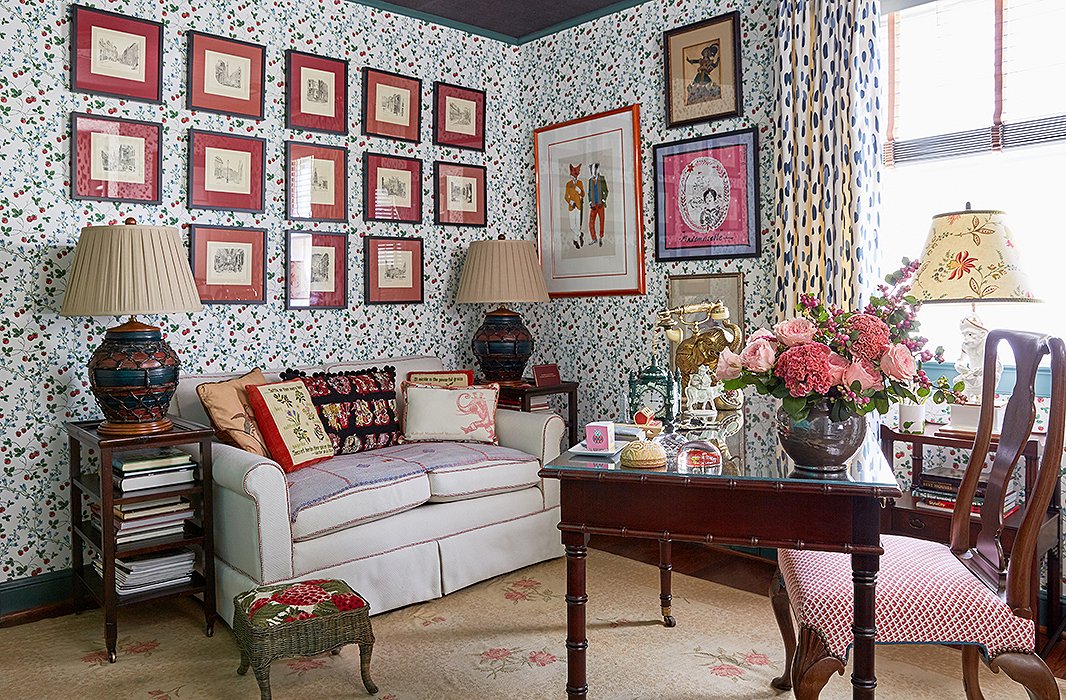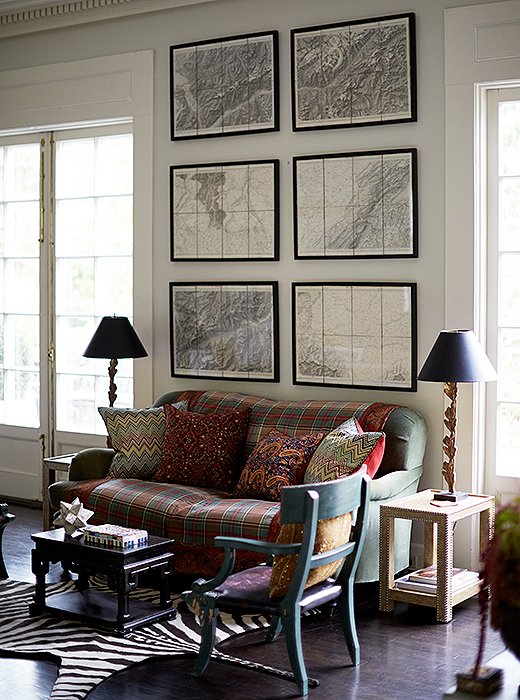 The Grid
Fans of order, look no further than the grid for your gallery wall formation—a symmetrical look that's sure to give any room a classical appeal. To play up a sense of consistency, opt for a series of coordinating (though not necessarily matching) works in identical frames. We love the addition of colorful matting for an extra graphic pop.
Be sure to take extra care when hanging this type of gallery wall, which is less forgiving of uneven measurements thanks to its reliance on symmetry and straight spacing.
The Top-Down
You'll find that many gallery walls start from the center and radiate outward, giving the arrangement that loose, eclectic feel we love. This look retains that classic "gallery wall" vibe with one very forward-feeling update: The artwork starts from a straight line at the top. Try this arrangement with a mix of black-and-white photography, drawings, and prints for a decidedly modern vignette.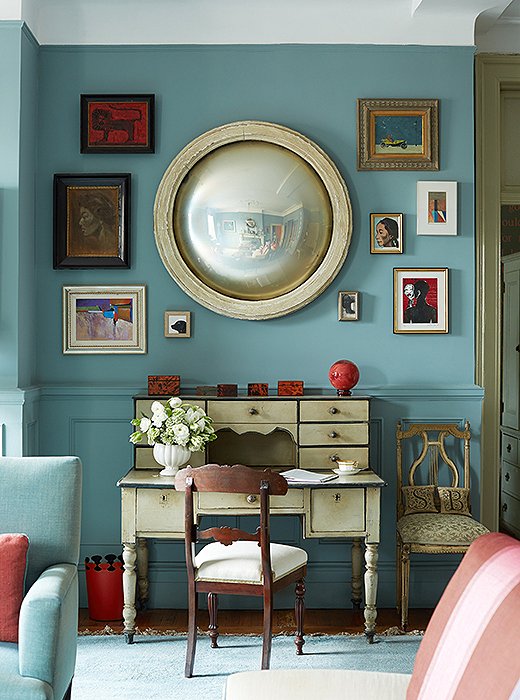 The Focal Point
This type of gallery wall is all about making a statement. Create a focal point in your space by flanking an oversize piece—whether art, a mirror, or another decorative wall accent—with a collection of smaller works. This arrangement works especially well for anchoring large pieces of furniture such as a sofa, a desk, or a bed.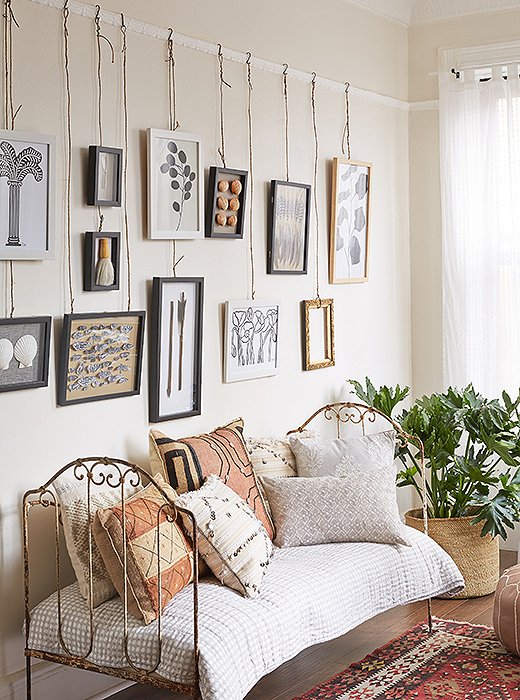 The Throwback

The picture rail, an old-school design detail meant for easily hanging artwork on the wall, gets an inventive makeover in this fresh look thanks to rope-wrapped craft wire used in place of traditional hangers.
It not only adds a little rustic charm to the space, but it also adds height to a room with a low ceiling and more drama to an area with a higher one. If you're not sure where to start, check out our take on the clever DIY right here.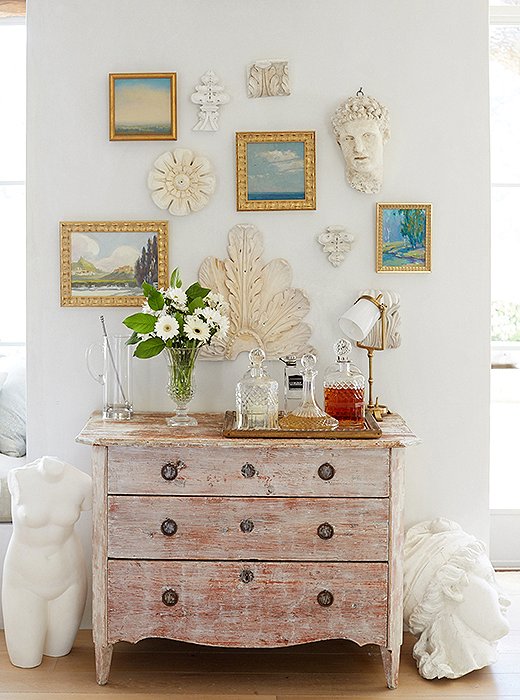 The Mix
Gallery walls are for more than just artwork. Show off the rest of your collection—from wall plates to sconces to plaster busts—by hanging them alongside more-traditional pieces of art. It's a great way to fill in blank space, add a lived-in layer to a room, and make a break from the conventional. The mix-and-match nature of the look also makes it more adaptable, since you can add on pieces as you find them without rearranging the whole wall. Consider this the best way to display a growing collection.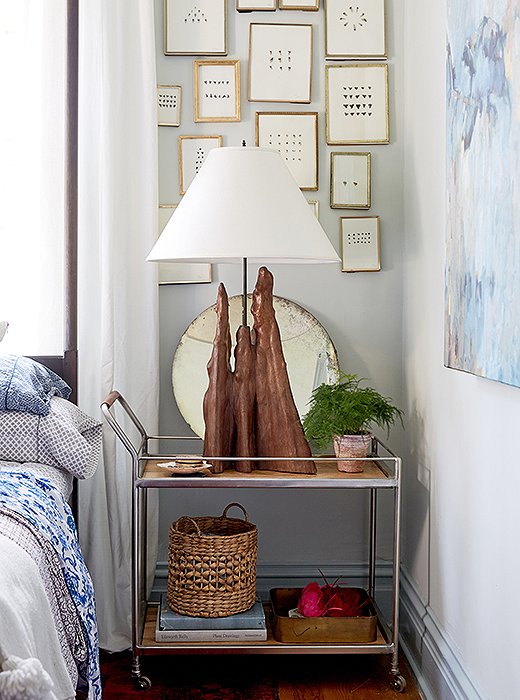 The Match
If you like your gallery walls with a degree of uniformity but without the formality of a grid, hang up artwork in coordinating frames. A mix of sizes in a matching color and finish will create a look that feels cohesive and put together but not too structured. We especially love this approach for displaying related works, like the prints of butterflies and insects shown in the mudroom here.
The Common Theme
Your child's drawings, abstract paintings, thrifted prints, vintage photography… If you're a collector of any specific kind of art, consider hanging it all in one gallery—the ultimate tribute to your genre of choice. As shown by the arrangements of delicate watercolors and nautical paintings here, this look makes a wonderfully eclectic statement no matter your style.