Color is everything for the Kashanian family. For 150 years, they have lived in a richly hued world of soft wool, sumptuous silk, and fabulous designs, which is reflected in the one-of-a-kind floor coverings of F.J. Kashanian Rugs.
Persian and Agra rugs serve as the basis for most of the company's designs. Gilda, the lead designer for F.J. Kashanian and the family matriarch, then imbues her designs with a modern sense of color. "Inspiration can come from clothing, movies, home decor," says Gilda's son, Jonathan Kashanian. "Every week she introduces new shades of colors and spares no amount of time to get the color just right."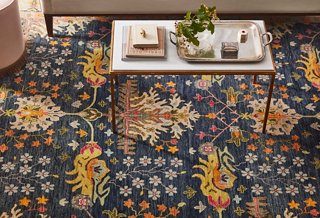 It takes one year to get a rug from Gilda's mind through the hands of weavers in India and into the home of a client. "The rug-making process, like all design, starts with an idea," says Jonathan. "The most difficult task is getting that idea from our brains to paper." There is a lot of back-and-forth discussion between Gilda, the design team, and the team in India to perfect each of the 100 designs F.J. Kashanian releases each year. "Sometimes, if we're not happy, we have to start all over again or discontinue the design right there," Jonathan says. The weaving can begin only once the design is finalized.
The physical rug-making process takes four months. There are usually three to five skilled artisans working together to weave a single rug. And you won't hear your standard office chatter while the weavers work. "There is always a master weaver who sings a cadence that is calling out which color goes to which spot," Jonathan explains. It also speeds up the process: Instead of having to continually look from their loom for instructions, the weavers follow the  dictations of the master weaver. "It's an art form that has been passed down for generations," Jonathan says. 
The heirloom-quality rugs are made mostly out of wool, one of the most durable and traditional fibers for floor coverings. The more contemporary patterns in the F.J. Kashanian library use a mix of wool and silk. Regardless of their materials, each rug is a modern take on time-honored elegance.