We often think of a hallway a mere pass-through, a way to get from point A to point B. But even the narrowest hallways have space for a little beauty—and bonus functionality to boot. Read on for a few of our favorite hallway decorating ideas, and get inspired to give this oft-forgotten space some love.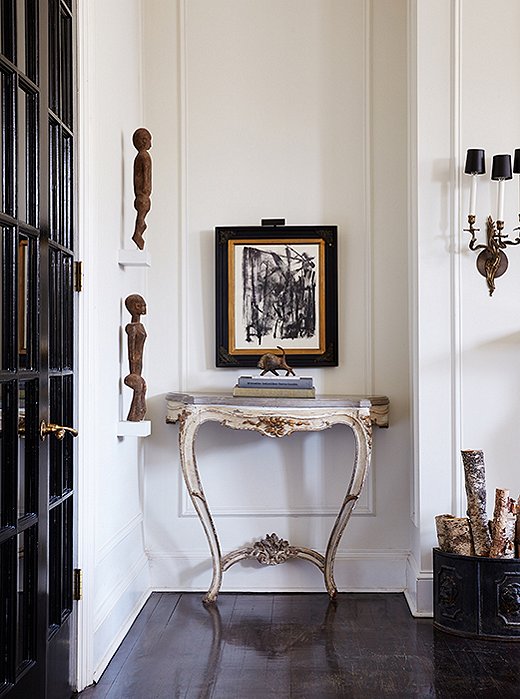 Create a Mini Gallery

It may seem counterintuitive to display a favorite artwork or a treasured collection in a secondary space like the hallway, but an out-of-the-way nook can be just the spot to show off these pieces. Placed away from other objects that might compete for attention, they'll have space to truly shine—and you'll get a little thrill of beauty each time you pass by.
Here, a small drawing gets pride of place above a console table; the surrounding white space lets the piece take center stage, while a petite picture light draws the focus even more.
To the left of the drawing, a pair of sculptural figurines rest on small pedestals, ideal for maximizing wall space while adding major design impact—and for highlighting pieces you truly love.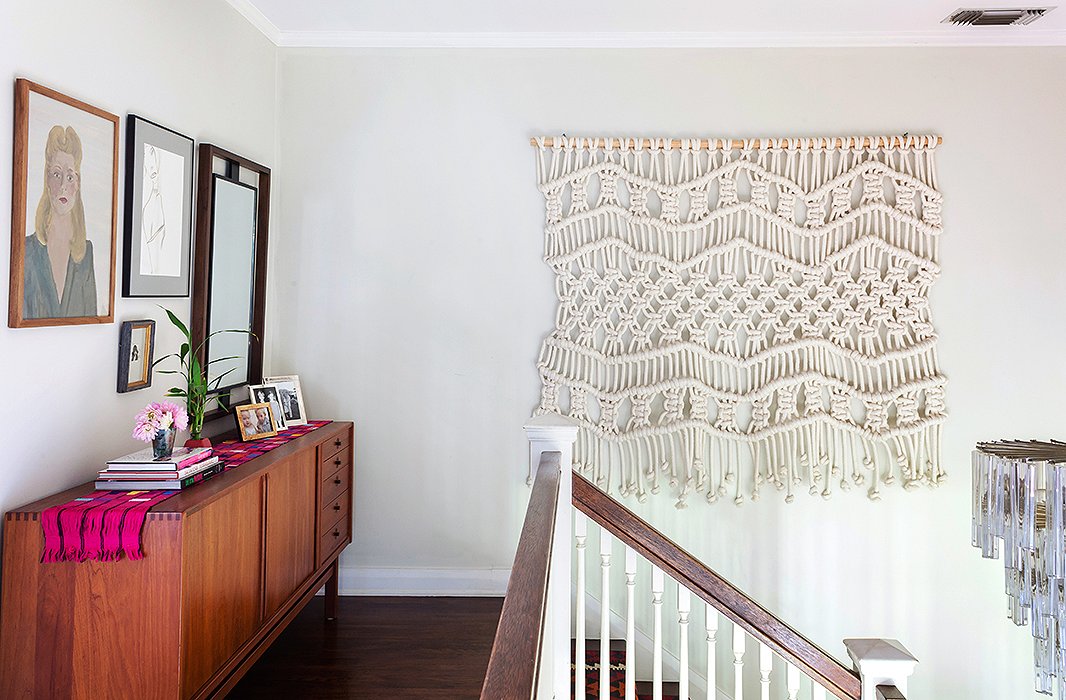 Sneak In Storage
A slim sideboard or dresser can add welcome functionality to an otherwise-empty hallway. Here, a midcentury-style credenza, featuring sliding cabinet doors and a row of drawers, adds tons of storage to an upstairs landing while providing bonus surface space to display family photos, stacks of books, and flowers.
For smaller spots such as this one, look for furniture that's raised off the ground. The slim legs of this credenza give it a lighter look and keep it from overwhelming the space.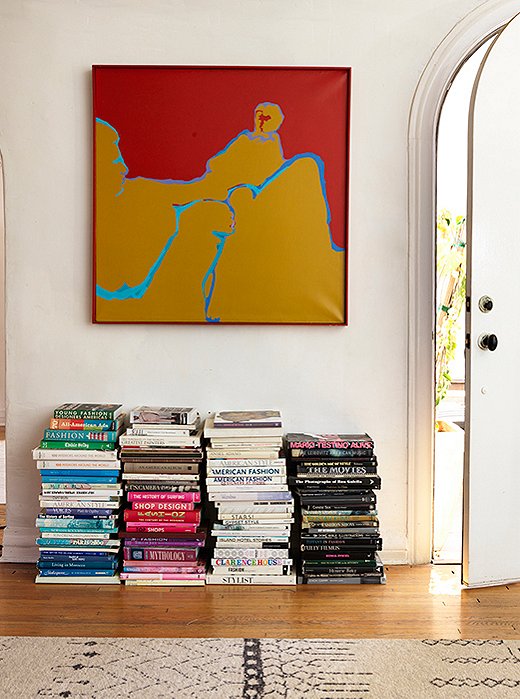 Embrace Your Inner Bibliophile
No room for a full bookshelf in your hallway? No problem. Stacking tomes right on the floor can make for a striking display—and a perfect solve for an overflowing library. Try this setup with oversize hardcover books, which make for the sturdiest stacks.
To give your new "library" a more intentional look, try out color-blocking. Here, stacks of books in black, white, and warm and cool tones give a laid-back arrangement graphic punch.
Add a Strong Focal Point
Turn the end of your hallway into a striking design moment. Here, we livened up a formerly empty stretch of wall with a classic Picasso print and a Louis-style chair. A sprinkling of decorator-worthy details—metallic sculptures, a ceramic figurine, a picture light—helps the spot feel finished and keeps the chair from feeling adrift on the wall.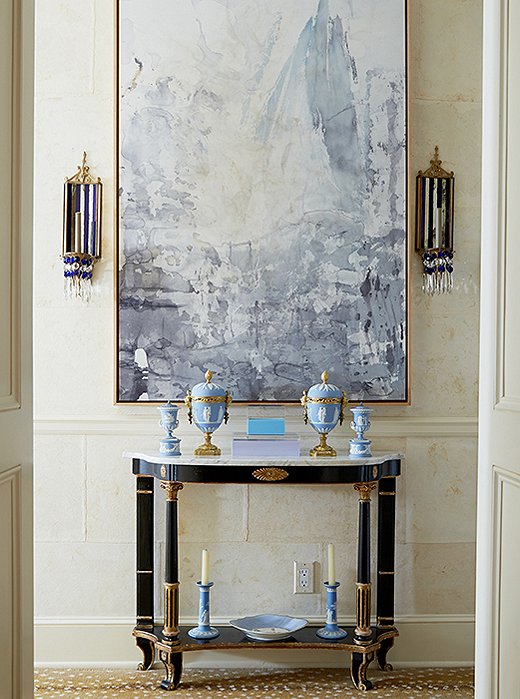 Go Vertical
Play up tall ceilings to make a petite passageway seem more spacious. In this tiny hallway, glimpsed through a set of French doors, an oversize painting draws the eye up, while the surrounding elements (narrow lantern sconces, pairs of candlesticks and urns) have strong vertical orientations. It all adds up to a feeling of grandeur—and beautifully distracts from the compact size of the space.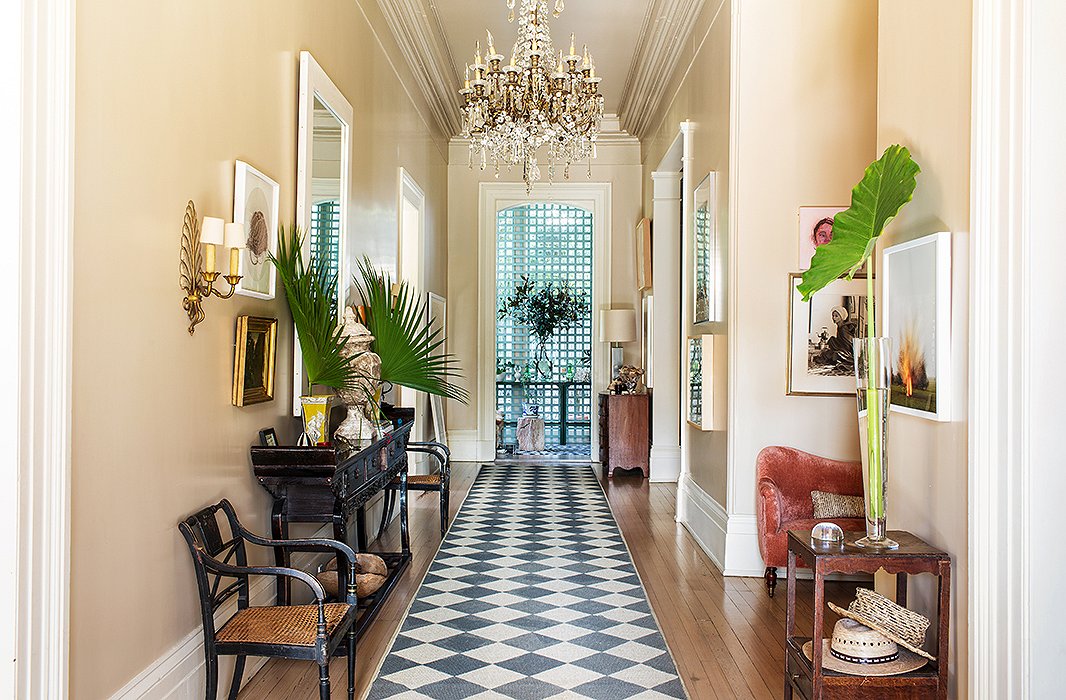 Spread Out
If your home features a wide center hall, your furniture options are also wide open. Where to start? A long runner, which creates a framework for furnishing the rest of the room.
From there, a combination of seating, storage, and surfaces will help you get the most out of your hallway. Try flanking a console with a set of side chairs, or lean a favorite piece of art atop a chest of drawers. And don't forget a light fixture: If you have the space, why not go for something grand? A sparkling chandelier creates an unexpected moment of grandeur—and might just make your hallway your new favorite room.