A brand-new, empty home is filled with endless possibilities, but also endless choices. That's when it helps to have a professional eye to narrow down the options and make a blank canvas less daunting. That was precisely the case with interior designer David Bazner of One Kings Lane Interior Design, who recently stepped in to help transform a just-finished Brooklyn townhouse into a bold space befitting its hip location in 365 Bond, a new development building in the up-and-coming Gowanus neighborhood.
David took inspiration from Gowanus—a formerly industrial area that has seen an influx of artist studios, galleries, and music venues—in his design for the two-bedroom residence. "I think it needed to be contemporary, and it needed to feel luxurious," he explains. "That was the vibe we were going for."
As with almost any other New York home, space was at a premium, so David worked to add flair with a minimal number of pieces. "I think that with homes of this size, vintage is a great resource," he says. The townhouse's living room was separated into living and dining areas, and David chose slightly smaller furnishings, such as the vintage French farm table, to make sure the space didn't feel crowded. He centered the living area around a striking trio of marble tables and used a neutral rug to visually separate the seating.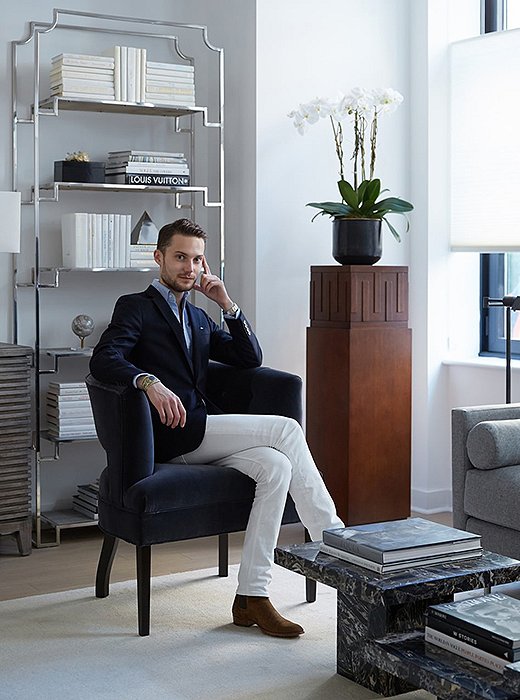 The walls were kept white to maximize the brightness and make the space feel larger. "We layered in textures and different tones," he explains. "I think that because the color is so sparse, what we do have speaks volumes." Leopard stools add a graphic punch beneath a clear console, while velvet chairs keep the seating area feeling luxe. David also played off the white walls with gleaming chrome chairs and étagères, along with a few antique touches such as Victorian pewter candlesticks and a 19th-century portrait. "It was important that the space didn't feel sterile, and that's when these Old Worldly items come into play." Read on to see how David warmed up the sleek, minimalist space.