From the looks of Lauren Liess's Instagram, you might think she is living a slow and bucolic life on her Virginia farm. Chickens wander in and out of their perfectly styled coop, and children run free through fields of grass. You'll get tips on cutting flowers and a sneak peek at her latest design projects if you're lucky. Behind all of that, though, is the mind of a master businesswoman at work. Since starting her career, Lauren has been on a rocket shooting straight into the design stratosphere. Not only is she a highly sought-out designer and best-selling author, but she is also now a furnishings designer.
Lauren's design ethos, both in these collections and in her design projects, can best be described as down-to-earth. Her interiors are impeccably styled but never fussy. Her furniture collection is designed thoughtfully, and everything looks well loved. Her art edit looks like a treasure trove found deep in the back of a local antiques store. "I feel like that whole philosophy of down-to-earth and relaxed living is one of the big overarching elements of my career," she says. It is a moniker so fitting that it's the name of her second book, Down to Earth: Laid-Back Interiors for Modern Living.  
Her style embraces lived-in, vintage-inspired interiors. "I feel like you can be happiest when you don't have to worry about messing things up or it being perfect," she says. Her philosophy is that if your home is relaxed, then you're relaxed. This guiding principle is befitting a person who spent half of her life traipsing through the woods in the summer. "I obviously design interiors, but my favorite place to be is outside," she says. "I feel like it really grounds us." The designer and mom of five children finds so much inspiration in nature that she turned her current home into a mini working farm. Outside you'll see raised bed gardens, chickens, and other animals. Inside you'll find natural materials and vintage touches. "I'm always trying to pull those outside elements into the house," she says. Elements such as weathered woods are seen throughout her furniture collection.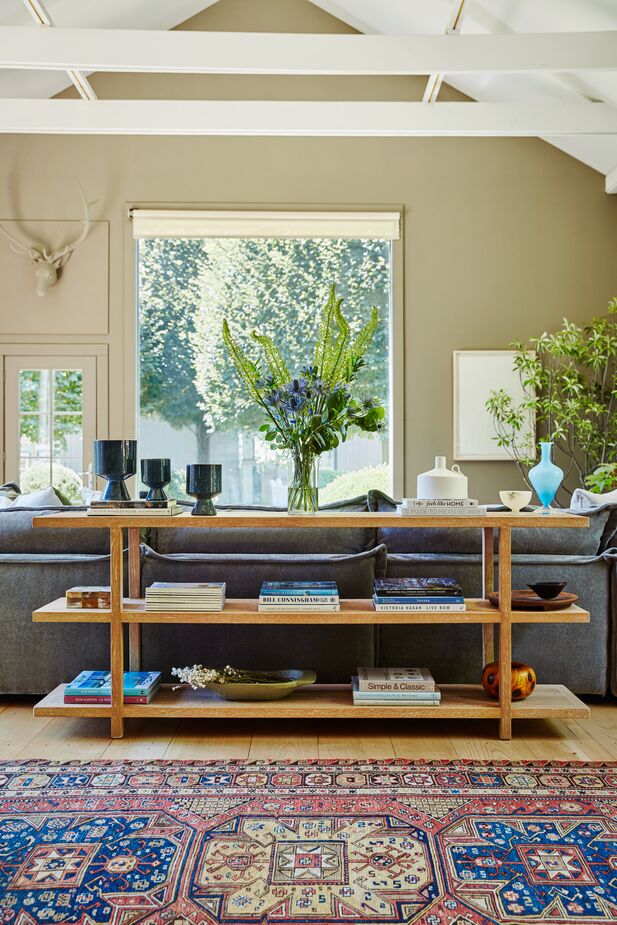 Lauren has been designing her collection for more than a decade. She's been tucking away designs and sketches knowing that someday, somehow they would make for a great collection she could share with the world. "I have had so many of these pieces saved just wanting to get them out there," she says.
Her grounded approach to life and design is made tangible with her furniture collection. "I'm interested in that juxtaposition of curvy and straight and raw," says Lauren. You'll notice touches of wood and metal throughout the collection. Most of the pieces feel as if you could've plucked them from the chicest barn in the French countryside. A few, like the Revival Leather Stools, feel a bit more modern. That's where the mix becomes important. An expert vintage hunter, Lauren knows that a home looks better when it feels eclectic. "I wanted it to feel collected and relaxed, not like 'This one's old, this one's new.' I wanted it to all vibe together," she says.
Lauren's expertise in furnishings and design doesn't stop with her furniture collection. She also has produced a collection of art, with stately portraits, intimate line drawings, and botanical studies to bring life to even the most boring walls.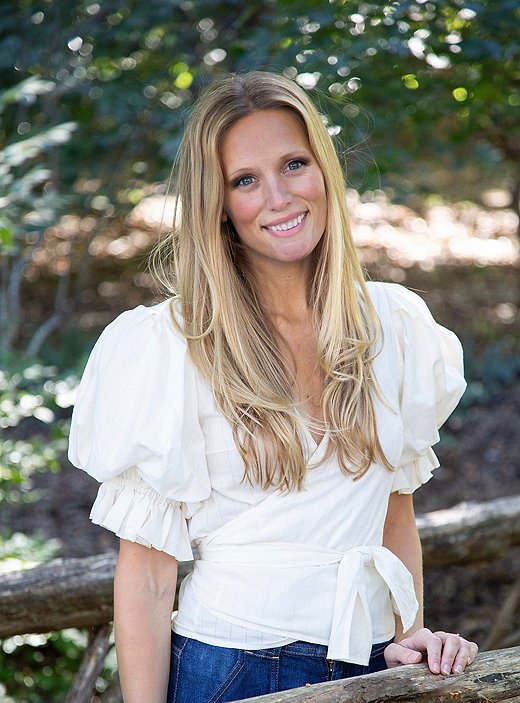 Get to Know Lauren
Favorite part of being a designer? Helping my clients build a backdrop for their lives.
No room is complete without…? A pet.
The secret to mixing new and vintage? Fearlessness.
One design rule you love to break? All of them.
Best piece of interior design advice you've gotten? There is no such thing as a design emergency. 
Anatomy of a Lauren Liess Design
Vintage is king. "I love vintage," says Lauren, for whom no room is complete without at least a touch of it. Her own home is a medley of vintage pieces collected from years of hunting down the best deals. That's why her furniture collection is highly inspired by the look and feel of years gone by. 
Comfort and style. Above all else, Lauren wants her spaces to feel comfortable. People have to live there, and not everybody lives a magazine-ready life. "It's about finding pieces that wear really well, furnishings that are super comfortable but can stand up to kids and dogs and pets and everyday life, because for me it's about living easily." 
A touch of something unexpected. Even though she loves vintage and wants a space to be comfortable, don't count her out as a fan of high design. Lauren can easily weave in a collector's item piece of furniture with a vintage set of chairs.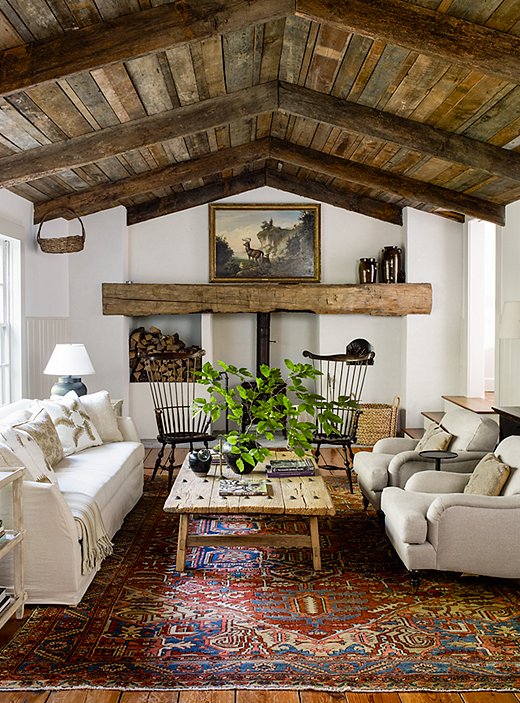 Art and History
Aloof faces and moody landscapes are at the heart of Lauren's art collection, though you'll also find plenty of beautiful botanical prints that speak to her love of nature. The inspiration for her edit was her never-ending hunt for the perfect pieces. "I was looking at a lot of what I typically use in my work, which is a lot of crusty old landscapes and quirky portraits," she says. The 55-piece collection is an edited version of Lauren's go-to works. There's quirky portraiture aplenty with pieces such as Charles and Winston (a reproduction of a Vincent van Gogh portrait). Classical landscapes are given new life with Dusk Travel and the By the Creek duo.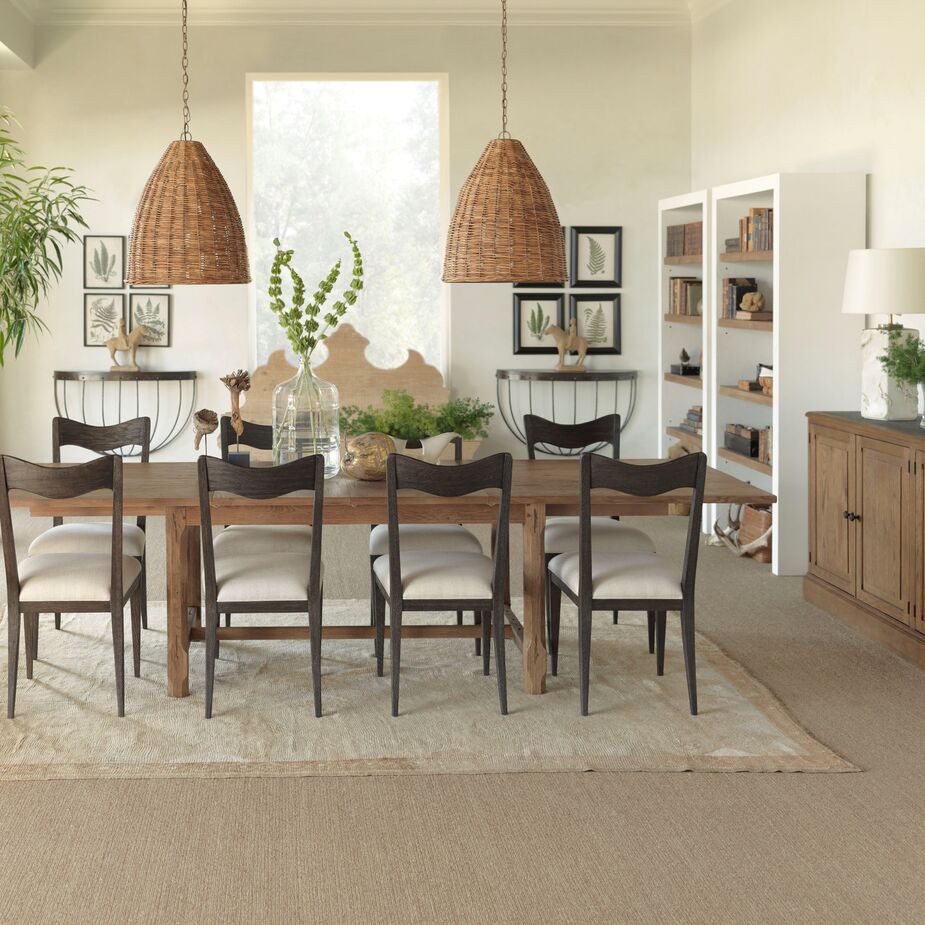 Durable Beauty
Lauren's impetus for her upholstery collection came from a place many designers know all too well: the inability to find exactly what you're looking for. "I've never found machine-washable, prewashed, preshrunk slipcovers before," says Lauren. With a family that includes a dog as well as five kids, Lauren was tired of looking in vain for pieces that were both durable and stylish. "I don't want to have to be worried and stressed out [about damaging furniture], so I really love having pieces that can take a beating and are super high quality," she says. Thus her collection was born. "These pieces are very simple, classic, clean."
Outdoor Living
"I design interiors, but my favorite place to be is outside," says Lauren. "I'm always looking for ways to connect the indoors with the outdoors." Her latest way of doing that is by bringing her outdoor furniture collection to life. The pieces she designed are rooted in her love of natural materials—most of the collection is made of teak with a softly weathered finish. Ease of living and comfort were also at the forefront of her design. Oversize sofas and roomy accent chairs are perfect for lounging on languid summer afternoons.