In Little Women, there are seven main characters: Jo, Beth, Amy, Meg, Laurie, Marmee, and Orchard House. Their story has been adapted for screen and stage 22 times. From Katharine Hepburn to Saoirse Ronan, actors across the ages have attempted to breathe life into March sisters. Greta Gerwig's adaptation, which is on track to gross $100 million by the start of the Academy Awards on February 9, is nominated for six awards including Best Adapted Screenplay, Best Actress, and Best Picture.
While each actor brings her take to playing the Marches, Orchard House remains an unchanged symbol of love. Ahead of the awards ceremony, we tasked our One Kings Lane Interior Design team to adapt their vision of Alcott's Orchard House to a modern-day home. 
"You've got this beautiful home that wasn't the fanciest in the neighborhood, but it was built with love and care," says Becca Roderick, director of interior design at One Kings Lane. "You can really feel the power of Orchard House and the March sisters in how much they cared for their home and how much they loved being inside of it and how important it was to them."
Becca and her team created a dreamy space rooted in early American design but expressed through a modern lens. It's easy to imagine Jo and her sisters pushing the furniture to the walls to create a stage for one of their plays or Amy painting the day away in the alcove just off the main sitting area.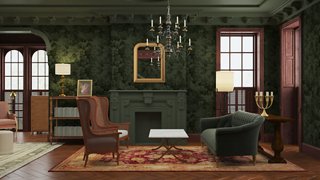 Color Translation
Louisa May Alcott wrote Little Women in 1868. "It's 152 years old and still resonates deeply with a lot of people. That, to me, is a sign of an exquisite piece of art," Becca says. As with any other piece of art, Becca and her team's version is influenced by their own experience. 
"Any time we think about something so far in the past that has a romantic tilt to it, whether it's Jane Austen or Little Women, we put a filter on it," says Becca. When she was working on the designs for a modern-day Orchard House, she kept envisioning the space with a romantic glow of perfection, which informed many of the moody  color choices she made.
"For the color palette, I was just thinking about New England and how it was so heavily influenced by the British and their exquisite palettes," she says. "So I started with those British roots and executed it in a way that felt like an American riffing on them."
Her initial choice was a dark blue, but she ultimately went with what she calls an "of-the-moment green." The wallpaper blended traditional-leaning floral motifs with green to keep the space fresh. Becca also added a touch of femininity to the space with hints of pale pink.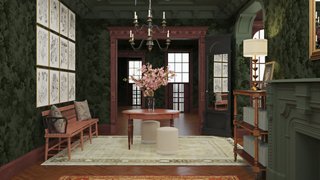 19th-Century America Through a Modern Lens
After Becca chose the colors, "the realities of the time started to hit as I was designing. This isn't a movie space, it's a real design inspired by a book."
On the first approach, she thought about recreating a post-Civil War home. But of course that would have meant no electricity, so she reassessed. "The room is early American through a modern lens," she says. "We incorporated quite a lot of vintage, both furniture and accessories, and layered in some more-modern pieces." To keep the space au courant, Becca focused on furniture with clean lines and upholstery with tighter seats.
In the main sitting area, the sofa is grounded in a traditional aesthetic with classic tufting but feels modern with that "of-the-moment" green Becca is so fond of. She balanced the space with a contemporary coffee table and floor lamp. A vintage-inspired chandelier and a clean-lined mirror round out the space. 
Beyond the main sitting area, a transitional space blends modern and traditional with simple ottomans and a traditional bench. The botanical prints above it are antique reproductions that are nonetheless on trend. 
In the reading nook, Becca punched up the small space with wow-factor pieces. The pink chair feels vintage but was designed exclusively by One Kings Lane. The dresser from Bunny Williams Home steals the show. "The Bunny Williams dresser is a great example of a new piece that riffs on styles from the past," says Becca. "It has clean lines with intricate detailing that is quite beautiful."  
The Modern Marches 
"So much of design is really about balance," Becca says. The challenges she faced in designing this space aren't all that different from the challenges any designer faces when updating an older home. And like any other designer, Becca took the needs of her (imagined) clients to hear. "It's a common theme running through the book that what Marmee is really trying to instill in the girls is that it's not so much about the space but the people who fill it." We like to think that the modern March family would fill this home with laughter, joy, and maybe even a play or two.