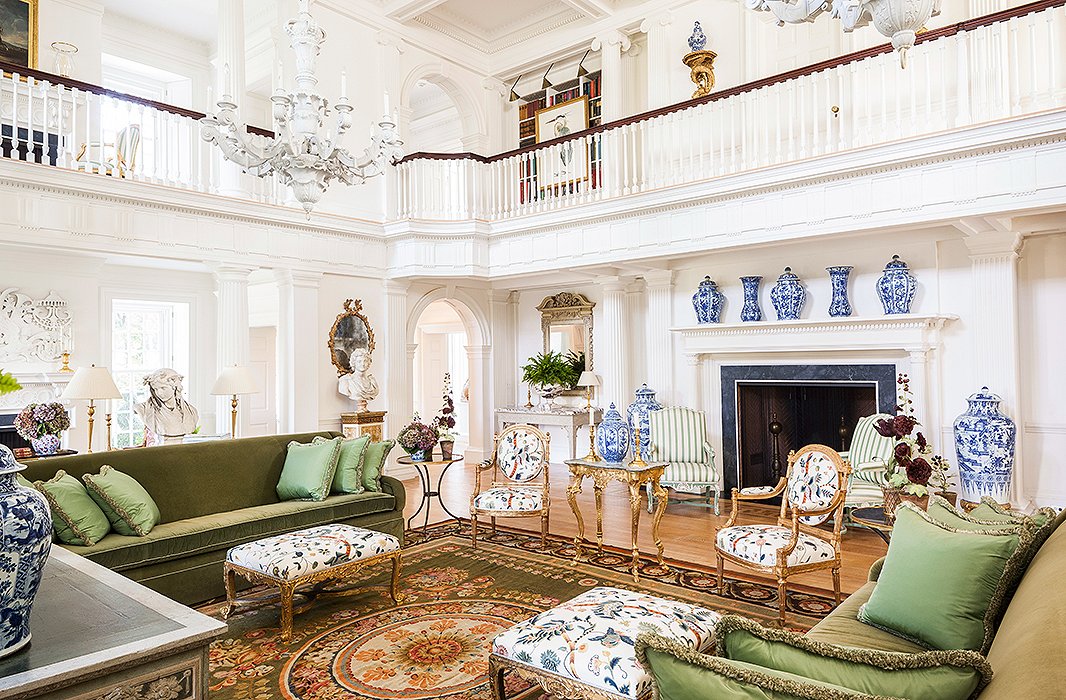 The numbers kept ticking higher and higher on the Sotheby's website. The auctioneer looked to the few people in the room and directly at the camera to the online audience of bidders. They were all there for the same thing: the chance to grab a bit of design history. 
With the final tap of the hammer, well into the evening of January 24, the sale was over. It took 22 hours of bidding over two days to get through the more than 900 lots. The auction's success was no question. Items from the estate of the Prince of Chintz himself, Mario Buatta, sold for a very grand total of $7.6 million, more than twice the estimate. 
The sale was all anyone in the interiors world could talk about in the days leading up to it. Every designer and design influencer worth their salt was posting about it, all wondering the same thing: Just how high would the bids go?
When Buatta passed away in 2018, he left behind a literal treasure trove of items. From his iconic chintz cape to a set of bamboo serving utensils, the sale was an attempt to showcase the life of a man beloved by all and widely considered to be the father of late-American design. Its success represents something more, though. Those bamboo serving utensils didn't go for $93,750 simply because Buatta owned them. 
Over the past few years, the pendulum of design has swung ever closer to maximalism. In an interview with The New York Times, Dennis Harrington, the head of Sotheby's English and European furniture department in New York, said that the sale's success was emblematic of this shift: "Clearly there's a lot of people fed up with monochromatic interiors." Buatta's sense of whimsy and unabashed use of color was the complete opposite of that. 
His work can be defined by two guiding principles: chintz and comfort. One of his most iconic rooms, his yellow living room, came to represent his aesthetic to a generation of designers and fans alike. Renowned design journalist Wendy Goodman called him the "foremost interpreter of English Country House-style, as commercialized by John Fowler and Nancy Lancaster." There is no doubt that Buatta's designs were classically informed. But he approached those designs with a sense of modern whimsy. 
Modern and Mario Buatta aren't words you see associated together very often, but he was modern, inventive even. In his last project, published posthumously by Architectural Digest in February 2019, you can see that inventiveness in the choices he made. Yes, it features the iconic Buatta-esque bed with four posters and a looming canopy, but it also includes an airy white kitchen with breezy blue flourishes. 
As neo-traditionalist and grandmillennial styles dominate social media feeds and magazine pages, editors and students of design are constantly reminded of the power of Buatta. He introduced the elegance of Albert Hadley, Fowler, and Lancaster to millennials and even Generation Z.
While on tour for his book Mario Buatta: Fifty Years of American Interior Decoration in 2014, he remarked to the L.A. Times that he was upset that young people were rejecting antiques and silver. How delighted he would have been by today's neo-traditionalists, who are wrapping rooms in chintz, filling them with overstuffed chairs—and perhaps sitting down to read Fifty Years of American Interior Decoration in search of even more inspiration from the Prince of Chintz.